If ever a locale exemplified New Traditionalist style, it's Manhattan's Upper East Side. Home to society doyennes, Museum Mile, and Gilded Age mansions, the UES is a bit quieter, a bit slower, a bit more genteel than most of New York City's other neighborhoods, but it's hardly frozen in time. 
When a family with two young sons moved into a pre-war apartment here, they wanted to celebrate the neighborhood's uniqueness. To do so, the wife reached out to One Kings Lane Interior Design for help reimagining their new living space.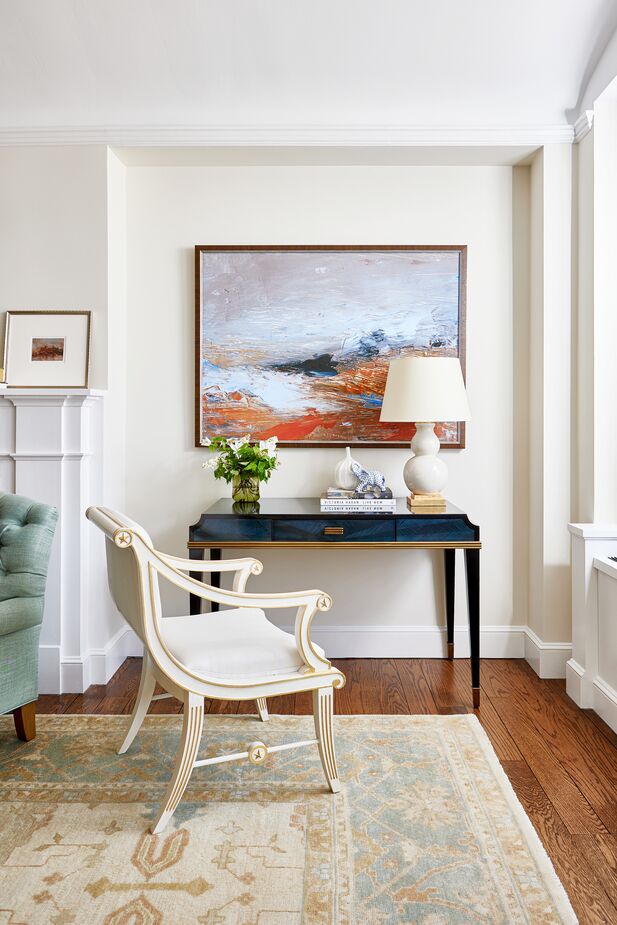 "She wanted that Upper East Side/Park Avenue design vibe but she also wanted it to feel fresh and current, not like 'I inherited a bunch of my grandparents' furniture,'" says One Kings Lane designer Jordan Schehr. "She wanted something that felt stately but not stuffy, elegant but not untouchable."
Despite an enviable wall of windows, the living room had felt somewhat dark previously. Jordan opted for a "light, bright, but grounded in traditional" palette of whites, creams, and blues, punctuated by a few dark wood pieces (the cocktail table, one of the side tables beside the sofa). Golden accents, including the bases of the table lamps, contribute an elevated glimmer, especially when the sunlight streams in.
Making the most of the room's generous, graceful proportions, Jordan created a layout that was symmetrical—but not matchy-matchy. There are two pairs of identical armchairs and one pair of matching lamps, but at the same time the tables on each side of the sofa are mismatched, as are the furnishings flanking the fireplace. "There's harmony in the textile choices and silhouettes, but they're not identical," Jordan notes. "Your eye is able to dance around the room."
To help the room feel "collected and considered over time," Jordan placed a golden demilune table in one of niches beside the fireplace and a dramatic blue desk and white klismos chair in the other. "The desk is an unexpected moment of its own," Jordan says. Just as important, it's useful as well as beautiful. "This is a room that's meant to be used. The apartment needs to serve the demands of an active family life."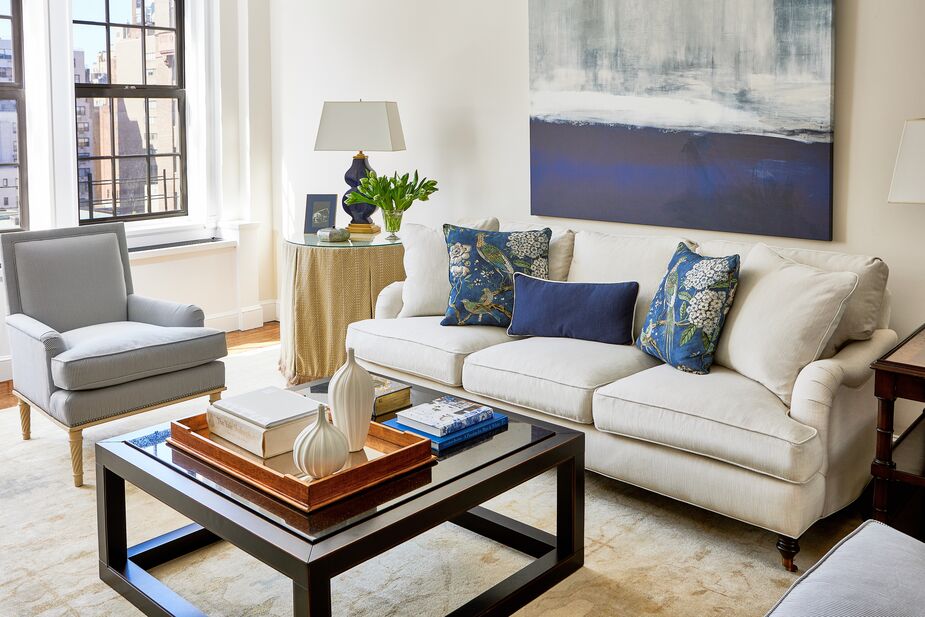 To ensure the room was family-friendly, Jordan chose durable, up-for-anything furnishings. The rug is crafted of wool; the ivory sofa is upholstered in stain-resistant, liquid-repellent fabric. Jordan and the client also opted to make a former dining nook an extension of the living room. Located just off the living area, it now features a sofa and a dresser used as storage. The boys can sit here and play while the parents keep an eye on them from the main living area, or one parent can read here while the rest of the family gathers in the primary space. 
"Don't be afraid to fill your spaces," Jordan says. "There's a temptation to celebrate your large spaces by leaving them empty. But actually filling them with an attention to harmony will make them feel more grand, and you get to enjoy the totality of that space." And now that the space is completed, that's exactly what the happy clients are doing.