Biophilic design, in which architecture and interiors maximize a connection with nature, is nothing new. Even those not in the design industry have been opting for furnishings that bring the outdoors in: natural-fiber rugs and live-edge tables, landscape artworks and rattan chairs. 
Urban jungle style is an even more adventurous take. As the name suggests, it's somewhat wilder than lining a windowsill with cacti and putting a snake plant in a corner for good measure. An urban jungle room can never have enough plants, let alone too many. And we're not talking just lovingly pruned topiaries either: Think elephant ears with their oversize leaves, palms with profuse fronds, pothos plants with trailing vines—anything lush and untamed. Group the plants together and place them just about anywhere, from the top of a cabinet to surrounding the base of a side table. 
While bountiful foliage is key to urban jungle style, complementing plants with wicker baskets, rattan furniture, sheepskins, and other organic furnishings reinforces the theme, as does introducing a few animal prints. And to play up the boho aspect, bring in macramé wall hangings, Moroccan rugs, and artisanal pottery. 
If a lack of light (or a lack of gardening skill) prevents plants from thriving in your home, you can still surround yourself with urban jungle chic. Realistic faux plants will be your best friend. Wallpaper, pillows, bedding, and art with leafy motifs can fill in any gaps among your foliage.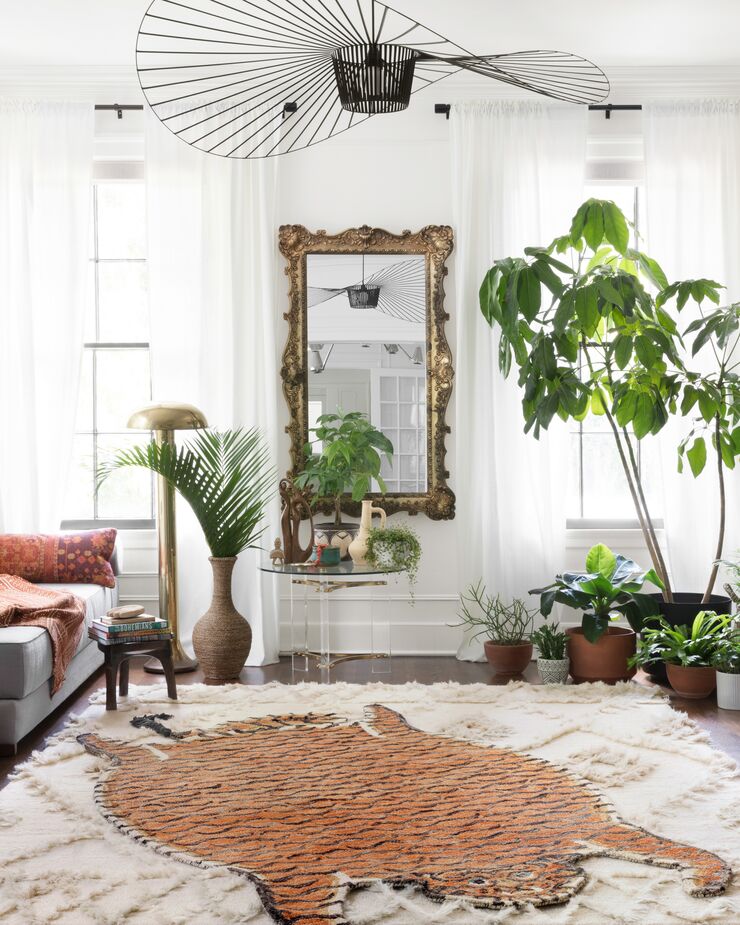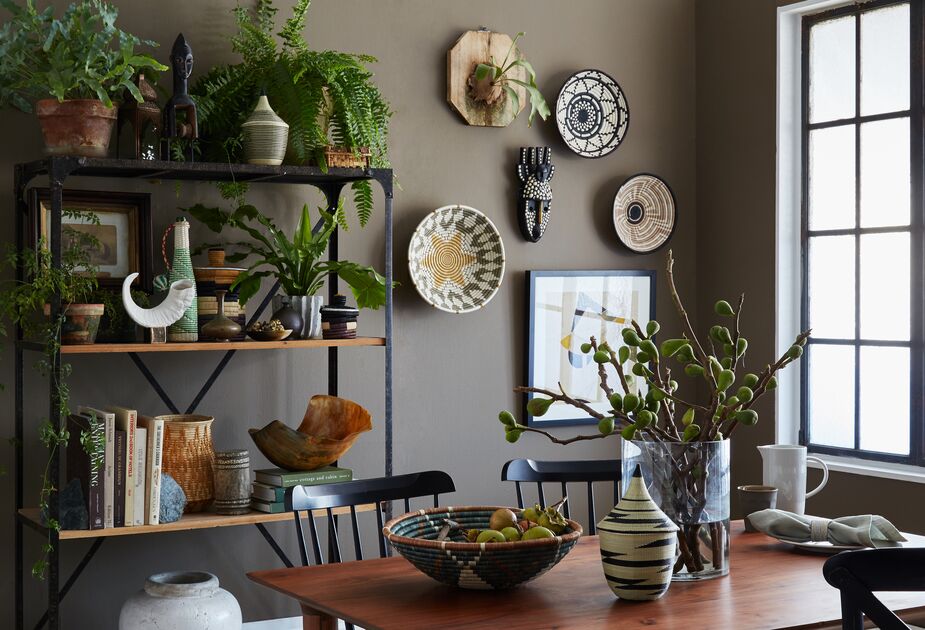 Five Favorite Pieces
Faux Kentia Palm Tree: If you invest in only one faux plant, make it this one (or the equally tall Bamboo Stalks in Wide Planter). An impressive eight feet high, it definitely sets a biophilic scene. 
Sansevieria Plant with Vessel: When width is more important than height, consider this row of faux foliage spanning 62 inches and housed in a wooden rectangular planter. 
Laguna Vase: Eighteen inches high and carved of wood with a swirling grain, this brings natural beauty to a space even sans plants.
Josephine Sheet Set in Sage: Nestling among this 400-thread-count cotton bedding adorned with proliferant foliage is like sleeping in a garden, only much more luxurious and comfortable.
Pacifico Palm Wallpaper: Designed by Nathan Turner, this wallpaper will bring the beauty of lush green banana leaves to your home, no matter how far from the tropics you live.