Many of us are always on the lookout for new vegetarian dishes to add to our repertoire. So we reached out to the experts at Sur La Table for suggestions. The vegetarian recipes below require minimal culinary expertise but deliver maximum flavor. Bonus: They're impressive enough to serve to guests.
Coconut-Vegetable Curry with Cashews
Serves four
Ingredients
¼ cup vegetable or canola oil
2 medium shallots, peeled and thinly sliced
4 large garlic cloves, peeled and finely minced
2 tablespoons grated fresh ginger
2 teaspoons ground cumin
2 teaspoons ground coriander
2 teaspoons curry powder
½ teaspoon ground cardamom
½ teaspoon cayenne pepper (optional)
2 medium carrots, peeled and cut into ¼-inch-thick rounds
1 medium red bell pepper, trimmed, cored, and cut into 1/8-inch-thick strips
1 bunch asparagus, trimmed and cut into 2-inch pieces
13 ounces (1 can) coconut milk
1 cup fresh or frozen and thawed green peas
1 bunch (¾ pound) fresh spinach, stems removed
Kosher salt and freshly ground black pepper
¼ cup fresh cilantro leaves, for garnish
¼ cup cashew nuts, for garnish
Steamed basmati rice, for serving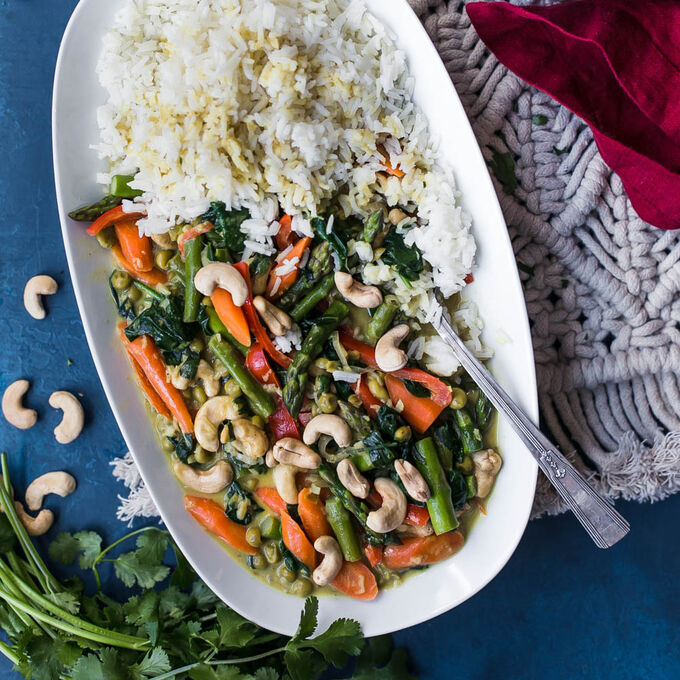 Directions
Heat a large skillet over medium heat until hot but not smoking. Add oil, swirling to coat, then add shallots, garlic, and ginger. Cook, stirring constantly, until shallots are soft, about 4-5 minutes. Add dried spices and cook, stirring constantly, until spices smell toasted, about 2-3 minutes, taking care not to burn them.
Add carrots and bell pepper strips, stirring to coat with oil and spices. Cook, stirring occasionally, for 2 minutes. Add asparagus and coconut milk, stirring well to combine. Partially cover skillet and simmer until vegetables are crisp-tender, about 6-8 minutes. Remove lid and add green peas and spinach. Simmer until spinach wilts, stirring occasionally, about 3-4 minutes. Taste and season with salt and pepper.
Place curry in a serving bowl and garnish with cilantro leaves and cashews. Serve immediately with steamed rice.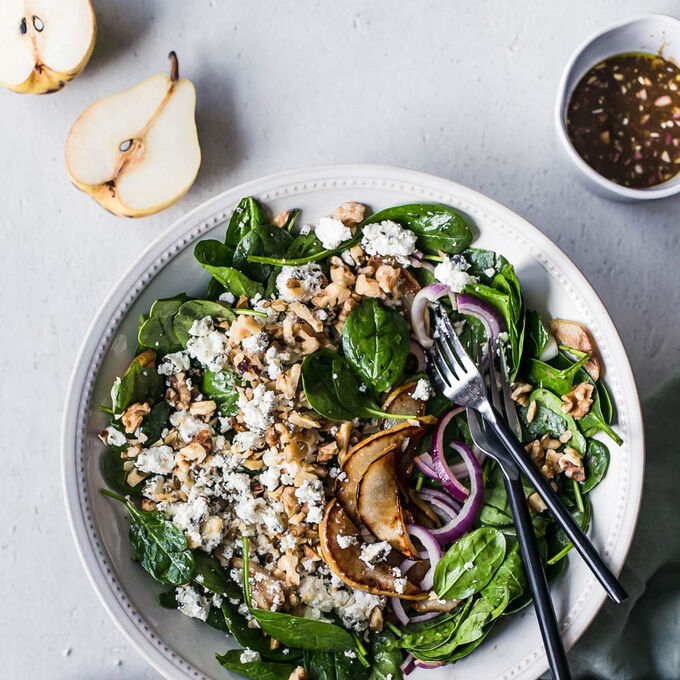 Spinach Salad with Caramelized Pears and Goat Cheese
Serves three or four
Ingredients
1½ tablespoons golden balsamic vinegar
2 teaspoons Dijon mustard
1 teaspoon honey
2 teaspoons shallots, minced
6 tablespoons olive oil
2 tablespoons butter
2 pears, cut into ½-inch-thick wedges
1 bag baby spinach, washed
½ cup red onion, sliced
6 ounces goat cheese, crumbled
Walnut or pecan pieces (optional)
Directions
In a bowl combine the vinegar, mustard, honey, and shallots, and mix well. While whisking quickly, slowly add the oil to form a vinaigrette. Set aside and reserve to dress the salad.
In a pan—preferably nonstick—over medium-high heat, melt the butter. Add the pears and sear until well browned. Turn the pears over and sear on the other side as well. Set aside. 
In a large wooden bowl combine the spinach and the onion. Toss well with enough vinaigrette to coat the spinach. Remember you can always add more vinaigrette but you can't take any out. Put on plates, and garnish each with pears and some crumbled goat cheese. (Goat cheese crumbles much easier when it is cold, so be sure to leave it in the refrigerator until it is needed.) Garnish with walnut or pecan pieces if desired. 
Quinoa Pilaf with Peas and Asparagus
Serves four
Ingredients
2 cups quinoa
5 tablespoons olive oil 
1 medium shallot, peeled and minced
1 medium garlic clove, peeled and minced
2 cups vegetable or chicken broth, low-sodium
½ cup shelled fresh peas, blanched, or petite frozen peas, thawed
1 pound asparagus spears, washed and trimmed, cut into 1-inch pieces
Kosher salt and freshly ground black pepper
2 small garlic cloves, peeled and finely chopped
1 tablespoon lemon juice
2 tablespoons minced flat-leaf parsley
Grated Parmesan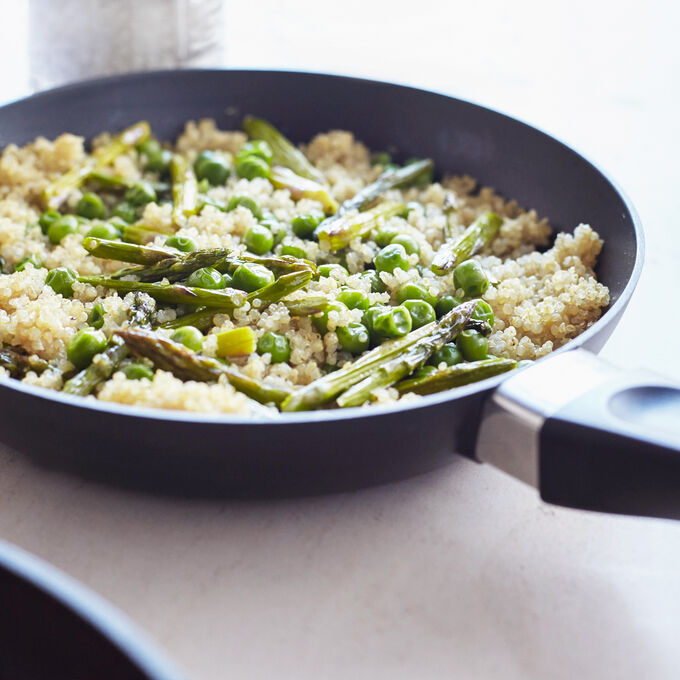 Directions
Place the quinoa in a large colander and rinse with cold running water until the water is clear, about 2 minutes. In a medium saucepan, add 2 tablespoons olive oil and place over moderate heat. When the oil is shimmering, add the shallot and cook until tender, about 5 minutes. Add the minced medium garlic clove, and cook until fragrant, about 30 seconds. Add the quinoa to the saucepan, then the broth, and increase the heat to bring to a boil. Once it's boiling, reduce the heat to moderate-low, then cover and simmer until the water is absorbed and the quinoa is tender, about 20 minutes. Remove the pan from the heat, stir in the peas, cover and let stand 3-5 minutes.
While cooking the quinoa, preheat oven to 425°F and place a rack in the center. Arrange the asparagus onto a rimmed baking sheet, pour 2 tablespoons of olive oil over it, and season generously with salt, pepper, and the two small, finely chopped garlic cloves. Mix until well combined. Spread the asparagus into an even layer and transfer to the oven to cook, turning frequently with tongs, until tender, about 8-10 minutes. Transfer cooked asparagus to a plate.
Transfer the quinoa to a bowl and fluff with a fork. Using a silicone spatula, stir in the remaining tablespoon of olive oil and the lemon juice, and cool until room temperature, about 5 minutes. Stir in the parsley. Taste and adjust seasoning with salt and pepper.
To serve, divide the quinoa among four warmed dinner plates. Place the asparagus on top of the quinoa, garnish with grated Parmesan, and serve immediately.