Waris Ahluwalia describes himself as "an explorer seeking truth and beauty in the world around him." In the course of those explorations, he has designed jewelry and scarves, helped raise funds for a vast range of causes, appeared in two Wes Anderson movies, written for The Paris Review, been named to Vanity Fair's best-dressed list, modeled, and in 2019 launched his House of Waris Botanicals line of organic tea. 
So what's the common thread? "Telling stories. That's all I'm doing. Sometimes in gold, sometimes in film, sometimes in ink, and now in tea. My inspiration has always been love and history. My work is a search for a better understanding. How history repeats itself all too often even though we as a species have been gifted the ability to learn. How love is a tool to fight fear and lift us all up together."
His exclusive Tastemaker's Edit for One Kings Lane tells a story of beauty and thoughtfulness, with a portion of the proceeds benefiting conservation organization Elephant Family. Below, Waris tells us about his style, his tea, and more.
One Kings Lane: What was the impetus for launching the tea brand?
Waris Ahluwalia: Tea is one of the world's oldest pleasures—a sensory and meditative pause in daily life, and one that connects us to an outside world of distant forests and farms and flower patches across the globe. The origin and lore surrounding tea stretches back centuries, but it is also something that uniquely brings us into the present moment, calling us to sit and enjoy.
House of Waris Botanicals is an exploration into a more thoughtful way of living through the use of plant science, community, and celebration… We're not in the wellness business—we're in the celebration business. Celebrating life, celebrating humanity, celebrating plants, celebrating how all those can work together. Slowing down is part of that celebration. That's a celebration of you. A celebration of your time on this planet. It's how you look after yourself. It's how you look after your loved ones. It's how you look after your community.
Who or what are your greatest style influences?
David Niven in Around the World in 80 Days, Kris Kristofferson in Alice Doesn't Live Here Anymore, Oscar Wilde, His Imperial Majesty Emperor Haile Selassie in full regalia, Jack Skellington, Steve McQueen in Bullitt, Julie Christie in Don't Look Now.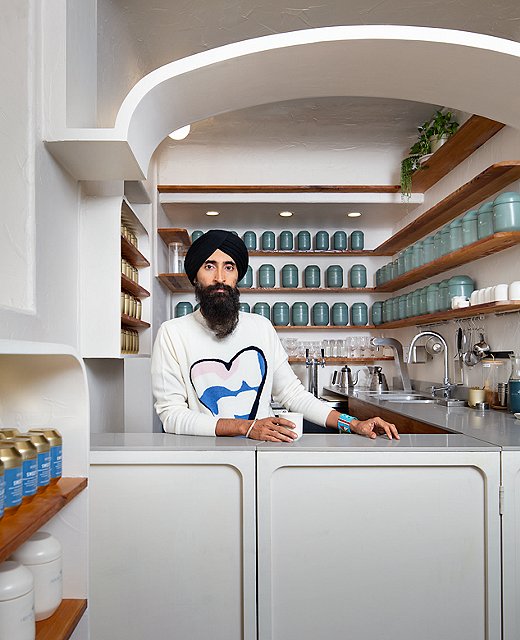 What do you consider most important to have in your home?
The natural world finds its way into my home—whether it's the actual plant life, antique animal masks, Balinese wood carvings, photos of the Serengeti, and more from around the world.
How did you get involved with Elephant Family? And what exactly makes your tea, compared with others, "elephant friendly"? 
It started with my relationship with Elephant Family, now over a decade long. Their mission, in part, is to facilitate coexistence between humans and wildlife across Asia. Elephant Family works with conservationists on the ground to devise ways to protect the vulnerable elephant and other endangered species from the conflicts that human presence has created. 
Our House of Waris Certified Elephant Friendly Classic Black Tea is the manifestation of decades-long conservation efforts—aligning the needs of the consumer with that of the endangered elephant, the forgotten and often mistreated indigenous communities that live amongst them, the tea plantation workers, and the soil that grows the tea. This is what coexistence can look like.
This is an opportunity to rethink the way we create and consume. We exist in a system that puts profit over people. And everyone seems to accept it and go about their merry way. It is long past time to step away from that system and try to create something that uplifts people as part of its existence. Something that celebrates the planet and its offerings. Something that addresses the very human-made planetary crisis we exist in. Humanity out of balance creates a planet out of balance. A recognition of the agenda that supports the ongoing destruction of our planet—a climate crisis due to deforestation, careless consumerism, and widespread killing of plant and animal species and eventually all of us.  
Our days, individually and collectively, are made up of small decisions. What you drink, what you eat, what you wear. The simple stuff. The opportunity here is to make better choices.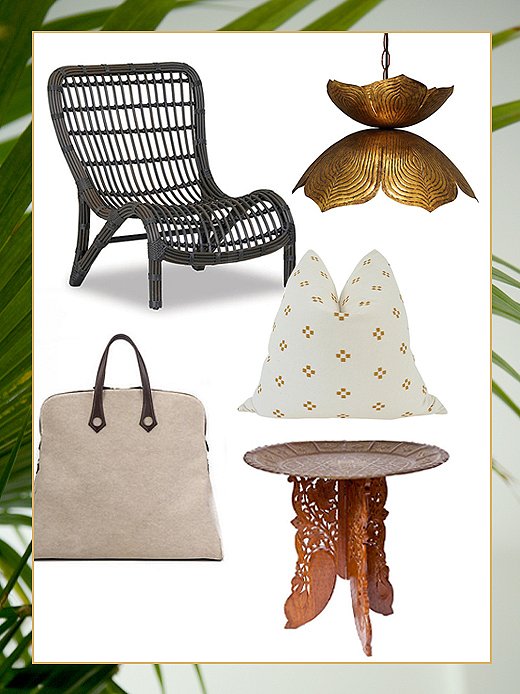 Shop Waris's Style
Newport Armless Club Chair. Because it's made with all-weather resin wicker, you can relax among its graceful curves outdoors or inside.
Flowering Lotus Pendant. In many Eastern religions and cultures, the lotus is a symbol of purity, enlightenment, and rebirth. You needn't know about the flower's significance, however, to appreciate the beauty of this lotus-shape light fixture.
Amelia Pillow. Hand-cut and hand-sewn in California, this pillow is a welcome addition to rustic and refined rooms alike.
Hand-Tooled Brass-Tray Table. The folding teak base of this Indian table is almost as ornate as its spectacular brass top.