An oasis of ivories and creams, this Manhattan apartment doesn't look like a home for a family of five. And that is very much by design.
"We were looking for a neutral, serene palette," says owner Ashley, who lives in the West Village home with husband Rahul and their children. "Our lives are hectic enough living in the city with three young children, so we wanted a home that would be calm and soothing.  We didn't want the decor to take away from our art as well as the beauty of the apartment with the high ceilings and large windows."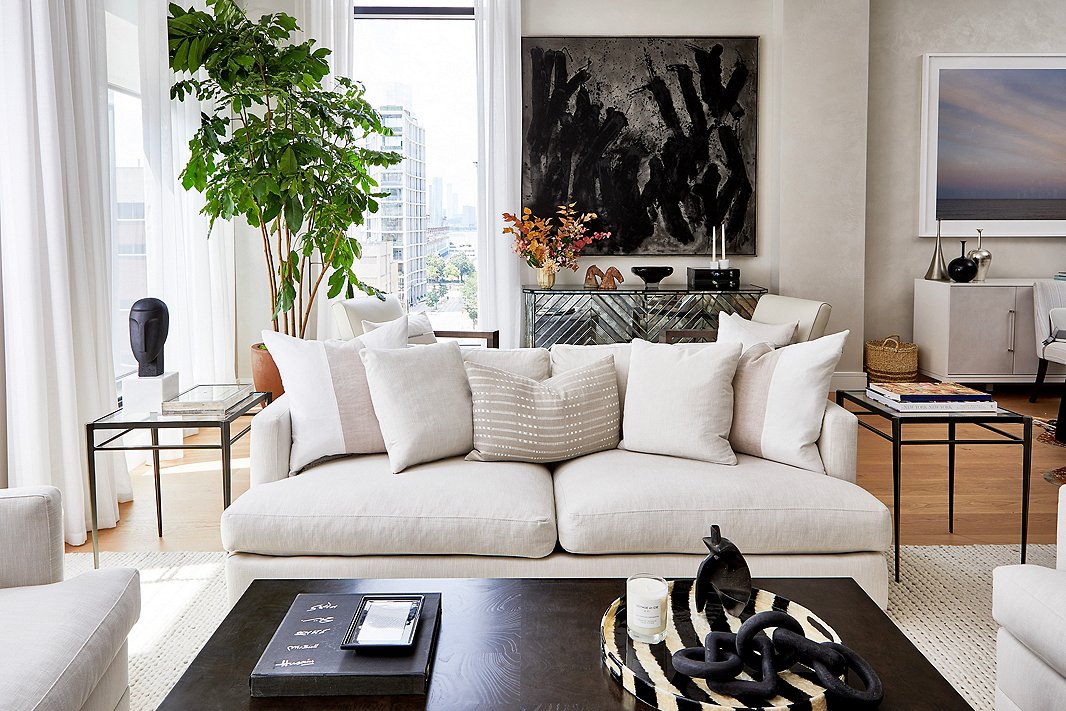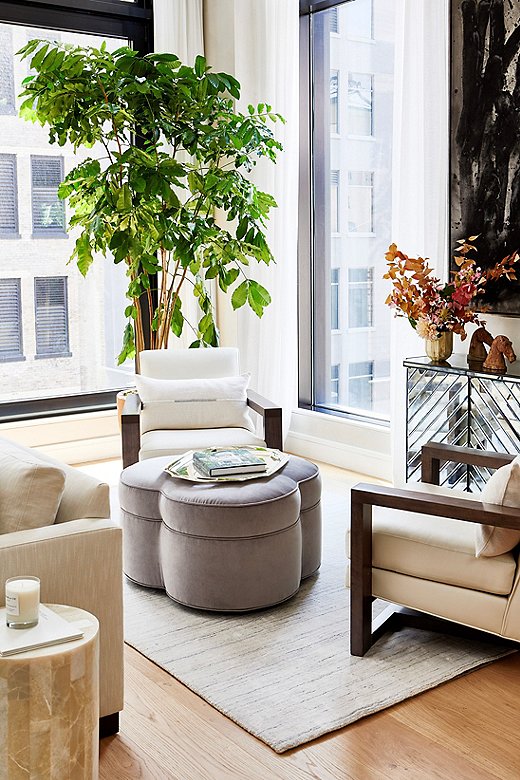 Of course, creating a space that's light, neutral, and kid-friendly is a challenge. But it's one that One Kings Lane Interior Design was up for. "I'm very thankful for [stain-resistant] Crypton fabric!" says designer Jess Hutchinson. "We also used materials like hide and velvet that are more durable than they look." As well as being hardy, pieces such as the hair-on hide ottomans, the handcrafted rugs, and the jute baskets used to stash away toys add layers of texture to the neutral palette.
The inclusion of a sitting area behind the sofa also contributes to the relaxed vibe. Ashley and Rahul can sit here and decompress while the kids watch TV or play elsewhere in the open-plan room. "My husband and I start the evening catching up after work in the small seating area," Ashley says. "We then move to dinner at the dining table or kitchen counter and finally end the evening watching a show together in the main living area—a lot of different functions in one space, and I would have never come up with it myself!"
In fact, Ashley had been a bit skeptical that the room would be large enough to support both two distinct seating areas. "It's always remarkable to me how empty spaces look smaller," she says. "We had ordered rugs and furniture for two living areas, and I kept looking at the empty space thinking, How is this going to work? Sure enough, it fits perfectly, and it's nice to have different sitting area options."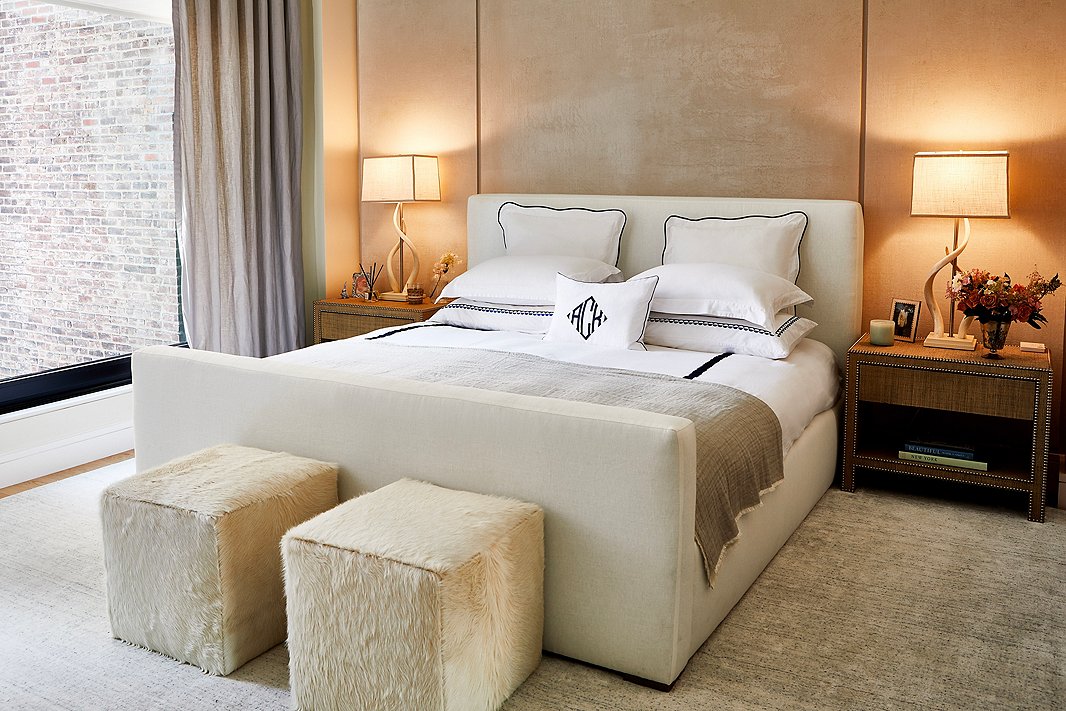 The main bedroom continues with the theme of quiet colors enlivened by rich textures. Ashley declares it her favorite room in the apartment. "When the kids are all home from school and I need to finish some work or just have some quiet time, I close the door and let my husband manage the rest of the house! I absolutely love our bed by Community. It feels so soft and luxurious. I think about how much I love it every time I get in bed even months after moving in!"
To ensure that the kids found their bedrooms equally blissful, Ashley and Jess let them provide plenty of input. "It was so fun for me," Jess enthuses. "They had the same clarity in what they wanted, just like their mother! I loved working with Ashley; she had a clear vision for the space but allowed me to take the lead in bringing her ideas to life."
The sense of admiration is mutual. "The design process was so easy," Ashley says. "Jess listened to what I wanted in both design and functionality. She worked with my own pieces I wanted to keep and came up with great options to help make the space look fresh and new. I wanted to be somewhat involved in the process but without too much effort on my end, and this was the perfect fit."