If this 1929 French Tudor home had a theme song, it would be "Sisters Are Doin' It for Themselves." That's because designer Alexandra Kaehler's client was, in fact, her sister.
"It was just so much fun," Alex says. "She always had a vision of what her house would look and feel like, so working with her to help accomplish that was really such a dream for both of us."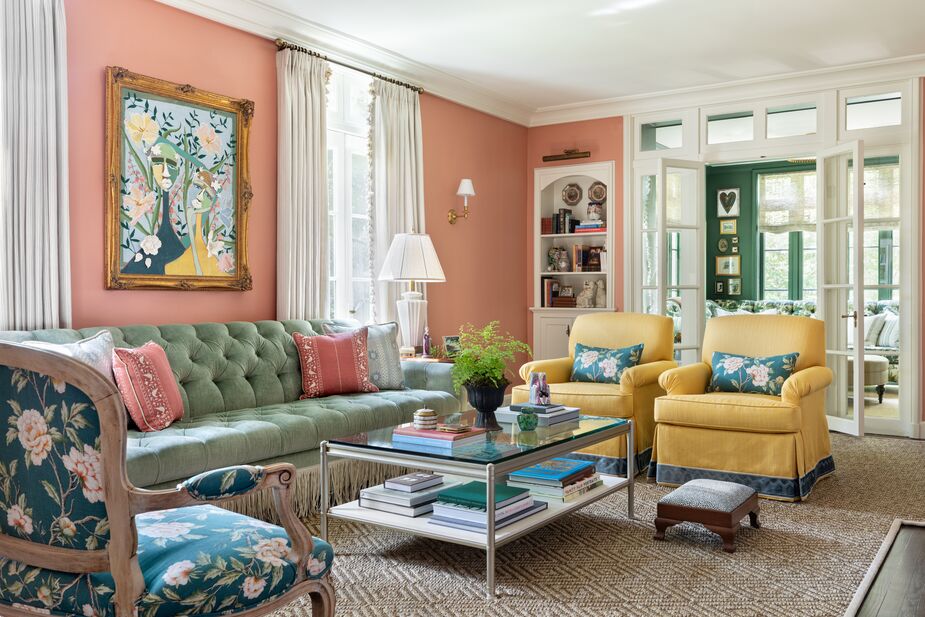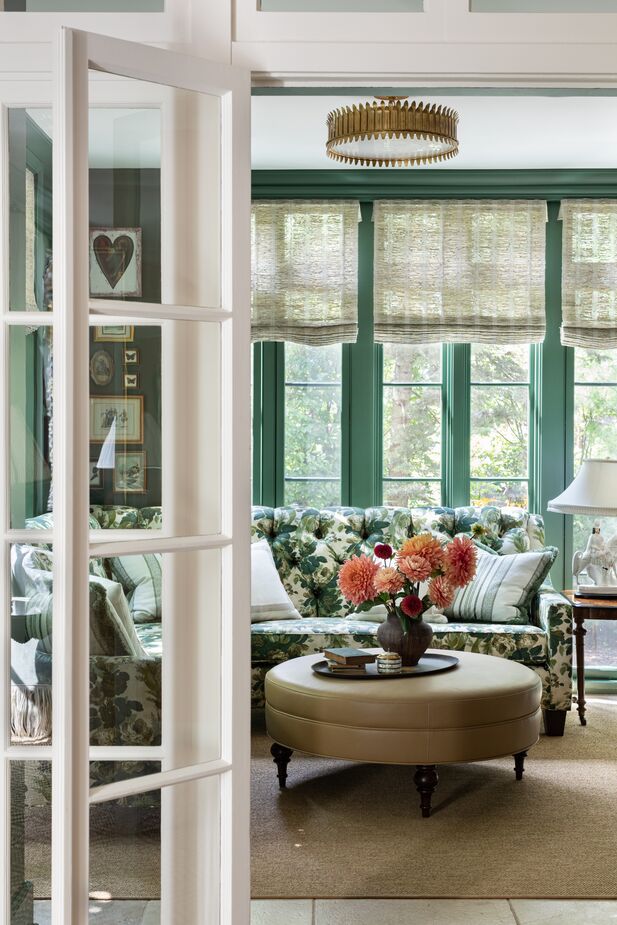 That vision included "lots of saturated color, florals, layers," Alex says. "They didn't want white anywhere. We ended up with a white family room wall, but don't worry—they are currently considering redoing it in a color!"
Walls that aren't painted an eye-catching color, such as the living room's pinky coral and the sunroom's grassy green, are clad in wallpaper, the livelier the better. A de Gournay x Erdem wallpaper, for instance, served as the starting point for the formal dining room. "It dictated the most gorgeous color palate and set such a perfect grand garden tone for the room," Alex says. More patterned wallpapers can be found in the foyer, the bedrooms, and the bathrooms. In the main bedroom, a chintz pattern adorns not just the walls but also the headboard, the curtains, an armchair, and the bench at the foot of the bed. 
"Whenever I felt like things were done, my sister wanted to add more!" Alex says. "I like to edit; she definitely does not. More is more is more to her, and I love that—and wanted the house to reflect it." 
With ornate mirrors layered on striped and floral walls, vignettes atop just about every table and mantel, curtains edged with tassels, and upholstery adorned with trim, this Chicago home does indeed reflect her sister's maximalist aesthetic. "I am most proud of how much this house feels like my sister," Alex says. "She is just pure happiness, and so is her home. She is like a spunky English grandma, and that is exactly the feel you get from this home!"