When a growing New York City family decided to leave their Gramercy Park apartment for a unit on a higher floor, they called on the design team they had trusted with two previous renovations in the same neighborhood: Alexandra Pappas and Tatyana Miron of Pappas Miron Design. Working with architect David Mansfield of dMADpc, the duo completely reworked the new space's layout to maximize the functionality of every square inch, then selected finishes and furniture to infuse the rooms with a polished sense of comfort. "We have known these clients for years," says Tatyana, "so our working relationship and aesthetic direction was well established going into it." From a flattering lighting scheme to perfectly applied wallpaper to expertly styled bookshelves, the apartment is packed with inspiring ideas. Below, Tatyana and Alexandra share more about the project and how they brought their clients' vision to life.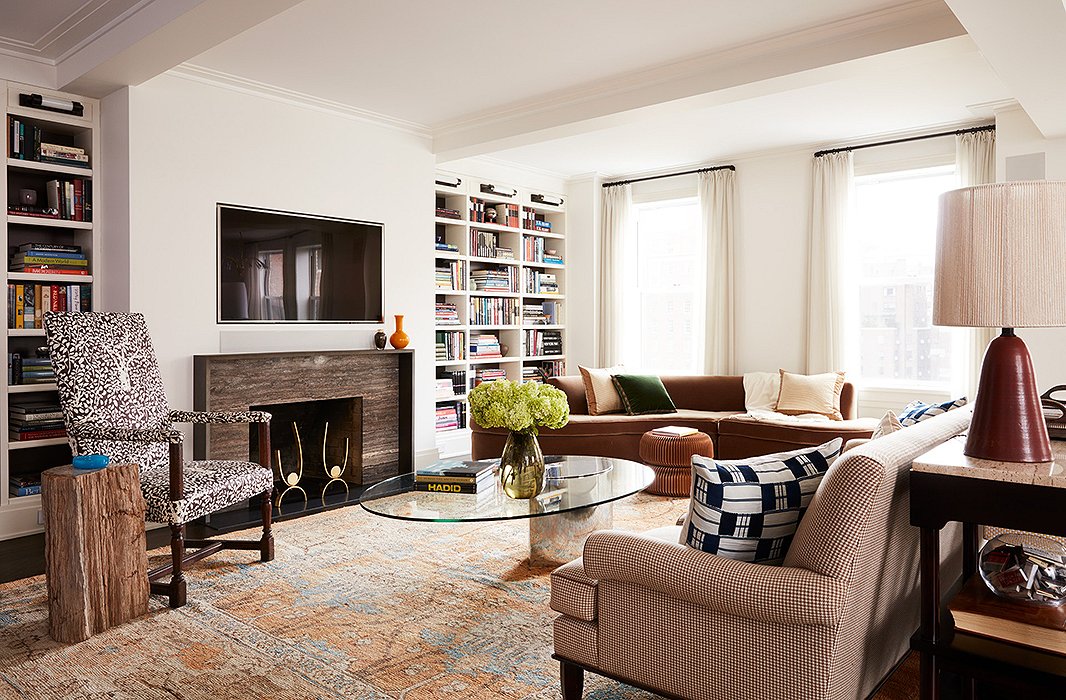 One Kings Lane: What were the design directives for this project?
Alexandra Pappas: The clients wanted an open-concept living and dining space with a large kitchen, which meant really changing up the existing floor plan. For the design, we were tasked with reusing much of the clients' furniture from their current and previous apartments but at the same time making the design new and fresh.
OKL: What was the timeline?
AP: The project took about one and a half years from concept to completion. It was a total gut renovation with a completely new floor plan, a lot of custom millwork, central AC, new floors, new bathrooms, and an automated smart-home lighting and window-shade system.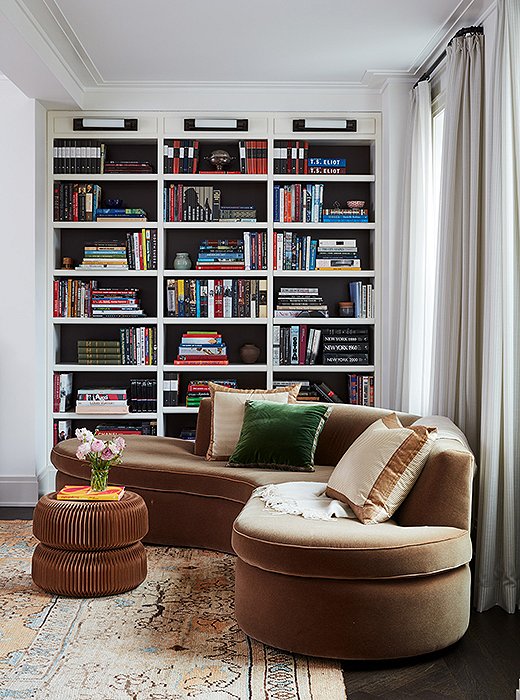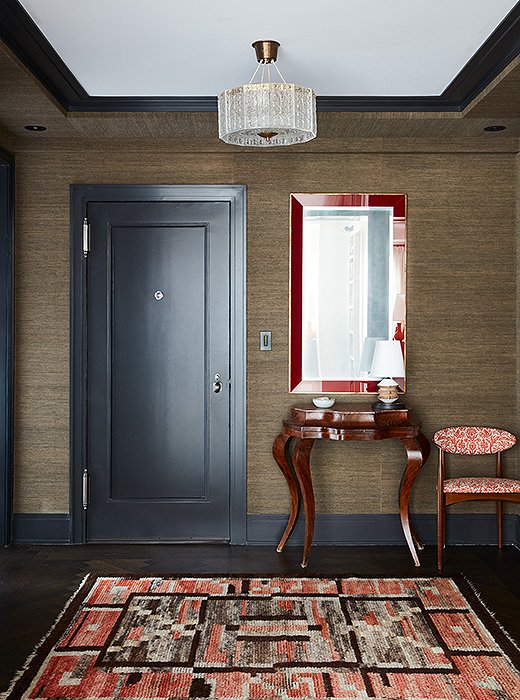 OKL: When shopping for a home with young children, what should people look out for?
Tatyana Miron: We like to look for things that can be used over time with children. I prefer an old chest of drawers with a changing pad on top to a specifically kid-designed chest that is colorful or basic that they may outgrow. Remove the pad and you still have a beautiful chest that can be used throughout the child's life. I believe that it elevates a child's room to have one inappropriately sophisticated piece included! However, there are so many wonderful new and durable products on the market that it is great to make use of these as well.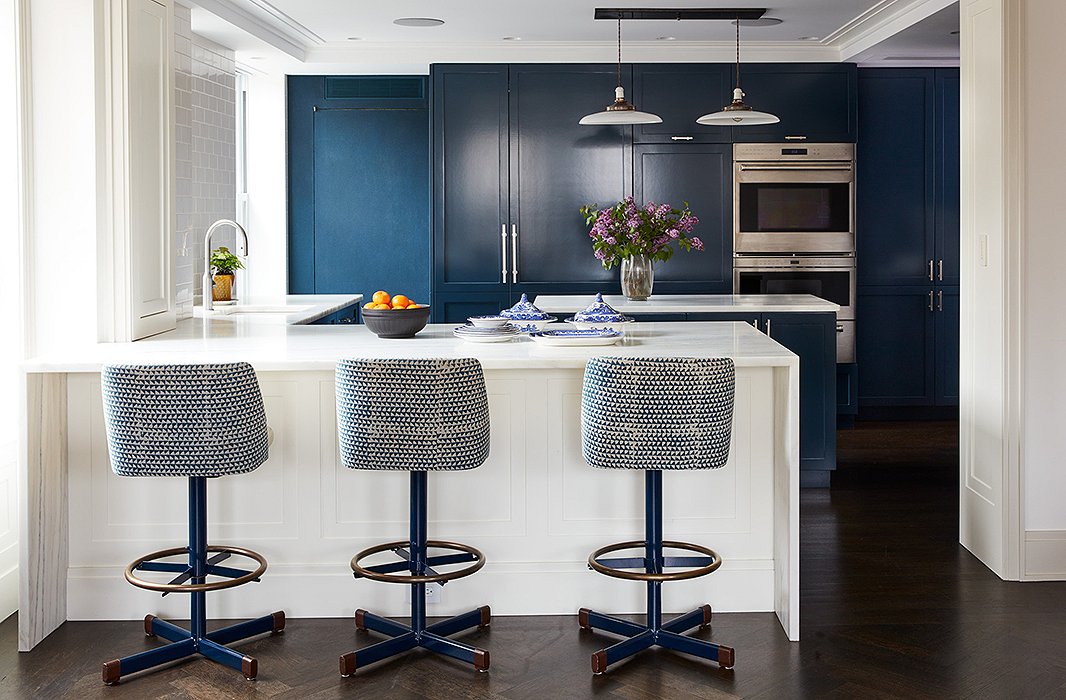 OKL: Do you have any tried-and-true storage tricks for small-space living?
TM: We're fans of drawers under beds. There is always extra space, and when a drawer is built in, it looks clean and neat while also being functional. We also use a lot of chests in our projects. In a small space, there is no reason one drawer in a chest in the front hall can't house off-season clothing, extra toiletries, etc. Just because a piece of furniture is in one room does not mean the items inside have to be specific to that location.
OKL: There's quite a bit of pattern mixing happening in this apartment. How did you pull it off?
AP: People are afraid to mix patterns—but I think if you coordinate color families and mix the scale it generally works. In this project the nursery's patterned ceiling paper is in the same color family as the overscale print on the window seat.

Just because a piece of furniture is in one room does not mean that the items inside have to be specific to that location.
OKL: How did you use wallpaper to enhance the spaces?
AP: Wallpaper is a great way to layer in texture, color, and pattern. In the foyer we chose a dark, moody grass cloth from Maya Romanoff, and the bedroom hall has a paint-splatter-effect paper from Peter Fasano. Wallpaper makes an otherwise-dull pass-through space much more exciting. Similarly, we love using papers on the ceiling. It's unexpected, and usually the square footage is less than the walls, so you get some bang for your buck. And who doesn't love looking up at starry wallpaper whilst lying in bed?
OKL: Any tips for arranging bookshelves? 
AP: Bookshelves are always a challenge! We like to try to mix books—both coffee-table and hardcover—with family photos, objects, and even artwork. It's often trial and error, but starting off with a lot of great books helps. If you are low on books, shop your local library sales and online used resources or create groupings that are balanced with a vase or a sculpture. We also like to hang paintings and prints on the face of shelves, which can hide bare spots.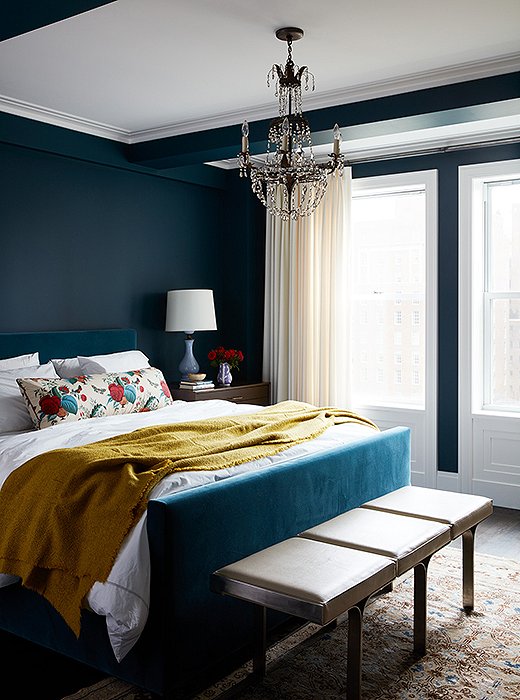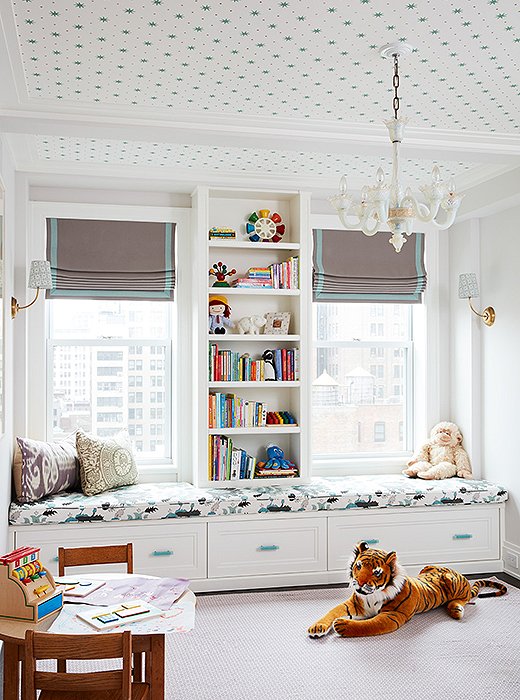 We love using wallpapers on the ceiling. It's unexpected, and usually the square footage is less than the walls, so you get some bang for your buck.
OKL: What was the biggest challenge you encountered during the project? 
TM: It was a challenge to reinvent many of the pieces that we had purchased for our clients' previous home into something new. We didn't want to simply pick up the old floor plan and move it upstairs; that was not inspiring or exciting to us! We wanted—needed—to use many of the old pieces in a new and fresh way.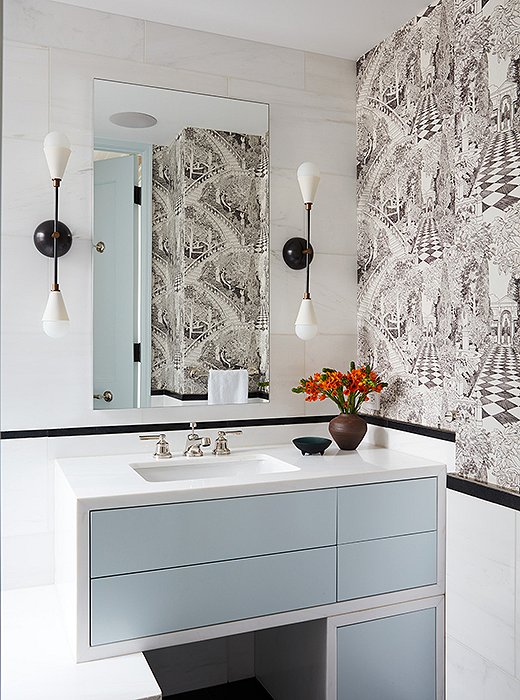 The less it matches, the better it is. Mix an old 'grandmother' needlepoint with a graphic pattern with a colorful chintz. If the color family works together, the patterns usually fall into place.