Our special projects editor (and resident Weekend Decorator), Megan Pflug, is back with her latest crazy-cool DIY solution.
Like so many other older buildings, Glen and Louise's 1890s home has seen some less-than-thoughtful renovations over the years, leaving their bathroom looking dated and lackluster. When I first saw the space this summer I knew it had potential. By focusing on a few simple upgrades, I was able to transform the space without the bathroom ever being out of commission or breaking the bank. See how this contractor-free renovation went down in a matter of days with a little planning and some creative problem-solving.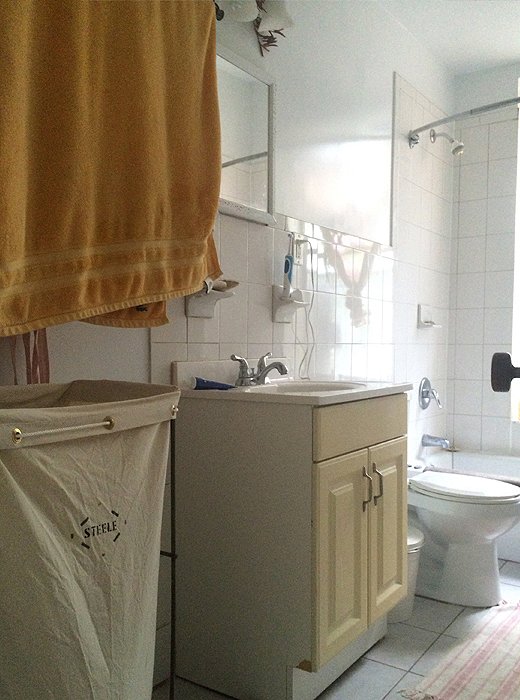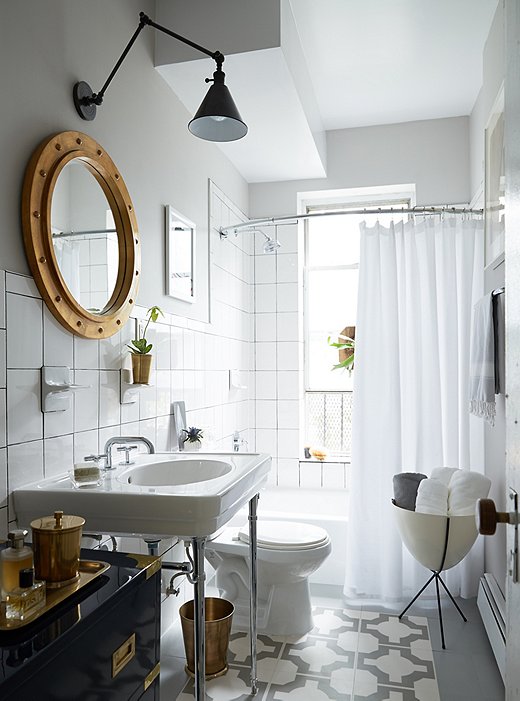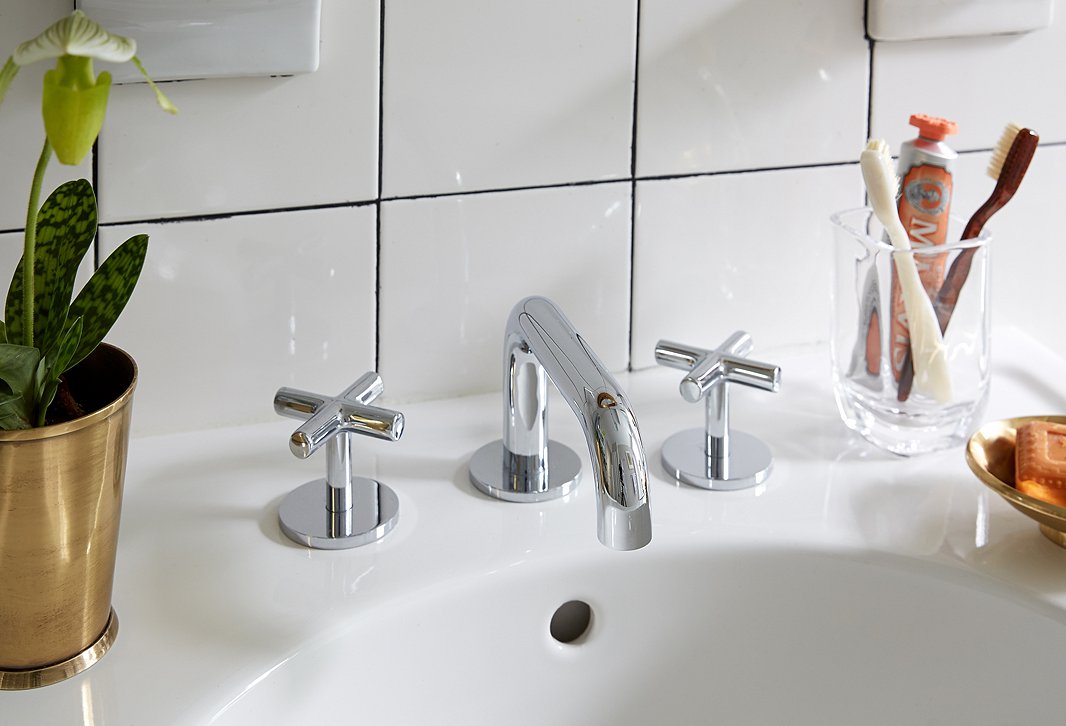 Step 1: Out with the Old
The most costly and time-consuming part of a bathroom renovation is relocating plumbing and electrical fixtures. The demo involved can leave the space unusable for weeks, with walls that need repair and tiles that need replacing. So I decided to leave the existing bathroom layout in place but replace the sink and tub fixtures. After some careful measuring to make sure everything would fit, I ordered a new sink and faucet to replace the existing boxy cabinet and dated fixture.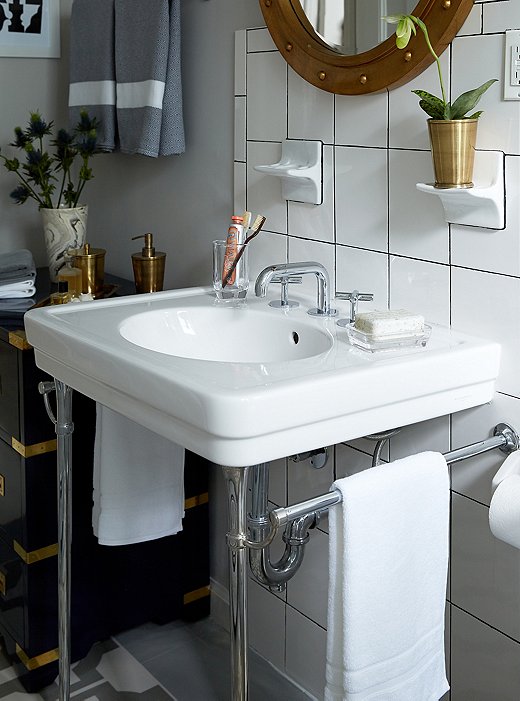 Step 2: Call in the Pros
With my fixtures on the way my next move was to hire a plumber to handle the install. I know what you're thinking: "But this is a DIY!" After countless DIY projects, I've learned that knowing when to delegate is the most valuable DIY skill to have in your tool belt. In one day the plumber removed the old vanity and installed our new sink, something that would have taken me weeks to do on my own. If you're confident replacing plumbing, though, then by all means go for it!
Step 3: A Bit of Problem-Solving
Our plumber also replaced the shower fixtures. It turned out that in order to swap out the shower hardware we also needed to replace a valve behind the wall. That sounds scary, but it's not, especially when you hire a pro to do it for you! I provided our plumber with a few extra tiles, and he was able to open up the wall, change the valve, and patch it with matching tiles. Because our tile was so basic, finding a few matching ones at the home improvement store was an inexpensive and easy fix.
Tip: To make sure your plumbing appointment is efficient, discuss everything in detail with your plumber before he or she gets started; you might even want to schedule a quick consultation before install day. That way you know you have the correct hardware on hand and can avoid delays.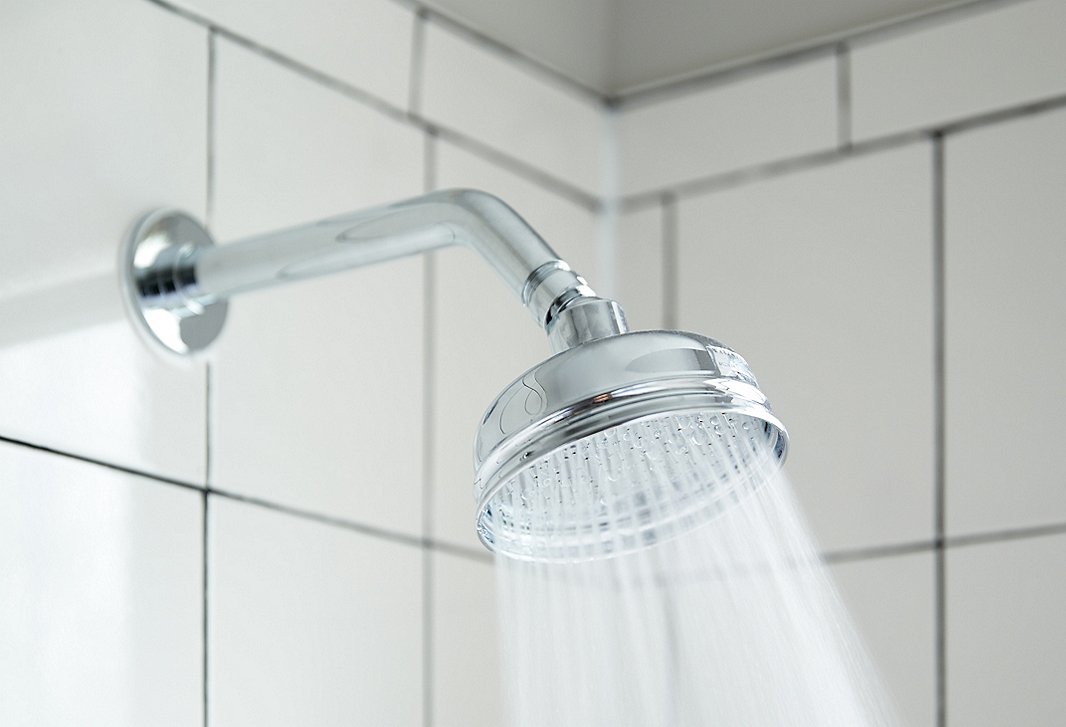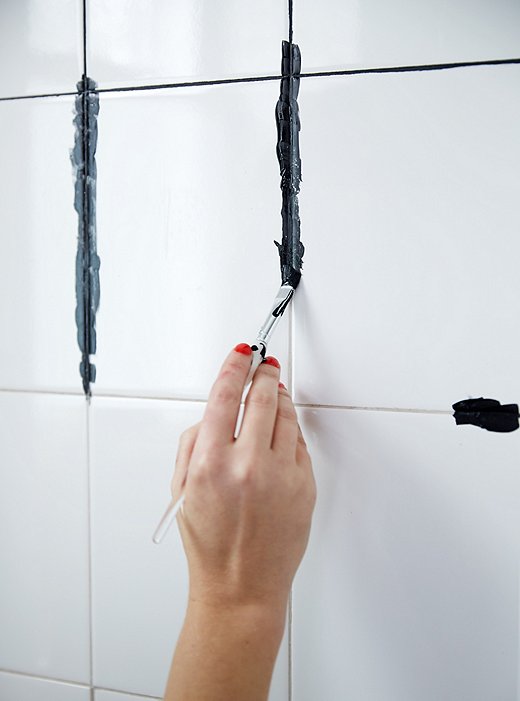 Step 4: A Quick Tile Fix
With the plumbing fixtures updated I turned my attention to the tile. If budget and time were no object, Glen and Louise would have preferred to replace the tiles with a  more interesting option. In reality, however, that option was out. On the upside, the tiles were in good shape and relatively inoffensive. To add a little graphic oomph, I used a paint-on grout dye to darken the existing white grout lines.
The process of dyeing grout is really simple: You paint the product on and then wipe away the excess with a paper towel or a rag. Don't worry; the dye stains only the grout joints. I found that working on small sections of wall works best. If you try to cover too much space at a time you'll end up really needing to scrub to get the dye off.
Tip: If black grout is not your thing, the dye also comes in a number of other colors, including gray.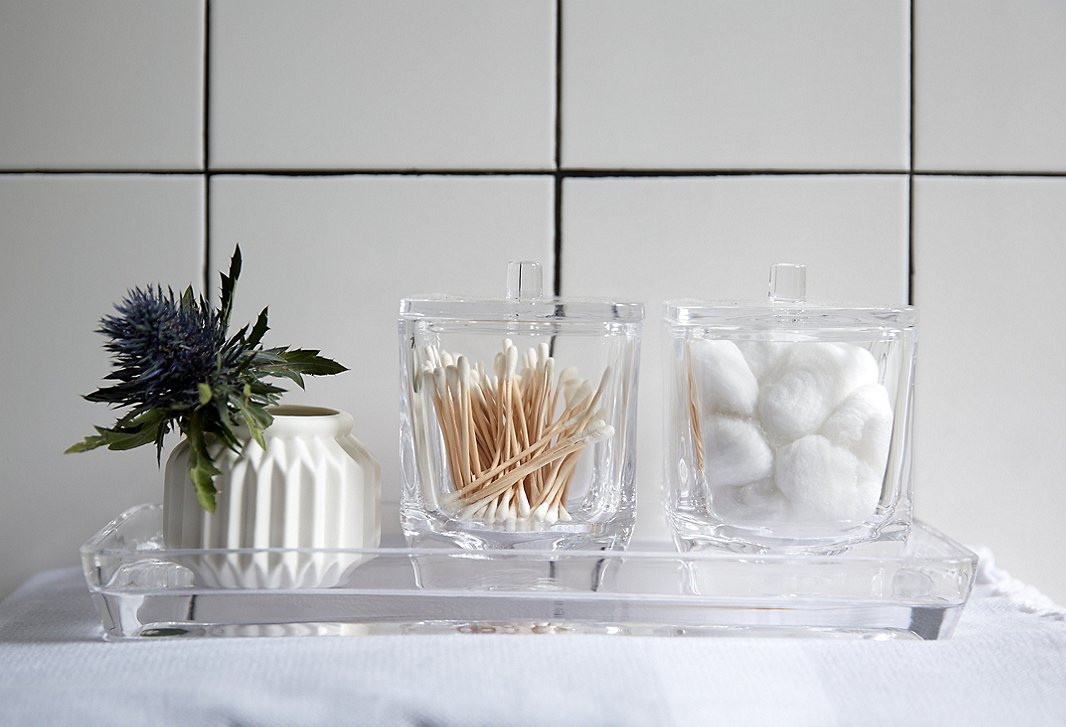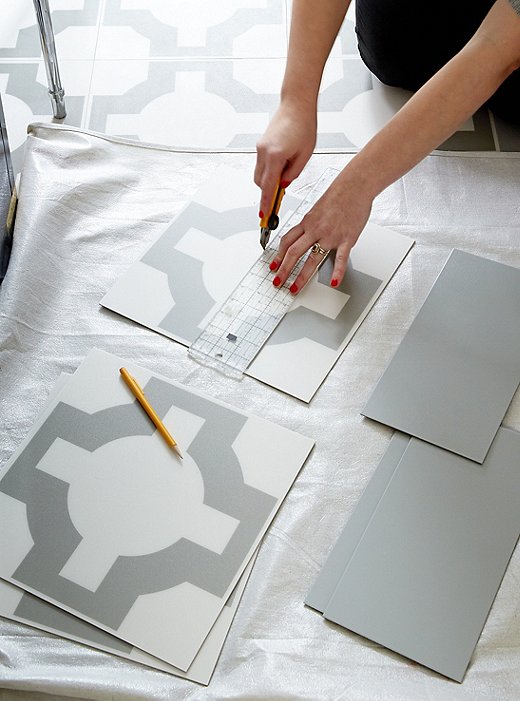 Step 5: Easy-to-Install Flooring
Like the wall tiles, the flooring was in pretty solid shape but far from stylish. So with the help of a gorgeous line of linoleum tiles I gave the bathroom floor a major upgrade. There are some really huge advantages to working with linoleum. For starters, installing it is supereasy, and you need only a utility knife to cut it and a little contact cement to hold it in place.
I used two kinds of tile, one solid and one patterned. I arranged the tiles so that the patterned ones were in the center and the solid tiles formed a border around the edges. Harvey Maria, the maker of these tiles, has a lot of great information about instillation on its website and even a few really helpful video tutorials!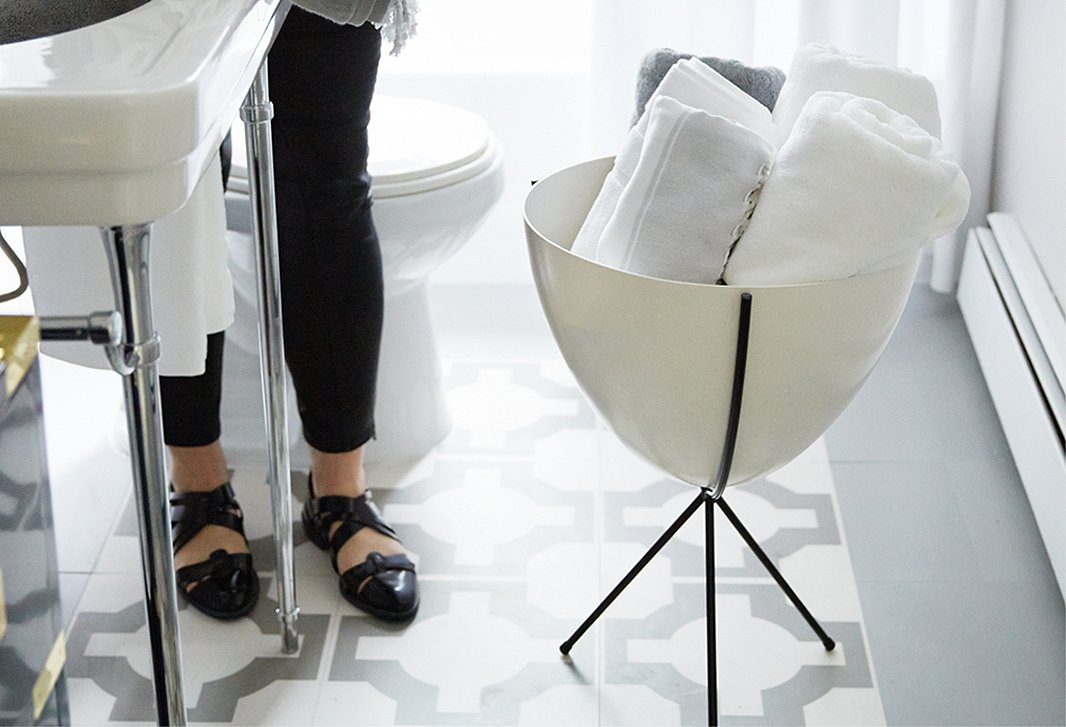 Step 6: Creative Storage Solutions
While the previous cabinet below the sink did provide more storage than the new pedestal sink, it still wasn't enough. I added a glossy blue campaign dresser that more than compensates for the storage we gave up with the cabinet—and it also provides additional counter space! When looking for nontraditional bathroom storage options, scale is everything. This piece is actually a bedside table.
For additional storage I used a midcentury-inspired planter to store rolled towels. Planters are an unexpected alternative to the average storage basket, and this one is waterproof, so it's a perfect solution for next to the tub.
Step 7: A New Color Palette
It's no surprise to anyone that a fresh coat of paint goes a long way toward reviving a space. I wanted the bathroom to retain a light and airy vibe, so I painted the walls a soft gray, which also helps the white tiles pop as a design feature.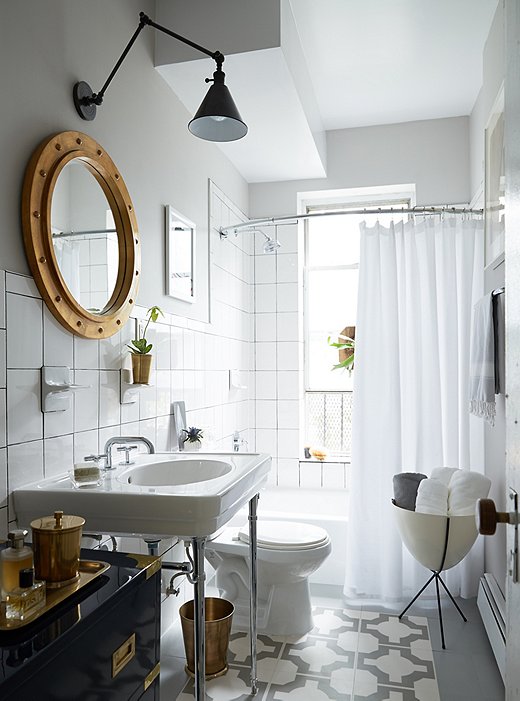 Step 8: Infusing Personality and Style
A new large round mirror above the sink gave the room some much-needed personality and creates the illusion of more space. To install the new mirror I unscrewed the door of the old medicine cabinet from the wall. With the door gone I hung the mirror right over the recessed part of the cabinet, rendering it inaccessible for daily use, but luckily we'd added storage elsewhere.
Next, I switched out the old light for this cool long-arm sconce.  I feel pretty comfortable changing out light fixtures, but if you're not, definitely hire a pro to help. Both of these simple changes are great solutions for renters! Just rehang the original light and the mirrored door when you leave.
To finish things off, a couple of sleek new hooks were added to the wall for hanging towels or robes. By far the best part of the entire process was welcoming my friends to their new and improved bathroom!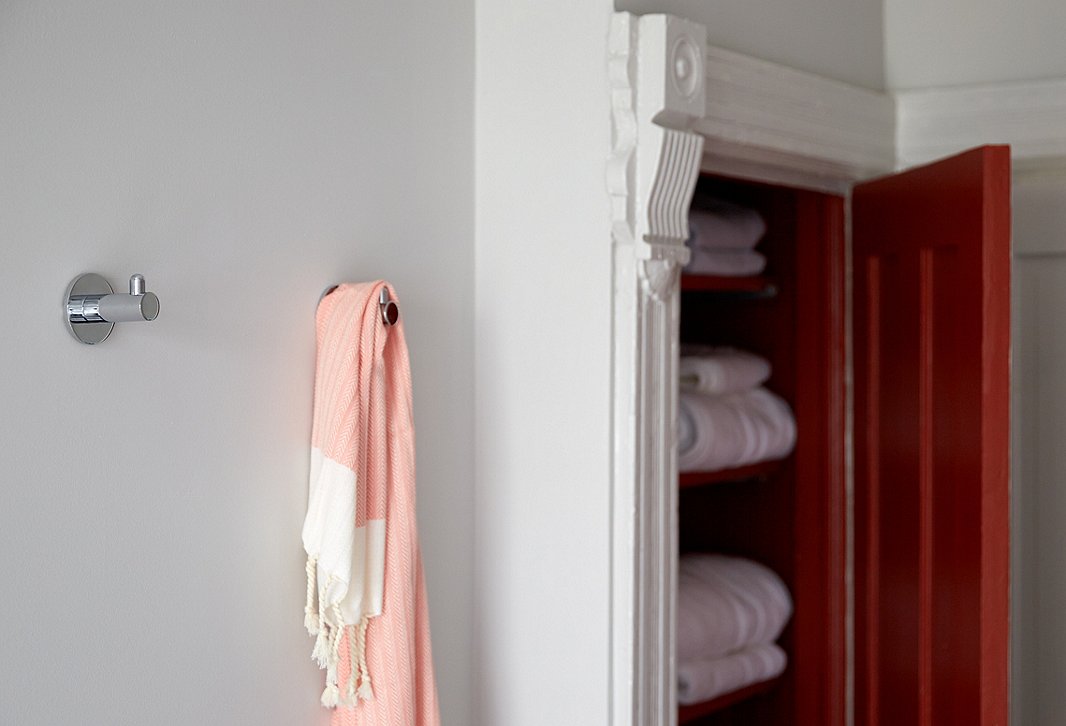 For a behind-the-scenes look at this makeover check out the One Kings Lane Instagram feed!