Designer Betsy Wentz loves color. In the home she shares with her husband and four children, the side entry is lined with built-in lockers in a rainbow of glossy colors, the kitchen backsplash is orange and white, and a striped pink, coral, and red surfboard hangs in the family room. What's more, the cover of her debut book, Design Happy, spotlights a dining room with an aqua cabinet and chairs in hues from indigo to bright yellow.
But though color clearly makes her happy, Betsy recognizes that not everyone wants a spectrum of hues in their home. That's why her book and her design philosophy are less about color and pattern and more about discovering what people love—even if they don't know what that is yet.
"You want to find that happy place where the person feels you're leading them to that they wouldn't go without you," Betsy says. "The goal is not to force people to do something, because they won't like it. I try to find that thing they do like and build on that." For a client in love with an heirloom Heriz rug with blues and golds against a red ground, for instance, Betsy might suggest blue upholstery or gold-and-red drapery. If this approach seems like one a therapist might take when encouraging clients to modify their behavior, that might be because Betsy earned a master's degree in counseling psychology and pursued a career in that field before moving into design.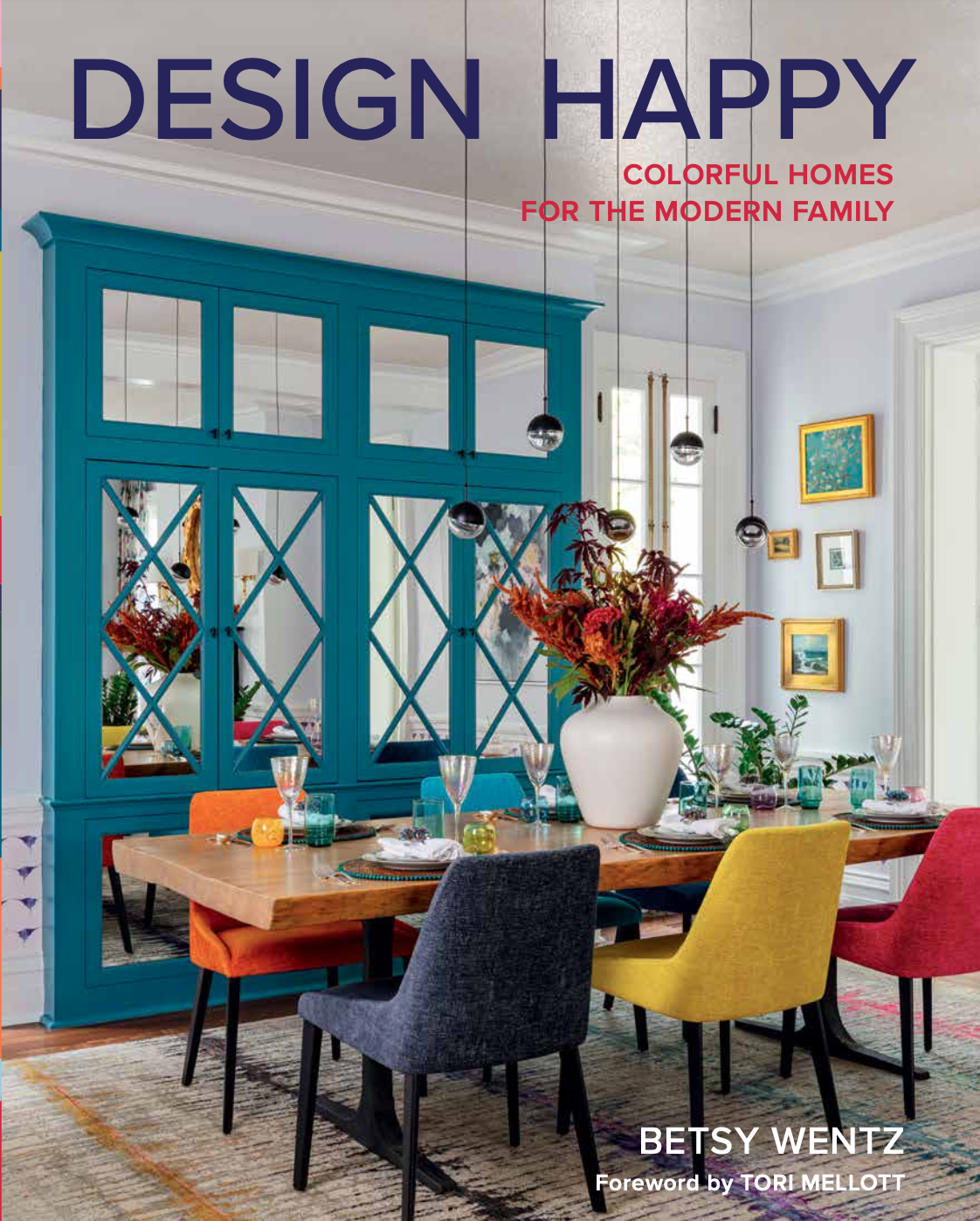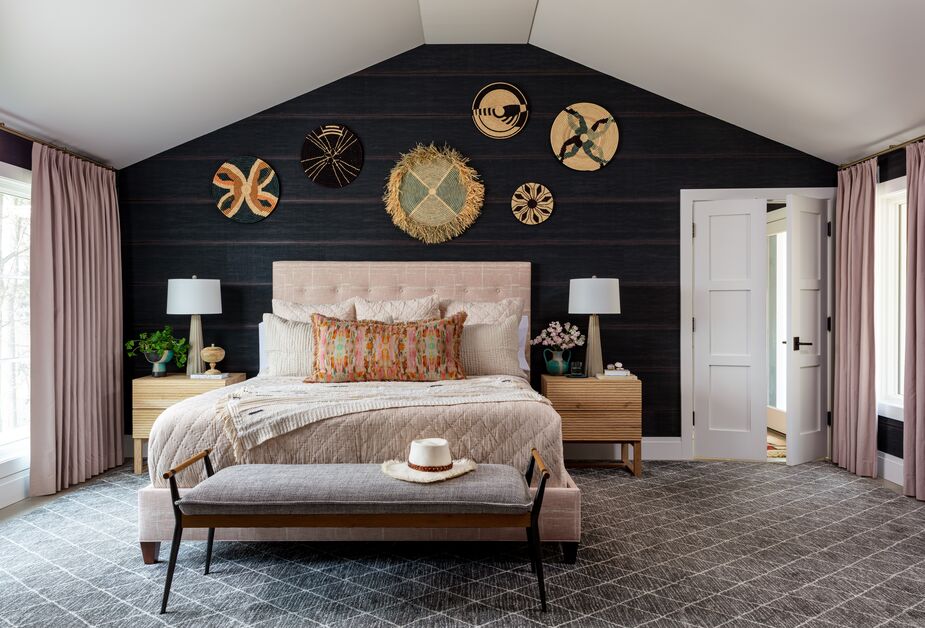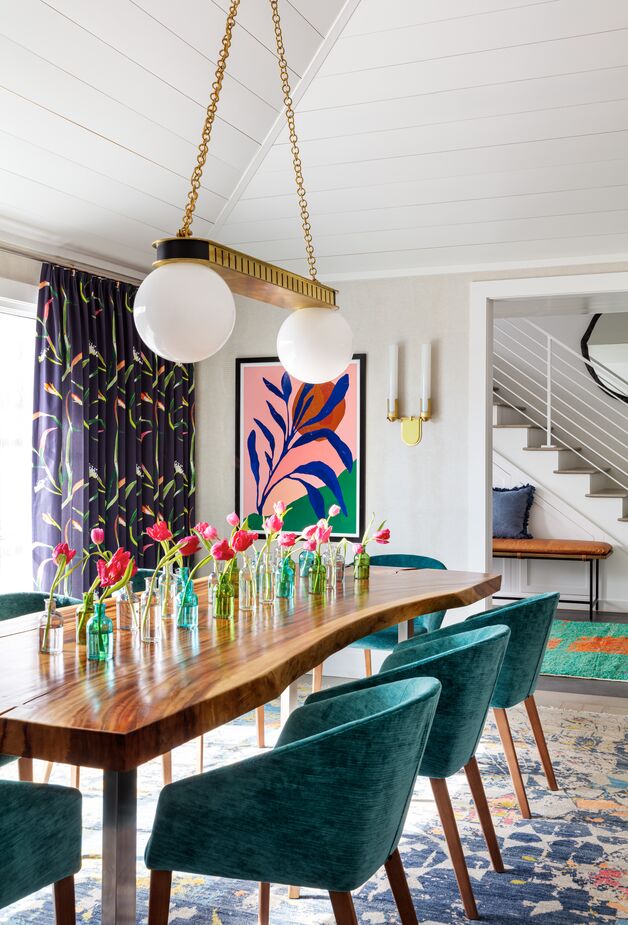 Creating a home that embraces color and pattern is about much more than psychology, of course. "It's about balancing," Betsy explains. "Scale, number one. Intensity, number two. Color, number three. With a small geometric pattern, a large-scale floral will almost always pair well with it. If you're using a lot of muted tone-on-tone, you don't want to drop a bomb with something that's heavily saturated." She's a big proponent of pinning on a corkboard swatches of all the colors and patterns you'd like to use in a space (her book includes such sample boards for each of the 12 projects included). This way, "if something isn't flowing, you'll know it."
As for why so many people hesitate to decorate with patterns and colors—even colors they profess to love—one reason is "people get traumatized from designs of the past," Betsy says with a laugh. Many of the people who popularized minimalist neutrals and monochromatic farmhouse style did so in rebellion against the cabbage-rose wallpaper or preppy pink-and-green chevrons they grew up with.
Another reason is people worry they'll quickly tire of living among lively colors and patterns. Betsy is quick to dismiss that concern: "You're not afraid you're going to get tired of your husband, are you? If you love something you will find it appealing until the 10 or 12 years pass and it's time to replace it."
And that leads to what Betsy considers the number-one takeaway from Design Happy. "You can't be afraid to live with the things you love. Buy what you love and surround yourself with what you love," she says. "We need to live in a happy environment, and if that means taking a risk, you should try it, because it can really pay off."
Words of Wisdom from Design Happy
• "You can fall in love with a magazine image depicting floor-to-ceiling French doors with the Pacific Ocean in the background, but if you live in Philadelphia, that will never be your reality! The name of the game is using what you have to your advantage. Focus on the strengths of your space and try to play them up while keeping your mind open to unexpected, on-the-fly options that may present themselves."
• "Treat your closets and stairways like any room in your house. Add wallpaper and window treatments to make them happy spaces too."
• "Consider using vegetable-dyed vintage rugs in high-traffic areas, as they hide a multitude of sins!"
• "To help balance and draw your eye away from the heaviness of a wall-mounted TV, add wallpaper with texture or pattern."