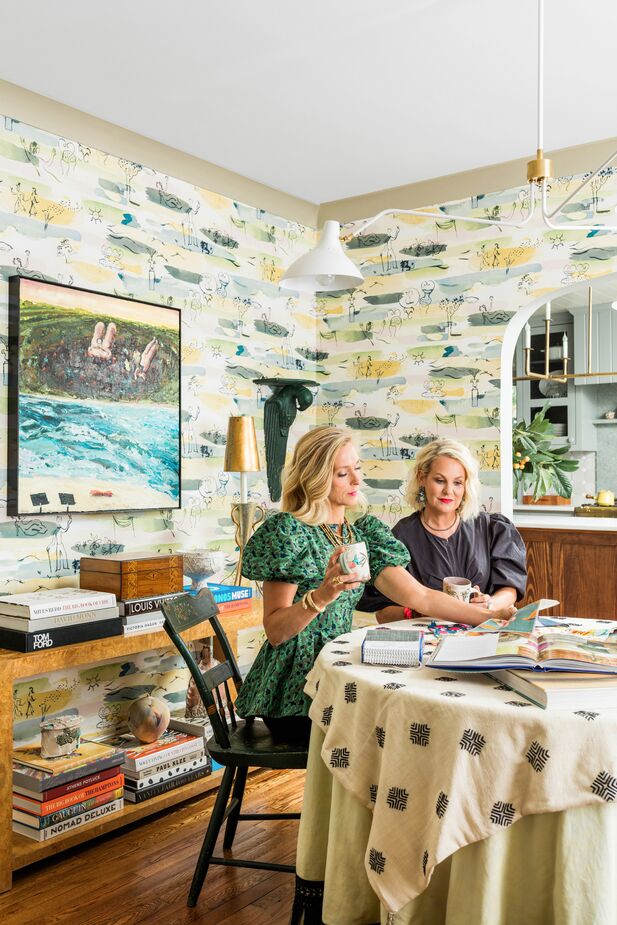 Client Susie Mobley had just one rule for Tami Ramsay, a principal designer of Cloth & Kind, when decorating her new home: "If it wasn't a hell yes, it was a hell no!" Tami recalls. "She wanted the home to be a very eclectic, unique, colorful, layered, and storied home that reflected her varied interests and loves."
The four-bedroom home does just that. "I really love that when people walk into the house it literally stops them in their tracks," Tami says. "They have to take it all in, and most everyone tells our client that it is such a beautiful reflection of her and her vivacious personality."
Susie bought the Athens, GA, house while it was still under construction. Right away she brought on Tami, with whom she'd worked on previous projects, to help her make the most of her existing collections in the new space. The pale green kitchen cabinets, for instance, were selected to tie in with the greens and blues abundant in Susie's wide-ranging assortment of art and objets. 
Though you'd hardly say that those colors dominate the home's palette, except in the primary bedroom, where teal walls and an oversize upholstered headboard create a cocooning effect. The new upholstery covering Mid-Century Modern living room sofa, for instance, features green—and coral, amber, and other colors, each of which is repeated throughout the room. The same room also has an antelope-patterned rug, a leopard-print chair, and tables, lamps, vases, and accessories in just about every style and color imaginable.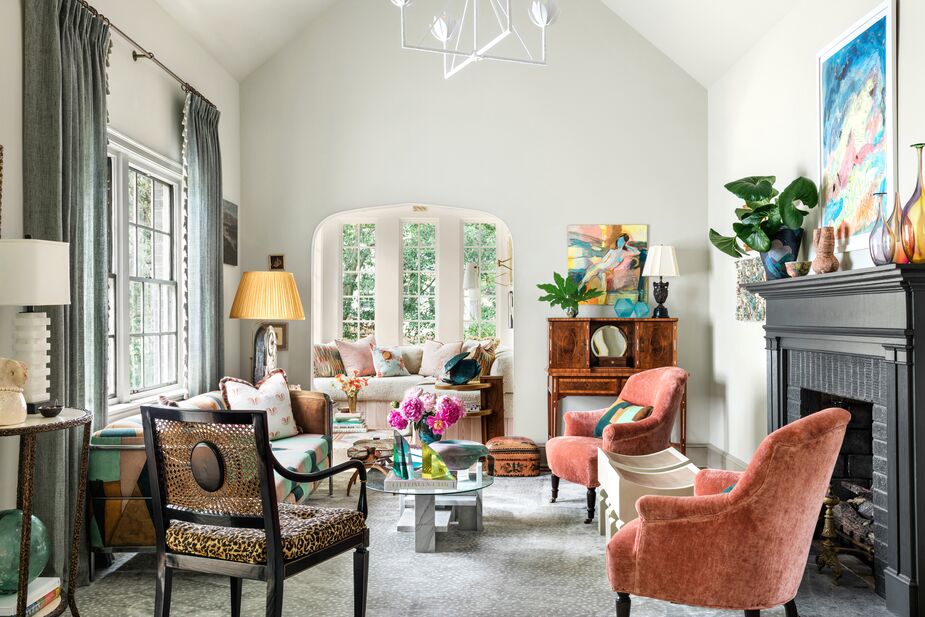 Visible through one of the living room arches is a seating area where more colors and patterns cavort with one another across pillows, artworks, and a ceiling fixture that looks like psychedelic bubbles. 
Throughout the home, "we used a mix of some of her heirloom pieces from her family home like antique chests, a favorite Chippendale chair, a bench, and a few pieces of special art," Tami says. "Most of what we used was a combination of new, vintage, and bespoke/custom pieces to flesh out the design and hit the mark with her aesthetic."
And how did Tami and Susie know when the design was fleshed out? How can one be sure that a harmony of patterns and provenances doesn't become discordant? 
"It's just a gut intuitive feeling, one that makes you cock your head to the side just so," Tami says. "But designing a layered, colorful, heavily patterned home is gutsy no matter what, so the threshold for maxing out is a bit further out! You just know when you know."
In short, Tami recommends doing what Susie does: "Buy and collect what you love—it all works!"