Cate Dunning, a co-founder of design firm GordonDunning, was familiar with her Decatur, GA, home even before she moved into it in 2012: It had belonged to her maternal grandparents. Not only did her mother and uncle grow up in the house, but when Cate was younger it was the hub for many a family gathering. 
In 2019, Cate decided to work with architect Rodolfo Castro of Castro Design Studio to renovate the house to better suit the needs of her family. The pandemic, a pregnancy, and life with a newborn resulted in the project taking more than three years—but it's easy to see that the results were worth it. Cate shared with us the story of her home.
One Kings Lane: What were the most significant changes you made?
Cate Dunning: The largest change was the addition—living room, breakfast room, primary suite, and powder room. The kitchen was completely renovated. We also added a rooftop deck over the addition. 
Did you retain any rooms or furnishings from your family?
Many of my gram's furnishings left the house to live with other family members—you've got to share when you get the house—but the house is decorated with several pieces handed down from my paternal grandparents. They lived in the same neighborhood as this house when my dad was growing up.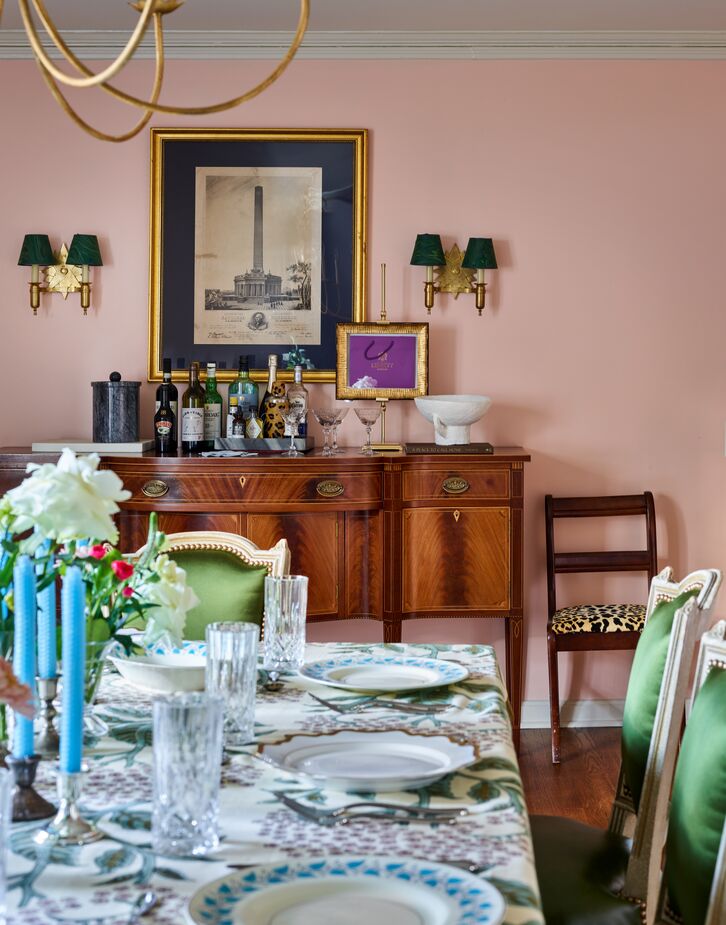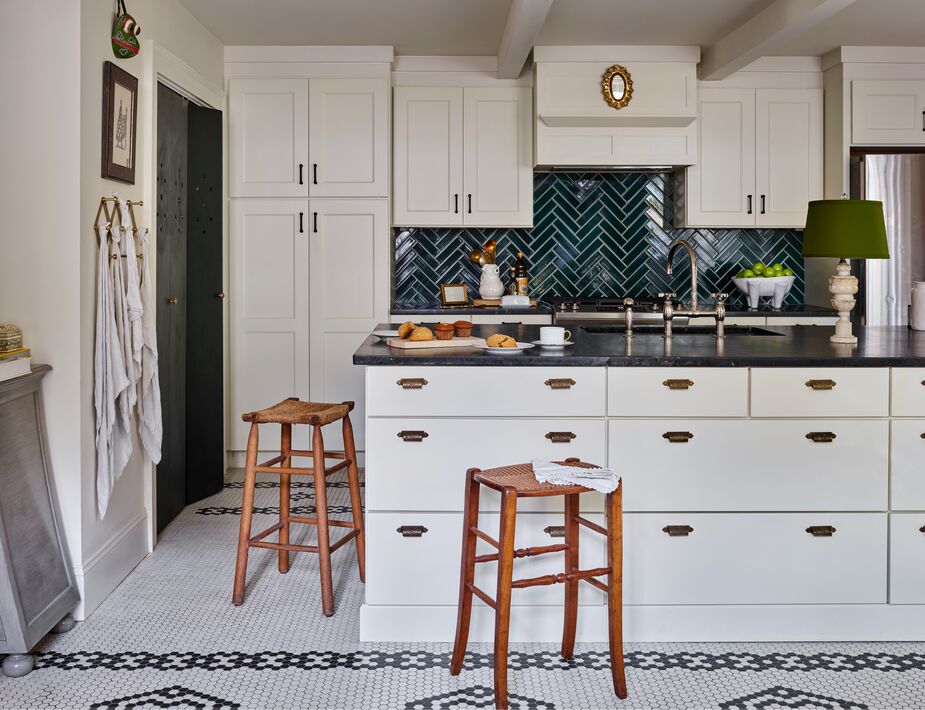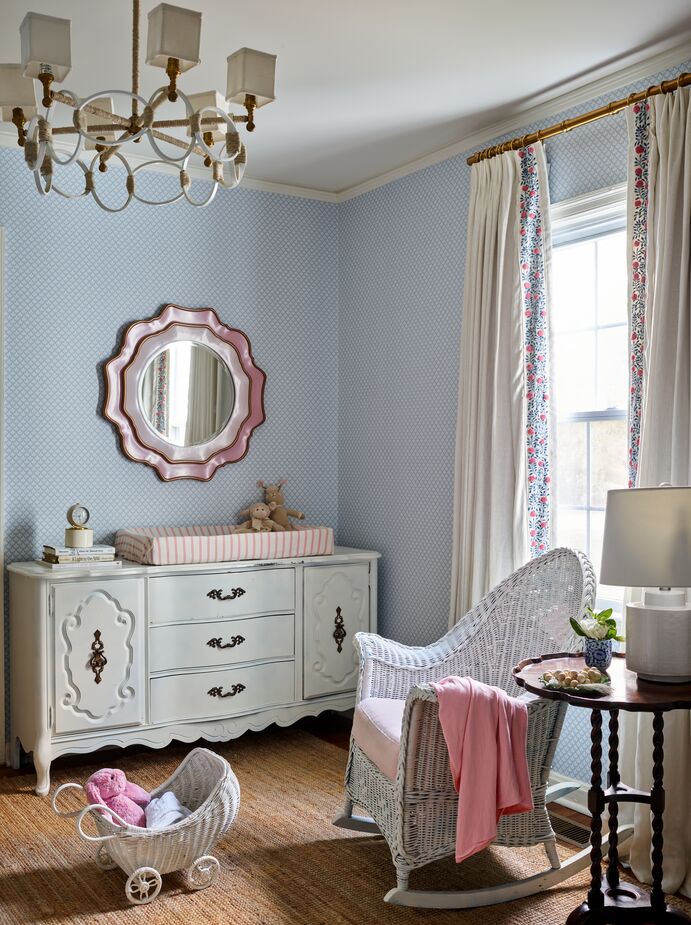 Did you or your husband have to make any significant compromises—for instance, did he absolutely hate any colors you fought for?
My husband is a designer's dream spouse. Chris and I got married two months after Lathem [Gordon] and I started GordonDunning. He very much knew what he was getting into. He supports most of my design choices. He has an engineer's mind and a country boy's work ethic. We scheme ideas and often do small projects together. 
How did the room with the fantastical murals and the wicker chairs come together?
That is our breakfast room. It faces the island in the kitchen. We love that it is wrapped in windows! I am obsessed with banquettes. The settee and the table were the first selections. The peacock chairs were next. We came across them in an antiques store. I have always loved peacock chairs. They remind me of Charlene's chair in Designing Women. The two we found are not as exaggerated as most, so they fit perfectly. Folks sitting on the settee have a good view of the TV, making it easy to wrap presents with Christmas movies on or be dip-and-chip adjacent on football Saturdays. The wallpaper was the last flourish. It found me and it was the perfect "everybody's friend" to the rest of the elements in the house.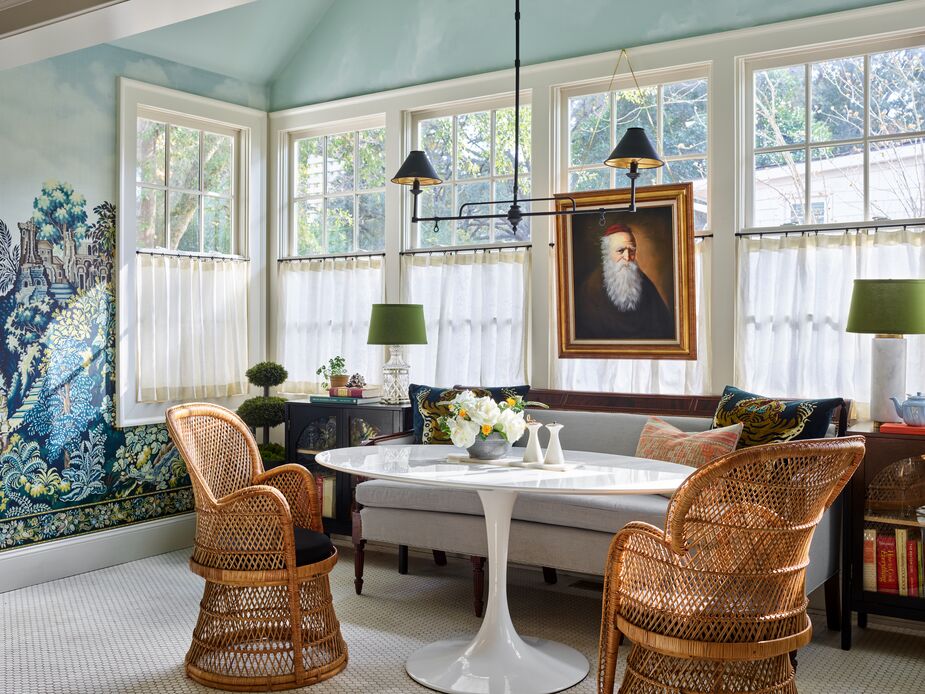 The living room [top photo] has so many wonderful layers of pattern. Any tips on how one can mix and layer like that without it feeling jumbled?
Yes! Start with stuff you love and/or things that tell your story. Find common colors or patterns or shapes in those things and go from there. My first love was the pillow fabric. It is an unexpected color for a floral chintz. I adore the granny feel. We selected other elements in the room based on the colors in that fabric. The Papa Bear Chair was my grandfather's. My paternal grandparents traveled a lot in their 20s while living in Saudi Arabia. The chair was purchased on a trip to the Netherlands. I wanted to incorporate worldly textiles from places I haven't been to yet but am very drawn to. The block-printed drapes from India and the suzani throws are good examples. Layered rooms are not perfect and shouldn't be. At GordonDunning we say, "Matching is for rookies."
What was the greatest challenge? What are you most proud of?
Renovations are always challenging. We lived in the attic for last three months of the process. Very unfun. I am most proud of the layers and the story. Most of our family and old friends live close. We are always gathering at the house for casual get-togethers and holidays. The space is beautiful and tells our story, but it is still has the "come on in" vibe it has always had.