There's a reason blue-and-white decor is a decorator favorite. It can lean modern or traditional, it works in every season, and it pairs beautifully with just about any other hue. To prove just how versatile this timeless color pairing can be, we challenged five of our talented stylists to dream up unique blue-and-white rooms. Meet the design teams and check out the results of the challenge below—and get ready to fall for blue and white all over again.
Trad with a Twist
"A blue-and-white palette goes well with almost every other color," says stylist Erika Engstrom, who brought in tons of lush greenery (and soft green hues) to give her blue-and-white room fresh appeal. Classic chinoiserie ginger jars, urns, and planters dot every surface; together with the blue raffia-wrapped desk and the indigo floor pillows, they add a touch of global allure to the traditional space.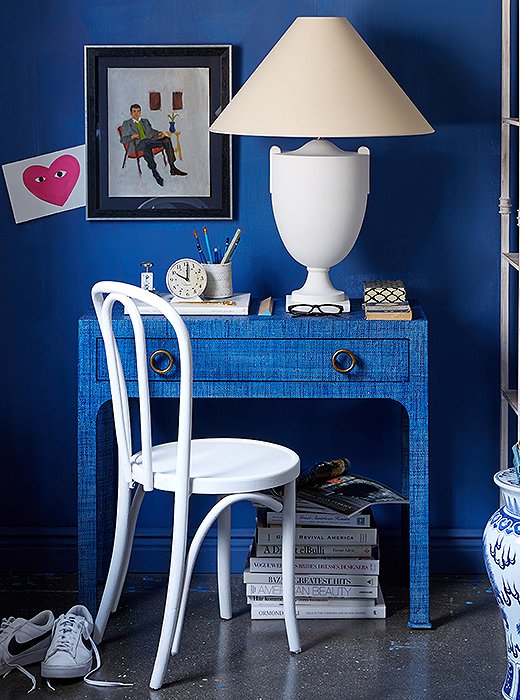 Preppy Cool
A bold wall color (created with three layered shades of blue) sets the scene for stylist Ben Reynaert's lively space—and makes the white sofa, lamp, and étagère truly pop. A collection of white pottery fills the top shelf of the étagère, creating a graphic look echoed in the abstract print to the right. Another bookshelf-styling trick? Stacking magazines to create streamlined white pedestals for art and objets.
Refined Rustic
"Warm, comfortable, and inviting" is how stylist Anthony Santelli describes his blue-and-white room, which marries natural textures with polished finishes and timeless furniture styles. Sticking mostly to serene neutrals, Anthony used blue as an accent color—and a subtle nod to coastal beauty.
Eclectic Elegance
"I love color like crazy," says stylist Eileen Behnke, "so I was adamant that my accent color be goldenrod—it really pairs well with deep, rich blues." Yellow chairs and gold-tone metals warm up the cool blue-and-white palette, while pops of pattern (a geometric throw, a floral-print armchair) add eye-catching interest. "Blue and white is a tried-and-true palette," Eileen says. "The fact that you can get so many variations on the color blue gives you an infinite number of ways to style it. It's almost a new neutral."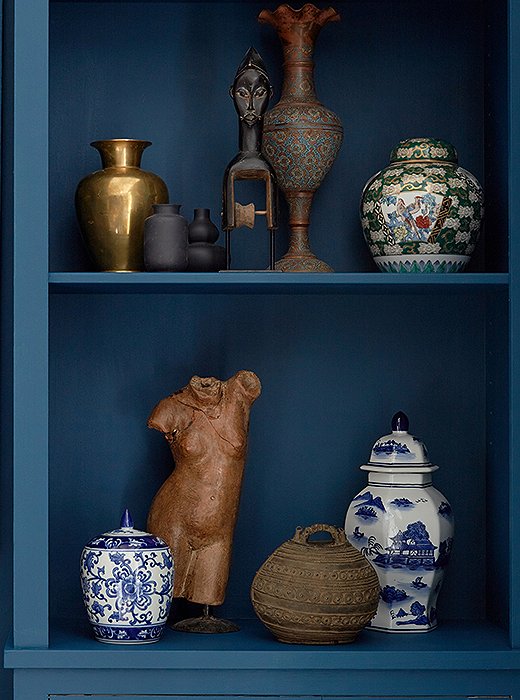 Modern Glamour
Bright-pink accents, animal prints, and luxe textures take blue and white to new heights of glamour. Starting with peacock-blue walls, Michelle created a formal seating arrangement with ladylike flair—and just the right touch of edge. "I had second thoughts about overlapping the zebra rug with the Oushak, but the room looked too quiet and needed another layer," Michelle says. "It ended up being my favorite part of the room."