When outfitting the home office, some people emphasize function without giving much thought to appearance. Others focus so much on how the space looks, they create an office that simply doesn't work.
In fact, comfort, practicality, and good looks all go hand in hand when creating your ideal home office. If the office isn't comfortable or attractive, you're going to avoid using it, which of course defeats its purpose. Below are some tips to creating a home office space where you can be happily, comfortably productive.
• Get the measure of your space. Whether you have a dedicated office or carved out a work space within your bedroom or living area, you need enough room for maneuverability. You should leave at least 36 inches between the back of the desk—the side where you sit—and the wall or any other furniture behind it. This ensures you have room to slide your chair in and out. Likewise, any pathways, such as between the side of your desk and a bookcase, should also be at least three feet wide. 
• Keep your monitor at arm's length. Literally: If you use a desktop monitor, for optimal viewing it should be roughly an arm's length from where you sit, and the top of the monitor should be eye level or slightly below. 
• Think parallel lines. When seated at your desk, your thighs and your arms should be parallel to the floor, and your wrists should be parallel to the desktop or angled slightly downward. Your feet should be flat on the floor as well. If your legs are too short for that to work when seated at a standard desk, place a small stool or even a book or two on the floor on which to rest your feet. (The Mayo Clinic has a guide with more advice for ideal office ergonomics.)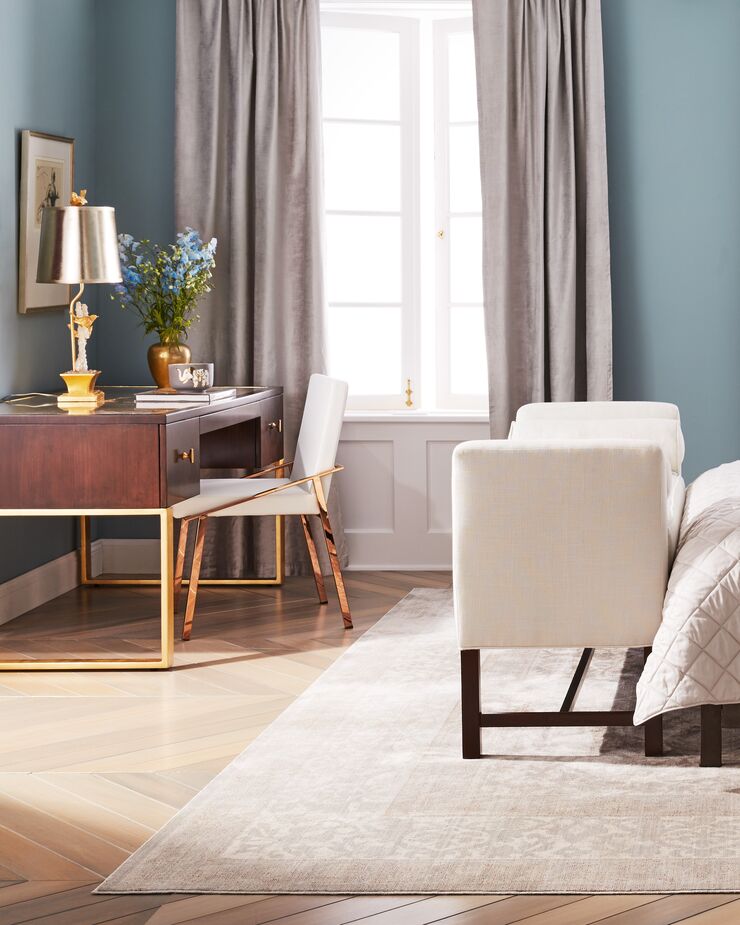 • Make your desk your command center. Equipment and accessories that you use frequently should be on, in, or within arm's reach of your desk. If you rely on a printer or a scanner, opt for a desk large enough to accommodate it, or add a table alongside the desk to place it on. If reference books are part of your tool kit, hang a shelf above your desk or ensure your desktop is deep enough to hold them. If you're constantly having to dig into files, choose a desk with a file drawer or place a cabinet next to or beside your desk. (Find more tips on selecting a desk here.)
• Calm things down. Blues and greens are generally considered the most peaceful colors, and some studies show that blues boost productivity as well. While reds and yellows can stimulate creativity, they can also jangle the nerves in large doses. So even if crimson is your favorite color, it probably shouldn't dominate your home office. (Read more on color psychology here.) Another way to maintain a serene ambience is to minimize visual clutter. By limiting the number of tchotchkes on your desk and other surfaces, you're not only creating a calmer atmosphere but also maintaining a separation between your work life and your home life. Speaking of which…
• Divide to conquer. If your home office is part of a larger space, set it apart with a room screen or two. Creating a visual divider helps eliminate distractions and makes it easier to not mix the personal and the professional. An étagère can produce a similar effect.
• Let there be light. Ideally your office space receives some natural light. But try to avoid having sunlight fall directly onto your computer screen or monitor. For one thing, the glare will hamper readability; for another, direct sunlight can actually harm your screen. If that's the best place for your desk, however, be sure the window has curtains and/or shades. Also make sure you have multiple light sources. In addition to overhead lighting, consider an adjustable desk lamp. And if your office tends to be gloomy, hang a mirror (or two) to multiply whatever light it does receive.
• Don't stare at a blank wall. Sometimes the best place for a desk is facing a wall. Make it feel less constrictive by hanging some art, a shelf you can dress up, or a mirror. This last is a great choice if you don't like people sneaking up behind you!