I'm a triple Pisces, so I tend to go through the world with not just rose-colored glasses, but triple-layered rose-colored glasses," says Danielle Rollins, who takes our call from a dressing table in the master bathroom of her Atlanta home. Known for her decadent approach to Southern style, Danielle has made a name for herself in the realms of event planning (she's written two books on the matter), interior design, and as of this past year, fashion. She considers herself something of a lifestyle expert, a term too dubious for most but one she can back up with an extensive portfolio of work. One look at an image of the party she threw for Oscar de la Renta or of the silk taffeta ball skirts she dreams up for her namesake fashion line and Danielle's talent for making beautiful things is clear. Lay the images side by side, and one discovers the most telling mark of a person who has mastered her craft: consistency.
All of Danielle's work, whether a dinner, a dress, or a living room, speaks to the idea of living life to the very fullest. Why keep your best china hidden when you can use it every day? Why leave vases empty when they can be filled with flowers? And why on earth wouldn't you paint your closet, on a whim, to match your favorite shade of lipstick? These are the sorts of questions that run through Danielle's head. But in spite of all this glamour and grandeur, her approach to living is rooted in a practical point of view.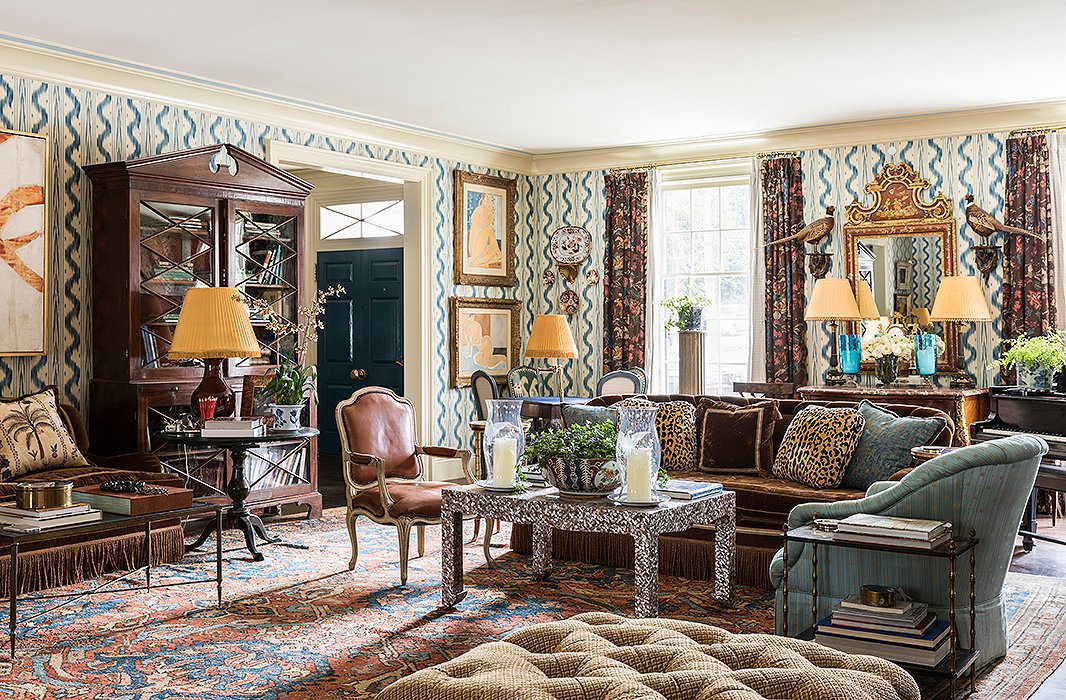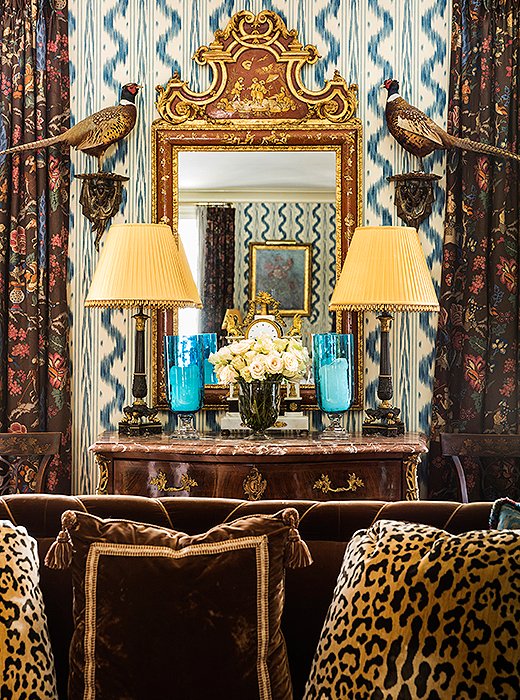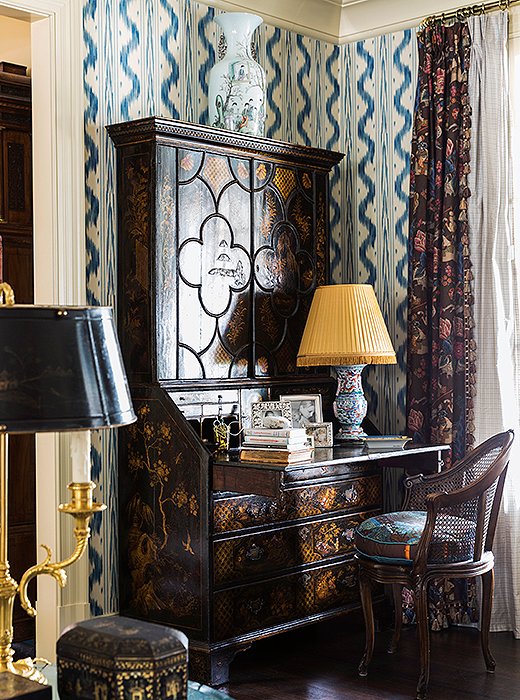 Danielle found her current home two years ago, after a trying divorce left her feeling she had to find something "and make the most of it" (read: renovate). It's at this point, it turns out, that a pair of triple-layered rose-colored glasses came in handy. Upon first entering the home, a '70s-era Georgian, she made it to about where the foyer's yellow parquet met the hallway's red shag carpeting before turning to her real estate agent and telling him to put down a cash offer. "I just knew this was the house for me," Danielle says. "I could see the possibilities, so I decided to roll the dice and call a number."
Buying "the worst house on the prettiest street" is what allowed Danielle to save enough money up front in order to conduct a remodel that would leave her turning the key to the home of her dreams. With the help of architect Bill Ingram, Danielle reconfigured the rooms to create a mix of spaces that would suit her and her three children, as well as her parents, who also share the home.
She added a kids' wing and a grandparents' wing, created her own suite, and knocked down a few walls downstairs. "It was important to me that everyone feel like they had privacy without feeling removed from one another," Danielle says. She also took great care to ensure that the communal spaces suited how she and her family lives. Converting the triple-car garage into a kitchen and building its replacement out back wasn't exactly the easiest thing to do, but the result is a grand space that encourages everyone to gather—a place to hang out and reconnect. "Yes, I wanted something glamorously casual," Danielle notes. "But what I wanted more than anything was a home that felt comforting and cozy."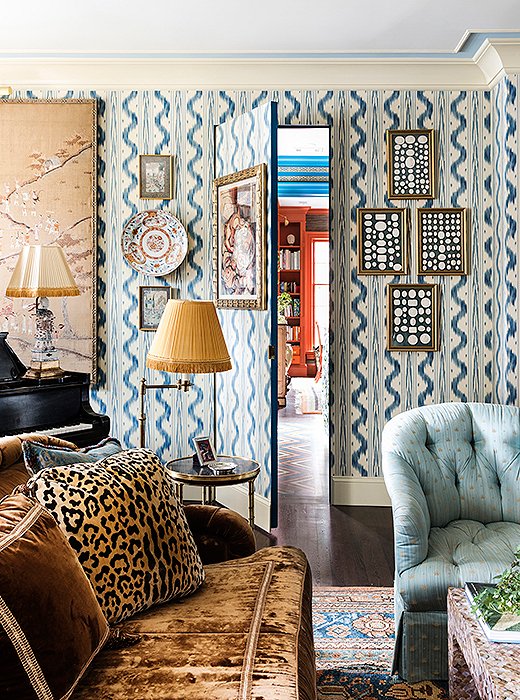 There's a sense of irreverence in the way that I dress and design. It's my own mix of practical and functional things assembled with a kind of gypsy's eye.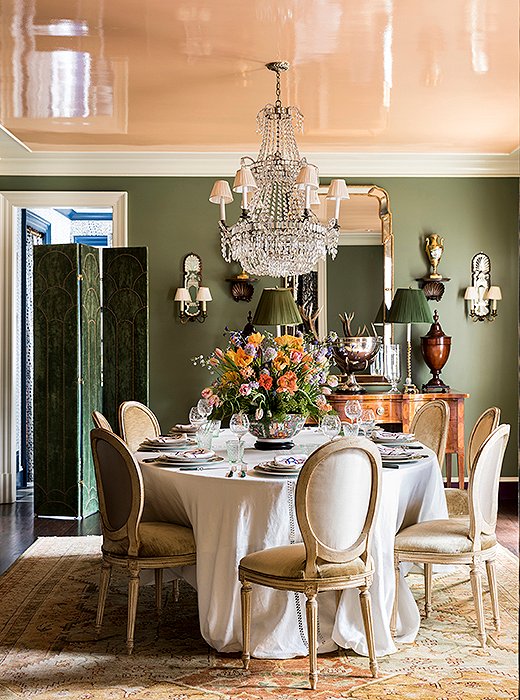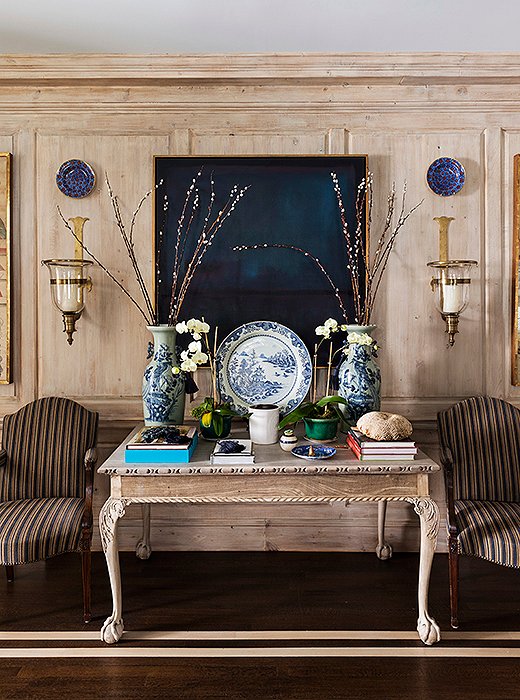 The appeal of Danielle's decor lies in her ability to layer. "It's what keeps a room in a kind of constant evolution," she explains. "If you do it right, then there's always something new that's revealing itself." In the living room, now twice its former size, patterned wallpaper and drapes add depth to framed works of art. On the ceiling, a thin blue stripe borders the crown molding, a simple and easily overlooked trick that works with the mismatched throw pillows, leather bergère chair, and artfully disheveled bookcase to turn a cavernous space into one of great comfort. Elsewhere, a vanity curtained with silk taffeta was paired with a stool and lamps dressed in the same fabric, a simple act of repeating a layer that works to take a space to new heights.
When asked if such an extensive project was worth it—the expense, the time, the disbelieving looks from contractors—Danielle pauses, which she is rarely known to do. "You know, looking back on this whole thing, I really feel like it's some sort of inner reflection of myself. It was this unloved house that had some good bones but was really pretty pathetic. What I like most about it is that it was able to withstand everything that was done to it and become something whole again."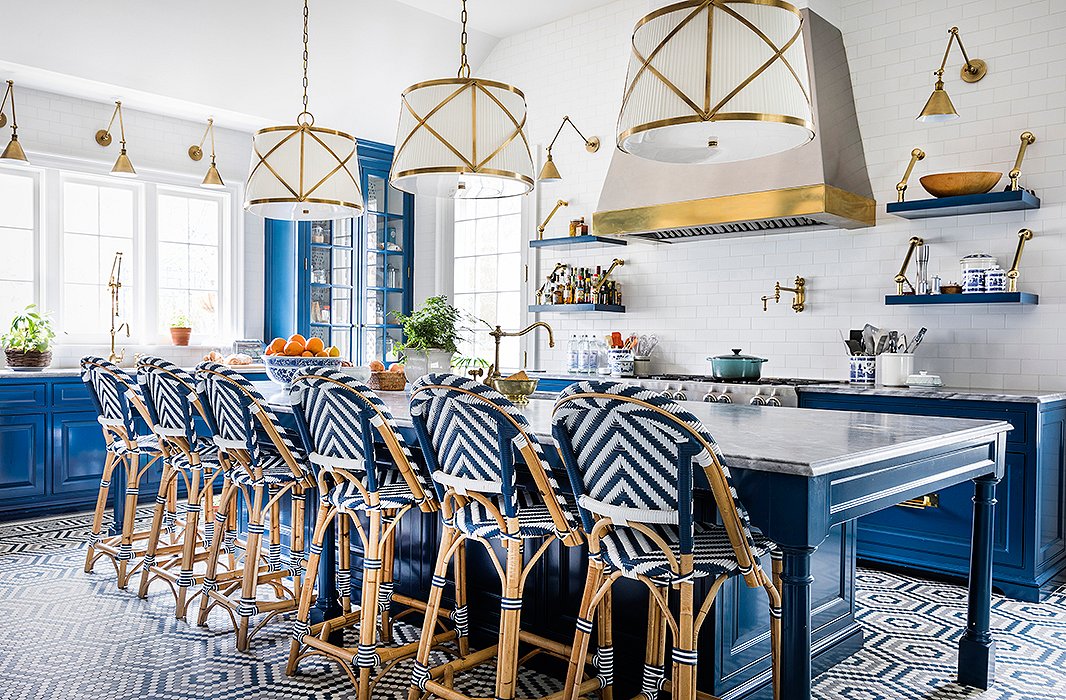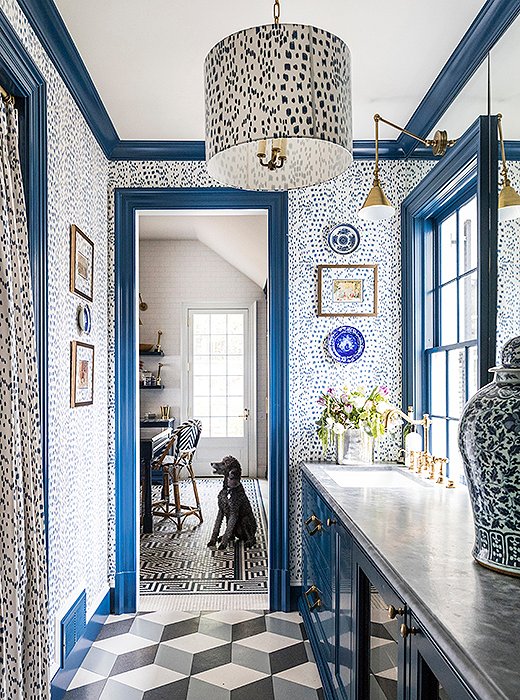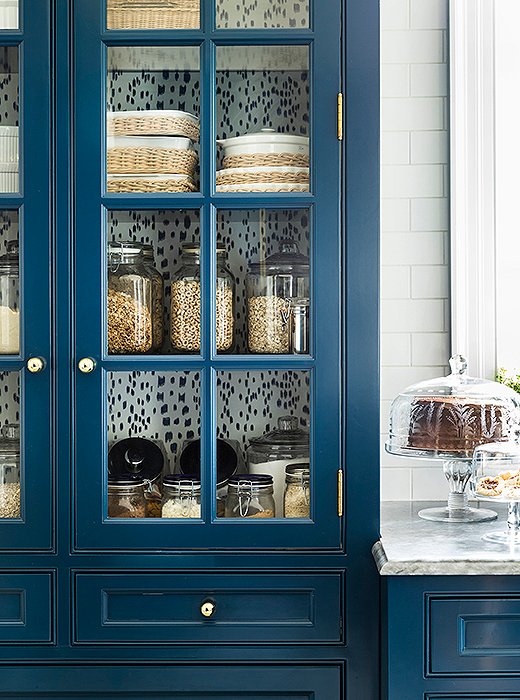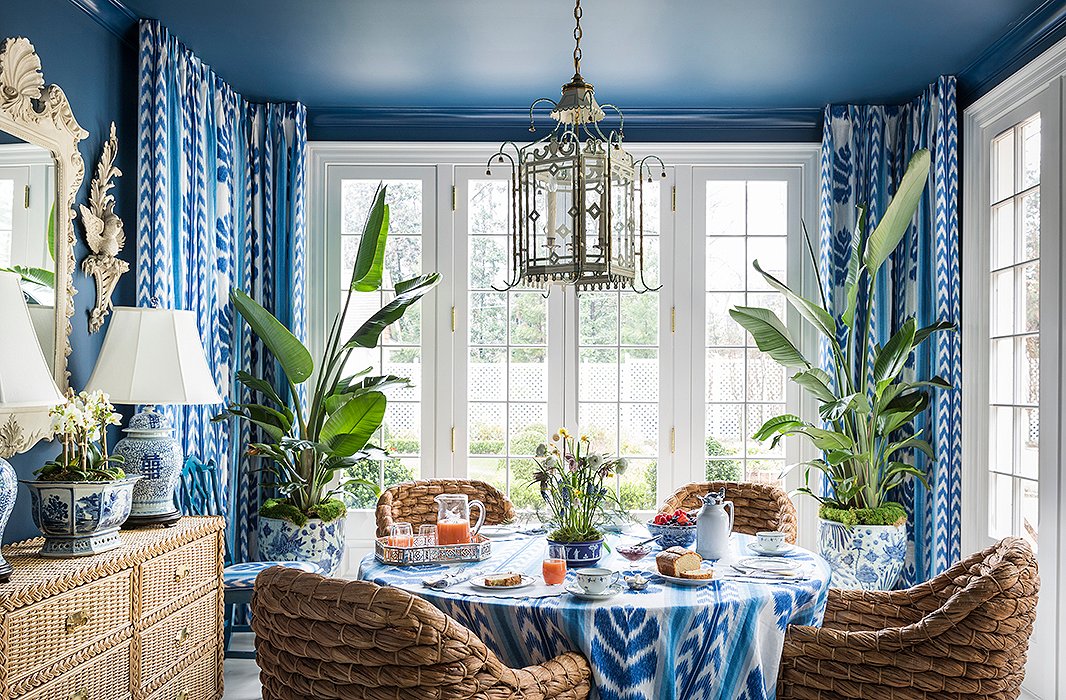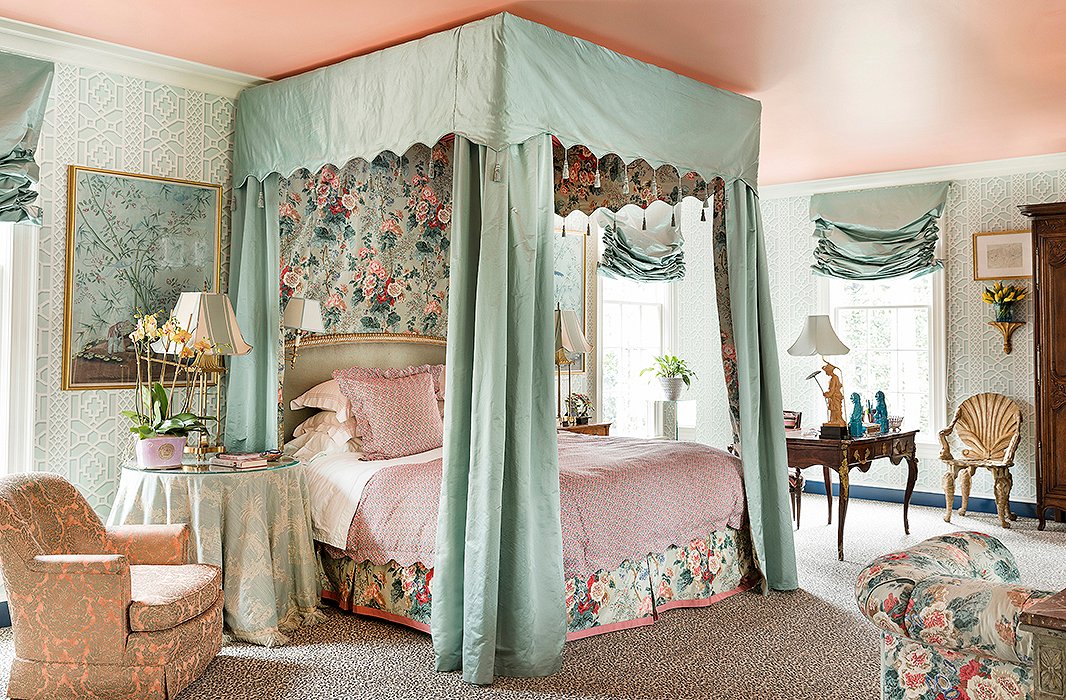 Danielle's Style Signature
The designer on her grandmother's influence and the power of the 1970s.
My grandmother was the major style influence on my life, and I thought everything she did was glamorous. She is of an era when women wore slacks, carried cigar-basket bags, and had their hair done, and the grocery stores had carpet. I remember a time when I told her that I wanted to host a tea party, so she took me to have afternoon tea at the Adolphus Hotel in downtown Dallas and then down the street to the china and crystal department at Neiman Marcus.  She let me pick out a frilly Wedgwood tea service, in spite of my mother's raised eyebrow and exasperated "But Mother, she's five years old!" She would let me buy Vogue, Harper's Bazaar, and other magazines that were much too old for me, but I loved poring over the images. I thought my grandmother was just magical. Couple my grandmother's influence with my favorite shows of the day—Charlie's Angels, Wonder Woman, The Love Boat—and you'll fully understand my design influences!