They may be finishing touches, but fringe, piping, rickrack, and other forms of trim are no mere afterthoughts. They're once again commanding the interior design spotlight. 
The rise of grandmillennial chic—that return to the comforts of Grandma's home, with its chintz upholstery, matelassé bedding, and needlepoint pillows—brought with it a love of tassels and pompoms. But the growing appeal of quiet luxury is also playing a part. An ottoman trimmed with nailheads, a swivel chair with Greek key tape along its skirt, or a pillow with tassels on the corners suggests an attention to detail that elevates a piece—and a room—above the everyday.
Below, a look at different types of trim and how they can dress up your home.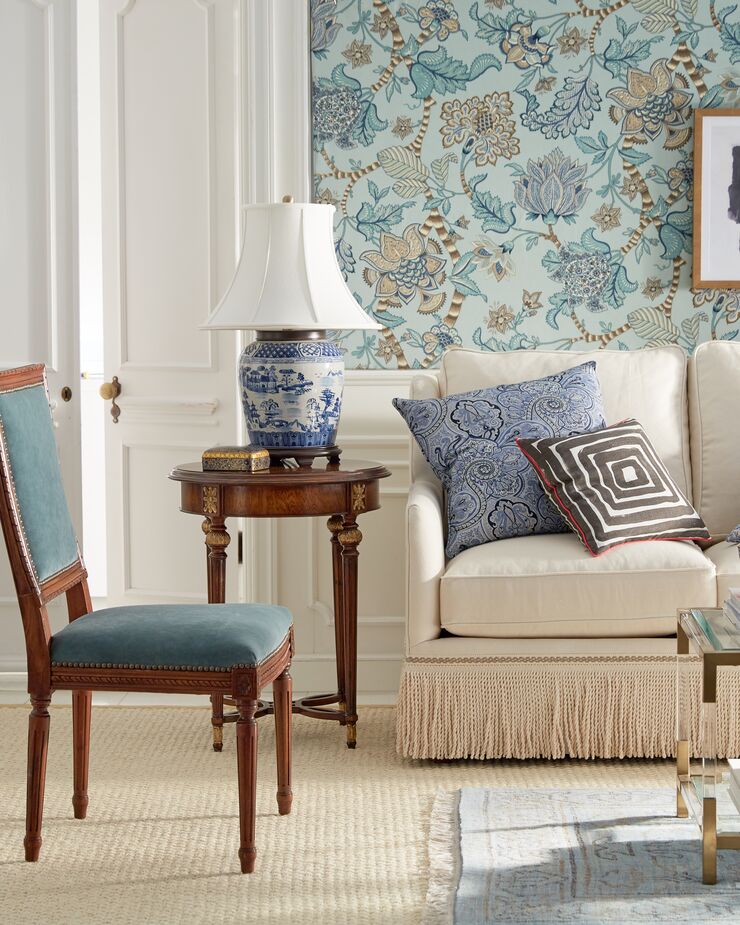 Fringe and tassels
Fringe originated out of practicality: Twisting together strands of unfinished fabric helped prevent the textile from unraveling. Nor were the first tassels decorative. They originated from the Old Testament, as a way of reminding the Israelites to follow the Ten Commandments. (Observant Jews still wear these tassels, or tzitzit.)
Today bullion fringe, with twisted strands several inches long, gives furniture or curtains an Old World grace. A chair or sofa with bullion fringe to the floor also helps ground a room dominated by furniture with visible legs, in the same way that skirted seating does. Short, thick brush fringe can add retro charm when used as a border for pillows; when longer, it takes on a flirty vibe (remember flapper dresses?). Wispy eyelash fringe and loose knotted fringe bring an avant-garde or boho vibe. So can a smattering of full, fluffy tassels—though when used as curtain tiebacks or a dense upholstery trim, they can also read as rather regal.
Five favorite fringed and tasseled pieces
• Cabaret Fringe Chandelier. Three tiers of peacock-blue fringe give this chandelier a sassy speakeasy vibe.
• Callie Outdoor Lumbar Pillow. Here strips of macramé fringe were added to the front, rather than the sides, for unexpected panache.
• Set of Four Jaipur Napkins. Tassels along the edges add to these striped napkins' artisanal flair.
• Dot Fringe Ottoman. Raffia fringe along the bottom is the only adornment this otherwise minimalist ottoman needs.
• Henley Throw. This pinstriped cotton throw could have looked staid without the tasseled ends that play up its handcrafted nature.
Nailhead trim
Like fringe, nailhead trim originally served a functional purpose. As far back as the 15th century, nails were used to help keep upholstery fabrics in place. Sometimes they were covered up with braiding or other trim, but by the 17th century, the nailheads were treated as embellishments. Today the primary purpose of nailhead trim is to give gravitas to furniture and emphasize a piece's silhouette. And sometimes it's used in an even more fanciful fashion, to create decorative motifs on not just upholstery but also doors and drawers.
Five favorite pieces with nailhead trim
• Ames Sofa. A leather sofa with button tufting is the ultimate in stateliness, and the nailheads that line the arms and apron of this one underscore the timeless elegance.
• Sabrina Wingback Poppy Bed. Silvery nailheads emphasize this bed's curves while adding a touch of European tradition to the ikat-inspired upholstery.
• Darci Round Ottoman. Not only do nailheads encircle the top of this ottoman, but they're also laid out in a geometric motif near the bottom.
• Red Tape Stool. Just in case the red ribbon bordering the white linen upholstery didn't make enough of a statement, nailheads were added on top.
• Caisson Hammered Table Lamp. Nailheads and an aged patina give this lamp's aluminum body a vintage allure.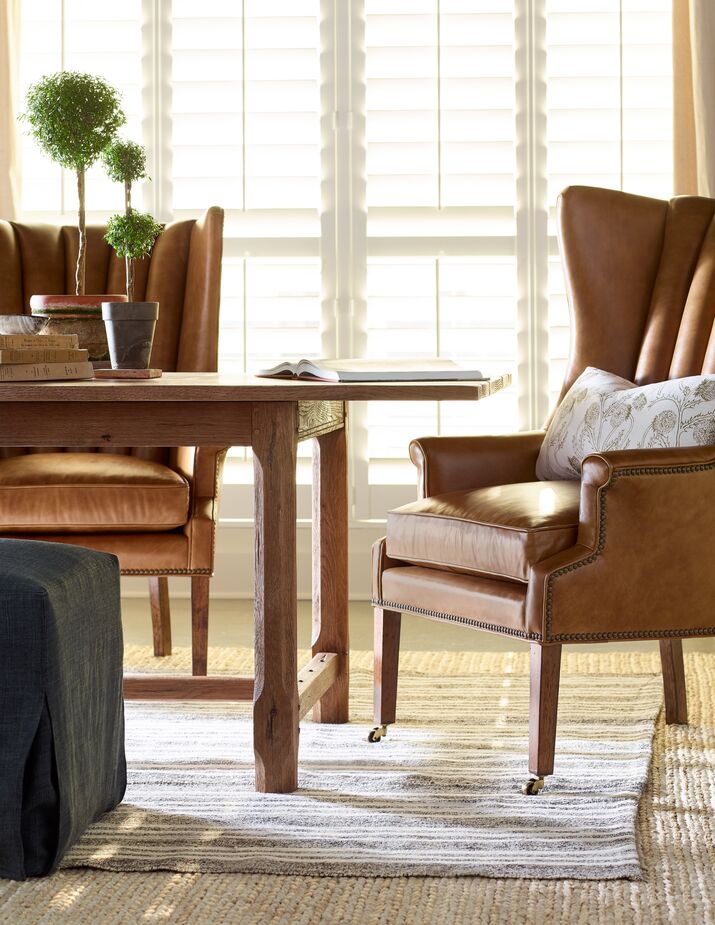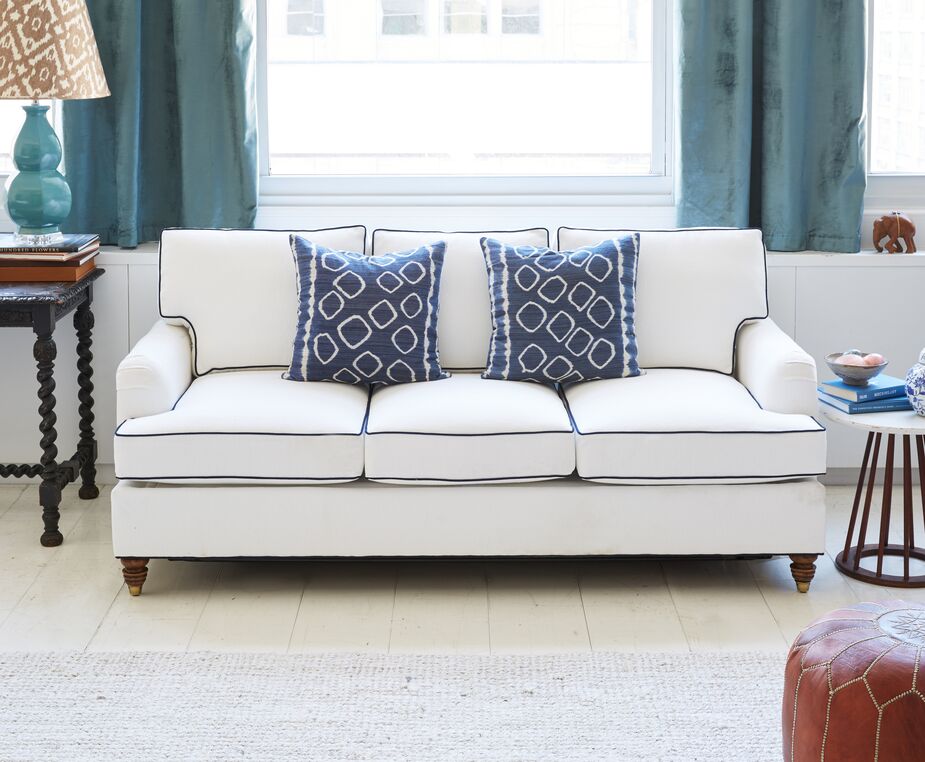 Welting, piping, and cording
These three terms tend to be used interchangeably to refer to the slender textile strips that originally covered upholstery seams or where fabric was attached to wood. Self-welting refers to using the same fabric as the upholstery itself for an understated but tailored effect. Conversely, piping in a contrasting color, pattern, or even material makes a strong visual statement. At the same time, when the welting is in a color that appears elsewhere in the room, it creates a sense of cohesiveness, especially when on brightly colored or vividly patterned furnishings. 
Five favorite pieces with welting
• Bodie Lumbar Pillow. Black piping complements the stripes of the tiger that adorns both sides of this pillow as well as frames the fanciful print.
• Sydney Sofa. Vertical self-welt on this sofa's cushions, apron, and back indicate seams where the pieces of leather were stitched together, spotlighting the craftsmanship involved.
• Custer Linen Coverlet. In addition to binding the textured front fabric and the smooth fabric on the reverse, the welted edges add a tailored touch. 
• James Settee in Leopard/Ivory Crypton. With its impeccably carved wood frame, classic silhouette, and ivory upholstery, this settee would look right at home in a Regency manor… except for the unexpected leopard-print welting! 
• Dorset Arched Headboard. This headboard's ornate Old World silhouette could seem at odds with the contemporary spotted upholstery. The navy piping brings both elements together.
Decorative tape
Border tape, flat braid, gimp trim, rickrack, ribbon: These are all types of decorative textile accents applied to everything from bedding to table linens to sofas. A three-inch-wide meander tape applied to the skirt of an armchair connotes timeless elegance; rickrack on gingham curtains is pure country charm. 
Five favorite pieces with decorative tape
• Autumn Club Chair in Mariner Velvet. Talk about your classics: a handsome armchair with a corner-pleat skirt trimmed with woven striped tape. (It's also available in Forest Velvet.)
• Rosalie Greek Key Table Lamp. This lamp demonstrates the power of decorative tape. Yes, it's beautiful on its own, with a shapely, glossy blue body and snowy white shade. But the Greek key tape added to the bottom of the shade gives it a bespoke sophistication.
• April Sheet Set and Duvet Set. A double border of yellow rickrack makes this white cotton bedding a delight to wake up to.
• Kyra Pillow. If you want to add a regal note to a room without making a major investment, these pillows—available in velvet and linen—will do it, thanks to the intricately patterned tape running down the center of the front.
• Pair of Gold-Trim Dinner Napkins. Golden braided trim makes these linen napkins worthy of special-occasion soirees—or for dressing up a casual weeknight dinner.