Held in North Carolina every spring and autumn, the High Point Furniture Market is where brands show their upcoming product lines to retailers, designers, and other decorating industry professionals. For the design trade, it's the future come to life: If it's on the show floor here, it's certain to be in homes in the months and years to come. 
High Point is open only to design professionals. But One Kings Lane buyers who attended in October took notes of the decor trends you're certain to see. Below are five favorites, which we're happy to report we've been keen on for several seasons now.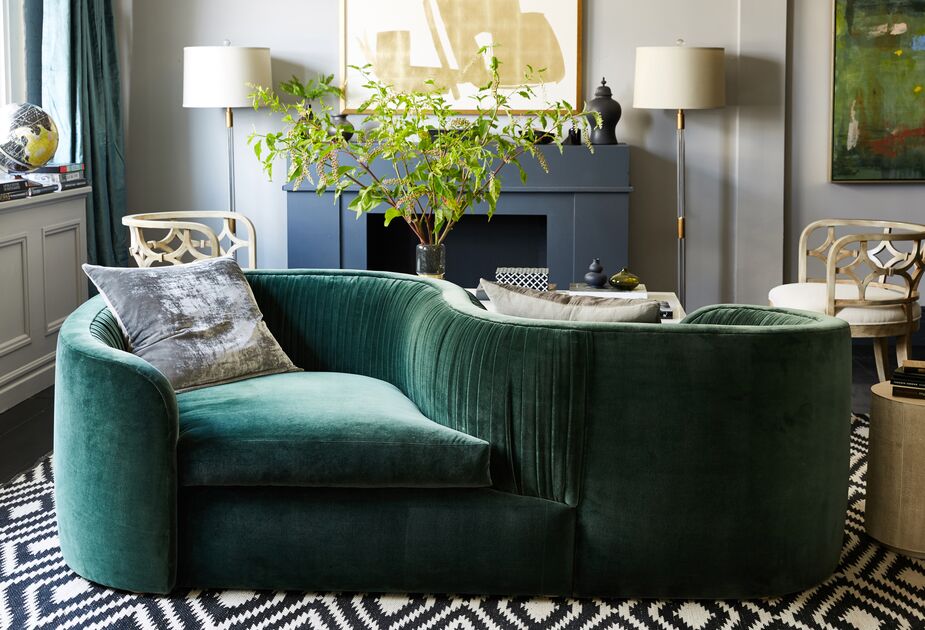 Curves Ahead
We've written before about how rounded silhouettes can make boxy rooms more inviting. At High Point, not only did numerous chairs and tables have curvy silhouettes, but even rectangular and square pieces had rounded corners to help soften their look. Swoop arms and waterfall edges are other subtle ways to ease curves into a room. One reason for the increase in curvaceous forms seems to be the desire to incorporate more natural elements, including organic shapes, into the home. Another is a yearning for comfort and softness after what's been a challenging few years. (And if you have kids, this is a trend you'll definitely love: fewer sharp corners to bump into!)
Five favorite pieces:
• Kim Salmela Rondo Curved Sofa. With its kidney-shape seat and sloping back, this sofa is a curve cornucopia.
• Bryn Sideboard. Not only is the front of this storage piece one sleek curve, but it's made of guanacaste, a hardwood with a lavishly swooping grain.
• One Kings Lane Collection Colette Performance Linen Swivel Chair. It's the seating version of a hug.
• Arteriors Sloan Coffee Table. Sinuous lines are etched into this table's brass kidney-shape top, adding curves to the curves.
• One Kings Lane Collection Emma Ball Pillow. Available in 36 fabrics, this pillow is the easiest, most affordable, and arguably most fun way to round out a room.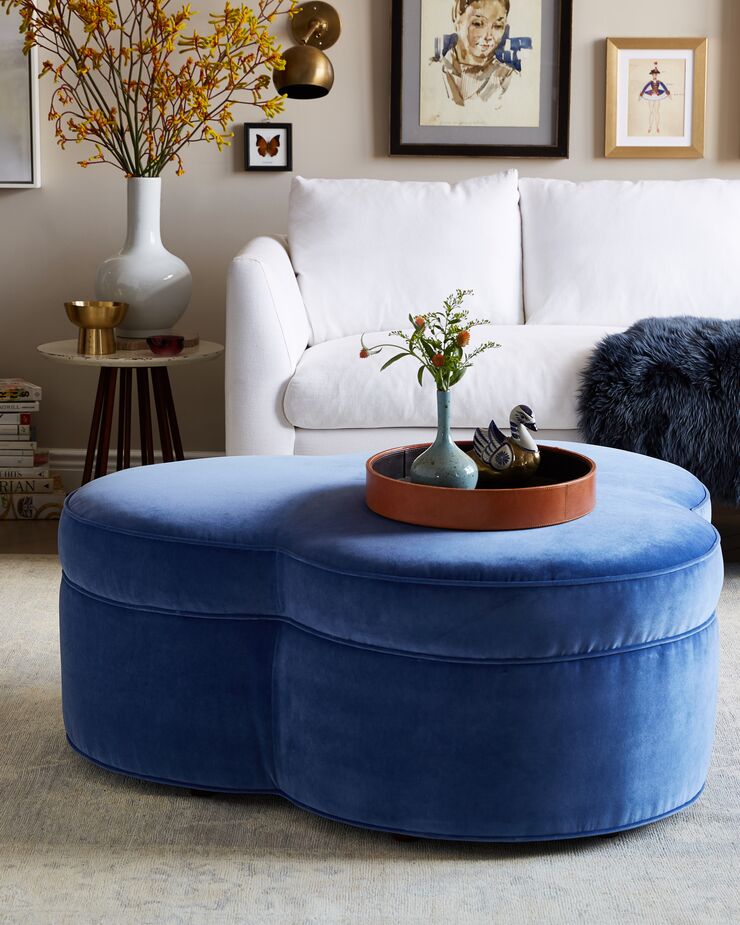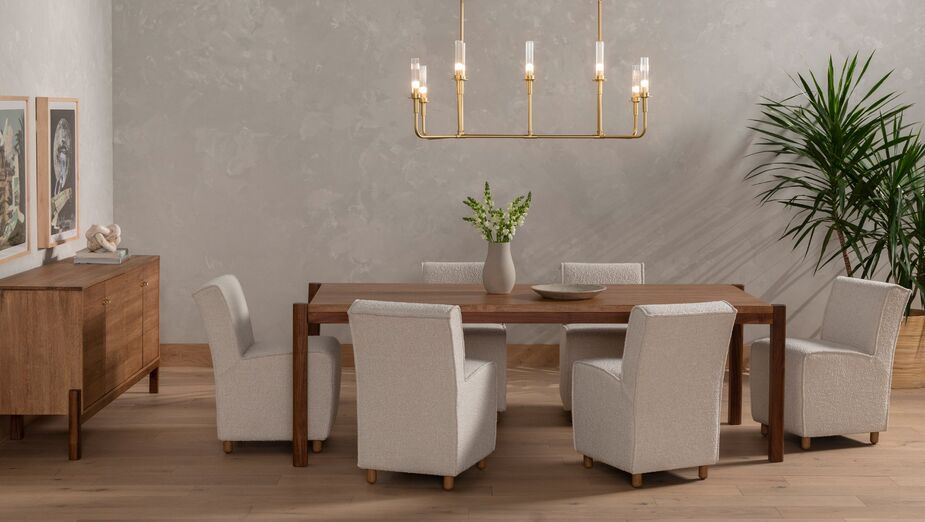 Soft Touch
Just as curves address a need for soft comfort, so does bouclé and sherpa upholstery. "Bouclé was everywhere at High Point—warm white and neutral, super soft, nubby, and incredibly cozy," according to our buyers. The fabric isn't as fuzzy and heavy as fleece, so your bouclé chairs and ottomans will look fresh and on-trend even during the warmer months, bringing always-welcome texture to a room. 
Five favorite pieces:
• Celeste Bouclé Desk Chair. Bouclé doesn't have to be white. this adjustable swivel chair comes in soft gray and ink blue, providing additional way to mix  pleasure with business.
• One Kings Lane Collection Delmar Bouclé Channeled Bed. Your bedroom should be the ultimate cocoon, and this bed will ensure that it is. Plus the channeled headboard adds timeless glamour.
• Kim Salmela Piper Stool. More glamour comes courtesy of this round stool's gleaming brass base. 
• Lion Accent Chair. The exposed wood frame brings streamlined finesse to the bouclé-upholstered seat and back, making this chair ideal if you want to introduce just a bit of the fabric to a room.
• Olivia Pillow. Ease into the trend with bouclé pillows in your choice of white, gray, or dark blue.
Cane-Do Spirit
It feels wrong to dub rattan and cane furnishings a trend, given how they've been surging in popularity for a few seasons now. They remained a strong presence at the autumn High Point, though, and not just in furniture. Mirror frames, lamps, planters… You name it, there were rattan versions of it. Rattan has plenty to recommend it, of course. Not only is it eco-friendly, but it's also impressively strong—and of course, it looks great and imbues a space with natural beauty and a touch of tropical breeziness.
Five favorite pieces:
• Reese Rattan Lounge Chair. If a slouchy beanbag chair and a wicker patio chair had a baby, it would be this curvaceous low-slung seat, made of woven rattan over a sturdy steel frame. 
• Sadie Rattan Table Lamp. The classic gourd lamp gets a refresh with a woven rattan base. 
• Elle Cane Nightstand. The juxtaposition of the classic cane drawer fronts and the black wood frame is organic elegance at its most contemporary cool. The gleaming brass drawer pulls and leg caps add to the panache.
• Fields Rattan Coffee Table. Instead of a rattan frame or legs, this table uses concentric circles of the palm as a round tabletop.
• Large Caning Wallpaper. While this wallpaper isn't made of rattan, it features a large-scale cane motif atop your choice of six background colors. Hung in an entry or a mudroom, it's a witty way to bridge your outdoor and indoor spaces.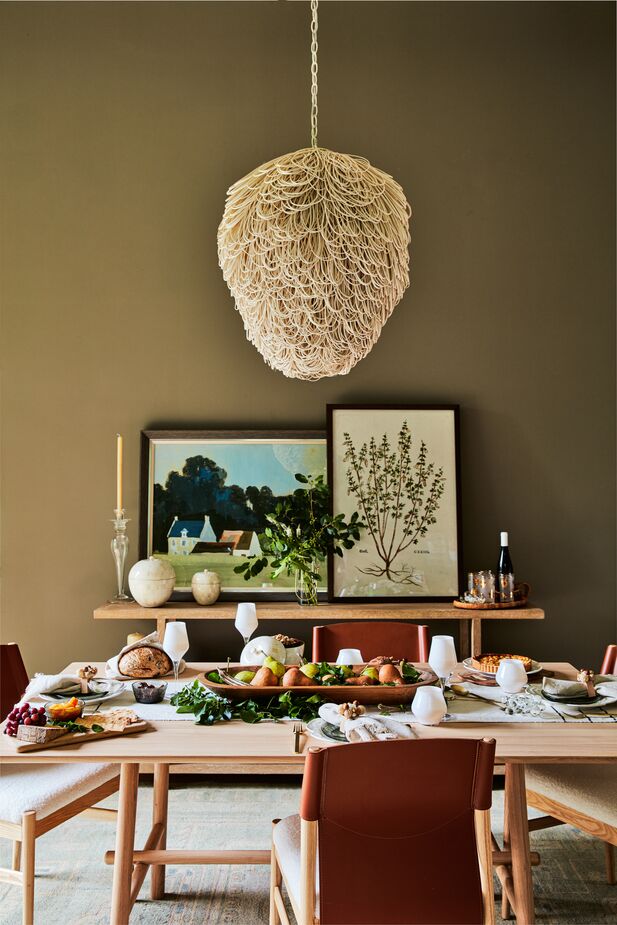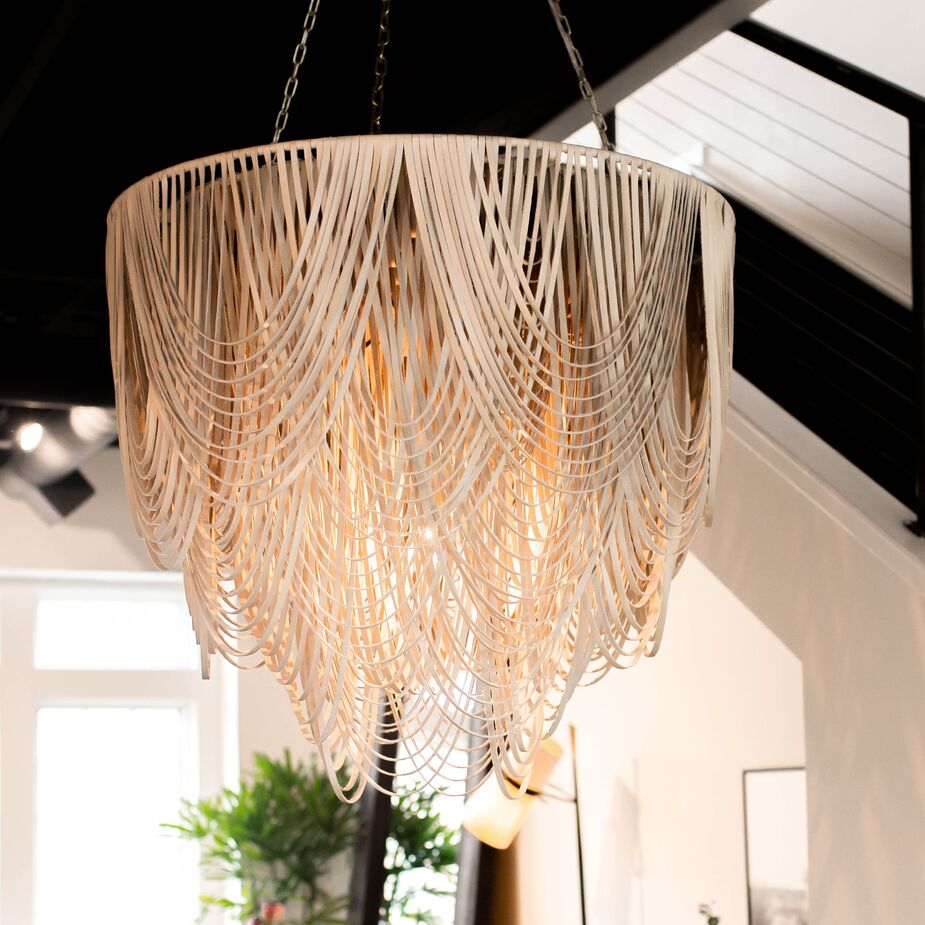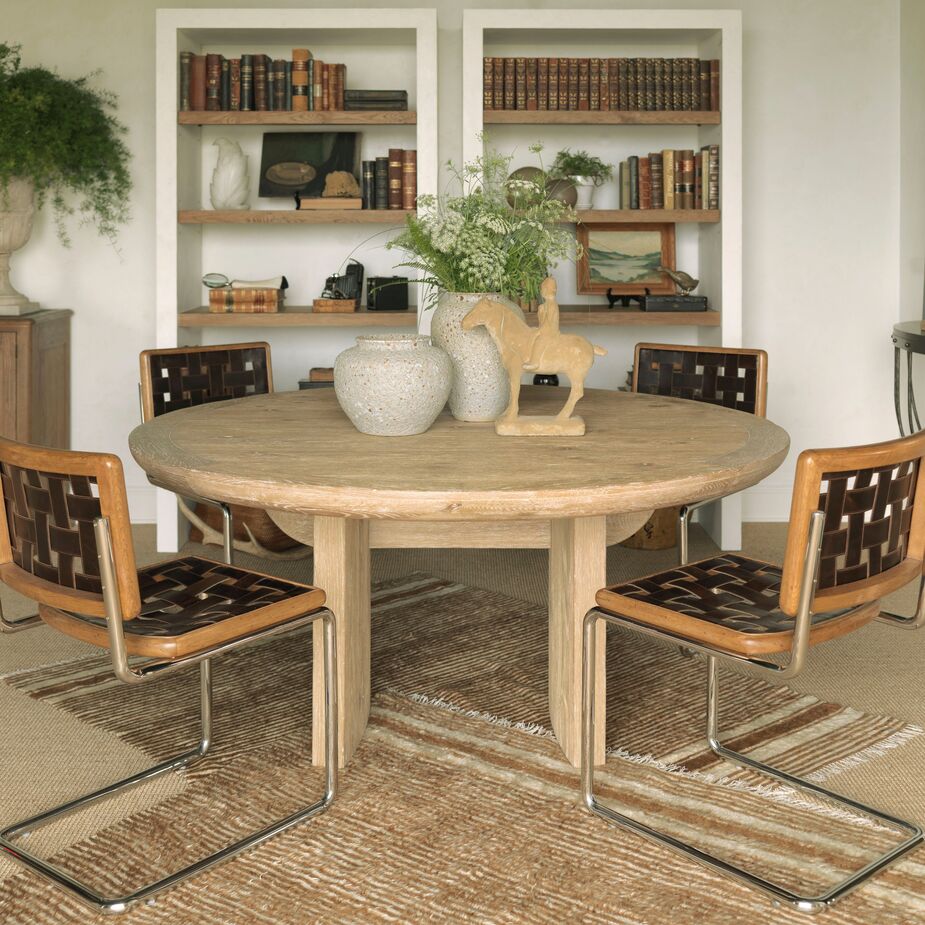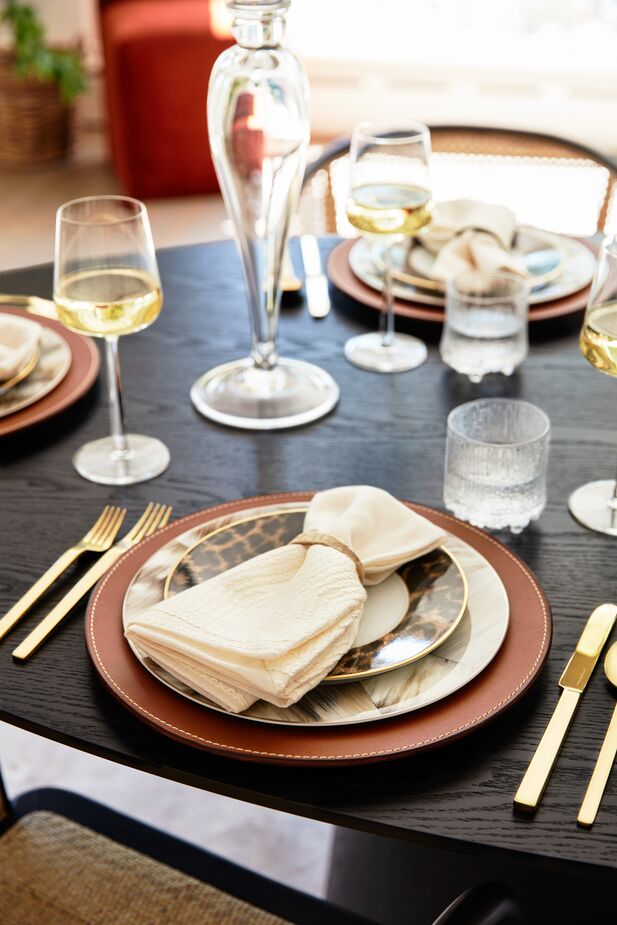 Hell-Bent for Leather
Leather and metal. Leather and wood. Leather and acrylic. Leather with just about anything except lace (so far). Leather is back, as either the star of the show or the indispensable sidekick of the hero material. And it's no longer reserved for roomy wingback chairs and tufted cocktail ottomans. Leather is being incorporated into everything from baskets to pillows to napkin rings. The resurgence of "masculine" leather may be a response to the popularity of "feminine" bouclé, or perhaps it's viewed as a refined way to bring home natural texture. Or maybe people are simply again realizing how it manages to be both practical and luxurious.
Five favorite pieces:
• Celerie Kemble for Arteriors Addison Side Table. The stem and the tripod base of this slender occasional table are wrapped in leather, providing stately support to the brushed-brass top.
• Lemieux et Cie Tugart Dagana Handwoven Rug. Leather fringe is the surprise finishing touch of this artisanal jute rug.
• Visual Comfort Dressage Chandelier. This fixture's round metal base hangs from leather straps with equestrian-style buckles, demonstrating the material's strength as well as its beauty.  
• Ralph Lauren Home Garrett Nut Bowl. This oval serving piece also displays a bit of equestrian chic, along with to-the-manner-born élan. Two horseshoe-shape leaded-crystal bowls rest within a canvas case trimmed with leather.
• One Kings Lane Collection Abby Lumbar Pillow. A swath of linen down the center brings traditional elegance to this leather pillow.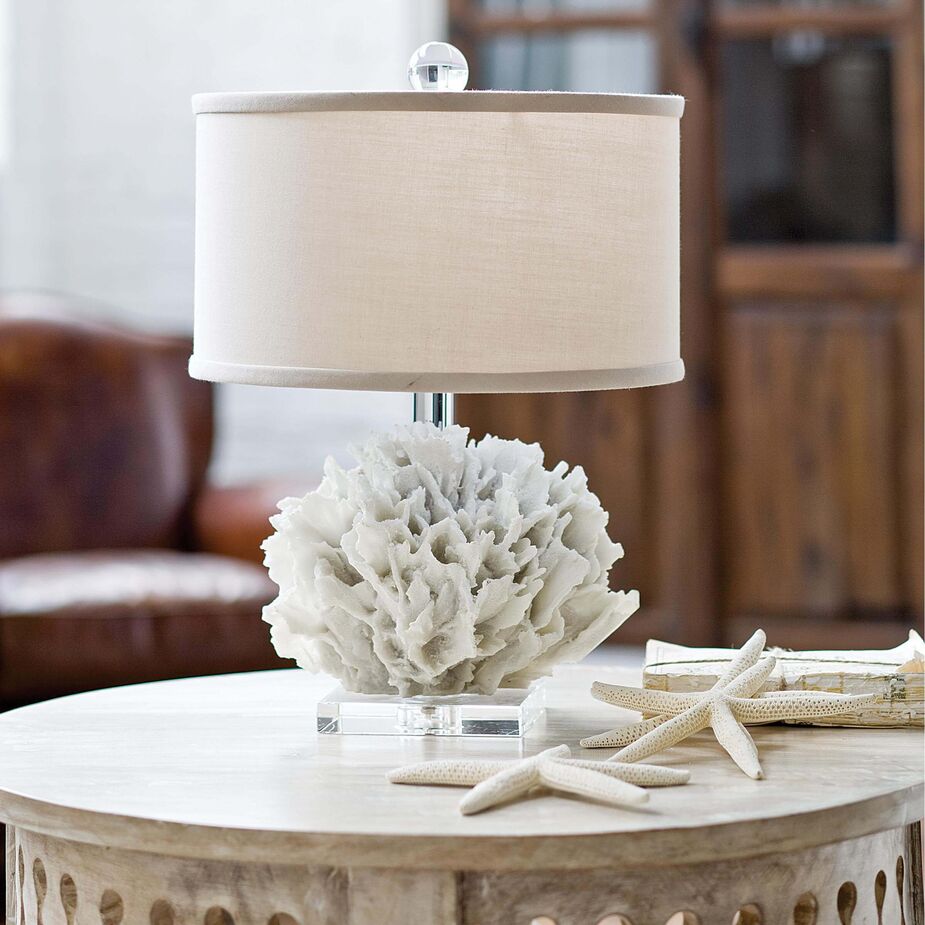 Get Plastered 
Why plaster? "Soft and organic, the white color of plaster adds to a minimalist look, yet the dusty soft texture keeps things warm," our buyers explained.​ Cast resin with the same vintage vibe as plaster made its presence felt at High Point as well. Resin can also be crafted to resemble marble and mother-of-pearl, among other organic materials, in a bold array of colors. 
Five favorite pieces:
• Jamie Young Concord Sconce. Here the plaster is given an especially rough-hewn texture as a contrast to the sconce's rather formal shape. 
• Storm Drink Table. This shapely occasional table flaunts a woodlike grain, but the soft white hue lends it an almost dreamy quality.
• Gabby Scarlet Resin Wall Mirror. The mirror's resin frame has been hand-finished to look like distressed plaster, bringing a "something old" vibe to the "something new" geometric shape.
• Arteriors Geordi Figure. Shaped like an oversize cherry, this tabletop accent pairs a plaster-white body with a gleaming brass stem.
• Julie Neill for Visual Comfort Alberto Small Single-Tier Chandelier. With its winsome tulip-like candle cups, the entire Alberto lighting range has taken on modern icon status. The chandeliers, sconces, and lamps are available in gold leaf and silver leaf, but the soft white plaster finish best shows off the detailing of the petals.