When used as an adjective, hotel quality has become synonymous with luxuriousness: hotel-quality sheets, for instance, and hotel-quality curtains. You don't have to live in the Plaza Hotel like Eloise, however, to savor that level of serenity and sumptuousness every day. These designer tips will enable you to wake up to hotel-quality ease in your very own bedroom.
• Clear away the clutter. "The number one thing I love about staying in a hotel is the lack of clutter," says Bethany Adams, principal of Bethany Adams Interiors. "Invest in nightstands with adequate storage so you can clear everything off except an alarm clock."
"Hotels are designed with every detail in mind," adds Katie Vance, partner and chief creative officer of architecture and interiors firm Powell, whose projects have included hotels and residences alike. "When homes can have that sense of organization built into the design it allows for a restful and soothing environment." With that in mind, consider nightstands that include at least one drawer and perhaps open shelving as well—though if you're prone to creating untidy stacks of stuff hither and yon, maybe opt for several drawers instead.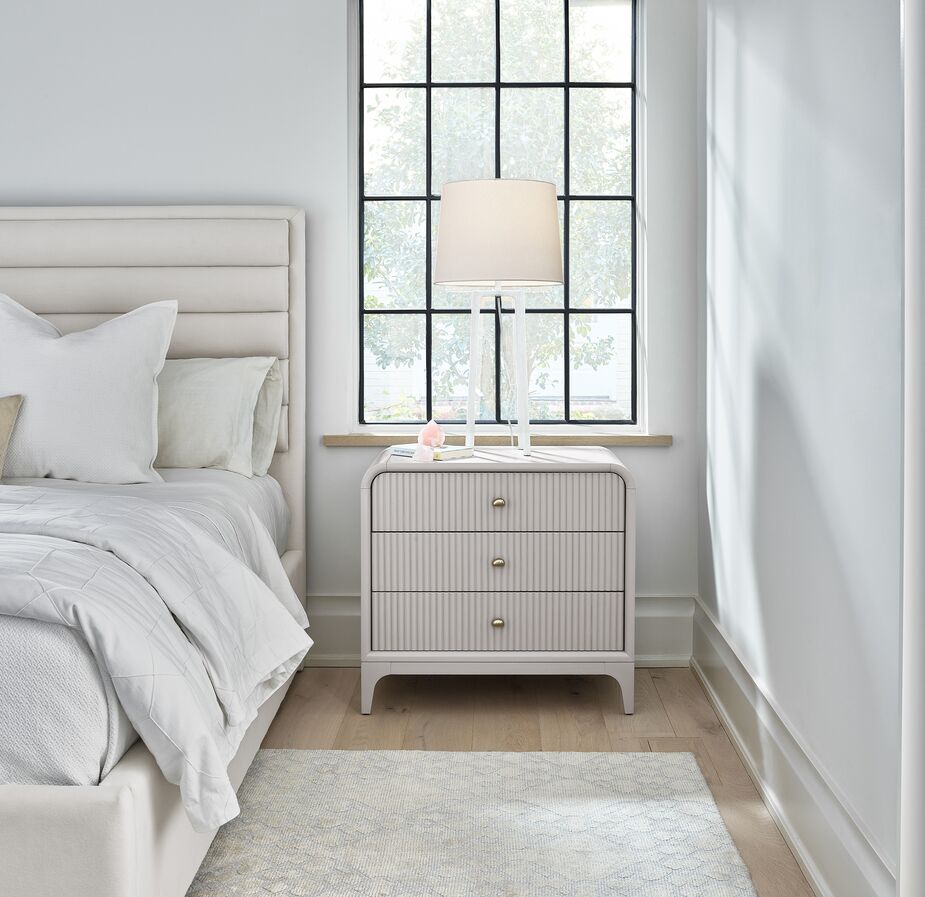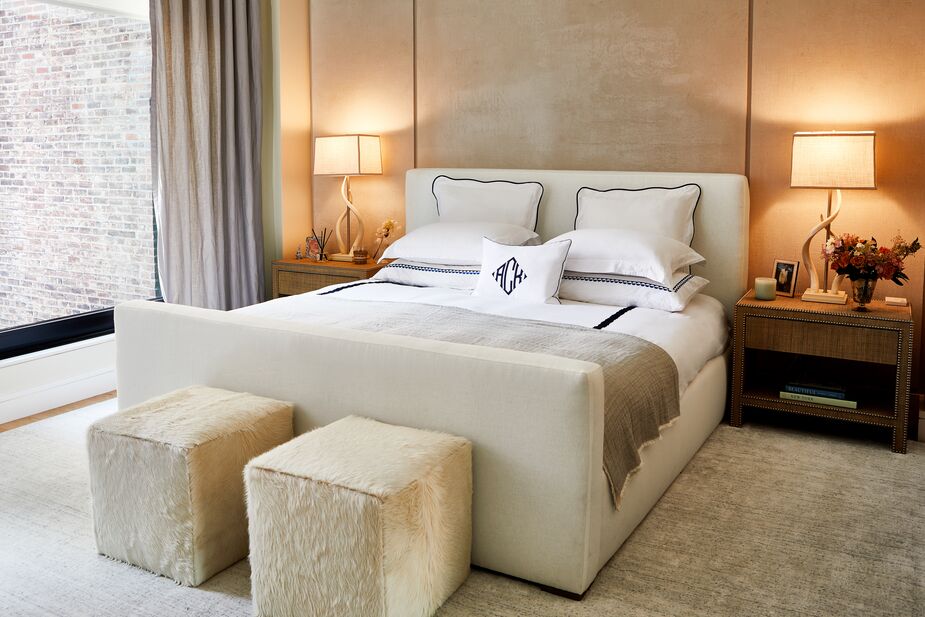 • Opt for white bedding. For one thing, white looks smart with every bedroom style and palette. For another, if you choose bedding that you can bleach as well as wash, you won't stress "after your toddler sneaks his Nutella sandwich into bed—speaking from experience," says Ashley Macuga, principal designer at Collected Interiors. Another trick Ashley uses to ensure hotel-style luxury: "I bring my duvet covers to be pressed at the local dry cleaner. It saves me hours on pressing the linens myself and gives that 'fresh from a catalog' feel to any bedroom without all the fuss."
As for the optimal thread count, material, and the like, check out this guide to finding your ideal bedding. Spoiler alert: Thread count isn't as critical as you might think. 
• Settle back against a padded headboard. Particularly if you like to read, watch TV, or go online while in bed, a well-cushioned upholstered headboard will add to your comfort. Patterned upholstery is great for hiding stains, or you can choose stain-resistant performance-fabric upholstery. If you don't want to invest in a new bed, go for just a new headboard—most are surprisingly easy to attach to an existing frame.  
• Treat yourself to flora. Just about every five-star hotel room includes a lush floral arrangement. Of course, hotels also have staff who will replace fresh flowers as they fade and clean up shed petals. By adding a faux-floral arrangement to your room, however, you can enjoy all the beauty without the maintenance.
• Layer your window treatments. "Having blackout shades as well as privacy drapery or sheers aids a restful environment," Katie says. Even layering curtains made from a tight-weave fabric over sheers or blinds will help you create a dark cocoon conducive to sleep.
• Place lighting within reach. Setting a table lamp on a nightstand is a tried-and-true way to avoid having to leave bed to turn off the light. Bethany, though, prefers "sconces to bring the luxury-hotel experience home," as they help keep the nightstand surface uncluttered. Whichever you choose, think about features such as adjustable lamp heads or swing arms that let you direct light exactly where you need it—and away from your partner who's trying to sleep. 
• Create a seating area if possible. Whether it's a bench at the foot of your bed or one or two slipper chairs tucked in a corner, ideally you'd have a space where you can take care of business, from answering emails to quizzing your kids on their spelling, that's not your bed. By reserving your bed for relaxation, you're associating it with only positive thoughts, which will make it easier for you to fall asleep there.
• Scent the air. Lavender is proven to promote relaxation, but really, any fragrance you love will make you feel pampered and at ease. For those who worry about falling asleep after lighting a scented candle, diffusers and room sprays are great options.
• Give yourself a change of scenery. Maybe your bedroom doesn't look out onto the Italian Alps, a palm-lined beach, or the Eiffel Tower. But you can still ensure you wake up to looking at something lovely. Find a landscape of a vista you wish were outside your window, then hang it somewhere you'll see it in the morning so that you can admire the view.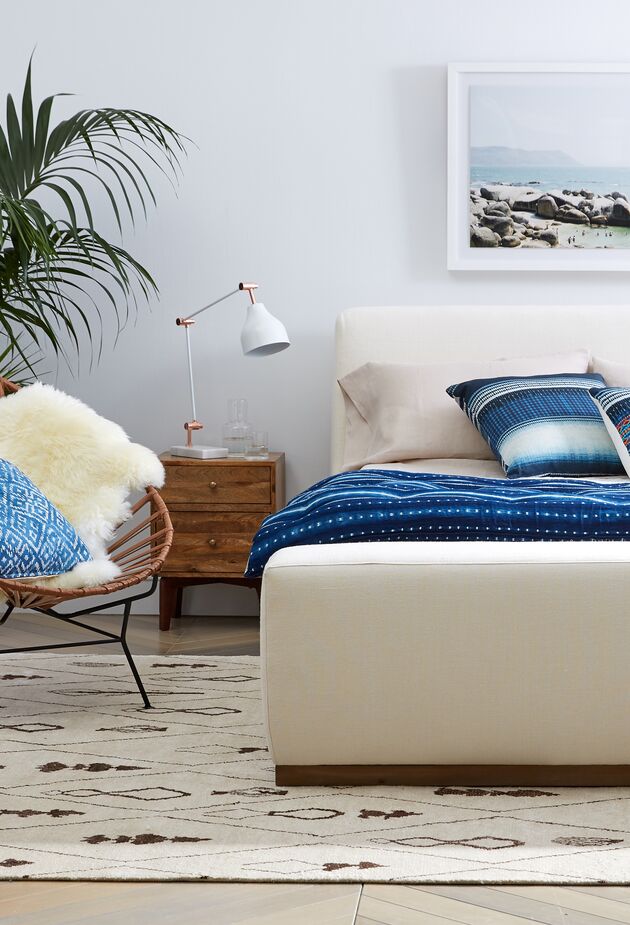 • Step onto something soft. Especially in winter, stepping barefoot onto a wood or tiled floor can be jarring. If you're not keen on wall-to-wall carpet or a large area rug, a bedside runner can provide just enough of a transition from cozy blankets to bare floor. And don't forget the rug pad: You definitely don't want to start your day slipping onto your tush.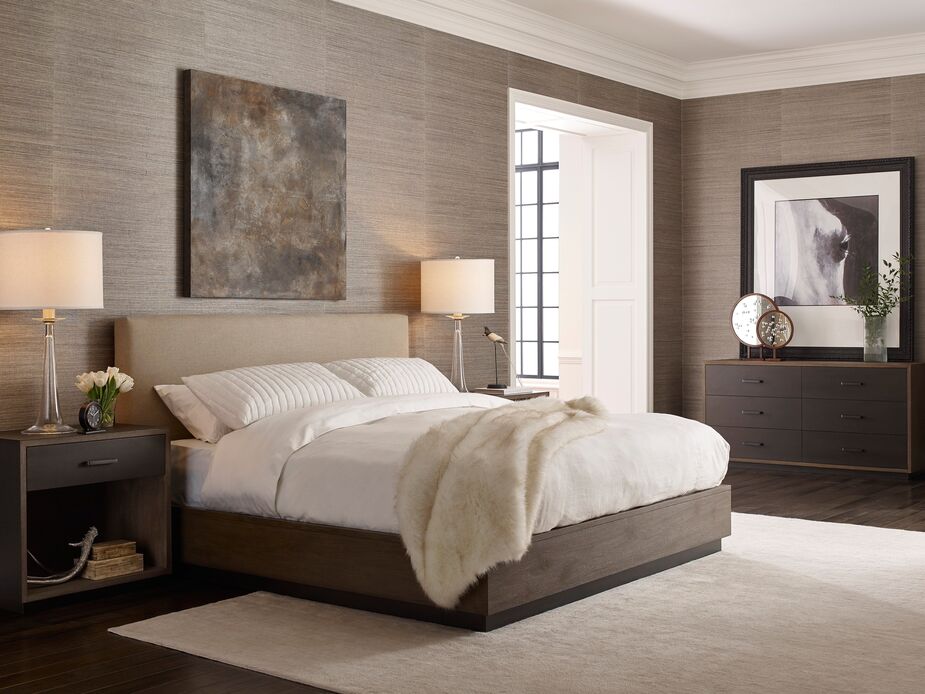 Five Favorite Pieces to Bring Home Hotel Style
• Sal Task Sconce. Available in brass or bronze and timeless in style, this sconce has a double-hinged arm, giving you maximum control of where to want shine your light.
• Willow Sheet Set in White. Because of its especially long staple—the fibers that make up each cotton boll—Egyptian cotton is softer and more durable than other types of cotton. These snow-white percale sheets are woven of Egyptian cotton, then embroidered with a white willow pattern along the borders of the pillowcases and flat sheet for the ultimate in quiet luxury. The Willow bed and bath collection also comes with blue and green embroidery.
• Mason Floor Mirror. Luxury hotels know that a wall mirror isn't sufficient, so they provide a floor mirror as well. This one stands nearly six feet tall and is surrounded by a gleaming golden frame.
• Vintage Hermès catchall. Catchalls, boxes, and trays help you corral jewelry, change, and other little items that when left to their own devices will clutter up your nightstands and dressers. And of course, nothing says luxury like Hermès does.
• Chamomile Lavender Room Diffuser. The two relaxing titular fragrances are enriched with notes of sage, bergamot, and eucalyptus. The hand-blown glass vessel looks lovely too.