Crunchy leaves in a riot of hues, a refreshingly crisp chill in the air… Mother Nature is at her very best in the fall, ushering in a bounty of natural beauty. To pay tribute to this magical season, stylist and entertaining expert Michelle Wong pulled together a dinner party complete with a harvest-inspired table, a warming cocktail, fiery florals, and more festive autumnal details. Read on to see her tips for pulling it off with aplomb, then get ready to host your most gorgeous party yet.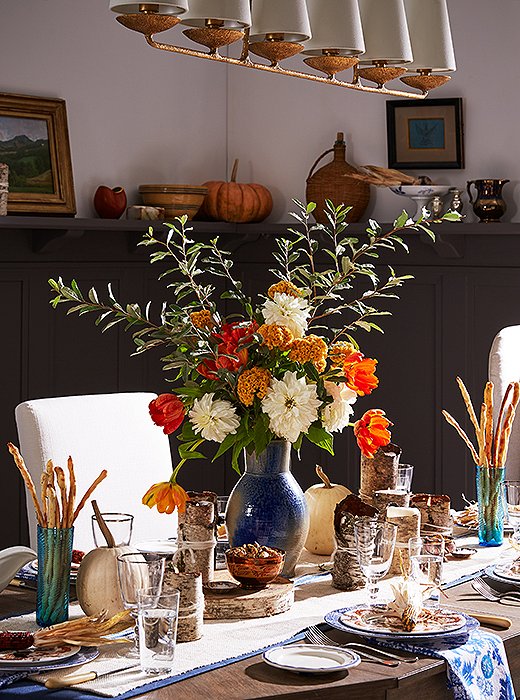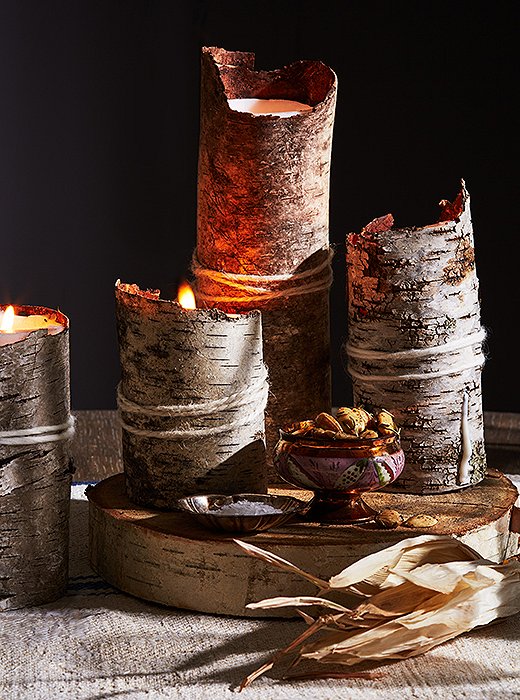 The Harvest-Inspired Centerpiece
Michelle brought in the great outdoors to set the scene, combining a mix of decorative and practical accents to give the table a polished but laid-back feel. To recreate the look, start with something simple (like the vintage grain-sack runner used here) to establish a textured foundation, then add in natural elements such as white pumpkins and slabs of birch to drive home the light but earthy look.
To further fill out the table, create what Michelle calls "mini service areas" on the birch slabs, consisting of dining essentials including a salt cellar, a pepper grinder, and any condiments guests might want on hand throughout the meal.
DIY to try:
Michelle's elevated update to the white pillar candle couldn't be easier to pull off. Cover the candles with birch-bark sheets (found at flower markets or craft stores), and secure with a few wraps of yarn. The result perfectly underscores the outdoorsy-meets-elegant vibe while imparting a subtle glow.
The Fall-Feeling Florals
"I wanted an arrangement that would fill out the table but something that you could still talk around," Michelle says of her centerpiece. Leaning into the autumnal palette, she chose white dahlias, orange parrot tulips, ocher coxcombs, and a seasonal branch—all varied in size and height to create the lush, full, but unobtrusive look she was going for.
To create this arrangement, start with a pitcher or vase that has a four- to five-inch-diameter opening, which makes it easy to create a tighter arrangement. Add in two or three tall branches to build the initial structure, then fill in with the rest of the flowers, reserving the most delicate blooms for last so that you don't crush their petals.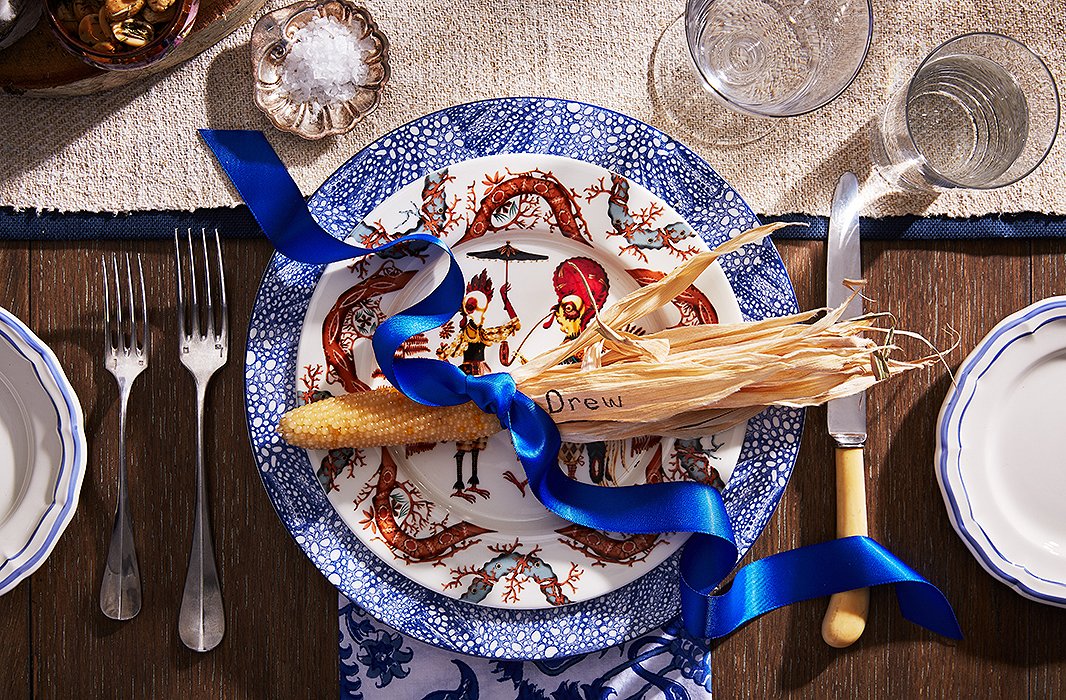 The Fresh Place Settings
To contrast with the grounded earthiness of the centerpiece, Michelle brought in brilliant royal blues to create fresh and unexpected place settings. Master the mix-and-match look by choosing one element—be it a color, a motif, or a pattern—and use it consistently throughout the setting. Here, blue acts as the common thread, starting with the dinner plate and extending to the salad plate, the bread plate, and the napkin underneath. Use simple flatware and glasses to let the prints take center stage.
DIY to try:
Give your place cards a playful seasonal spin by writing guests' names on the husks of mini dried Indian corn ears and finishing with a color-coordinating ribbon. Even if you aren't assigning seats, it's the perfect way to bring a little something extra to the table.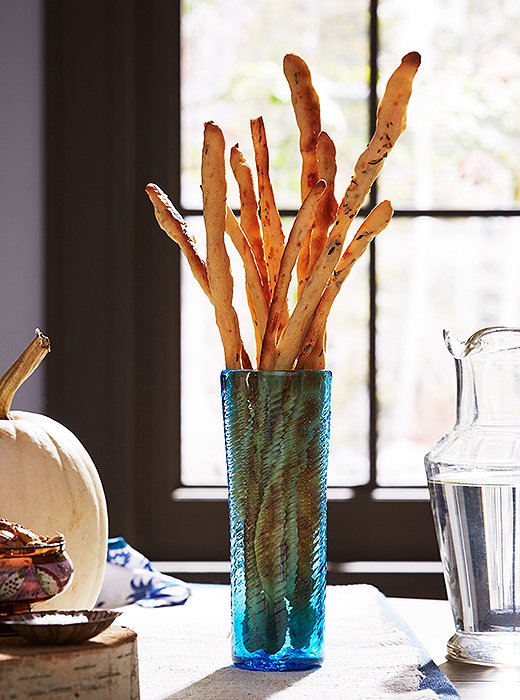 The Pre-Dinner Bite
Rosemary Parmesan Breadsticks
Requiring just three main ingredients, these breadsticks are as easy to make as they are delicious and perfect for snacking on before or during dinner. Serve in tall glasses to add more height and texture to your table.
Ingredients:
Flour (for work surface)
1 package of prepared pizza dough
1 tbsp fresh rosemary, chopped
2 tbsp fresh Parmesan, grated
Sea salt
Olive oil
Directions:
Preheat oven to 400 degrees and sprinkle flour onto work surface. Evenly mix the rosemary and the Parmesan into the pizza dough, then divide into three equal sections. Working one section at a time, stretch the dough out and roll into sticks roughly a 1/2-inch thick and 10 inches long. Place sticks onto a lined baking sheet, brush with olive oil and sprinkle with sea salt, then bake for 10-12 minutes until golden brown. Let cool and serve the same day.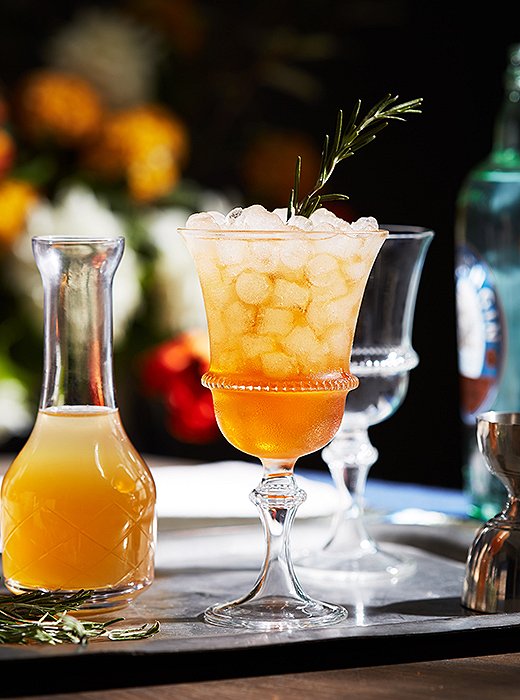 The Seasonal Sip
The Ginger Gin Cocktail
"I wanted to create a cocktail that was warming for the cooler months," Michelle says—and ginger adds that perfect spicy bite. Paired with the aromatic, evergreen taste of the gin and the rosemary, it's a flavor that feels just right for the season.
Ingredients:
1.5 oz gin
1 oz ginger simple syrup (see recipe below)
Dash of bitters
Lemon wedge
1 oz soda water
Rosemary sprig for garnish
Directions:
Fill glass with ice. Add gin, ginger simple syrup, bitters, and a squeeze of the lemon wedge. Top with a generous pour of soda water, and garnish with rosemary sprig.
For the ginger simple syrup:
Ingredients:
4-inch piece of ginger
1 cup sugar
1 cup water
Directions:
Peel skin off ginger with a spoon, then slice into 1/4-inch-thick pieces. Add ginger and sugar to saucepan with water, then bring to a boil. Once boiling, reduce heat and simmer for 20 minutes. Strain and discard the ginger. The syrup will keep in the fridge for up to one month.