The start of a new year signals a time to reflect, relax, and recharge—to do what you need to do to be your best self. It's also the perfect time for a spa weekend, indulging in an immersive sensory experience complete with white-glove service and kelp treatments. After all, nothing cures New Year's fatigue or champagne withdrawal quite like a retreat bearing a triple-diamond score. But if you're like us, a more intimate and relaxing spa day with friends close to home can be just as appealing as one that involves a few pampered days away.
We tapped stylist and resident entertaining guru Michelle Wong to help us zero in on the sensory hallmarks to keep in mind for hosting a rejuvenating spa day. Read on to see how you (and a few friends) can kick back for an afternoon of major relaxation right at home, using grocery-store finds and a few key serving pieces.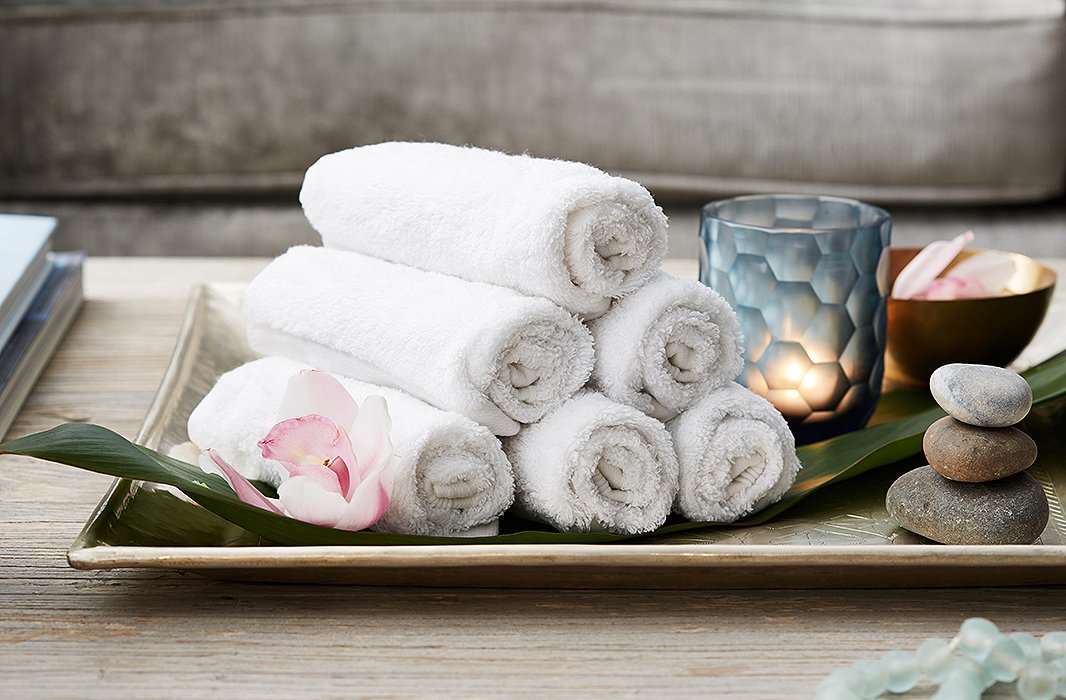 Pamper Guests with a Warm Welcome
"Give your guests the spa treatment from the moment they walk in with a tray of warm towels to get refreshed," says Michelle. "It's a gentle way to get them into a restful mindset. Present the towels in a tray on top of a tropical leaf that doubles as a simple and elegant display." She also suggests readying "pamper kits" with face and eye masks, robes, and a pair of comfy slippers for your friends.
To give your towels a soothing scent…
Fill a large bowl with water, add a few drops of your favorite essential oil, such as eucalyptus (energizing) or lavender (calming), and soak your towels for a few minutes. Then wring, roll, and ready them on a tray. Just before guests arrive, microwave the towels for 20 seconds to warm them and further bring out the scents.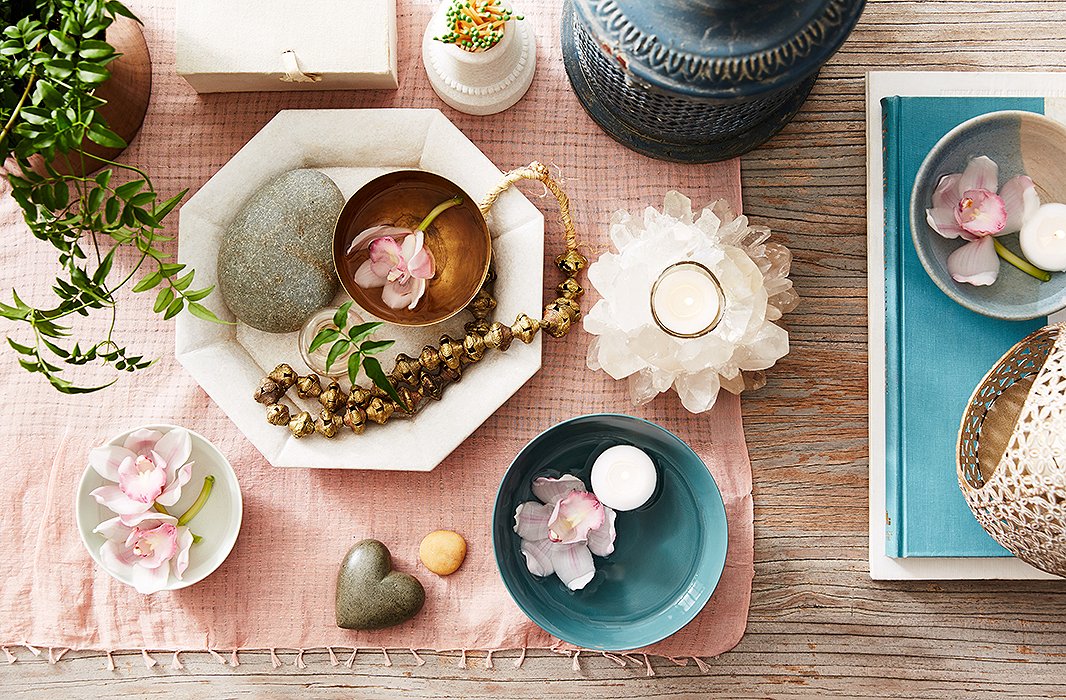 Set the Zen with Pastel Hues
"When it comes to decor, opt for a calming color palette with small accents that nod to nature," says Michelle. "I chose pastel pinks and blues arranged alongside a crystal votive, a smooth ceramic match striker, and intricate metal lanterns. Together they helped transform my space into a place for pause and rejuvenation."
Ushering in atmosphere…
Pull in a jasmine plant for your table scene and snip off cymbidium orchids to pair with floating candles in a set of bowls. Vessels made of smooth stone and colorful glass will help to reinforce a clean, simple ambience.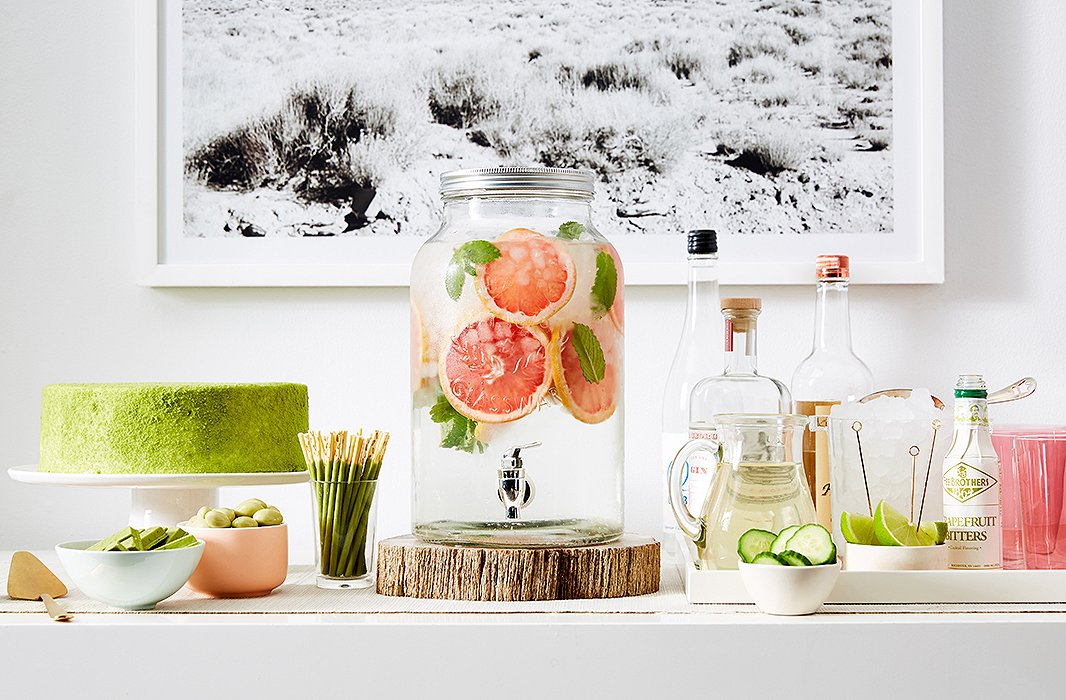 Ready a Refreshing Bar
"A spa gathering wouldn't be complete without a stylish bar, of course," says Michelle. "Make sure your guests stay hydrated with refreshing spa water. I filled a beverage dispenser with mint leaves, sliced grapefruit, ice, and water, placing the container on top of a piece of wood along the edge of a buffet for easy pouring. But be sure you stock the good stuff too; I laid out vodka, gin, bitters, and club soda alongside a bowl of cucumber slices, cucumber simple syrup, and lime wedges. Line up a few colorful tumblers and you're set."
To make cucumber simple syrup…
Bring 1 1/2 cups of water and 1 1/2 cups of sugar to boil in a small saucepan. Let it boil for 3 minutes, then turn off the burner. Cut half of an English cucumber into slices and let it steep in the saucepan for 30 minutes, then strain. Your guests will love the nectarlike freshness it gives their cocktails.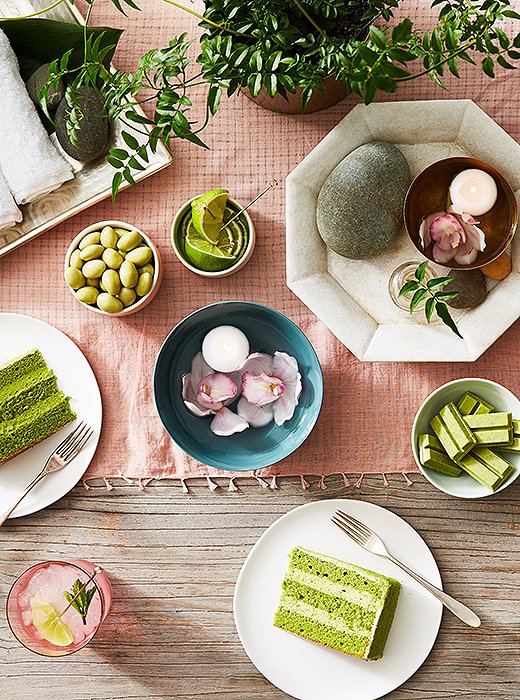 Serve Up Some Sweet Indulgences
"For some light and sweet nibbles while you and your friends lounge," Michelle says, "I'm obsessed with matcha"—a type of green tea. "Since matcha is packed with antioxidants and enhances your metabolism, you can feel less guilty about indulging your sweet tooth with a mix of high-low desserts and snacks. I served a store-bought green-tea mousse cake with matcha-coated treats in a simple mix of small bowls and vessels."
To continue the soft palette of your spa scene…
Make way for soothing greenery and green tones, such as leafy plants and matcha desserts, which will become serene complements to your setting.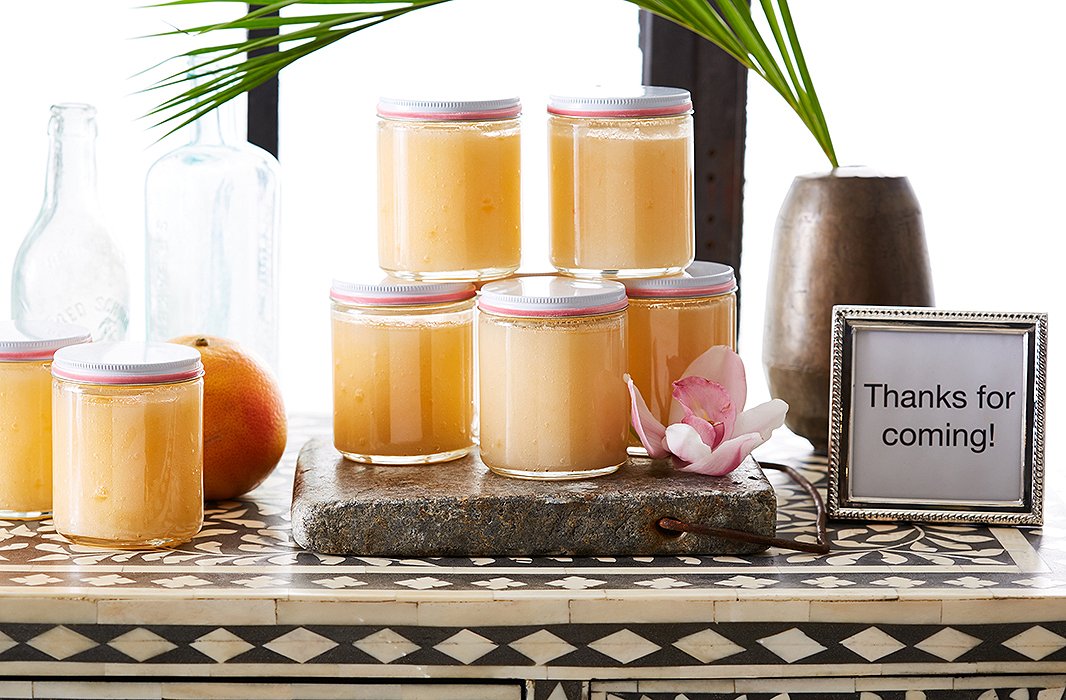 Prepare a Thoughtful Spa-to-Go Gift
"I love the idea of giving your guests a piece of your spa day together to bring home," says Michelle. "I went with a simple homemade grapefruit scrub that's an easy at-home treatment and perfect for your hands and feet. Mix up a big batch and pack it into jars and mini containers on a table for guests to grab as they leave."
To make this simple grapefruit sugar scrub…
In a bowl, mix 2 cups of white sugar, 1/4 cup of oil, and 3/4 cup of grapefruit juice. Pack in an airtight container, which ensures it will last a few weeks, to give to visiting friends or simply keep for your own pampering.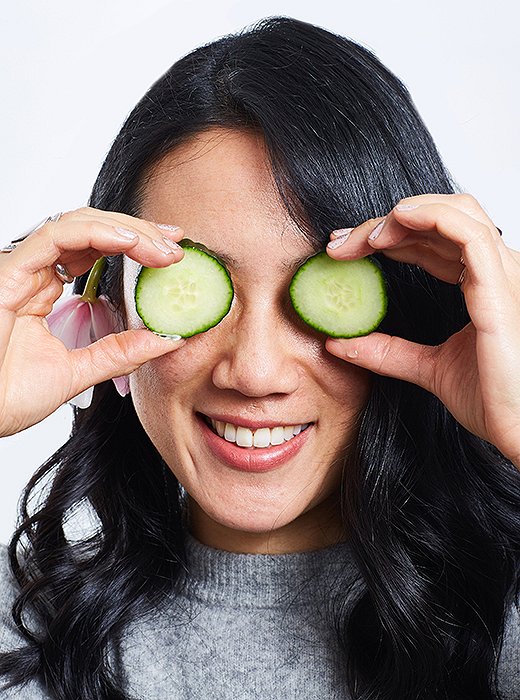 One Kings Lane stylist Michelle Wong is a New York-based foodie and passionate party planner. When she's not dreaming up new ways to entertain for our "How to Host" column, you can find her stirring up inventive cocktails and getting creative in the kitchen of her downtown apartment, noshing her way through the city, or simply taking in the best of NYC's bars and restaurants.