Irene Neuwirth has one of those creative, colorful lives you can't help but admire. She designs jewelry worn by the current generation of Hollywood royalty, from Jennifer Lawrence to Reese Witherspoon, and she recently opened a stunning store on Melrose Place. She's a regular at Paris Fashion Week, won the 2014 CFDA Swarovski Award for Accessories, and is seemingly in attendance at every chic dinner party we'd kill to attend—always sporting a beautiful ensemble, beach-tousled hair, and her signature warm smile.
Naturally, her Venice Beach home is insanely stylish and cool, and firmly rooted in Southern California—she is, after all, a proud native. With her playful, eclectic collection of Japanese textiles, Mexico-inspired color palette, paintings fresh out of L.A. art studios, and offbeat accents (we spotted a big wooden canoe outside), Neuwirth brings the same charming and easy approach to her home that she does to her designs, and we were thrilled to soak up her sunny style.
My home is playful and eclectic. Sometimes I feel like I live in a giant kid's house.
Snagging the Dream Home
Irene's mother, painter Geraldine Neuwirth, lived on the Venice Canals when Irene was in high school, and the designer moved back to the neighborhood just as her jewelry line was taking off. She thought the "teensy-tiny bungalow" she was renting was all she needed, until she started walking her dog, Teddy, past what is now her current home. "It was completely my dream home—and I wasn't even looking for a home! I kept spying in all the windows," she says. When the home was finally put up for sale, 200 people came to the open house, and the owners received 14 offers. Irene managed to coax her way through the crowd—"I think I'm someone you can't say no to"—and the rest is history.
Up with the Sun 
Irene manages to stay on top of her busy days by beginning them early: "I love that morning hour when everyone else is asleep." She wakes up to the light hitting her bedroom, which is decorated with more personal artwork—horse photographs (she grew up riding), beloved family photos, a painting of three women given by the home's former owners because it's signed "Irene."
She'll roll out of bed, make coffee and a smoothie, and hit the outdoor deck. On especially idyllic days, she'll have time to walk Teddy through the Venice farmers' market and pick up local fruits and lettuces. Irene generally moves between her home and her jewelry studio, which is on Abbot Kinney, Venice's main drag, but makes a point of keeping home and work life separated: "I don't have a traditional office at home on purpose. But that said, I always end up working on the sofa!"
I always go back to the ocean, with all those blues, aquas, and greens, for color inspiration.
Mastering an Offbeat Mix
Irene's L.A. universe—her home, her jewelry line, and her store—reflect her ability to combine offbeat, edgy, zany influences and pull them into a polished, pulled-together aesthetic. Case in point: the armchair and matching ottoman in the library, upholstered in a fabric she found on a Japanese children's website—"it was supercheap"—and layered with patterned pillows and a cashmere Elder Statesman blanket in ocean hues.
"It's all about having a mixture that makes sense and stays balanced," she explains. "My whole life, I've been able to mix things and have it work. It's like my secret power." She clearly thrives on color, calling this corner of the library her favorite place to curl up and really relax.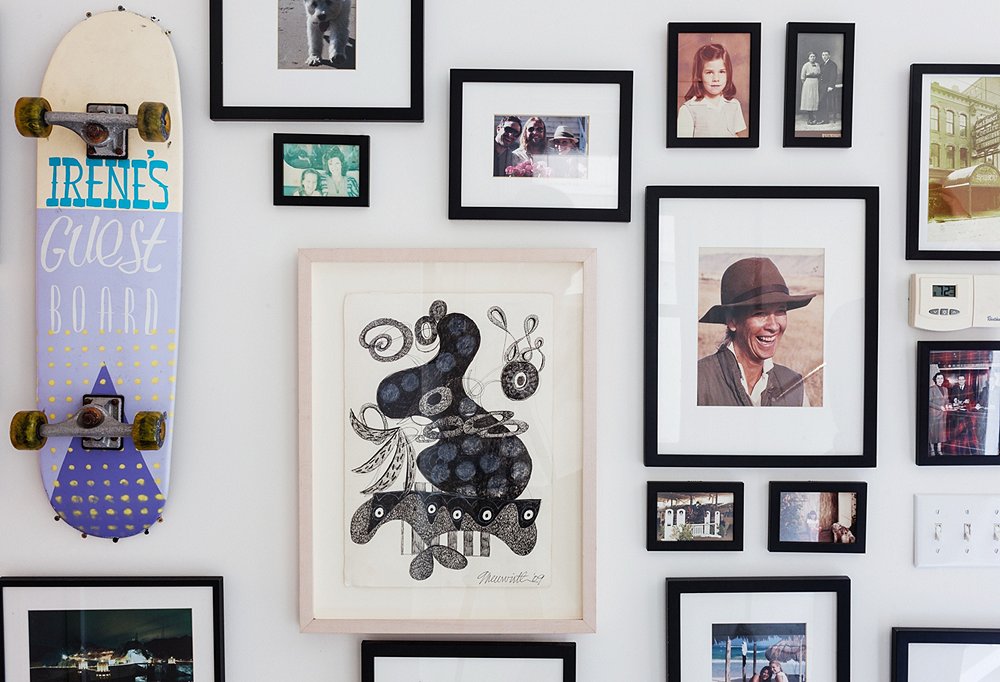 A Personal Approach to Collecting 
Irene's mother's paintings, one of which is pictured front and center above, were her "starting point" in terms of her art collection—she loves living with their warm, wild feeling of movement. From there, she hunted down paintings by friends, old family photographs, and pieces from up-and-coming local artists and spread the work everywhere. Rather than following any elaborate rules, she hangs pieces by starting in the center and working her way out, mixing sizes, mediums, and frames at will.
My boyfriend and I love to collect art; it's really a shared thing. We're always going to LAXArt to check out new shows and discover new artists there. And of course, I'm my mom's number one fan.
Lovely and Loose Entertaining
When they do host, Irene and her boyfriend take a casual but considered approach to entertaining, and the resulting evenings come off as effortless. Typically either a big table is set up on the porch, or everyone comes into the dining room and "piles together on the bench. It's just fun." Irene favors an earthy menu of lamb chops or grilled fish, along with salad, pasta, and a fruit crumble. "My dream night is getting all my friends over, cooking dinner, and having a great long evening that ends late."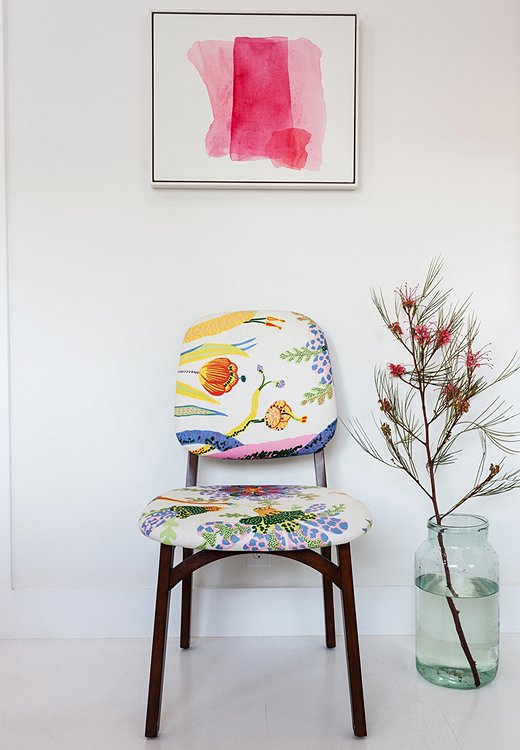 I have a really hard time going with anything clean with fabrics. I can't resist pattern.
Relishing Evenings In 
After a succession of entertaining engagements around her recent store launch, Irene's taking a much-needed breather. She's catching up on reading—current favorites are Elena Ferrante's My Brilliant Friend and Miranda July's The New Bad Man ("so wonderful and relatable"). She also likes to relax with small home projects, such as rearranging her shelves. The result is "a total labor of love. I love to get it all onto the shelves, live with it for a minute, and then keep rearranging until it's whimsical yet balanced."
My dream night is getting all my friends over, cooking dinner, and having a great long night that ends late.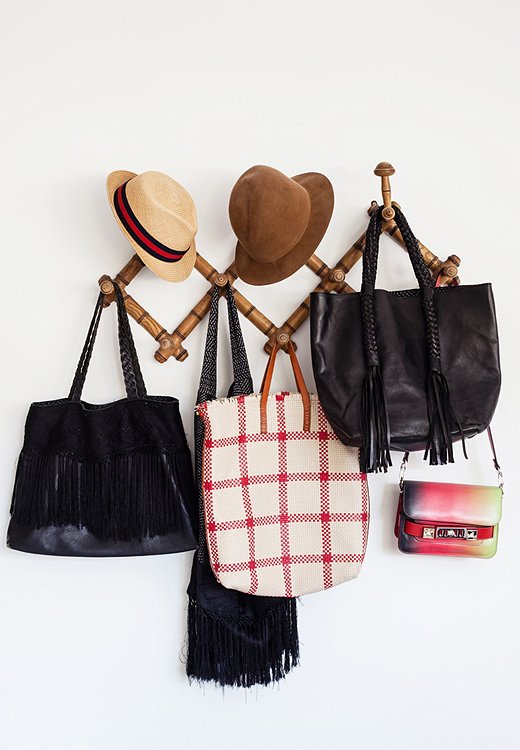 Back to the Ocean
Irene often cites the ocean—and its rich palette of blues, aquas, and greens—as her inspiration. So for creative recharging, Irene often just hops in her car. "I go on road trips by myself all the time—I'm a total hermit in that way," she says. "I love exploring the whole California coastline. It's so extreme and beautiful."
And she heads south to Mexico any chance she gets. Twice a year, she's in San Miguel de Allende, walking the streets and absorbing the beautiful warm colors of the painted doors and art. It feeds her collection as well as her home's palette: "I always end up coming back with a beautiful blanket and an embarrassing pair of crazy-big floppy fleece slippers."