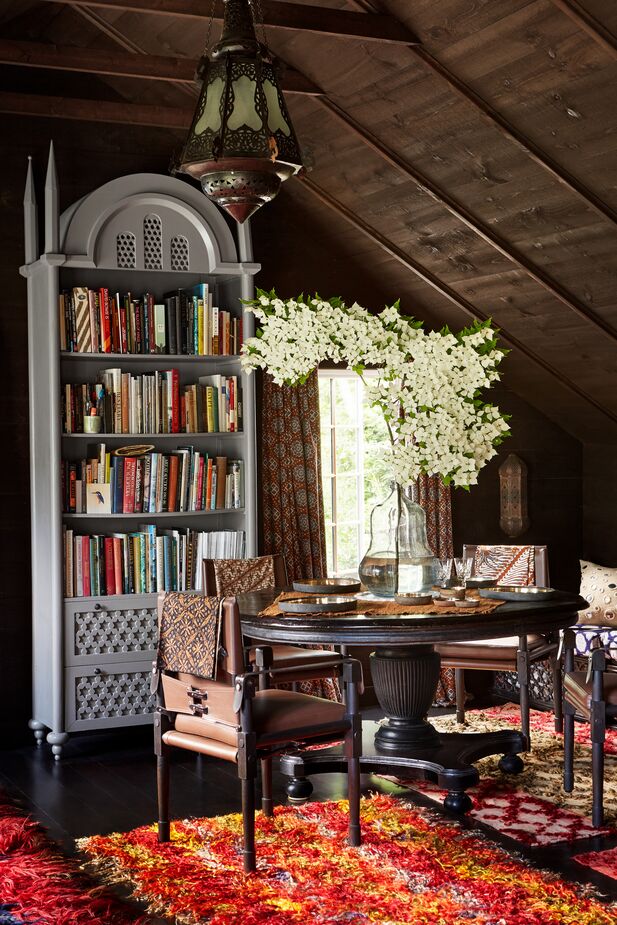 Built in the 1840s, designer John Robshaw's home in Connecticut's Litchfield Hills looks like a typical New England farmhouse—from the outside. Inside, however, you won't find Windsor chairs, Shaker cupboards, or pie safes. In their place are finds from John's far-flung travels: Turkish rugs, Nepalese pillows, art from Papua New Guinea, and of course, plenty of the Indian block prints that have inspired John for decades. 
"I think old farmhouses are the perfect backdrop for antique textiles from around the world," John says. "So many of these old houses are very unique and eclectic to start with, and old textiles sit happily in them. Dhurrie carpets look amazing on wide-planked floors, roof beams are great frames for old textile panels… It's hard to go wrong with antique textiles in a truly antique house."
John's love of traditional Indian prints and the centuries-old woodblock-printing technique led him to create his own line of fabrics and, in 2001, his eponymous business. During trips to India, Indonesia, and elsewhere in Asia he acquired not only ideas for his fabrics and wallpapers but also many of the items that give his home its vibrancy. Among his prized possessions is a substantial statue of Durga, the Hindu goddess of protection, that he found in Sri Lanka. "It invites good fortune in my living room," John says.
Much of the house is light and bright. In the kitchen, glossy blue cabinets complement the pinkish orange walls; in the dining room, the multicolor striped dhurrie rug is just one spot of color among curtains of varying prints, a wealth of hanging textiles, book-laden shelves, and a chevron-upholstered chair.
The space John calls the library, however, has a darker appearance, though it's no less inviting. Originally a tobacco barn attached to the main farmhouse, John had used the unheated space as a studio during the warm-weather months before opting to make it a multifunctional area he could enjoy year-round. 
He chose not to paint the dark wood walls, beams, and pitched ceiling. "I wanted a dark moody study for reading," John says. "It works perfectly in the summer with the sun blazing in. In the winter it becomes a mysterious space with glowing lanterns and sconces; I can imagine I am off in a palace in India."
Adding to the illusion are masks from India and Nepal that line a wall above a series of carved benches topped with a profusion of antique pillows. Elsewhere in the room are bookcases inspired by Islamic architecture, books and art galore, a dining table that doubles as a desk, and even a sleeper sofa. John switches out the print curtains seasonally, along with the floor coverings: colorful plush tulu rugs in winter, indigo dhurries in summer.
"Layering allows you to experiment, to add in and take out layers or collage designs to see how they work," John says. "Moving around pillows and other layerable pieces is a great way to create a different feel for the seasons."
Even as he swaps out or rearranged pieces, John's home has a distinct feel year-round: that of a worldly, and maybe even otherworldly, trove of delights, where disparate elements come together to create a harmonious, welcoming whole.