Artist Kate Schelter penned and painted her first book, Classic Style: Hand It Down, Dress It Up, Wear It Out, from a whitewashed table in her Chelsea, Manhattan, studio. Through personal anecdotes, Q&As, and her signature watercolor illustrations, its pages contextualize true style as a byproduct of an authentic, well-considered life. Below, we chatted with Kate about how she knew it was time to write a book, what she needs to do her best work, and the process through which her creative ideas come to life.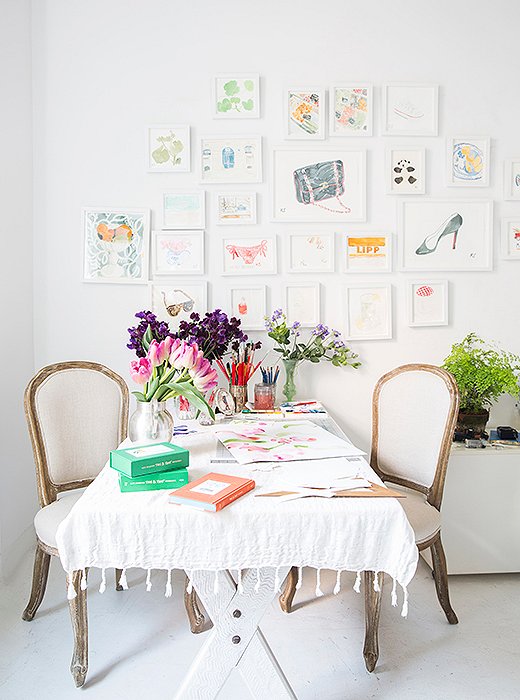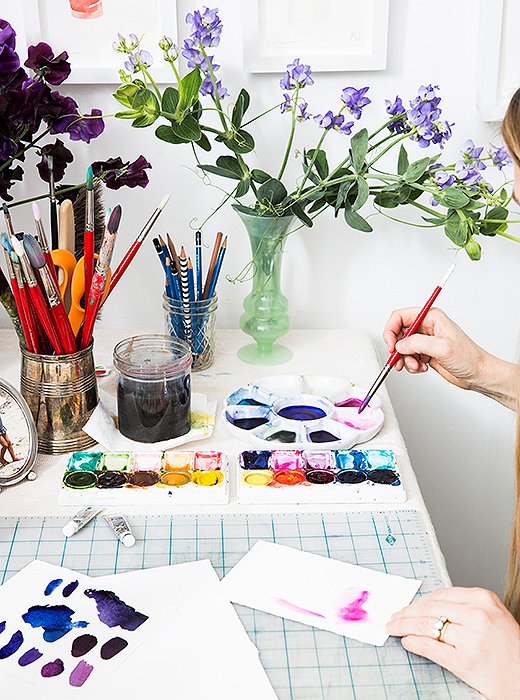 What's a typical day like in the studio for you?
I'm up early with my daughter, some days before 6 a.m., after which I'll drop her off at school and get to work after that. I try to be disciplined and paint in the morning because that is when I have the most energy and when I'm most focused. Then, in the afternoon, I'll turn my attention to emails, phone calls, and those sorts of things.
How do you stay focused?
When I was writing my book, I left my iPhone in another room, not in my studio, and put all my social media apps on, like, the 10th screen to make it as hard as possible to get distracted, and I would have my email turned off. Listening to podcasts helps when I'm painting; it's when I listen best because I'm completely in a zone. Marc Maron and Terry Gross are two of my favorites. I feel like I could listen to Terry Gross forever and all the time. Her interviews are like having a friend in the room. It's really nice to be comforted by her voice, and I feel the same way about Marc Maron. He's so smart and personable. With both of them, it feels like I have someone in the room talking to me, and I don't have to answer; I can just listen. I can focus on what I'm painting, and the rhythm of their voice keeps my mind moving so I don't get stalled. I learn so much when I do this. There are so many memories associated with what I was listening to when I was painting.
What do you need in your studio to do your best creative work?
Daylight. I only paint with daylight. I don't think I've ever done a painting without it.
In addition to painting for yourself, you work on commission. How do you decide who you're going to work with, and how does working on commission differ from painting for yourself?
I probably do more works on commission than I do work for myself. More often than not, people will approach me with an idea for a painting based on one they've seen of mine. They'll want it in a different size or customized in a certain way, but what's most fun is when people come to me looking for suggestions of what I could paint for them. I love that—helping someone discover something that's unique to their style and personality—but I'd never work on something if I felt it wasn't within the realm of my artistic integrity.

What's the favorite thing you've ever painted?
I think some of my really early work, when I made the transition from being a stylist to an illustrator, the work where I was discovering myself as a painter again. It's so indicative of my style. There's a Beverly Hills Hotel sugar packet, a bunny rabbit that now hangs in my daughter's room, and then the pieces I did while staying at the Chateau Marmont with my husband and daughter. They all represent such personal moments, and I don't think I could ever bring myself to sell them. I'm just too attached.
What's it like being an artist now compared with when you started out?
Instagram has definitely changed things. It's been huge in terms of people discovering my work and has helped me discover other artists that I otherwise might not have known about. It also sheds light on what pieces of mine people are attracted to, like a litmus test… and sometimes the results are surprising. I'll post a sketch I did really quickly and think it's going to be nothing, but it will end up being so much more popular than something I might have worked harder on, which is not to say that that creates more value; it's just really fascinating and encouraging.
Has that helped you become a better artist?
It's just helped me learn more about what people like. People have given me feedback that they want to see more of my actual work process, so I've been trying to do more of that. It's also led me to post pictures of work that's unfinished, which I would have never done had people not expressed interest. There was a point, as an artist, when I would only show something framed and on the wall, collected and curated and that whole thing. Now it's become so much more about a glimpse behind the curtain.
Everyone spotlighted in the book is a dear friend. It's a mix of clients who became friends and friends who became clients. I admire each one of them for who they are and their authentic sense of style.
How did you know it was time to do a book?
It was actually my agent's idea. He approached me on the eve of my first gallery exhibit in New York, and he told me I needed to do a book. And, I guess, the rest is history.
How did you decide who to feature?
It came organically because everyone in the book is a dear friend. It's a mix of clients who became friends and friends who became clients. I admire each one of them for who they are and their authentic sense of style. And that's what it's about. It's not about being a celebrity or something like that. The whole point of the book is that whoever is authentic has great style in a way that only they can.
What's next?
I've been thinking about that so much! I'm sure there are things that I can't even think of right now that will come out of the book. That's just how my life is: Each thing leads to the next. I will say that what excites me most is the idea of my artwork being applied in a way that goes beyond just a painting on the wall. I'd love to continue to see my work expressed through other mediums. And if nothing else, I'll just keep painting.