We're thrilled to have featured some truly stunning kitchens, all of which were packed with genius steal-worthy decorating ideas. Here we've gathered a few of our favorites into a collection of bold, serene, intriguing, and undeniably stylish spaces sure to get your creative juices flowing. Take a look at our selection and see which one speaks to you.
Alison Cayne's kitchen in Manhattan's West Village combines so many of our favorite kitchen trends of the year: white subway tile laid with dark grout, brass hardware and fixtures, open shelving, and dark cabinetry paired with white countertops. The best part is, given Cayne's culinary chops, the design also functions as a true chef's kitchen with a pro-level stove and tons of prep space.
When Jason Chauncey, the visionary behind Brownstone Furniture, and his wife, Allison Ross, redid their kitchen, it was with family functionality in mind. The floor plan was opened up to flow directly into the living room, and the kitchen also serves as a place to check schedules, thanks to the magnetic chalkboard on the refrigerator, and to display the kids' artwork, which hangs casually from the ceiling pot rack.
L.A.-based writer Christine Lennon's stunning kitchen is the perfect reminder that differentiating details can go a long way to personalize any kitchen. The unique leather drawer pulls add an extra dash of style, as do the minimalist pendants and the cork flooring. We love the choice of a butcher-block top for the kitchen island.
The bones of Elizabeth Locke's generous open kitchen don't in and of themselves scream country, but she successfully channeled that vibe in her Virginia home thanks to 19th-century French tiles used for the backsplash and roman shades made of a charming red-and-white fabric. Although the space could easily accommodate a huge breakfast table, Locke kept the feeling open and airy with a more modest-size table, paired with a set of French lyre-back chairs.
James Huniford's singular ability to turn seemingly rustic elements into a space that's undeniably refined is endlessly inspiring to us. In his own country kitchen, aged wood accents and steel add layers of texture to simple white cabinets outfitted with humble hardware. One of our favorite details? The silver-tipped bulbs used in the ceiling's übersimple ceramic fixtures.
Fashion designer Kim Bachmann's home may be a Beaux Arts building that dates back to the 1920s, but her kitchen is brimming with modern-day style. The open shelves flanking the bold black hood feature accents that cement the space's white, black, and gold color scheme. We especially love the glam bamboo chandelier, a charming and novel choice for a kitchen.
You wouldn't expect to find a streamlined, modern-leaning kitchen in a grand 1868 home located in New Orleans's Garden District, but Sara and Paul Costello aren't ones to adhere to convention. While the bones of the space, complete with vines creeping in from outside, were retained, a large island by Bulthaup was added for ample counter space and storage. Inside those deep double-sided drawers? Sara's collection of vintage china.
Who said you can't mix metals? When she designed her Connecticut home, blogger Sue De Chiara wasn't about to do away with the nickel-trimmed pendants from the family's previous home. "Those were the first expensive things I ever bought," she says. Instead, she kept them and went for the brass hardware she wanted, using some simple industrial stools and blue and white accents to tie the look together.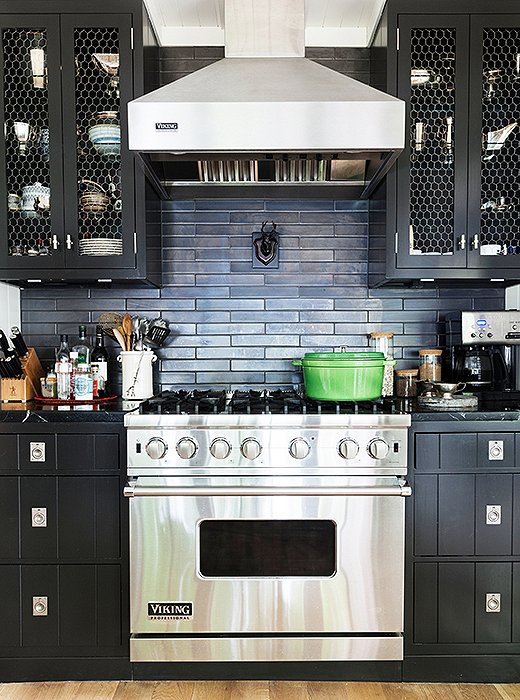 "I didn't want just a typical white kitchen," says Thom Filicia of his vision for the kitchen of his lake house in the Finger Lakes region of New York. Mission accomplished. Black cabinets featuring nautical hardware and chicken-wire cabinet fronts are both elegant and totally fitting for a lakeside retreat.
"White is a signature for me," says renowned designer Suzanne Kasler, so the serene scheme of her Atlanta kitchen should come as no surprise. The simple display of pewter plates adds a graphic hit to the feminized space and breaks up the sea of white. Lavender slipcover upholstery on the barstools provides the sole moment of color, which as it happens coordinates perfectly with the upholstery on a set of dining chairs around the nearby breakfast table.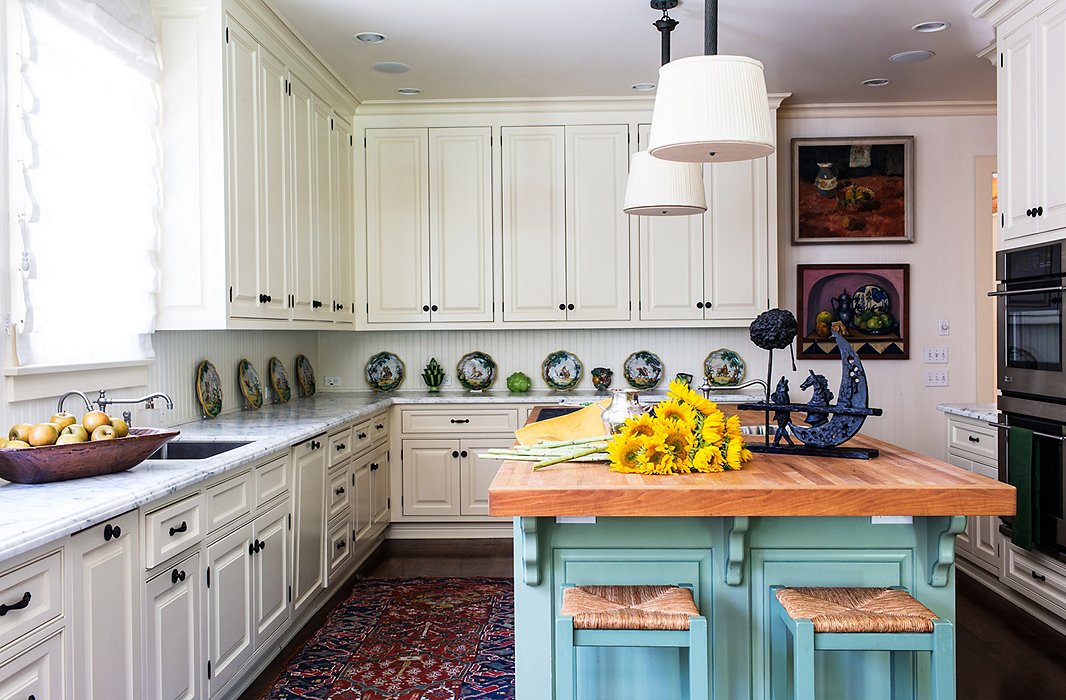 Interior designer Timothy Corrigan reimagined the layout of his Georgian colonial house in L.A.'s Hancock Park to suit his needs, which included a generous kitchen. We love its traditional touches: a country-leaning pop of turquoise for the butcher-block-top kitchen island and set of matching rush stools, and a beadboard backsplash. As for the floors, Corrigan advocates rugs, and not just any kind: "Oriental rugs are the best thing for a kitchen because they are indestructible; they are multicolored, so they don't show stains and spots; and you can buy them so inexpensively it's cheaper than getting a new rug."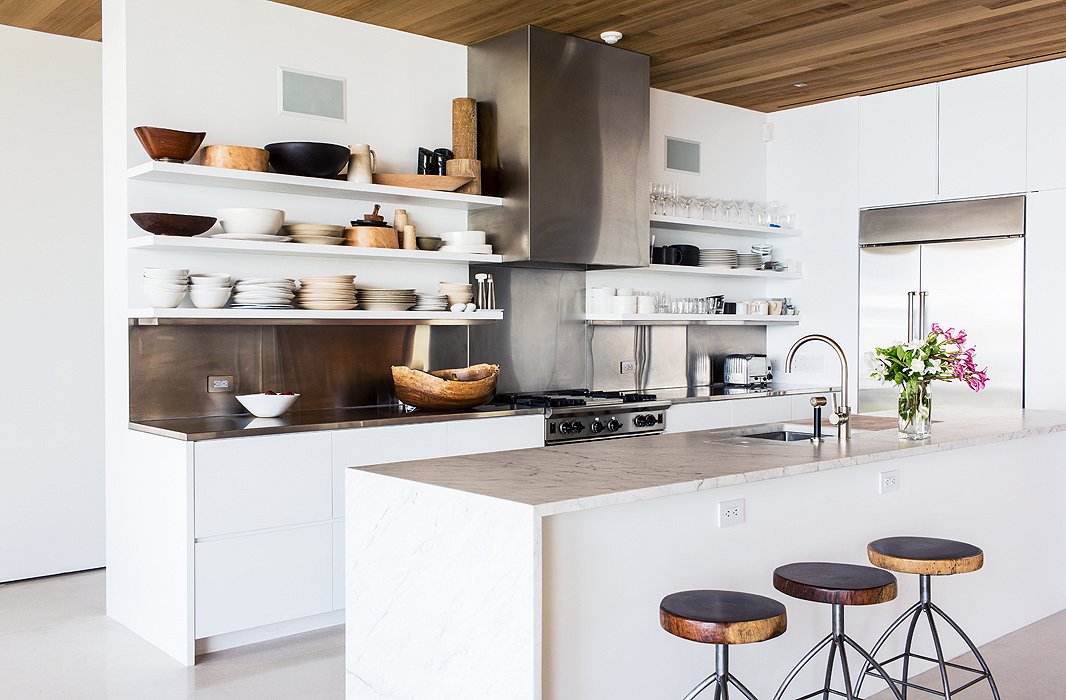 Mixing countertop materials was undoubtedly a trend this year, and one that Kelly Klein's Palm Beach kitchen expertly displayed. Along the back wall, a stainless-steel counter extends seamlessly up into the backsplash and hood. For the island, she chose a waterfall marble countertop with an inset sink, perfect for food prep. Our favorite feature? The open shelving used to display her enviable collection of dinnerware and large-scale serveware made from yummy woods, which coordinate perfectly with her counter stools.