Lilly Bunn, a NYC-based designer and young mom, pulls together amazing interiors that manage to check all of our dream-design boxes—and then some. They're as chic and sophisticated as they are functional and family friendly, with lively hits of color and fearless pattern play. Needless to say, we were itching to take a peek at the Upper East Side apartment she shares with husband Chris, darling daughters Grace and Daisy, and pooch Mabel. From the ship-shape dining-room chandelier to Daisy's pink kid-sized egg chair, it's a fun, fuss-free zone where everything is beautiful, but nothing overly precious. "In our house, every cushion can be flipped," laughs Lilly.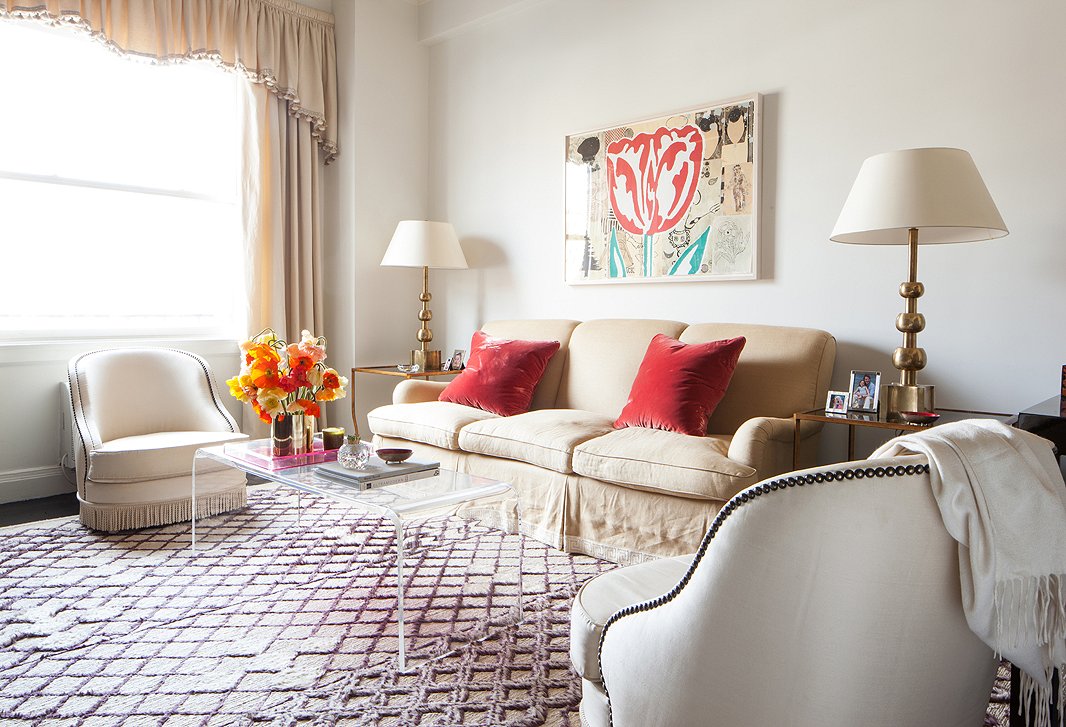 A Happy Homecoming
When Lilly and her young family moved into this bright, high-ceilinged apartment two years ago, it was a homecoming of sorts. "I'd lived in the Village for years, but actually grew up on the Upper East Side," she says. "When I was little, the first apartment we lived in was very fashionable and thought-out. It had a Clarence House chintz on the sofa, and my very specific father liked everything in red and green." And though, as an adult, her personal design sense is more pared-down and effortless, she'll always possess a major soft spot in her heart for that traditional look (and chintz—in moderation). "It feels like a family to me," she says. "Warm, not sterile, and a little feminine—but since there are lots of girls in this house that's OK!"
My taste in art is always evolving, much like my taste in fashion. I might like something right now—but who knows about tomorrow?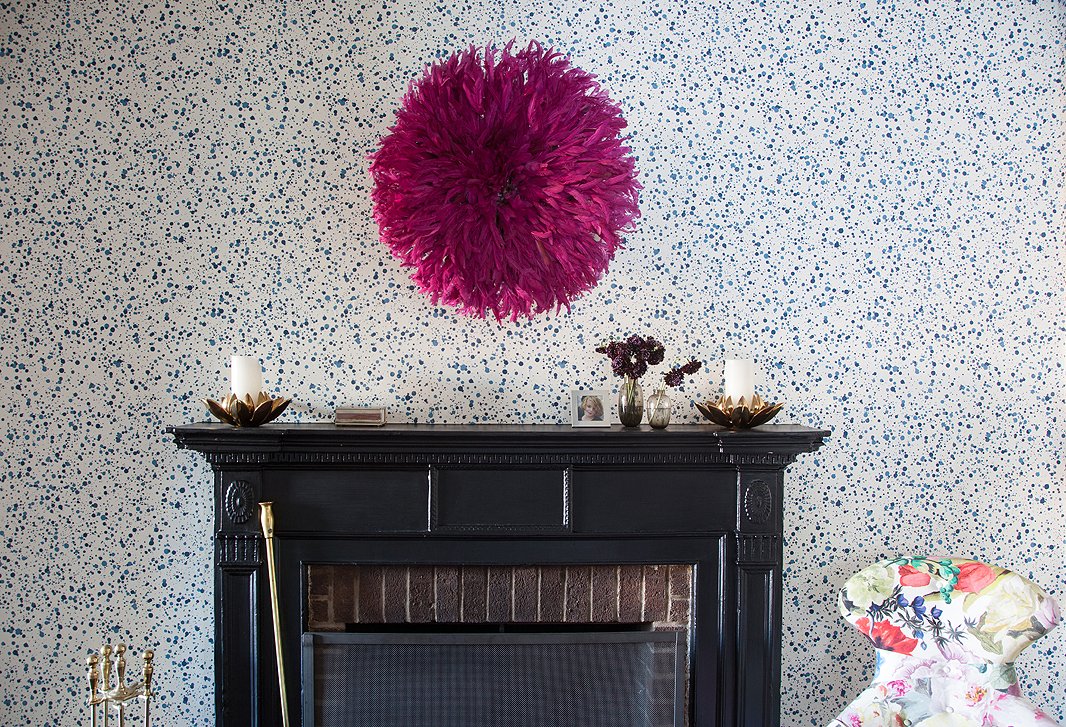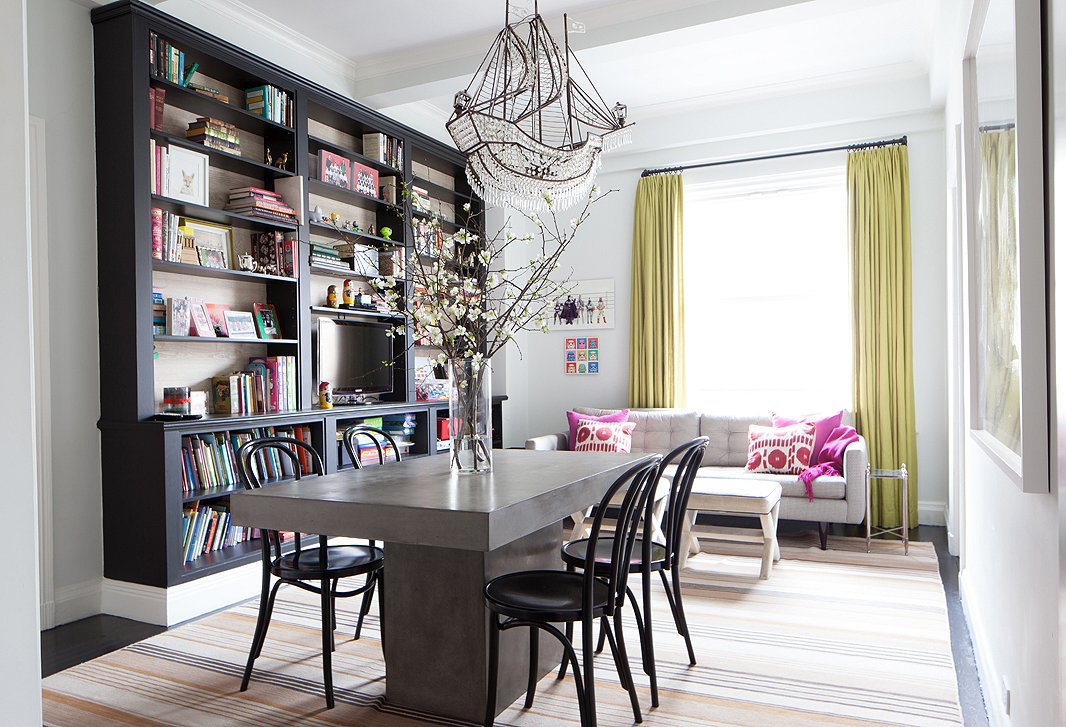 A Family Affair
Due to their hectic city schedules, Lilly and her family are rarely able to snag the time for a proper sit-down dinner. "I'd love to get to a place where we all eat together at a set table, but honestly most of the time the kids eat first, then I eat on the sofa with a plate in my lap and them hanging on me and begging for a bite of anything that looks good," she laughs. "But at the end of the day, we all end up snuggled up on that sofa together." Lilly approaches entertaining with a similarly laid-back, anything-goes attitude. "We have our family over a lot," she says. "We'll hang out in the living room, and my dad always settles in on the sofa." And when it comes to the menu, she's a true New Yorker: "Sometimes we make tacos with pork roasted in the slow-cooker, but mainly I order takeout. That's why I live in Manhattan—I'll never leave for that reason alone!"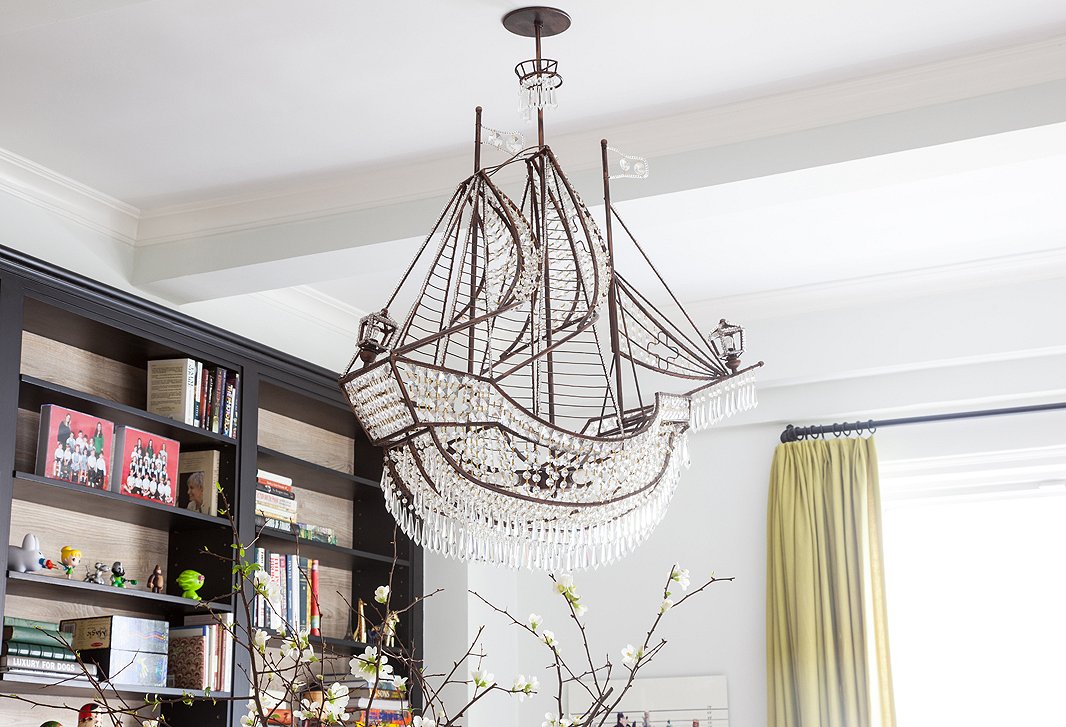 The Art of Escape
When the family feels the need to get away, they usually jet off to some sun-kissed, kid-friendly beachy paradise. But they took a family trip to London and Paris last summer, and marveled at how easy and invigorating it was. "We stayed in VRBO places—coming and going as we pleased—and hit all the parks," says Lilly. "We all had the best time and still talk about it constantly."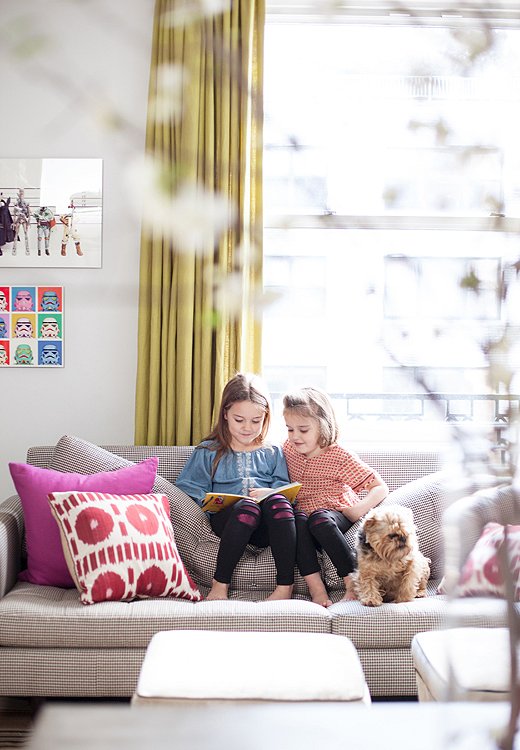 The Kid Zone
If Lilly's not entertaining adults, she's probably entertaining a more pint-size crowd. "Really, I decorated the whole apartment for kids," says Lilly. "It's a free-for-all—they can hang out wherever they want, except on our bed." Case in point: The dining room, which doubles as the girls' playroom. "It's where their toys are," says Lilly, "and they spend all their time in there, playing and drawing."
Small-Space Smarts
Like most space-strapped New Yorkers, Lilly is obsessive about decorating (and using) every last inch of her apartment. "Don't have a formal dining and living room that's off-limits, and then have the whole family squeeze into the kitchen to watch TV," she says. "Those are usually the best rooms in these apartments—so use them!" Her anti-overly-formal approach means that rooms are wrapped in soothing neutrals and mood-boosting pops of color with plenty of comfy upholstered pieces for curling up on. "It's stressful to live in the city," Lilly says. "You just want to come home and relax."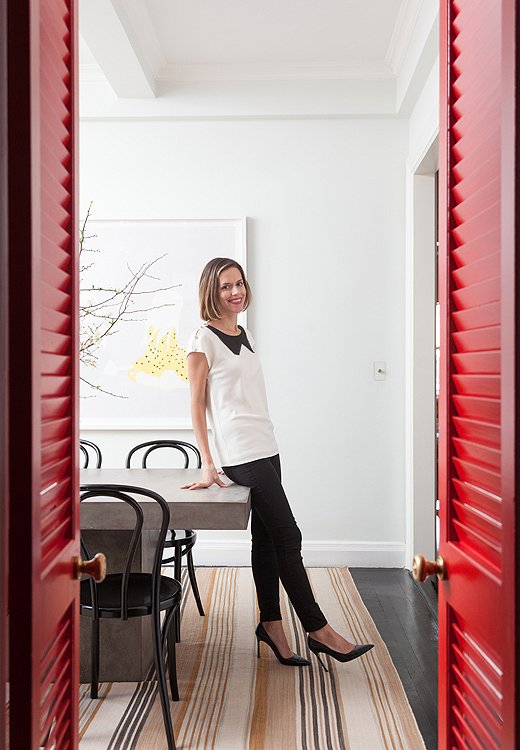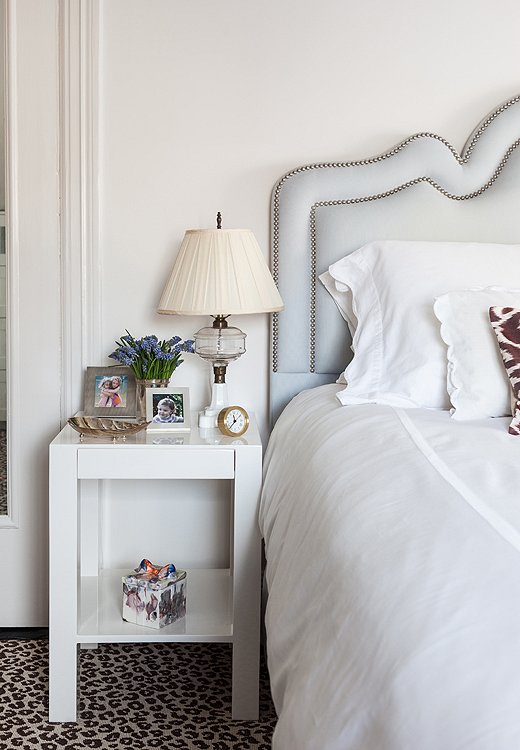 All in a Day's Work
Mornings in the Bunn household can verge on hectic. "We get the girls to school, and somehow walk the dog," says Lilly. Then it's off to work where her day might be spent drafting floor plans or picking furniture and fabric. On many weekdays she'll try to sneak away for an hour to see her girls, or catch one of their school plays. Then on weekends, she's all theirs. "When I'm with them, I try to drop my phone and just be with them, listening to their stories and playing games," she says.
A Room of Their Own
Growing up in New York City as one of three kids, Lilly always had to share a room with a sibling and try to make room when there wasn't enough. Now, with two girls of her own, "I obsessively try to give them the room I always wanted," she says. She approached the décor in her girls' rooms just like every other space in the house, outfitting a clean, neutral base with cheery details and artwork. "We thought about their rooms in the way we thought about the living room—what will make them really cute?" she says. "They're just slightly more fun and lighthearted."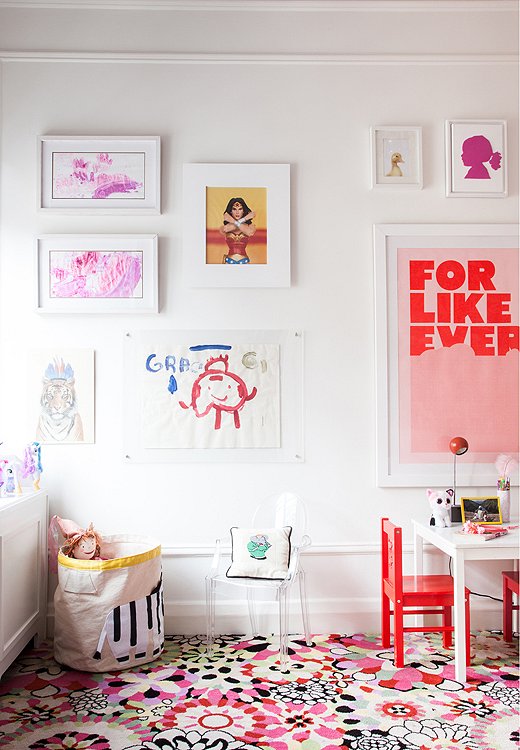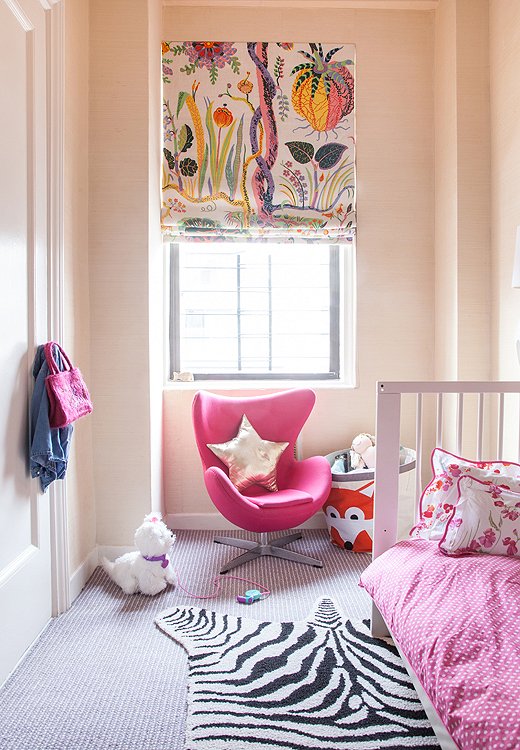 I love buying things for my kids—don't all parents? Everything just looks so cute in the baby size.