A great rug can transform a room—but its potential doesn't stop at the floor. From the dining room to the bed to the bath, we're showing you seven easy, creative ways to shake up your rug game.
In the Dining Room
Luxe, glamorous, and wonderfully plush, sheepskin rugs look great just about anywhere. The dining area is no different: Casually draped over the chair seats, they create a bohemian-chic setting for meals while also adding tons of cozy texture.
A bonus? The layered sheepskins can help to unify a mismatched dining set, such as the natural and painted bamboo chairs here.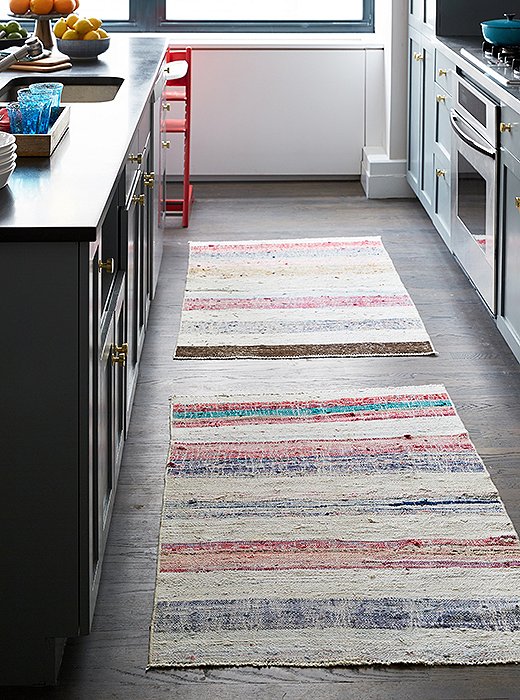 In the Kitchen
While conventional wisdom might dictate a runner, two smaller rugs can work just as well in the kitchen. We love rag rugs for their casual, cozy look and nubby texture, which instantly warms up sleek cabinets and appliances. They're also wonderfully washable, so there's no need to fear any (inevitable) kitchen spills.
Rag rugs come in a variety of soft, muted patterns. In this narrow kitchen, we opted for multicolor stripes to help create the illusion of a larger space.
On the Bed
Love a minimalist bedroom but still crave a bit of color and pattern? Try topping your bedding with a fringed flat-weave rug. When the bed is made, it creates a perfectly pared-down yet inviting look. And when it's time to climb under the covers, simply fold the rug down to the foot of the bed. This setup is especially ideal for the summer months, as it takes a heavy duvet out of the equation.
In the Bath
Swap out your basic bath mat for something with a bit more decorative punch. Natural-fiber rugs (think sisal and bamboo) add warm, organic texture that offsets all those glossy bath surfaces; they also hold up well to damp, humid conditions. Hide rugs, which combine softness with durability, are another stellar option.
And while the bath may not be the first place you think to use a vintage rug, they're surprisingly well suited to the space. After all, they've held up to years of wear and tear, so a few drips won't do any lasting harm.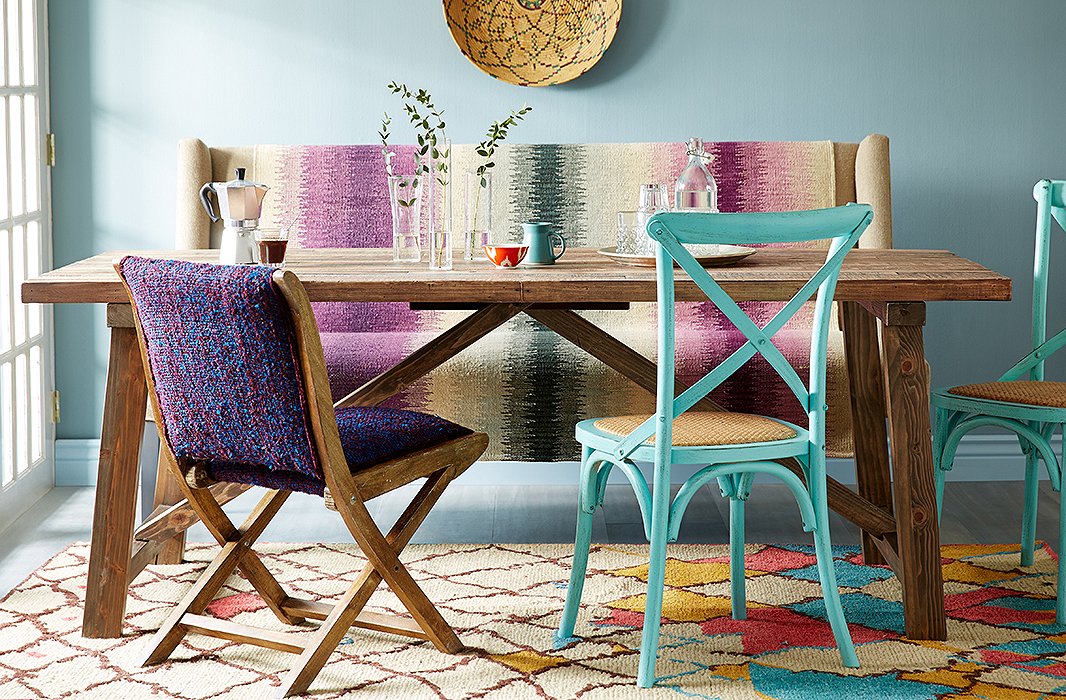 On a Settee
Want a quick way to update your seating, no upholstery or slipcovers required? Draped over a chair, a sofa, or a settee, a flat-weave rug can create an entirely fresh look: Simply smooth the rug down over the back and seat, and tuck it gently into the seam. (Tip: Leave at least a foot or so hanging over the back of the piece; the weight will help to keep the rug in place.)
We love how this rug's soft yellow hue blends with the settee, but a more high-contrast look can be equally chic.
On a Daybed
Following the same formula, you can use a flat-weave rug to effortlessly update an upholstered daybed. Choose a rug that's a few inches narrower than the width of the cushion, then simply wrap and tuck until you have a smooth finish. Play up the bohemian vibe with a pile of throw pillows and bolsters in worldly prints (cute furry friend optional).
On the Wall
With rich, vibrant hues and intricate, handwoven designs, many vintage rugs are true works of art—so why not give them pride of place on your wall? Rugs with a defined border, such as the warm-tone style here, read especially well as artwork, though styles with a repeating pattern (stripes, chevrons) add a graphic note that's gorgeous too.