If ever a home took the expression "bring the outdoors in" to heart, it's this one. Located in Vail, CO, the 10,000-square-foot house makes the most of its mountain and woodland views with expansive windows and multiple balconies and patios. What's more, just about every room boasts Montana logs, and more than a few incorporate Colorado moss rock as well. 
So when decorating the house for her clients, Meredith Owen knew it was important to maintain its rugged, earthy ambience. At the same time, the lodge needed to be comfortable during frigid winters and sometimes-humid summers alike, as the homeowners—a pair of high-powered executives in Austin, TX—entertain there year-round. Fortunately, says Meredith, "it's easy to transition from summer to winter by eliminating heavy throw blankets and swapping out accent pieces seasonally. Warming up a room that has so much stone can be challenging, but window treatments can do wonders, as well as textiles that can help soften the room." For that reason, cushions and throw pillows abound, especially on leather stools and armchairs.
"Softening" the rooms also helps prevent the home from looking like a cliché-packed pastiche of a mountain lodge. In the kitchen, for instance, urbane subway tiles and millwork on the cabinet fronts bring quiet luxury to the room's stone wall and log beams. Subtle glints of brass and gold, via garden stools, lighting hardware, and candleholders, add timeless sophistication in other rooms.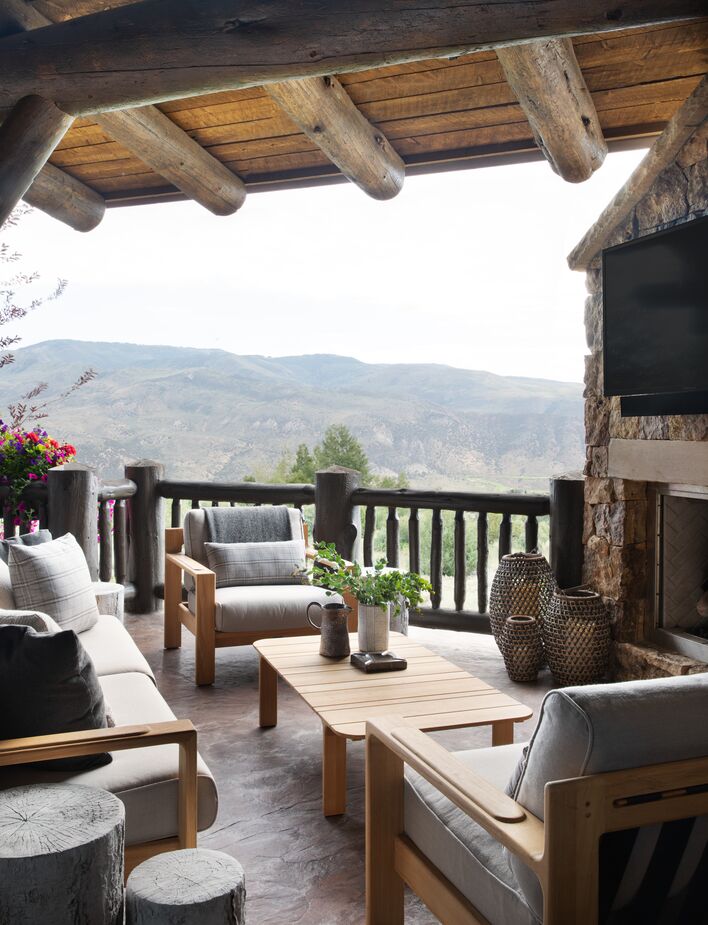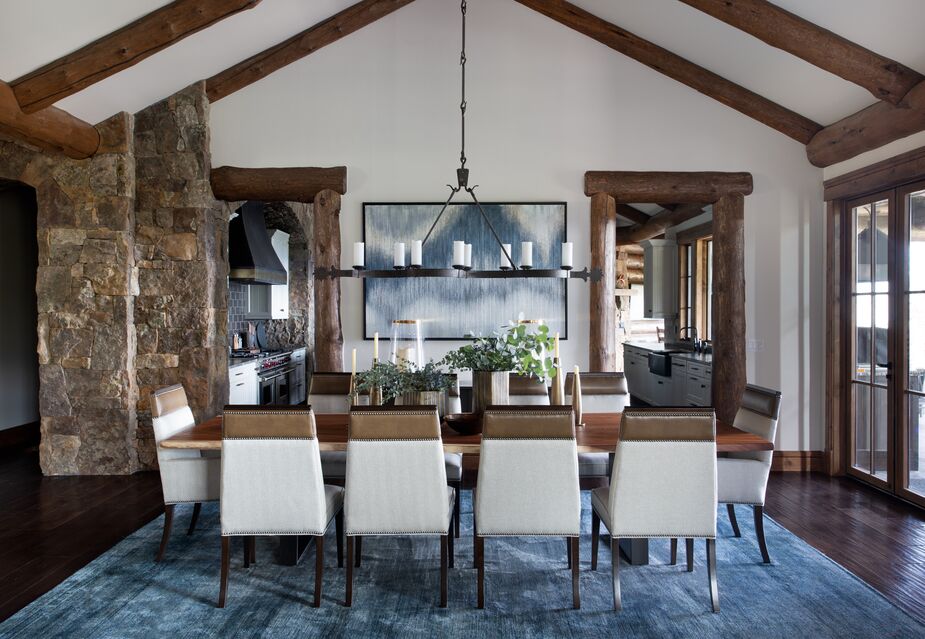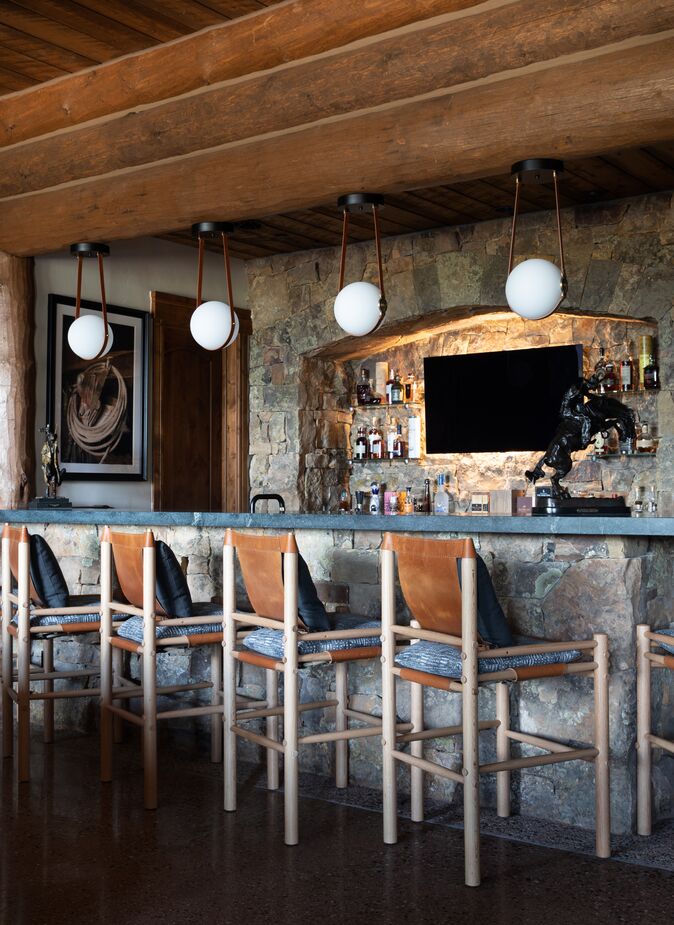 More challenging than layering textures to warm up the rooms was working with the home's imposing proportions. While the house does include some more-intimate spaces—a breakfast nook, a snug with just enough room for a three-seat sofa and a TV—the open living/dining room, for instance, has towering angled ceilings and vast expanses.
"Making sure the scale of the lighting and furniture was appropriate for the size of the rooms was key," Meredith says. Using multiple smaller pieces to fill the rooms would have impinged on the openness that is part of the home's appeal. Conversely, opting for substantial and oversize furnishings grounds the space without making it feel busy.
Meredith's advice when decorating larger spaces: "Start from the ground up. I really like to source the rug for large rooms first and build the color palette and furniture up from there."
The homeowners wanted "a modern take on mountain home living," Meredith says. With wall decor encompassing both abstract paintings and elk heads, materials ranging from live-edge wood to supple leather to down-filled cushions, and state-of-the-art electronics alongside millennia-old stone, the home met the brief. "I love the feel of the entire home," Meredith says. "It really is a wonderful place to entertain or just unwind quietly."