"It's not theme-y," says menswear designer Michael Bastian of the New York City apartment he's called home for more than two decades and now shares with husband Mike Vasquez. "And it doesn't look done either." Michael first toured the 650-square-foot West Village walk-up in 1995 and leased it on the spot. "They're going to have to carry me out of here," he says—and one can easily understand why. Centrally located in the same neighborhood as the homes of Julianne Moore and Sarah Jessica Parker, it is one of those rare rent-controlled gems so well suited to its inhabitants that it's difficult to imagine anyone else living there. Most everything in the apartment was chosen by Michael (Mike moved in when the couple married in 2017), but given that their tastes are so similar, it's safe to say that the overriding aesthetic is reflective of them both.
It is a gentlemanly sort of place, considered and comfortable. Art hung salon style; rich charcoal walls; antiques juxtaposed with treasures from the street: These elements come together to form a visual mix on par with the runway collections for which Michael is known. The fall-winter 2012 collection, he says, is a good comparison: Inspired by men of a bygone era ("who all the hostesses in New York kept close at hand"—think Bill Blass, Kenneth Jay Lane, and Albert Hadley), it reads as an amalgam of all things luxe and laid-back… just as Michael's home does.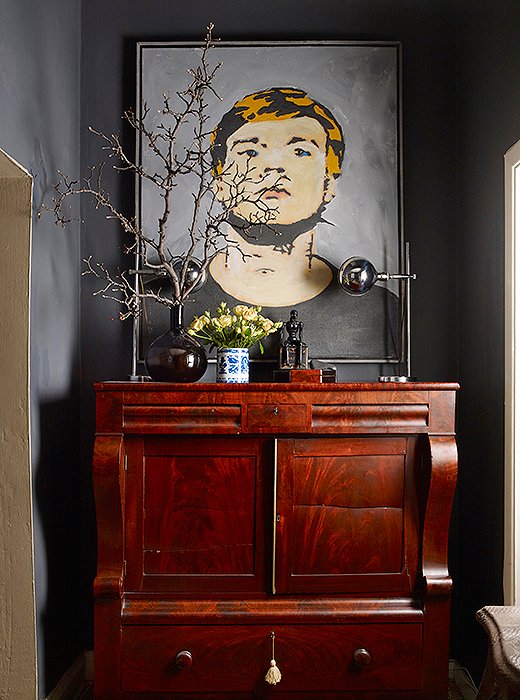 It's not theme-y, and it doesn't look done either. I think it's real, in a way... it doesn't feel like a decorator blew out of here.
It's a little of everything that's been smashed together in slow motion over the past 20 years.
Michael's personal sense of style leans more eclectic than traditional. He describes the home as "a little of everything that's been smashed together in slow motion over the past 20 years." And though there's something democratic about the mix as a whole, he draws the line at the mention of American style. "When people talk about American-style [clothing], they think it's either preppy or it's street, with nothing in between," he notes. "It's kind of the same with interiors—it's either classic or it's modern. But I don't think any of it really falls into one clean category."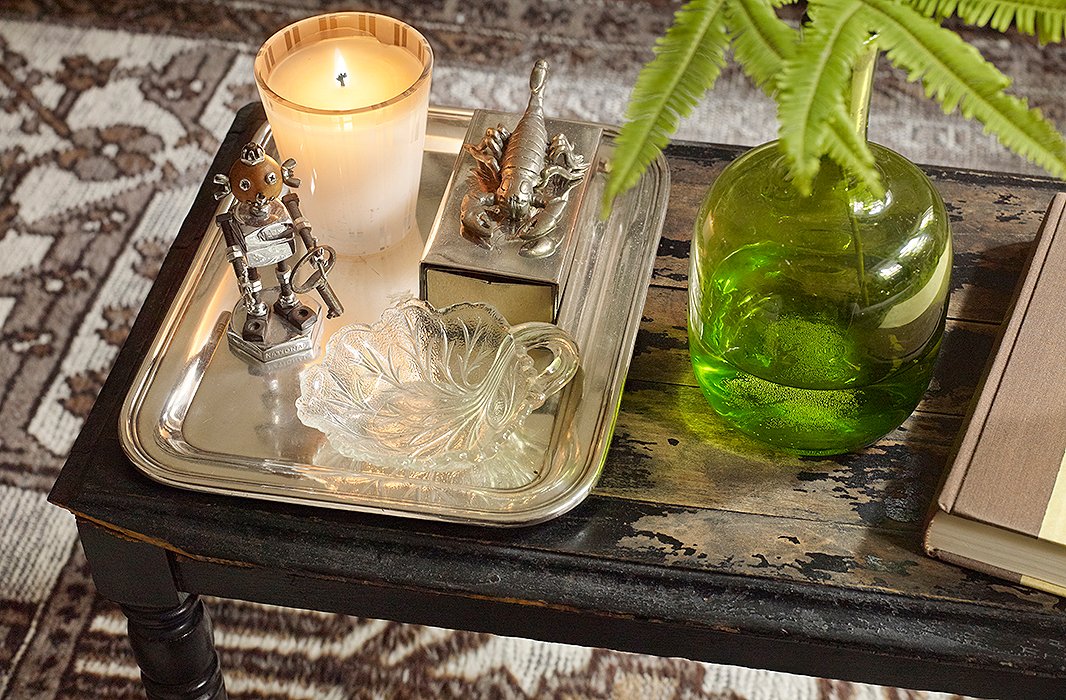 Michael attributes his eye for arrangement to past work experience. Before starting his own label, the designer did stints at Sotheby's, Tiffany's, Bergdorf's, and then Ralph Lauren, where he learned the cardinal rule of magpie style: "It should never be just one type of thing." With a gallery wall, for example, "it should never just be painting or just photography, but a mix—that's where the real magic is. There should be modern stuff, textiles, framed book covers all hanging together," he says. "Just one big ol' mix."
This philosophy extends well beyond Michael's own salon-style walls. Vintage rugs layered over natural sea grass, kitchen cabinets filled with mismatched plates, a bust donning puka shells and another in a masquerade mask: touches of magic styled to life.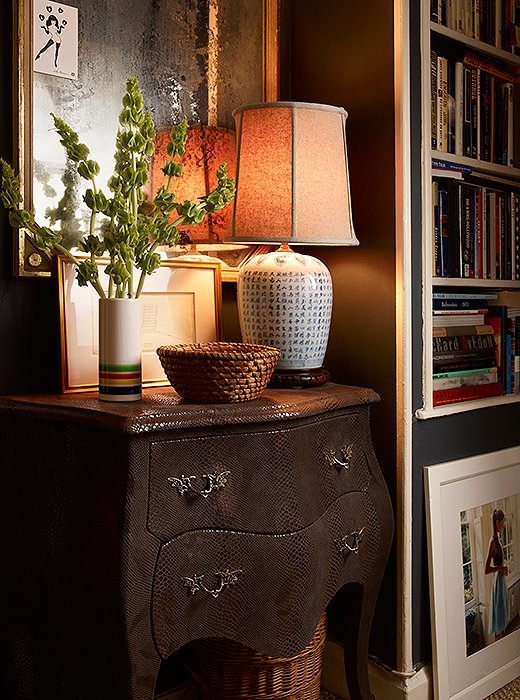 You work around it, you kind of preserve it, and then weirdly enough you end up falling in love with it.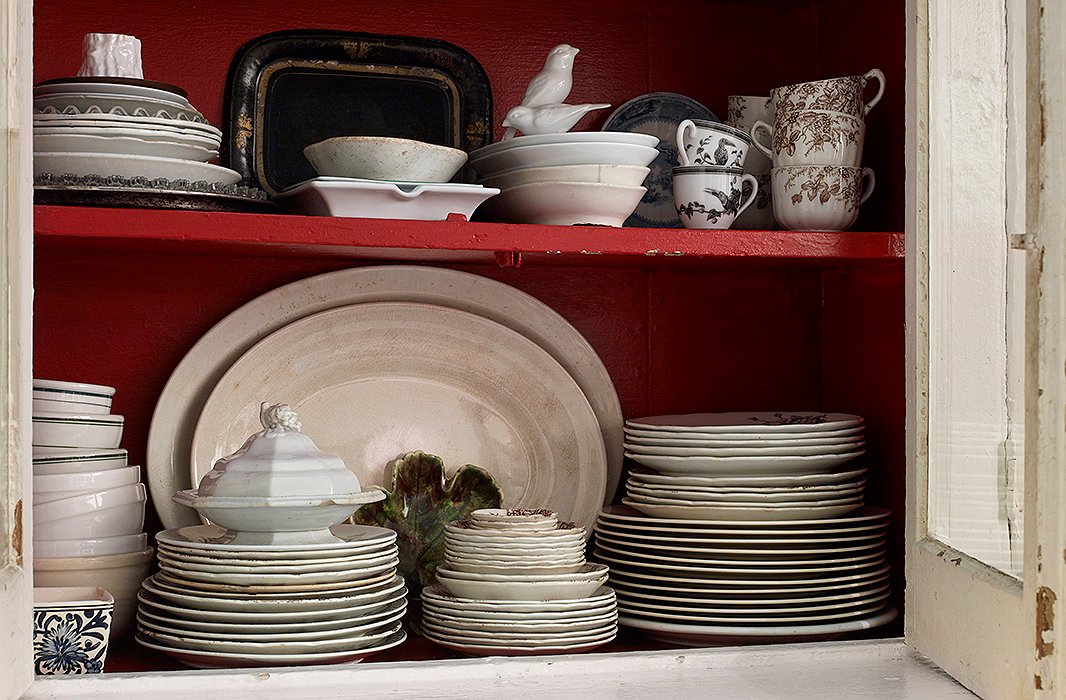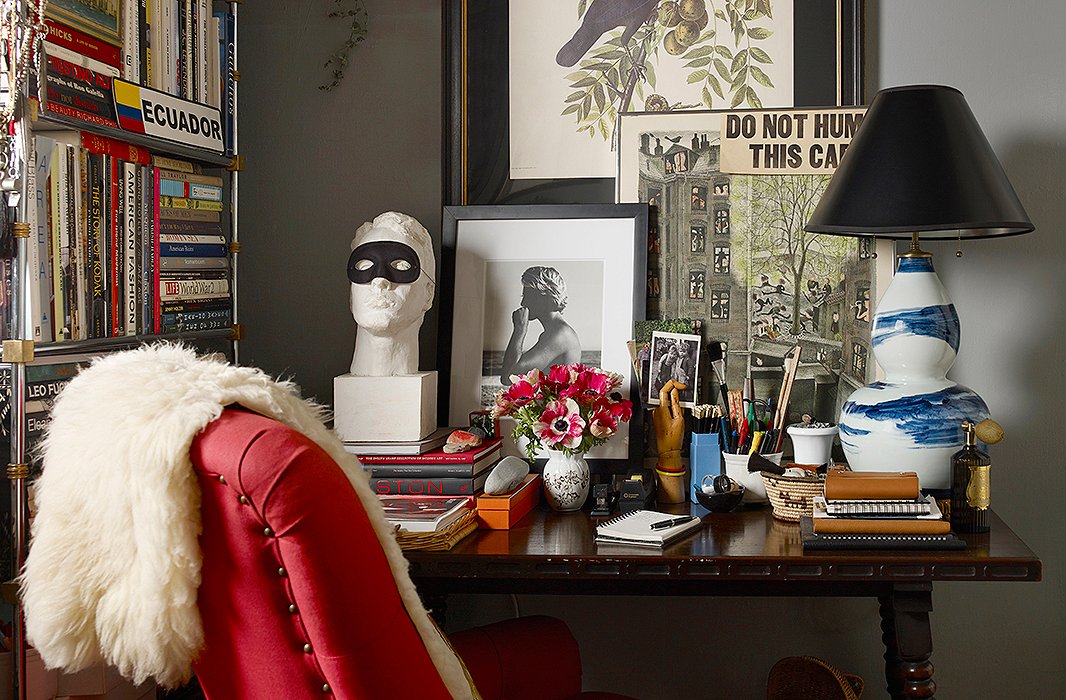 What's more, this collection of things two decades in the making was built within the walls of a rental. It would be difficult for most to justify outfitting a technically temporary space to such a degree, but for Michael, these efforts make his rental feel like home. "I'm not able to make huge structural changes," he says, so he's figured out how to cope with the apartment's unfixable flaws through fun with decoration. "You put up with it, you work around it, you preserve it, and then weirdly enough, you end up falling in love with it," he explains. "It's like loving someone not despite their flaws but because of them."
Loving, it appears, is the operative word. Michael admits to being very much stuck in his ways by the time Mike moved in. After so many years, everything seems to have found its rightful place. The look is complete, so to speak, and isn't likely to fall apart. Fine, but how do Michael and Mike lovingly cohabitate in a space that was furnished by one and not the other? "Through an agreement," says Michael. "If he doesn't like something and he can come up with a better solution than the one I've spent 20 years trying to figure out, I'm open." Luckily, even after the so-called honeymoon period, Mike has yet to find something he doesn't like.