Making her Charleston, SC, home guest-ready was a priority for Morgan Smith, the founder of swimwear brand Minnow. "With both my husband's and my family being in California, we wanted to create beautiful and warm spaces to welcome guests," she says.
Morgan also wanted to lean into the Southern sensibility of the house. With its regal white columns, stately black shutters, and spacious side porch, it's quite different from the West Coast home she grew up in. So when it came time to decorate her formal dining room, her entry, and a guest bedroom, Morgan turned to One Kings Lane Interior Design to bring her vision to life.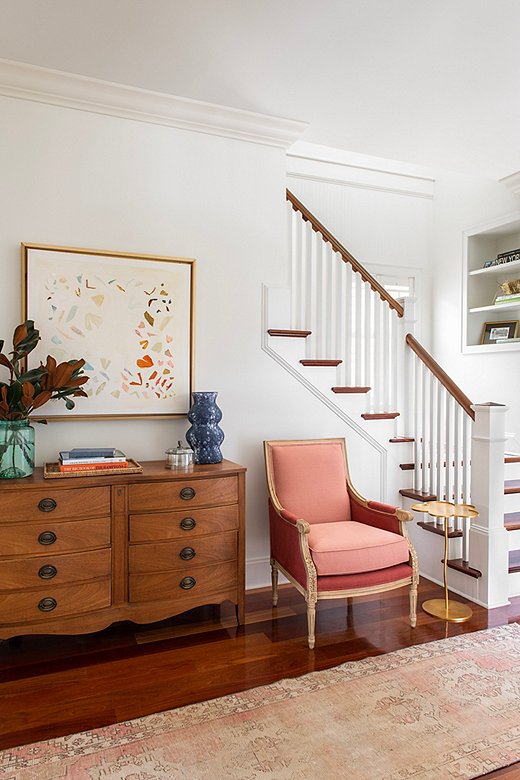 Anyone familiar with Minnow's swimwear knows that Morgan is not afraid of florals, stripes, and other patterns. One Kings Lane designer Jess Hutchinson took inspiration from both Minnow and the traditional yet colorful aesthetic of Charleston. "I would say the priorities were to play with color and pattern in a way that felt really fresh," Jess says.
Sometimes that meant leading Morgan beyond her tried-and-true. "Blue is such a safe space for me, so when they suggested the brown-and-blush floral upholstered chairs in the dining room, I was hesitant at first," Morgan admits. "But I wanted to embrace the unexpected, and now those chairs are my favorite pieces in the room!"
For Jess, the dining room was the greatest challenge. "Because she already has a kitchen dining space, Morgan wanted this room to feel really elevated. Going with a pastel palette can feel a little young, but we were able to find a good mix of product to give it a fresh and refined feeling." Judicious touches of gold—the lantern ceiling fixture, the buffet lamp, even the frame of the artwork—contribute to that elevated ambience. 
The nook just off the entry has a similar palette. Blue makes only a cameo appearance, in the vases atop the buffet. Instead rose, coral, and gold welcome guests. The juxtaposition of the traditional (the floor runner, the armchair with its carved frame) and the contemporary (the abstract art, the flower-shape occasional table) speaks to Morgan's love of the mix. Although she was furnishing the home from scratch, "I didn't want it to feel completely new and staged. Instead, I wanted it to have layers of both current and antique pieces to provide interest and personality."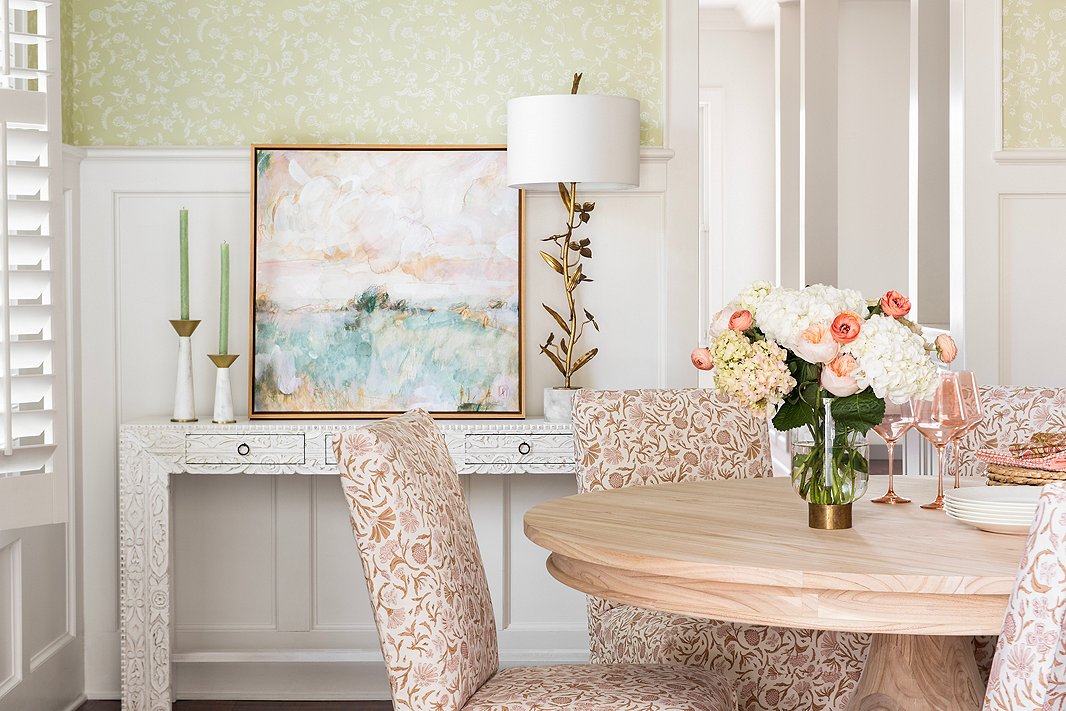 Blue makes a beautiful comeback in the guest bedroom. Morgan declares it her favorite space. "I adore the guest room with wraparound saltbox-style windows with partial shutters to let in streams of sunlight and enjoy the marsh views," she says. "The color palette we chose played on calm and soothing but still fun and happy. I also love the playful yet sophisticated mix of all the prints." The tightly edited palette of blue, white, and taupe allows stripes and florals to play together in harmony.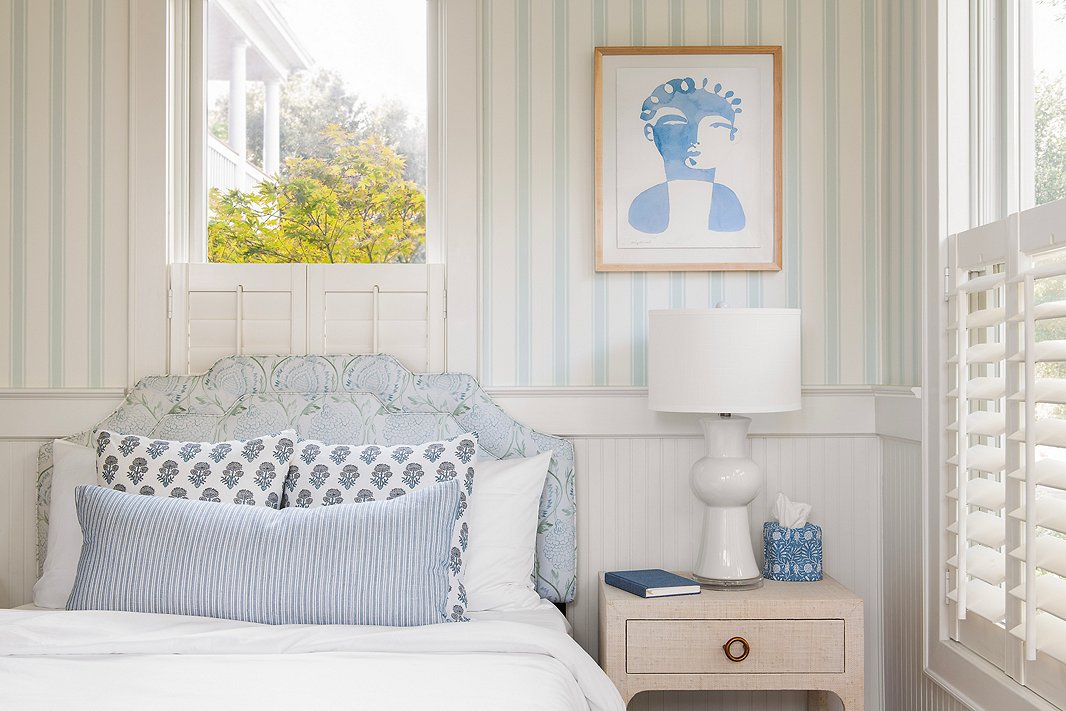 The guest room is also the space Jess is most proud of: "It was a small space, but we packed a lot in there and really made the most of the square footage." She even managed to create a sitting area by nestling a small-scale settee by the windows.
Morgan is delighted not only to be able to host family and friends for the holidays and beyond but also with the entire design experience. "One Kings Lane was such a breath of fresh air!" she says. "We both moved in tandem and bounced ideas off one another while still being able to move and groove quickly. They were receptive to all my print ideas and design thoughts while also pushing me outside of my comfort zone."
And never once did they succumb to what Morgan describes as her "biggest home design pet peeve—and pet peeve in life in general: leveraging too many trends!" Just like Minnow's swimwear, Morgan's home transcends trends while managing to be both timeless and fresh.