When it came to outfitting her office in our new L.A. headquarters, One Kings Lane co-founder Susan Feldman wanted something very much akin to a room in her nearby home. "I thought it would be nice to have it feel more comfy and casual than a typical office—the type of space where you can sit down for conversations." We have to say, she knocked it out of the park. Read on for a window into Susan's work world, including the story behind her unusual collection of… well, you'll see.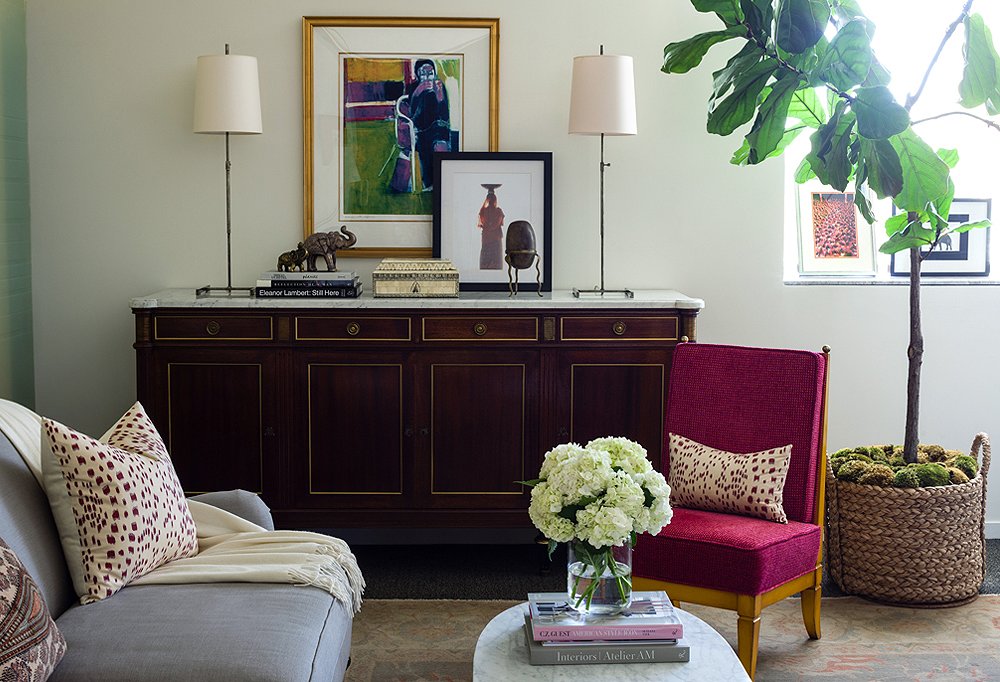 Grand Plan
It turns out, Susan's goal of turning her office into a mini home away from home was actually a throwback to the early days of the company. When she and Alison Pincus launched One Kings Lane back in 2009, the L.A. office and Susan's home office were one and the same. "I worked at home for a year, and strangely my current office has a lot of similar pieces. It's just missing my dogs, Maggie and Chloe."
Design Tip: There's no rule that says your office furniture has to be… office-y. Consider using a small dining table for a desk or a sideboard in lieu of filing cabinets for storage. Laying an area rug over an existing office carpet can do wonders for the space.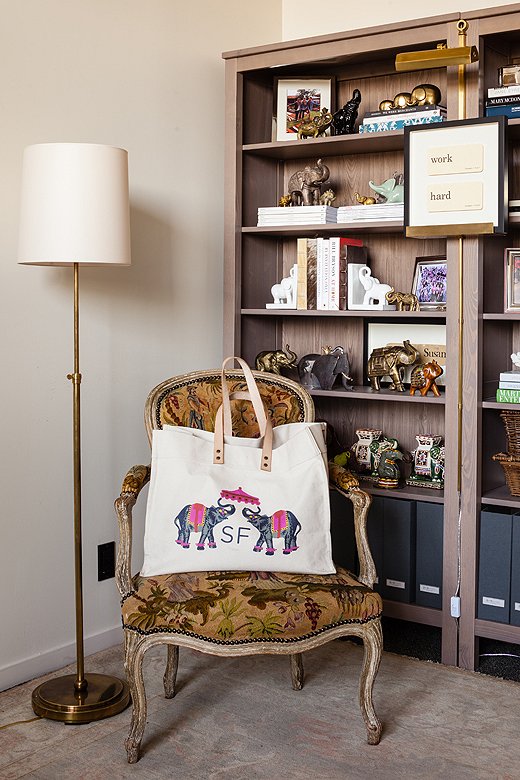 Starting Line
Similar to the way Elsie de Wolfe paid homage to her dishes in her quote "I should have mentioned the china first, because the whole room grew from that," for Susan it started with a chair: a vintage bergère with an embroidered chinoiserie pattern, to be exact. "It was in our Vintage & Market Finds section, and I just thought it was so cool. It set the tone for the room's palette, and everything just went from there."
Design Tip: Picking a palette, or a source of color inspiration like Susan did, at the beginning can act as a touchstone when choosing furniture and rugs for any space. Plus, it eliminates any concern over colors clashing.
All In The Family
For her furnishings, Susan didn't stray far. "I wanted my office to be a reflection of the phenomenal brands we work with, so pretty much everything is from a One Kings Lane vendor or sale. Having a bit of vintage thrown in was important, since our vintage team is based in L.A."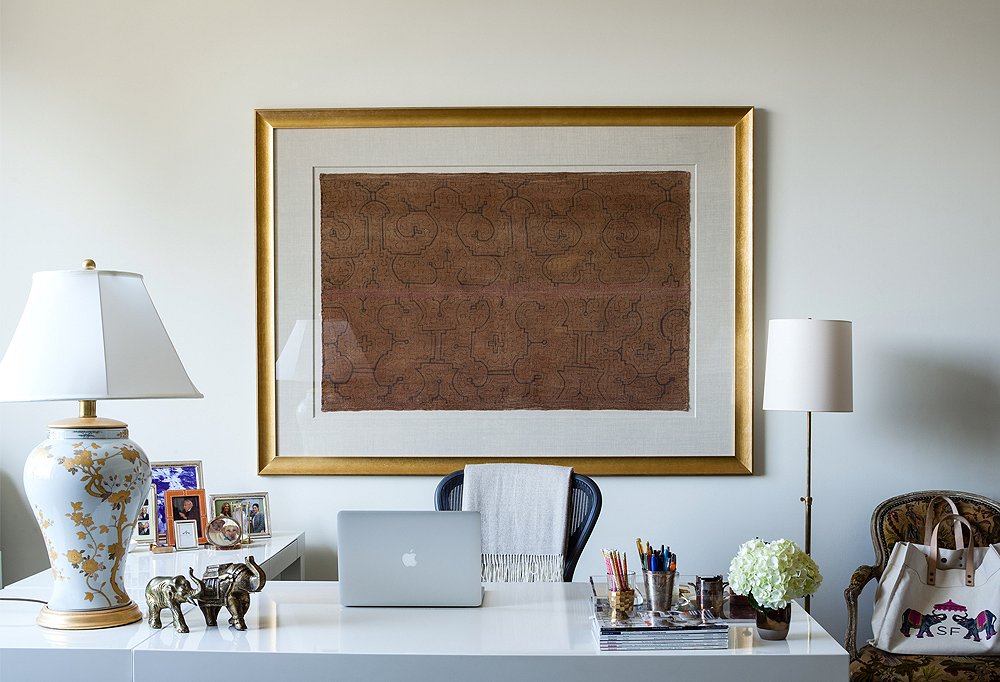 Worldly Wanderings
The best way to fully grasp Susan's unique role in the company is to check out the artwork that adorns her office. Her various travel photographs were taken during some of her far-flung shopping expeditions with the design industry's elite, all to bring back unique finds for our members. "The piece behind my desk is a textile I found on my shopping trip to Peru with Nate Berkus." (Stay tuned for more on that sale coming this fall.) "It was in a little market, and I fell in love with the colors. It's amazing how completely different it looks framed."
Design Tip: Take a cue from Susan and frame your own photos and finds. It might be worthwhile to splurge on the framing (you did save on the art, after all). A good framing job can make almost anything look gallery-worthy.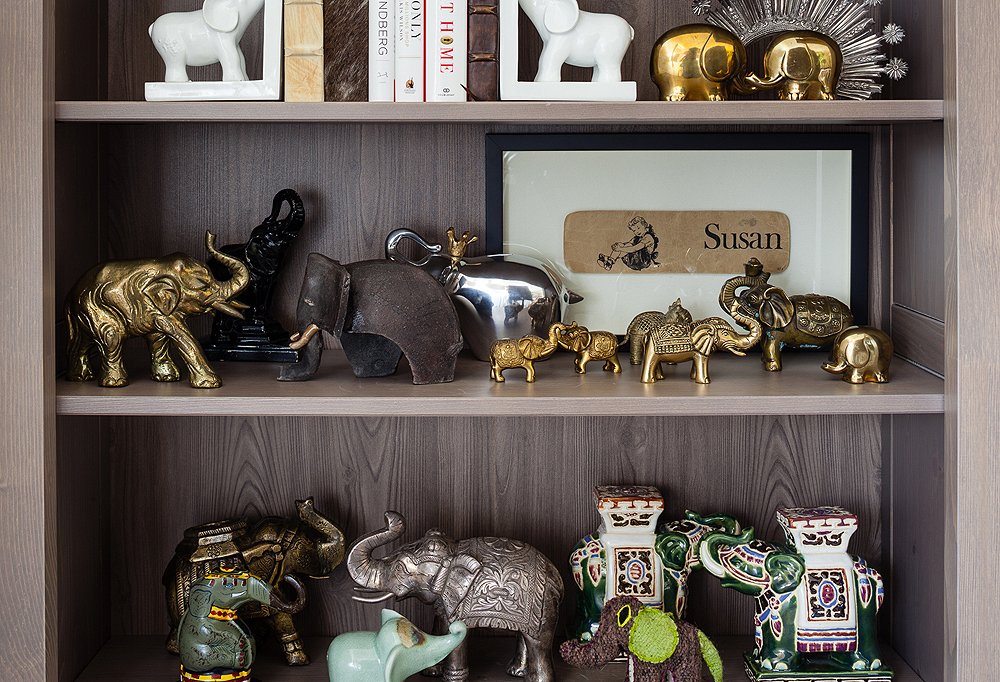 Passion On Display
If anyone were ever to doubt Susan's continuing enthusiasm for the brand she started, all he'd have to do is check out the bookcase in her office. "When we decided to use two elephants in the One Kings Lane logo I started casually collecting elephants when I would travel. Ever since then, every time I go away I'm on the lookout for an elephant in a material or size that I don't already have. Who knows how big the collection will get."
I thought it would be nice to have it feel more comfy and casual than a typical office—the type of space where you can sit down for conversations.