Whether you live in a town house or a family home in the suburbs, having access to outdoor space is a definite luxury. As extensions of your home, outdoor living spaces make for warm-weather spots for entertaining and relaxing with friends and family—as well as private oases for you to tune out the bustle of the everyday.
Comfort, then, should be as much a priority in your outdoor spaces as it is inside your home. Fortunately there are myriad options to maximize comfort, whether your space is an urban backyard, an expansive poolside, or a small balcony or deck.
We asked designer Sara Gilbane, known for her superbly layered and practical approach, to weigh in on the best layouts, materials, and furniture arrangements for six common outdoor spaces. Her suggestions are certain to help you create a dreamy alfresco retreat you'll love lounging in—no matter where you live. Read on to get Sara's expert advice for smart and stylish outdoor layouts.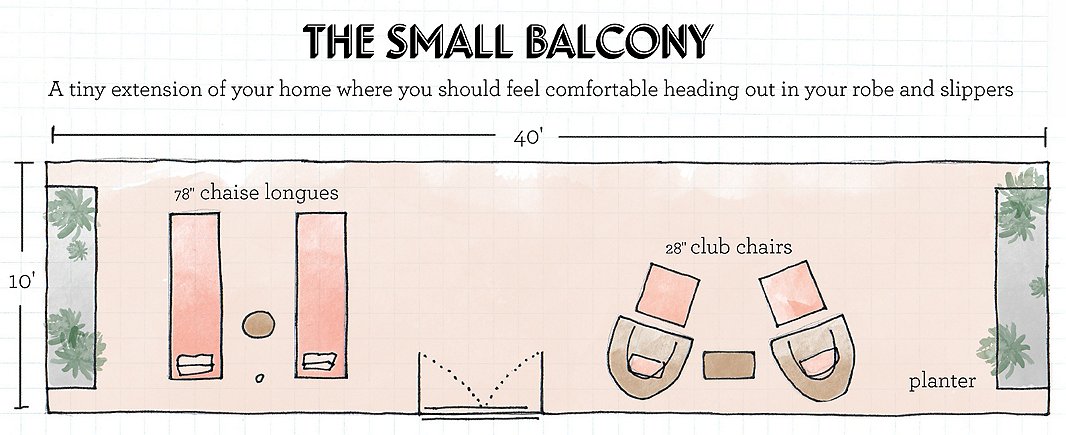 The challenge: Chances are your balcony is a rectangular or square space with limited room. The task is finding appropriate and varied seating options that provide comfort and privacy without cluttering the narrow space—or blocking the view.
The layout solution: Sara's balcony layout here veers more spacious, providing an easy benchmark from which you can scale down. But the key—no matter your balcony size—is to pull in low furniture to preserve sight lines. Keep the area in front of the door clear, opting for chaises on one side (for leisurely lounging) and good-size club chairs plus a small table on the other (for morning coffee or sunset cocktails).
If your space is more narrow, try one horizontally placed chaise, or go with just the club chairs and table; the idea is to emphasize comfort so that you don't even notice the balcony's small size. Long boxes with hedges on either side will block out nosy neighbors.
What you should look for: For variety, opt for wood chaises with outdoor-appropriate cushions and throw pillows paired with synthetic-wicker club chairs and ottomans. Space permitting, an umbrella between the chaises provides good shade. Add a few hurricane lanterns and you're all set!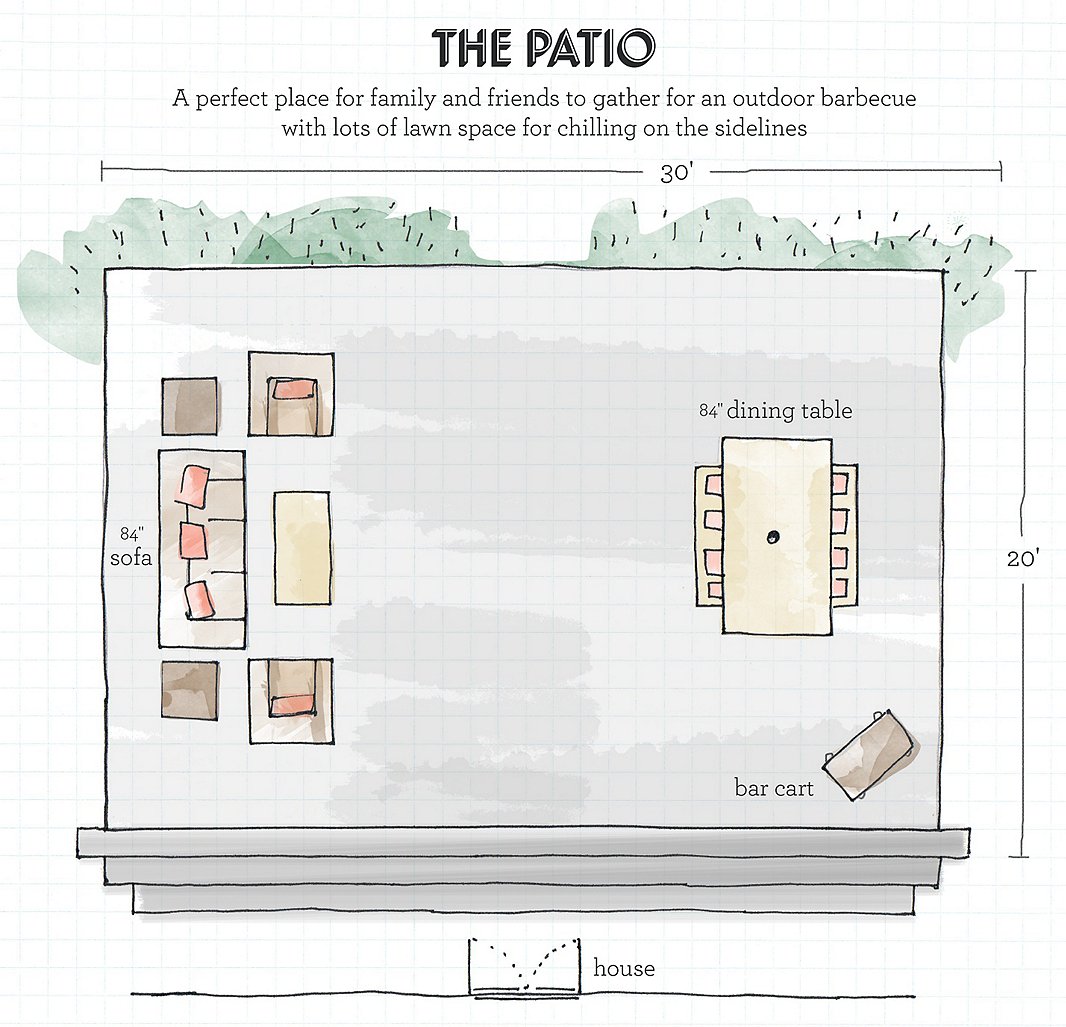 The challenge: Most patios provide lots of room for living and dining areas. The trick is creating a flexible, multipurpose layout with places to eat and relax that's also an extension of the yard.
The layout solution: Sara recommends maintaining an open area in the center to encourage flow to and from the lawn beyond. Keep furniture on the lighter side so that you can quickly and easily move it around to accommodate different-size crowds on the fly. A large sofa and club chairs can become a more intimate conversation area on one side, while the middle open space provides lots of room for mingling. An umbrella over the table makes it a perfect entertaining spot for a party of four or a full guest list.
What you should look for: While Sara prefers a wood dining table paired with rattan chairs or benches, a glass-and-metal table is also nice. Just make sure the metal is powder-coated to prevent rust. Consider an outdoor suite, or group a standard-size outdoor sofa with a complementary pair of matching club chairs. And of course, be sure all the cushions are covered in outdoor-appropriate fabric!
The challenge: Decks can be spacious or surprisingly small, and smaller decks can feel a lot tighter than they seem at first glance. A sort of patio in miniature—and fully enclosed by a rail—a deck should accomplish all its tasks as a seamless living and dining space without becoming too cluttered.
The layout solution: Sara suggests a simple layout with simple furniture, keeping the sofa and table on the smaller side and being mindful of flow—don't block access to the railing.
What you should look for: Stick to furniture on the lighter and smaller side. Choose an open metal console (powder-coated, of course) instead of a heavy wood version with closed sides, and opt for a slender dining table or one with leaves. A lighter (in scale and in color) rattan or synthetic-wicker sofa will feel less blocky and more plush and comfy.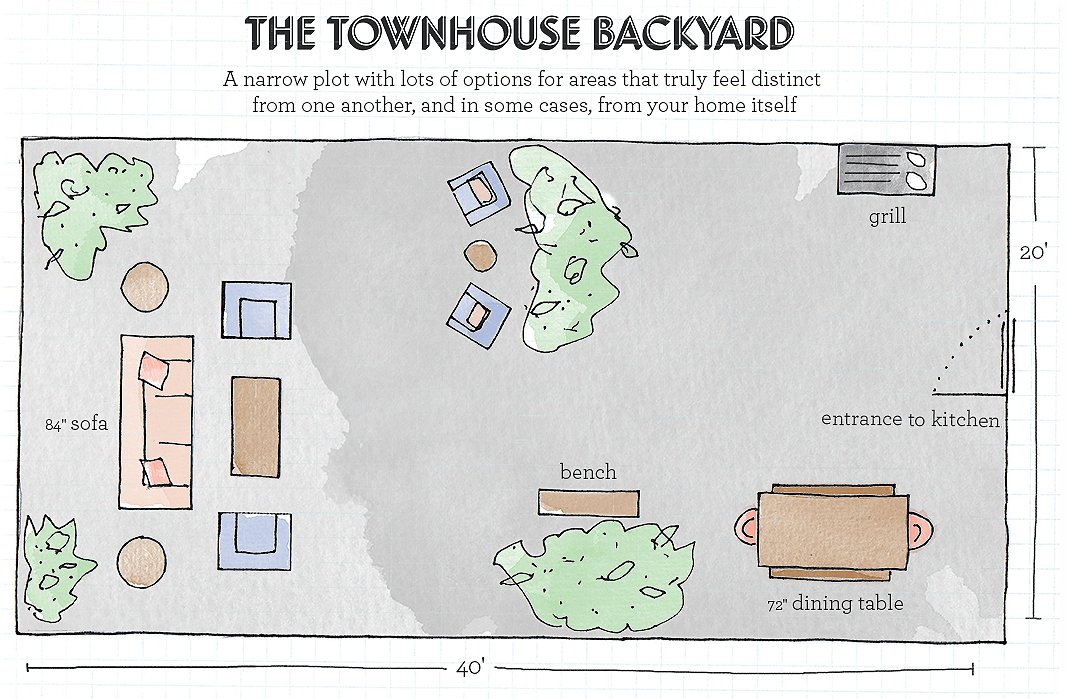 The challenge: A narrow city backyard has tons of potential when it comes to design, and it should mimic your interior living spaces. You'll want to create separate zones while retaining a sense of open space—and making a logical arrangement that works with the house.
The layout solution: Landscaping plays a huge role in creating the ideal layout, Sara points out, and it can create enough nooks and crannies to visually separate gathering spots. Keep the dining table and the grill close to the door so that you can easily carry food and drinks from the kitchen. Adding a small bench under a tree and tucking chairs behind a planting in the center make for great conversation moments, while arranging a comfortable lounge area in back turns it into a room of its own.
What you should look for: You have some space to play with, so furnishings can be substantial. The only exception would be a pair of chairs in the center tucked behind a bush or tree, which could be more dainty. For the back area, choose a large sofa and club chairs plus ample tables for drinks and snacks.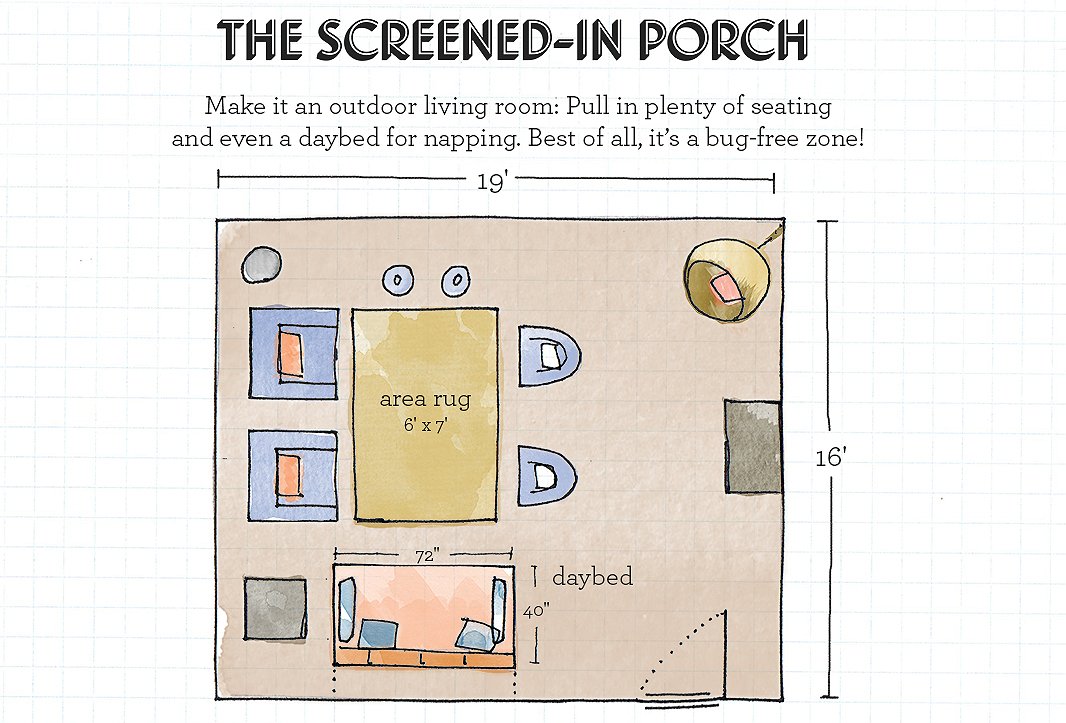 The challenge: Part indoor, part outdoors, a screened-in porch needs to combine the ease of alfresco living with all the comforts of indoor rooms. So the goal is to furnish this space to feel like a real garden living room. Also, you need to keep mildew at bay when there's not much in the way of sunlight.
The layout solution: For Sara, the screened-in porch is about creating one big lounge area that has all the seating you can imagine, including a bed for midday siestas. It's best that everything—fabrics, rattan, metals—be suitable for outdoor use, to guard against gusty breezes and dampness. But there's room for indoor pieces to play a big role here, mixed in right alongside their outdoor-appropriate counterparts.
What you should look for: Sara loves to mix wicker, synthetic rattan, iron (powder-coated or painted with a rust-resistant finish), wood, and plastic. Have plenty of little tables and ample lighting. Add two standing lamps or sconces on either side of the daybed and lots of lanterns with candles for ambience. To make guests (and yourself) feel taken care of, put throws on the backs of chairs.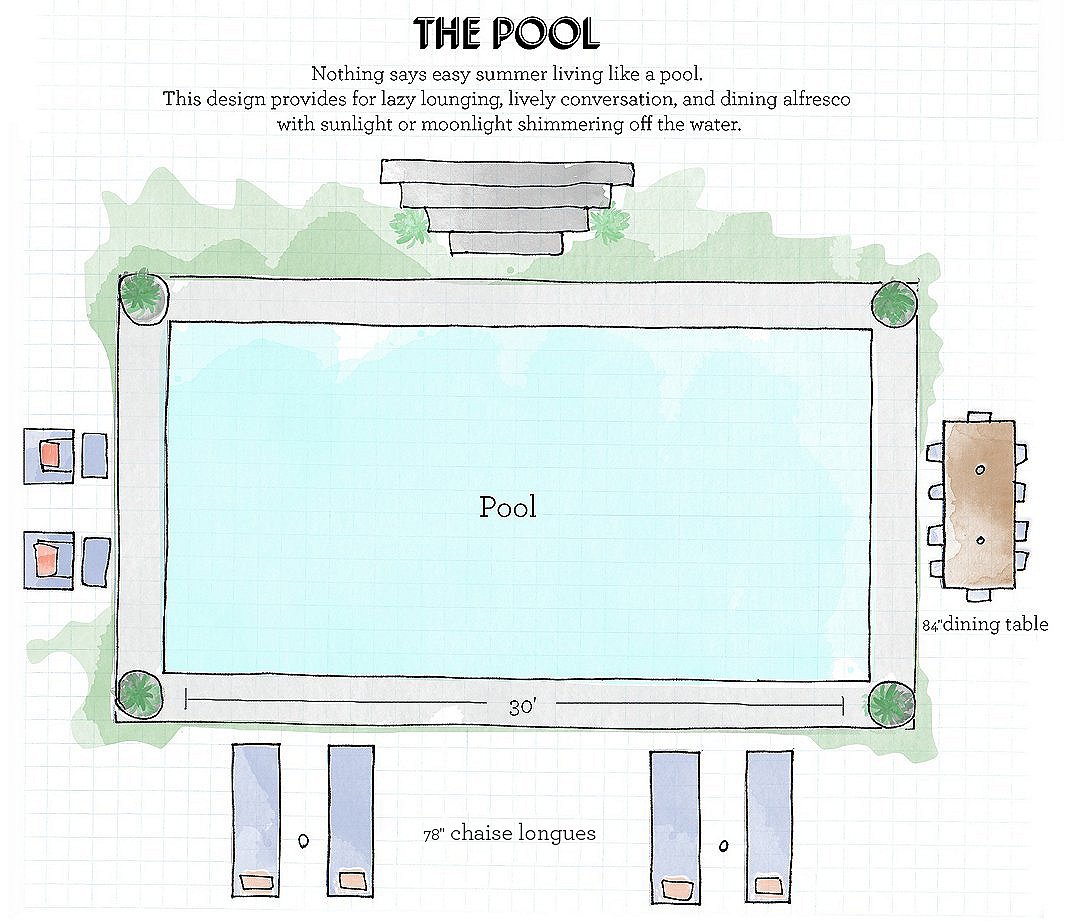 The challenge: Pool areas should marry fun and function, so if you're looking to outfit yours, make it a welcoming and whimsical space that remains highly functional for lounging and dining.
The layout solution: Sara points out that even though there's a fair bit of space to play with, it's important to keep each area focused in purpose. Because you have sides to play with, you can choose one activity for each. The longest side gets a row of chaises and umbrellas. The shorter sides each get a conversation area and dining area.
What you should look for: Go big. You've got the space, so don't be afraid to bring in sizable pieces, from substantial chaises for poolside lounging to a hefty table for long alfresco gatherings. And your poolside furnishings should express the same style as inside your home. Because so many great outdoor fabrics are available, there should be no problem coordinating. Umbrellas can add some pops of extra color.