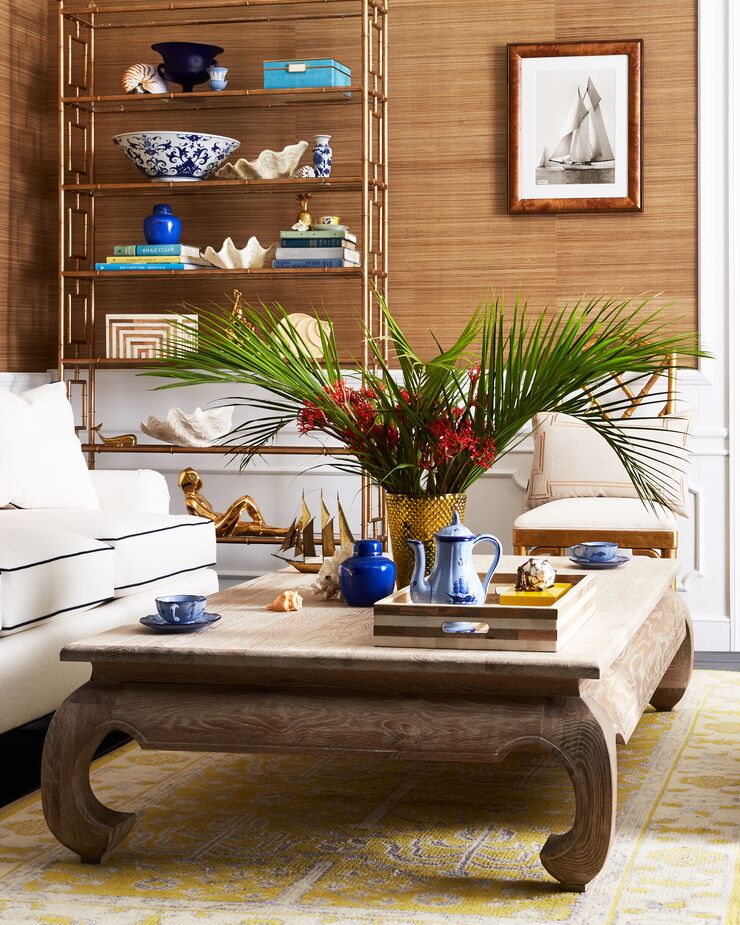 Palm Beach is more than palm trees and beaches. The Florida town is also the home of a few dozen billionaires, even more multimillionaires, and a dazzling decor style. Take New England preppiness, tropical motifs, sunny colors, Old World elegance, and glints of gold, give them a good shake, and you have the stylistic cocktail that is Palm Beach chic.  
One thing to keep in mind when bringing home the vivaciousness of Palm Beach chic: More is more—as long as there's enough airiness (negative space, in design parlance) to avoid a sense of claustrophobia. For that reason, it helps to start with a white or otherwise pale canvas. That doesn't mean you need to paint every wall snow-white or limit yourself to a white tile floor. But be sure to have enough plain paleness to both create a sense of cohesiveness and allow the other, more colorful elements to shine.
Speaking of colors, keep it light and bright. Think citrus hues—lime green, lemon yellow, tangerine orange, grapefruit pink. In fact, pink in all its permutations works, as do aqua, turquoise, and bleached, whitewashed, and naturally pale woods. As for what else works:
• Rattan, raffia, jute, and wicker. These materials contribute that all-important tropical vibe, so that you feel as if you're relaxing amid balmy breezes on a sun-soaked veranda even when you're snowed in. They also bring layers of texture, ensuring that your room feels sophisticated rather than flat.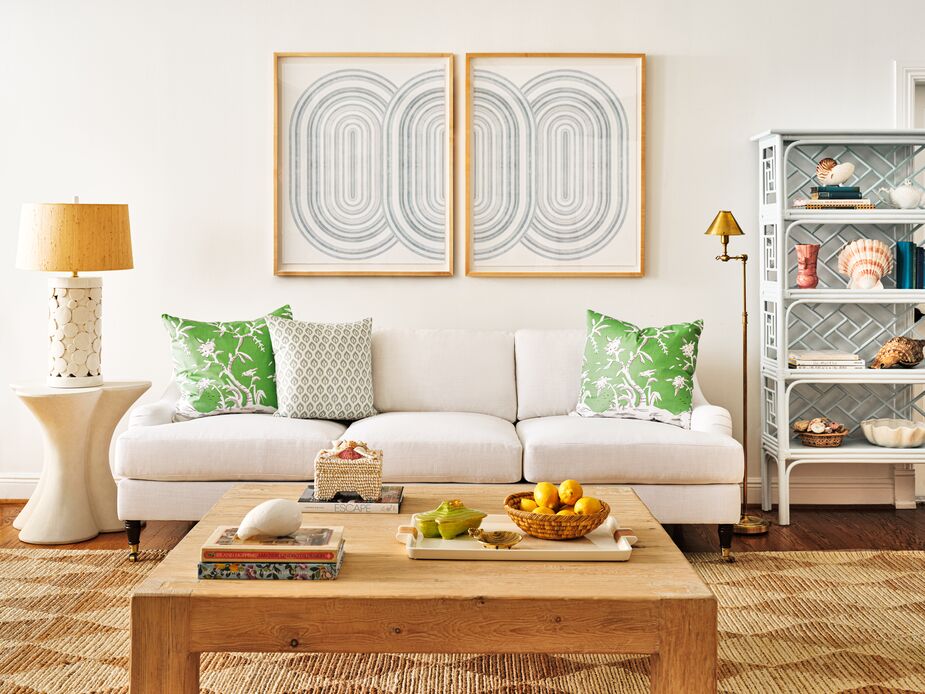 • Flowers and fronds. Potted palm trees, live or faux, instantly create a tropical vibe. To really ramp up the Palm Beach ambience, however, also layer on upholstery, wallpaper, pillows, and art abloom with flora. Then brighten things up further with even more color, pattern, and glamour by adding lighting with arms that resemble flowers, say, tableware festooned with blooms and butterflies, or an occasional table designed to look like a lily pad.
• Chinoiserie. Ginger jars, Chinese Chippendale fretwork, Asian-influenced landscapes, foo dogs: They were all the rage in 18th-century Europe, and they remain cornerstones of Palm Beach style.
• Glints of gold. Palm Beach built its reputation as a playground for the rich during the Gilded Age, so it's unsurprising that gold is key to the Palm Beach look. However, this is one aspect of the style where you should err on the side of moderation—maybe just one major piece such as a gold-frame bar cart and a few golden accents per room.  
• Seashells, starfish, seahorses, and coral. They'll add beachy beauty to a mantel or tabletop vignette, but don't stop there. Consider a mirror with a frame crafted of oyster shells, sconces that mimic clamshells, swizzle sticks topped with golden shells, a starfish-shape pillow…  
• At least a dash of whimsy. Don't hesitate to hang a framed print of a zebra wearing a party hat above an antique sideboard or to surround your gold-and-glass dining table with chairs upholstered in stripes and palm trees. Palm Beach chic is many things, but above all else it's fun.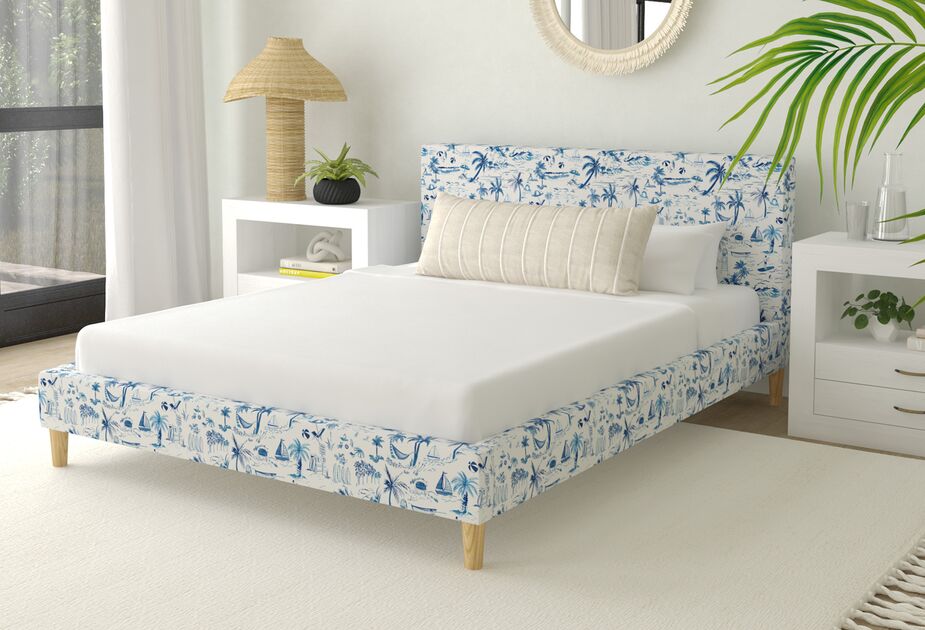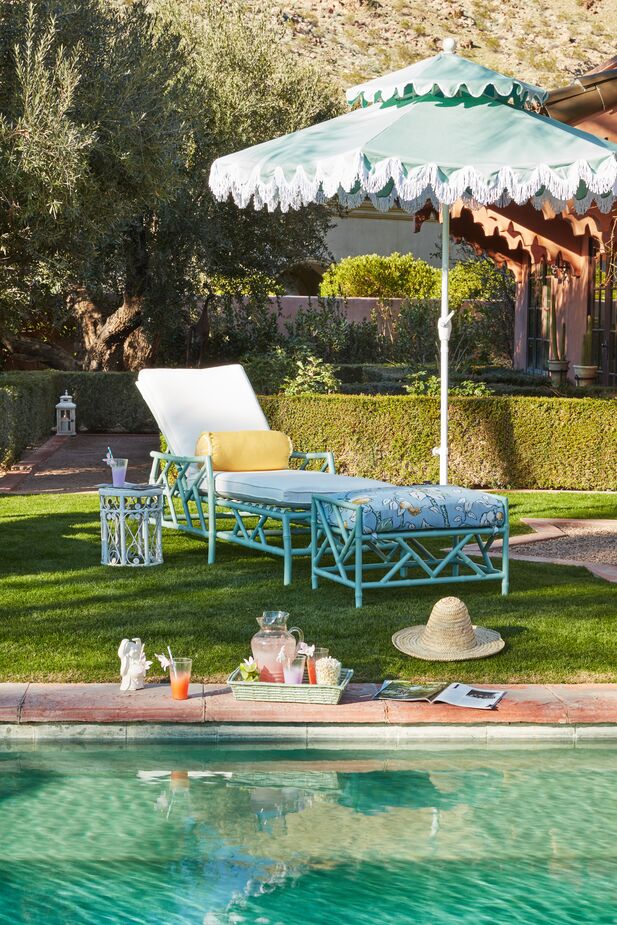 Five Favorite Vintage Pieces
• Iconic Wicker Peacock Chair in White. The product name says it all.
• Hollywood Regency Pendant Light. This pendant's shade is a white ceramic globe decorated with pink scrolls, golden flowers, and cutouts that give it a glow similar to that of a jack-o'-lantern. Yes, it's difficult to describe—see it for yourself!
• Pair of Hermès Beach Rackets. You could play beach tennis with these rackets. But we'd put them on display to show off the colorful fish adorning one side and the blue-on-green spots decorating the other.
• Midcentury Seashell Vanity Mirror Set. A veritable cornucopia of seashells grace the petite mirror and box that make up this set.
• Rattan Serving Tray. Shaped like a leaf with a handle and a ring to hold a bottle, this woven tray will bring breezy chic to any gathering.
Five Favorite New Pieces
• 78-Inch Faux Palm Tree. This tree's height isn't the only reason it will command attention. With 333 leaves on its multiple branches, it's impressively lifelike.
• Regina Scallop Banquette. From its scalloped and button-tufted seat back to its skirted base, this banquette exudes feminine charm and timeless grandeur. It's available in a number of Palm Beachy colorways, though the cream Crypton fabric trimmed in indigo might be our favorite.
• Flamingo Tissue-Box Cover. A fanciful flamingo is hand-embroidered on this white linen tissue-box cozy, so you can enjoy a bit of breezy chic even while grappling with allergies or a cold.
• Isla Side Table in Citrus Orange. Crafted of rattan with circular fretwork, this table is available in eight colors, but orange is the most in keeping with Palm Beach style (though hot pink and bright green aren't far behind).
• Pair of Dog Lumbar Pillows in Pink. Every dog has its day—especially the pampered pooches dining among silver candelabras in the whimsical scene the adorns the front of these pillows.