When Rachel Ashwell opened her first Shabby Chic store in Santa Monica, CA, in 1989, she had little idea that her collection of relaxed slipcovered furniture and perfectly worn vintage accessories would become synonymous with an entire generation's decorating style. Today, although her reach is global (the brand has stores from Texas to Tokyo), Rachel's approach is very much still rooted in the personal—and particularly, in her very hands-on approach to sourcing vintage pieces, which lend one-of-a-kind character to her shops and often inspire new designs for the Rachel Ashwell line.
It was the search for such treasures that first led Rachel to Round Top, TX, home of the biannual Round Top Antiques Fair (this year's takes place from March 27 to April 1)—and now, The Prairie, Rachel's own bed and breakfast. After shopping the market for years, Rachel had come to love the tiny Texas town's welcoming vibe. So when a 46-acre property opened up, complete with original structures that date to the 1800s, her mind went straight to her lifelong dream of opening a hotel. "I've always enjoyed having houseguests and doing those little extra-special things to make people feel comfortable. So it was a fairly authentic transition for me."
The Prairie has become the lodging of choice for treasure hunters who come from far and wide to browse the fair. (A tip: If you're going during market week, get on the waiting list now.) After a long day of shopping, guests convene over breakfast to compare their finds. "It's really a lovely camaraderie, and it's very creative," Rachel says. The bed and breakfast is also a perfect canvas for Rachel's own vintage finds, many sourced from local vendors.
With decades of vintage shopping under her belt, Rachel has the expert eye for that perfectly imperfect patina and quality of construction that set an heirloom-worthy vintage piece apart. So we asked Rachel for her market shopping list, her top tips for finding treasures, and her ideas for how to make vintage finds your own.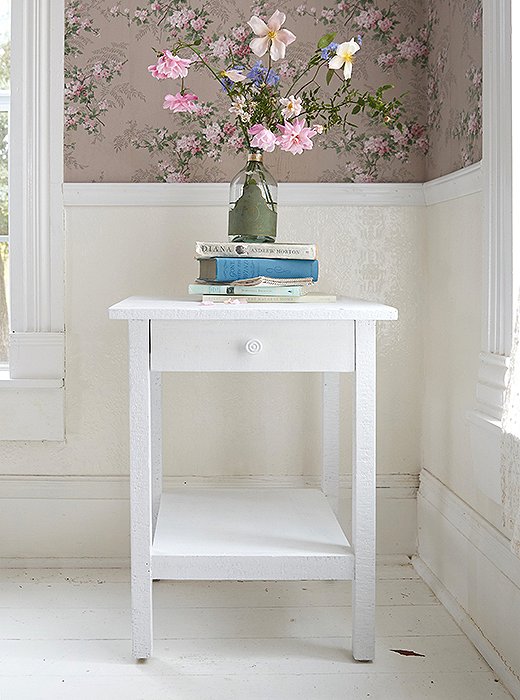 Know Your Vintage Shopping Hot Spots
Each market has its own distinctive character, Rachel says. "Even though the world is so global now—you go can go to H&M on Oxford Street in England and it's the same as H&M in New York—there's definitely nuances when you go to the French flea market versus the English flea market," she notes. "That's not to say you don't find French things here and English things there, but when you're actually in the hometown of where these things arrive you get more of an assortment. At the English flea markets I find lots of quirky things. It might be dinnerware, or it might be storage pieces; it might be old wallpapered trunks—that kind of lovely English layer."
At the Brimfield Flea Market in Massachusetts, Rachel picks up artwork. "I often buy portfolios of artists' work—great watercolors and things like that." Vintage textiles also make it into her haul. "There's a great vintage textiles show that precedes the Brimfield market itself," she notes.
As far as Rachel is concerned, however, you can't beat the vibe at Round Top. "Texas is kind of known for its slower pace, which I think honestly is a little bit to do with the weather," she says. "When I go to a flea market in London it's freezing cold, so you run up and down the aisles as quickly as you can! But Texas is hot, and so you just kind of saunter up and down the aisles. I like that more considered and slower pace." At Round Top she looks for wooden cabinets, accent tables, and the like. "What I'm always excited about finding there is just great paint. Often you find these pieces and they have, like, 10 layers—I see white paint under there and then pink and then green, and it's like, Oh, my God! There's my dream palette," she laughs.
And what does the designer pick up for herself? "After 29 years of having so much stuff go through my hands, I myself am quite minimal actually. But some things just may speak to me. Vases are big for me because I love florals so much—especially if I see a bigger-size vase, because those are quite hard to find. Those often don't find their way back into my stores."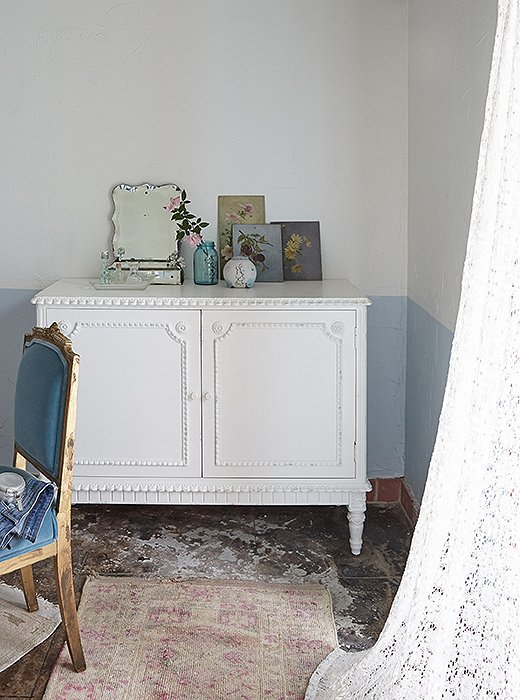 Shopping for: Vintage Wood Furniture
Prioritize patina. Whenever possible, Rachel avoids changing the finish on her vintage finds; for truly authentic character, you can't beat chipped paint or weathered wood. That means she has to be selective, seeking out only pieces she knows will work as is. "Things that I would never buy would be like shiny mahogany or something that was painted kelly green or bright red," she says. "Knowing that I don't want to repaint everything, it kind of needs to be its authentic palette."
Construction matters—to a point. "It's nice to see dowels instead of screws, and if there are screws it's nice to see the old screws. If it's locks on cabinets it's nice to see that those are authentic." That said, don't fret if the original hardware is long gone. "There are so many dealers online now that you can buy lovely old handles and lovely old locks and stuff," Rachel says. In the end, what matters most is the feeling of a piece. "If it feels like it's solid and it looks like it's solid, whether it was made 30 years ago or 120 years ago I don't get hung up on that."
Consider scale and function. "There's a certain size drawer that is more appealing than others. There's a certain way that a cabinet door opens that is economical—meaning it's not so big that you have to have such a wide swing to even open it," Rachel says. "Economy of space is really important."
When in doubt, weigh your options. Rachel sends vintage furniture in need of a little love back to her restoration team in L.A. If she spots a piece with warped wood or termite damage, she'll ask herself, "Can this be restored, and can it be restored affordably?" She adds, "Sometimes I fall in love with something, but it really is on its last legs. If I know that the restoration is going to be either just so expensive or it's going to need so much tweaking, then I'll walk away from it. That's unusual, though."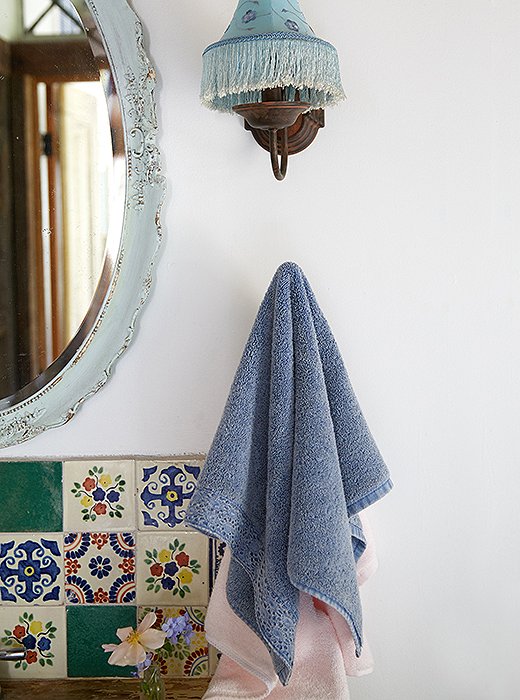 When I go to a flea market in London it's freezing cold, so you run up and down the aisles as quickly as you can! But Texas is hot, and so you just kind of saunter up and down the aisles. I like that more considered and slower pace.
Shopping for: Vintage Porcelain and Glassware
Don't skip chips. "I don't particularly want chipped things in my kitchen area, but sometimes you might see, let's say, six or eight plates and one's got a chip on it." If the price is right, Rachel says, "I'll still buy it, and I'll put the chipped one to one side—and maybe that becomes a soap dish or something else."
Layer, layer, layer. "Because my whole essence is mixing and matching, it's fine if I find two of something or one of something," Rachel says. "I have some very simple white new dishes, but I love to layer in vintage, maybe as the bread dish or as a bowl." Because older dinnerware collections tend to be smaller in size than modern pieces ("I guess they didn't eat as much!"), vintage plates often make ideal accent pieces to supplement a basic set.
Consider care. "The one thing with vintage china is you can't put it in the dishwasher, because the transferware will just wash away. It's not meant for that kind of heat."
Use—and enjoy—the good stuff. "I use my vintage all the time. It's funny because when I have houseguests they say, 'You're putting down your best china just for a sandwich?!' And I say it's my everyday china! I tell people that—don't buy this stuff just to put it in your never-to-be-used cabinet."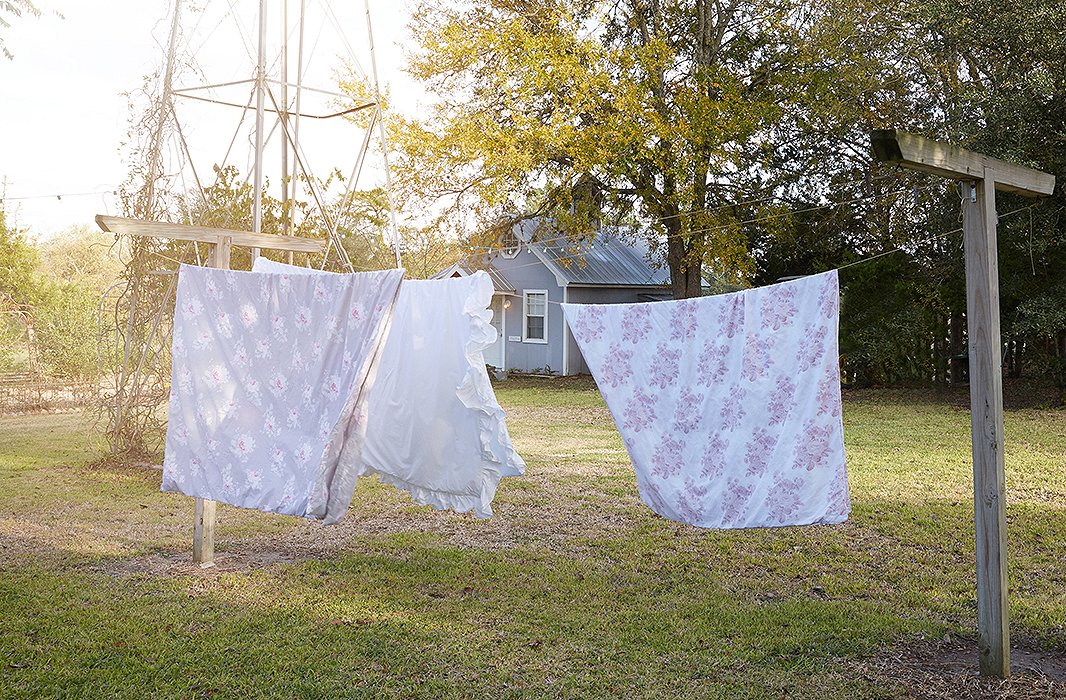 Shopping for: Vintage Textiles
Dye cures all ills. "I'm not terrified of stains, because I love dyeing things," Rachel says. "Once somebody sent me a box of linens, and it was all a dreary cream color. We dyed them pink and blue, and they're all my favorites."
Add a pretty patch. Holes or threadbare spots aren't necessarily deal-breakers. "I don't mind a patching that's in and of itself a beautiful embellishment," Rachel says.
Make it your own. "We might find a whole big bag of rumpled-up napkins, say, and freshen them all up—maybe even adding a monogram. It really is a lovely way to create a future heirloom," Rachel says. "Just adding these elements to it—whether it's a patch, whether it's a monogram, whether it's dyeing it—really does bring it back into life again. And you have the beautiful quality of handwork that you can't replace today, but it feels fresh."