Rebecca Hessel Cohen is the poster child for a universe of her own making. It's an enchanting world of florals, frills, romance, and lace, with just a hint of vintage ease. Rebecca is the founder and creative director of cult-favorite fashion brand LoveShackFancy, and LoveShackFancy represents so much more than a dress. To don a LoveShackFancy frock is to announce to the world that you buy into Rebecca's candy-colored vision of what the world should be. Her pieces have become a signifier among the in-the-know that they've found a kindred spirit, another person who believes that life is one long dinner party, and it's your job to make it a good one. 
Before Rebecca was LoveShackFancy, she was just a kid whose mom liked patina. "I grew up in a house filled with vintage," says Rebecca. From the furniture to the clothes, Rebecca's childhood was swathed in pieces that had a story. The little girl who grew up running around in Victorian and Edwardian dresses became the woman who studied English literature in college and fell in love with Sofia Coppola's Marie Antoinette. (The movie won the 2007 Oscar for Best Costume Design.) "I love art history, and I love interiors. I'm drawn to the romance of it all," she says.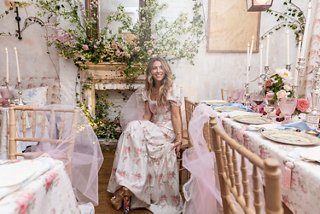 As an editor at Cosmopolitan magazine, Rebecca clung to her roots. "I always wanted to do these very dreamy, romantic stories," she says. When it came time for her wedding, only a dreamy, romantic dress would do. When she couldn't find one that fit the bill, she took a few favorite silhouettes and set off to find a seamstress in New York's Garment District. "I was like, 'Here's my idea for a dress. We want the girls to be able to dance with their dress—I want all of this movement when they walk down the aisles, super low in the back, and just effortless and beautiful.'" 
And thus, the first LoveShackFancy dress was born. It was an instant hit. 
"We all fell in love with it," Rebecca says. She started wearing the bridesmaid dress everywhere. It popped up at a beach party, then at another friend's wedding, and so on and so forth until everyone she knew was asking her to make one for her. Rebecca is not one to miss an opportunity and soon began hosting trunk shows with one-of-a-kind pieces up and down the East Coast. "From there, the brand really started to build a lot of momentum," says Rebecca. She left her job at Cosmo, hired a team, and began producing on a larger scale. LoveShackFancy was on the edge of hitting it big.
The driving factor behind LoveShackFancy's success is its aesthetic. LoveShackFancy is Rebecca, and Rebecca is LoveShackFancy. Rebecca's brand of exuberant romanticism grew in lockstep with a small design movement that called for the return to traditional lyricism and whimsy at home and in fashion.
Rebecca homed in on her niche. "I want to create a balance that feels modern but also feels inspired by more-traditional pieces," she says. In the early 2010s, this style was a radical opposition to the power of white kitchens and minimalist design, but by 2019 this vocal minority was given a name and a rallying call: "We are working on bringing back that grandmillennial style," Rebecca says.
Grandmillennial, you may recall, was a term coined by House Beautiful editor Emma Bazilian in 2019. "Ranging in age from mid-20s to late-30s, grandmillennials have an affinity for design trends considered by mainstream culture to be 'stuffy' or 'outdated,'" Bazilian wrote. "Laura Ashley prints, ruffles, [and] embroidered linens" were hallmarks of the look.
Rebecca is the ultimate grandmillennial. She loves frills and delicate laces. Her love of bows and delicate trim is well documented. She embraces a key grandmillennial tenet that everyday life is a call for celebration, so don't waste your time hiding the good china. As a generation of aesthetes found their home in chintz-covered chairs and chinoisiere-adorned spaces, they also found a kindred spirit in Rebecca.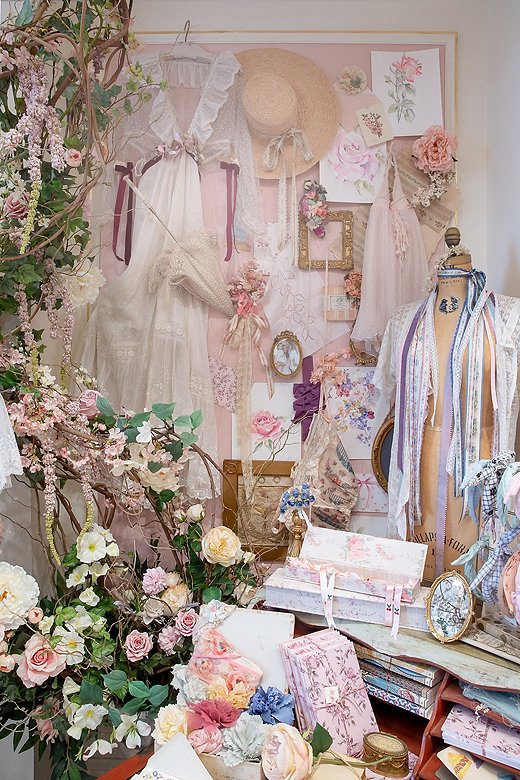 Rebecca's interior style is best described as Provençal meets Gustavian. She loves worn woods, light colors, and romantic silhouettes. A dash of rococo pops up now and then, but a rustic simplicity is right there to even it out. If you've been inside one of the six LoveShackFancy stores, then you have a pretty good idea of what Rebecca's home looks like. In her quest to create a cohesive experience for shoppers, she created her own visual vocabulary. "I'm such a storyteller," she says, "and I envision what the girl's wearing, but also what she's lying in, and what light is coming through, and what she's listening to." To step foot in a LoveShackFancy store is to step foot in Rebecca's mind, and even an untrained eye can recognize a LoveShackFancy space when they see one. 
The experiential side of LoveShackFancy is key to Rebecca's vision of what the brand represents. "LoveShackFancy has become this adjective," says Rebecca. It isn't just a clothing brand; it's a lifestyle that invites people in to see what life could be like if they gave in to the romance of it all. Her expansion beyond apparel has been organic: "I feel like we evolve into different categories when it's something we can't find ourselves." Up first? Interiors. "Home has always been a huge passion of mine," says Rebecca. In the past year, LoveShackFancy launched tabletop, linens, and a small sampling of decor. All of it points to that romantic idea Rebecca has of what home should be: a place that reflects your truest identity.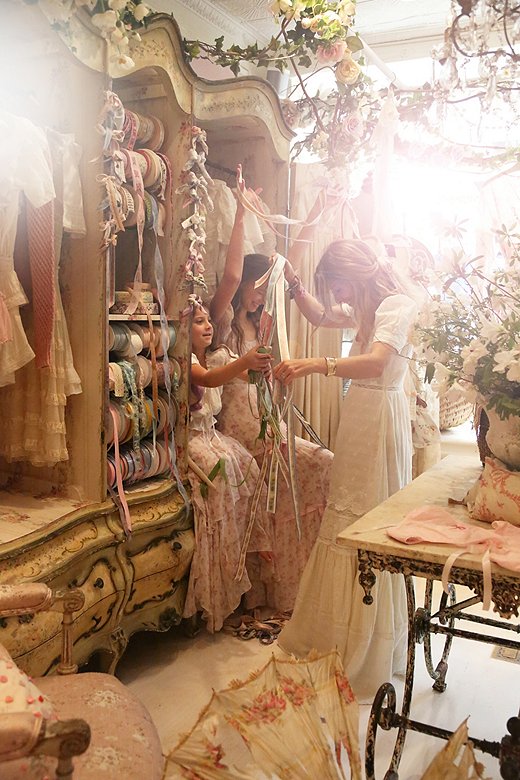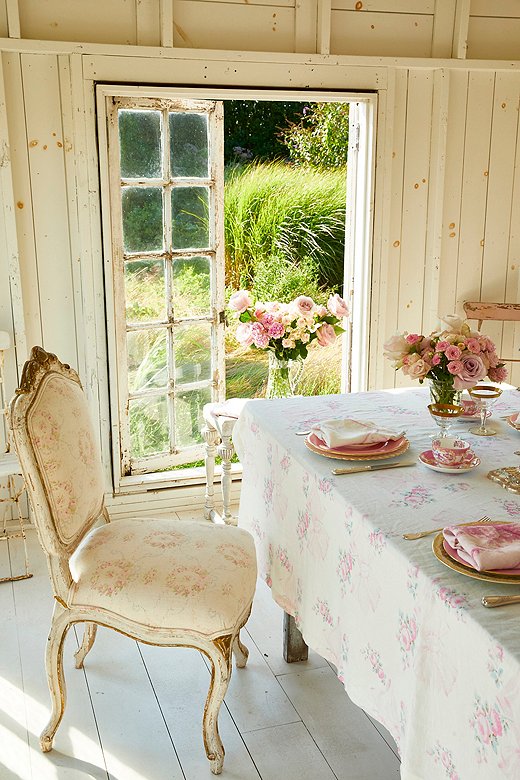 How to Throw a LoveShackFancy Party
"I'll do a party for anything. I love setting tables," Rebecca says. True to her aesthetic, these parties are big romantic affairs with tables covered in flowers and ditsy fabrics that often match Rebecca's chosen dress for that evening. These gatherings are the best example of LoveShackFancy as adjective. Here's how Rebecca pulls them together.
Flowers: "I don't do anything without flowers," says Rebecca. She uses these as the jumping-off point to find the perfect table linens, always ensuring that the two go together. 
Vintage china: Rebecca's vintage and antique china collection could rival that of any museum. Choosing the right pieces to complement the selected flowers and linens requires an astute eye. Things need to match but not be too matchy-matchy. 
Food: Presentation matters here. "I love amazing, beautiful fresh food on gorgeous platters," she says. The menu depends on the season and the occasion. 
Music: This is Rebecca's secret weapon. "The playlist is an absolute key," she says. She suggests starting the evening off with something softer, like Carla Bruni. "Then as the night progresses, you want to be dancing in your chair."