When hosting for a special occasion, you want your table settings to be equally special. That said, determining which plates go with which linens and flatware can be overwhelming—and we firmly believe entertaining should be as fun for the hosts as for the guests. So below you'll find tabletop tips based on four key style archetypes. We also suggest serveware, linens, and other additions that can easily and affordably dress up your existing everyday tableware.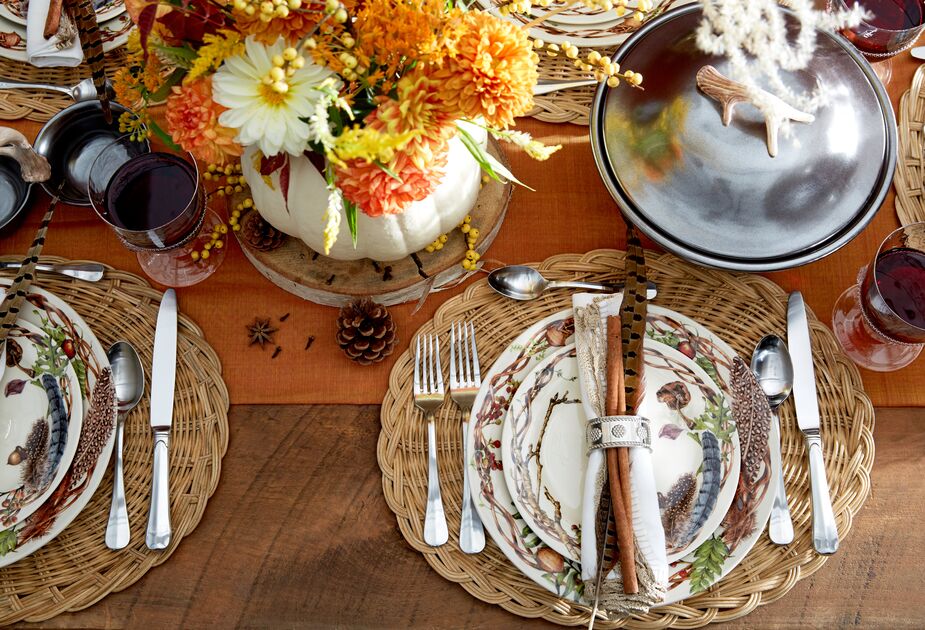 New Traditionalist
The style in a nutshell: Classic with a twist
Specifics: You can't go wrong with blue and white, such as vintage Flow Blue stoneware or updates on chinoiserie chic. Don't love blue? Neutral or pastel hues work beautifully, especially when accentuated with a flora or fauna motif. Plaid works too, especially during the festive season. Crisp white embroidered tablecloths, linen napkins with contrast-stitched edges, and cut-crystal drinkware are also hallmarks of a New Traditionalist table.  
Brands New Traditionalists love: Juliska, Royal Copenhagen, Spode, Waterford, Wedgwood
Pieces to bring New Trad elegance to any table:
• Herringbone Napkins in White/Cobalt/Metallic. A simple blue-and-gold motif embroidered near the edges accentuates the snow-white linen.
• Bianca Tablecloth. Bands of geometric stitching grace this white tablecloth with subtle, elegant texture. Bonus: It's machine washable!
• Lumina Serving Bowl. With its hobnail-style lead-free crystal and graceful pedestal base, this bowl makes an ideal centerpiece as well as a serving piece for side dishes.
• Lismore Bottle Coaster. Even a bottle of Two-Buck Chuck would look sublime set within this cut-crystal coaster. 
• Faux Roses in Bubble Bowl. Because they're less than a foot high, these timeless blooms won't impede the view of guests at the table.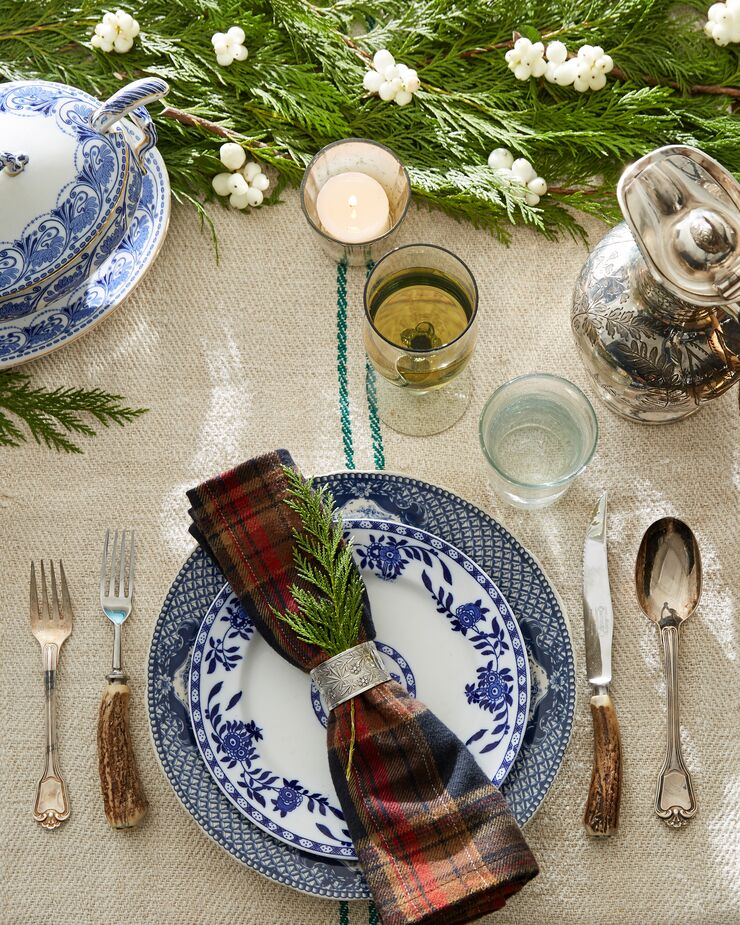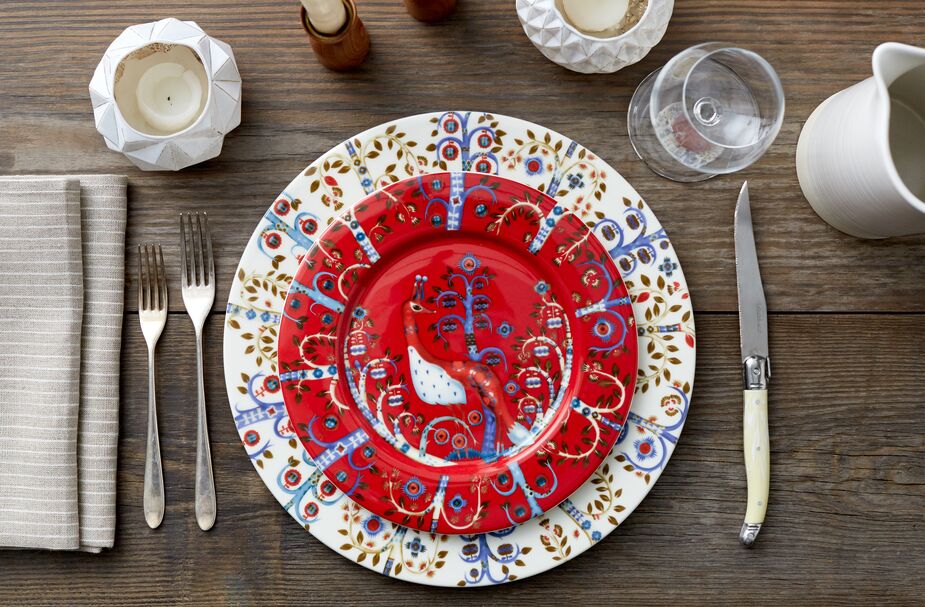 Eclectic
The style in a nutshell: The magic of the mix
Specifics: Eclectic style is less about individual pieces than in how you layer patterns, colors, and styles to create a unique wow factor. Lean in on lively or global patterns—animal prints, polka dots, block prints, shibori—and at least a few hits of bold color. Bring a few favorite vintage pieces into the ensemble as well. And don't forget a dollop of whimsy. Eclectic style is fun!
Brands Eclectics love: Bordallo Pinheira, Iittala, Joanna Buchanan, Ngala Trading Co., Siren Song
Pieces to bring Eclectic flair to any table:
• Iconic Leopard Tablecloth. Even plain everyday dishes look fierce and fabulous atop this green-on-white linen cloth.
• Daphne Stemless Wineglasses. Coppery honeycomb-style tiles along the lower portion of these glasses contribute unexpected, but welcome, glimmer.
• Shrimp Napkin Rings. Lacquered and bejeweled shrimp with googly faux-emerald eyes look up from the top of these brass rings. They definitely need to be seen to be appreciated.
• Watermelon Pitcher. A ceramic pitcher that, yes, resembles a watermelon: How fun is that!
• Woolf Dinner Plates. Not only do these dishes boast a swirling marbled pattern that will add panache to any setting, but because they're made of BPA-free melamine, they're virtually shatterproof as well.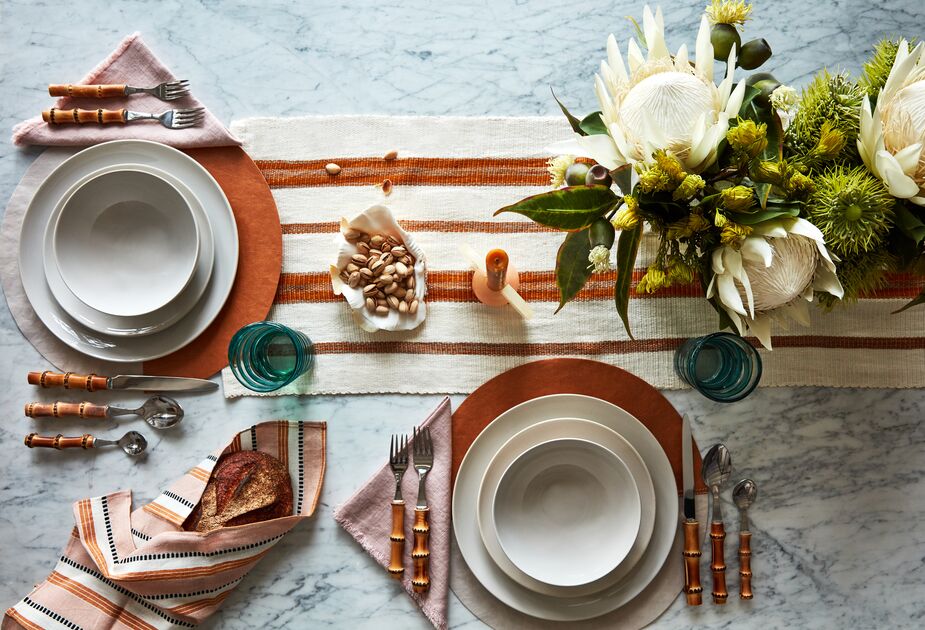 Naturalist
The style in a nutshell: Organic ease peppered with artisanal elegance
Specifics: Materials found in nature are (not surprisingly!) the foundation of Natural style. Colors tend toward the quiet and neutral: sand, ivory, tan, a myriad of browns, with mossy green, sun-blanched yellow, and misty blue as accents. Textures, such as that of wicker and loose-weave linen, are what command the most attention. And because imperfections abound in nature, they're also invited to the Naturalist table, in the form of mouth-blown glasses with random bubbles and handmade pottery with slightly irregular shapes. 
Brands Naturalists love: Bolé Road Textiles, Canvas, Middle Kingdom, Sophie Conran for Portmeirion, Vietri
Pieces to bring Naturalist ease to any table:
• Woodland Place Mats. The essence of bringing the outdoors in.
• Albero Flatware. What makes these stainless-steel place settings and serving pieces special are the handles, which look and feel like wood.
• Abren Table Runner and Napkins. Woven of soft, durable Ethiopian cotton, these textiles prove that simplicity is the ultimate sophistication.
• Sampha Salt and Pepper Set. Because the marble hasn't been honed to a high sheen, these containers maintain an earthy appeal.
• Lastra Oval Tray. A gently irregular border makes this handcrafted stoneware tray all the more beautiful.
• Set of Five Henlee Candleholders. Hand-carved of teak and given a blackened finish, these blocky holders instantly set an organic scene.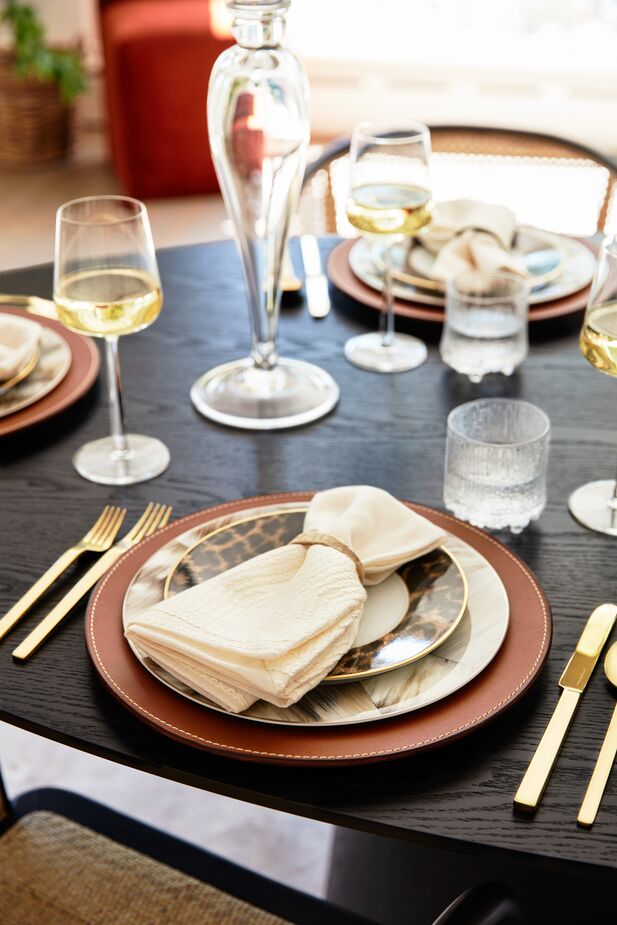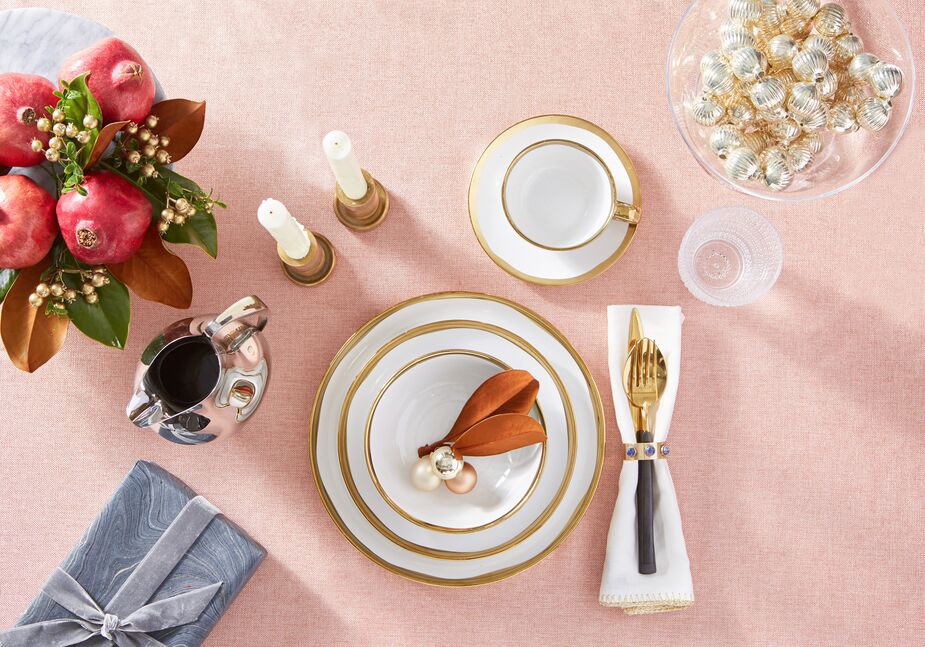 Curator
The style in a nutshell: Clean lines, luxe materials, stellar quality
Specifics: Gold, sterling silver, sparkling crystal, polished marble—only the best is good enough for the Curator. And when jewels aren't practical, jewel tones are, particularly glassware in ruby red, emerald green, and sapphire blue. Because the focus is on the richness and luster of the materials, silhouettes tend to be simple and patterns minimalist. Curator style whispers, rather than shouts, to command attention.
Favorite Curator brands: Georg Jensen, Kim Seybert, Mepra, Ralph Lauren Home
Pieces to bring Curator chic to any table:
• Arne Jacobsen Flatware Set. Dining with this cutlery—designed by Danish Modern icon Jacobsen in 1957—is literally taking art into your hands.
• Capiz Round Place Mats. Tiles of shimmering capiz shells dyed the blue-green of the ocean are fitted together to create these dazzling place mats certain to dress up any occasion.
• Regalia Deco Glassware. Inspired by Italian Art Deco design, these glasses flaunt vibrant colors, timeless silhouettes, and gold detailing.
• Vogue Tablecloth. Gold dots against white cloth ensure finesse—and the fabric has been treated to resist stains.
• Bloom Bowl. Sleek, sinuous, and with a polished mirror finish, this bowl will take place of pride on your table or buffet.