Instagram often seems like an endless stream of perfectly coiffed influencers trying to sell you on a lifestyle that's too glamorous to be true. It's easy to forget that the platform started as a way to share pictures of your life with your closest friends. In the early days of Instagram, the only people who followed you or you followed were people close to you in real life. Then came the blog boom and the birth of the Instagram influencer. Somewhere in the boom, a tiny group of artists began sharing their work for all the world to see, gaining tons of followers in the process. Among those artists was Georgia-based Teil Duncan.
Teil joined Instagram in early 2011, just as it was gaining traction. Her colorful creations drew thousands of people to her page and attracted the attention of big-name brands. "All of that really just fell into my lap," she says.
The early days of Instagram were a wild social experiment. The ever-changing algorithm wasn't something to be feared or to even care about. But Teil knew the power that the channel could hold. "It became a way of getting instant feedback for whether there was demand for what I was painting," she says. "It started to become evident that Instagram not only served as a personal platform for showing what was going on in your life, but it started to become [representative of] people's business brands."
Teil's brand is easily recognizable. It's built around vividly colored paintings of the female form and hazy beach scenes. Her palette hones in on a specific range of colors that are fresh and enticing. But her work didn't always look like this. For the first 18 months of her career as a professional painter, she worked in her studio space in Charleston, SC, where she'd moved after attending Auburn University, and created oil painting after oil painting. "I didn't love anything I was doing," she says. "I was thinking, 'Okay, something's going to have to change and turn around, or I'm going to go to nursing school.'"
Something did change. One day she walked into her studio, which was a shared space in a contemporary-art center, and happened upon a figure-drawing class. She stopped to look at the model and found herself speechless. "She was just perfectly lit," Teil says of the model. Her artist instincts took over, and she felt compelled to paint the model. So she took a few pictures and went to work.
Tired of oils, Teil turned to acrylics. "I wanted to minimize my color palette," she explains. She selected varying shades of girlish colors that now make her works immediately identifiable. She painted 10 small pieces, a study of the human form. "That was it," she says. "This was just my favorite thing I've done in my life."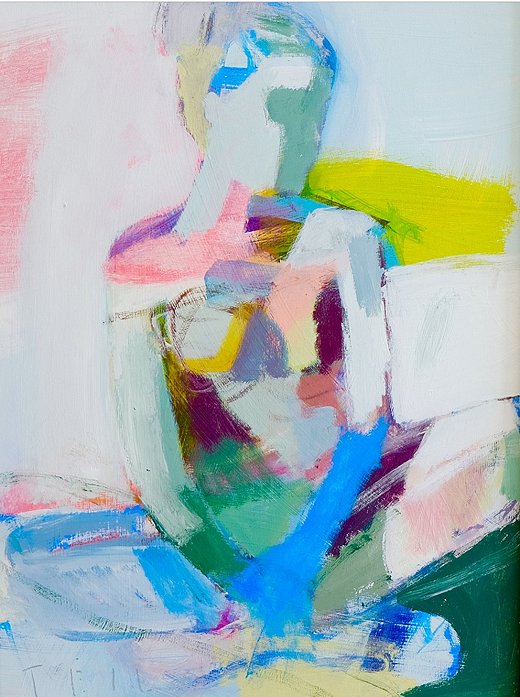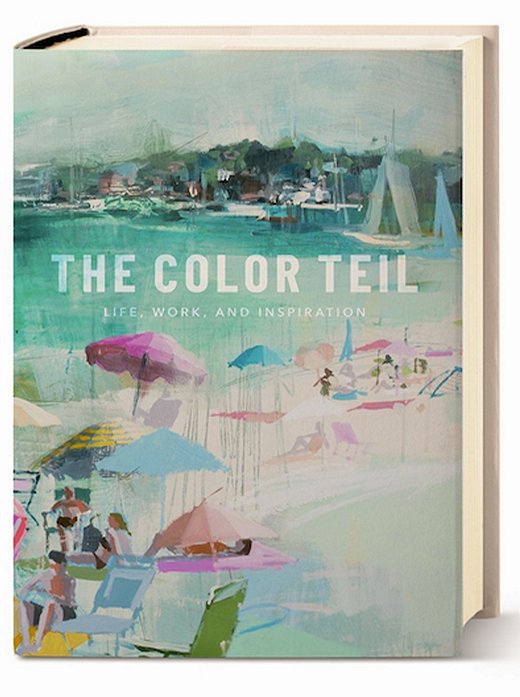 It was the study that launched 1,000 metaphorical ships. Her artwork became popular with interior designers because it is poppy and graphic. She soon got noticed by big names with even bigger followings. Fashion designer Christian Siriano, the winner of Project Runway's fourth season, found her work online and was blown away. He loved it so much that he used it as inspiration for his 2015 resort collection. 
Soon after her initial figure studies garnered acclaim, she began to create beach scenes that, she notes, are basically fields of figure models. As an amalgamation of abstract art and figurative art, they've come to epitomize her style. 
Teil's popularity and her following on Instagram have only grown in the past few years. She's just released a coffee table book, The Color Teil. She's working on a second book, an illustrated children's book due to be released in spring 2020. She recently welcomed her second child and is fresh off a move back to her hometown in Georgia. Leaving Charleston behind was not an easy choice, but she's excited about what this new environment—and new outlook as the mother of two young children—will mean for her art.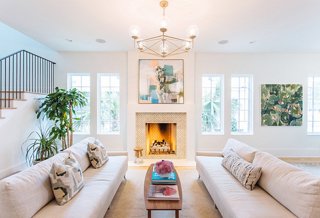 GET TO KNOW TEIL
It's no doubt that Teil has a unique sense of style and a wonderful eye for color, pattern, and design. We wanted to get to know her just a little better.
---
Style icon: "Margot Robbie. She is very natural with little pops of glam." 
Your style: "Clean and comfy with an edge! I think because my studio is a mess, and my life is so fast-paced with work, babies, and travel, I like to feel put together to counterbalance that." 
What inspires you: "Anything that makes me go, Wow! If I am wowed, whether by food, music, artwork, or athletic performance, it moves me to want to create something wow-worthy." 
Your dream house: "It's similar to my personal style in that I desire comfort first, with a side of edge. I like the main pieces to feel like you could fall asleep in them as soon as you sit down. As for the accents, I prefer contemporary pops. I also love color—surprise, surprise. I love the latest trend of walking into a very saturated room with the walls and the ceiling coated in color and the furniture and textiles to play into the palette. It's nice to have some rooms in the house that allow you to walk in and be engulfed in full-blown blue or orange or whatever. All-white everything bores me a bit."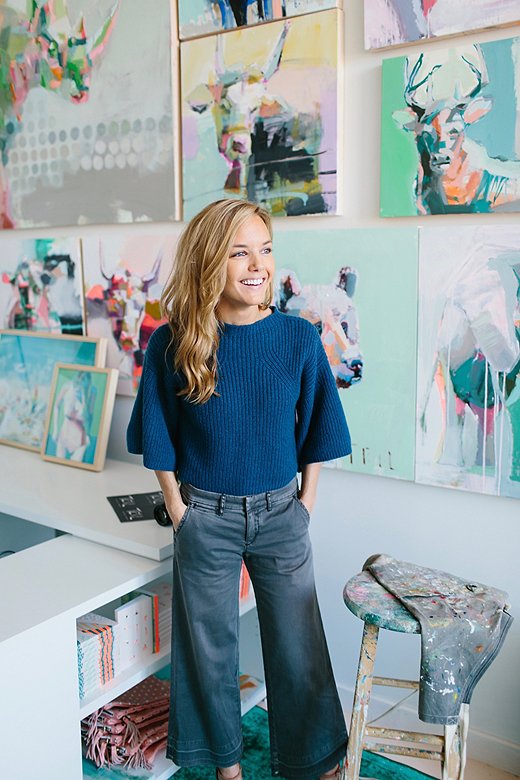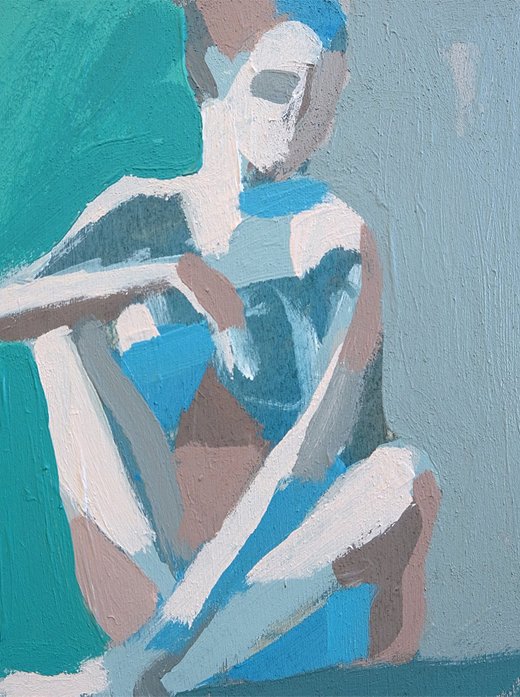 Favorite paint color: "Right now, I'm loving washed indigo." 
Favorite accessory: "My Jane Pope necklaces. They are everyday dainty jewels."
Favorite Instagram account: "It's close to impossible for me to choose a single favorite Instagram account. I love looking at Schumacher and all the beautifully designed rooms. I love Marysia Swim and her gorgeous branding. I also follow countless artists who blow me away on a daily basis." 
Favorite fabric: "I love all fabric textiles by Rebecca Atwood and my dear friend Lulie Wallace."