It's no exaggeration to say that Leslie Banker's book Think Like a Decorator was decades in the making. She and her mother, longtime interior designer Pamela Banker, conceived of the book back in 1999, when after a career as a writer, Leslie joined her mother's firm. "I was hired to set up her new office," Leslie recalls. "It was meant to be just a few months. I ended up staying. I loved it."
After Pamela died in 2013, Leslie took over her firm, eventually renaming it Leslie Banker & Co. Several years ago, she came across Pamela's notes for the book.  
"When I think back, it seems a little hilarious that I thought I could write a how-to decorating book when I didn't know how to decorate," Leslie says, laughing. "I was really obsessed with deconstructing the process of where do you start—I don't mean, 'Do I start with the rug?' but where does the whole conversation begin."
Now, though, "I was ready, I had learned, I'd graduated," she says. "It also felt important to me to complete this project" as a tribute to her mother.
The photos of Leslie's projects that illustrate the book prove that she is more than qualified to delve into the hows and whys of decorating. Nonetheless, she and her editor enlisted other designers, including Corey Damon Jenkins, Alexa Hampton, Tom Scheerer ("a decorating hero of mine"), and Christopher Spitzmiller, to contribute tips as well.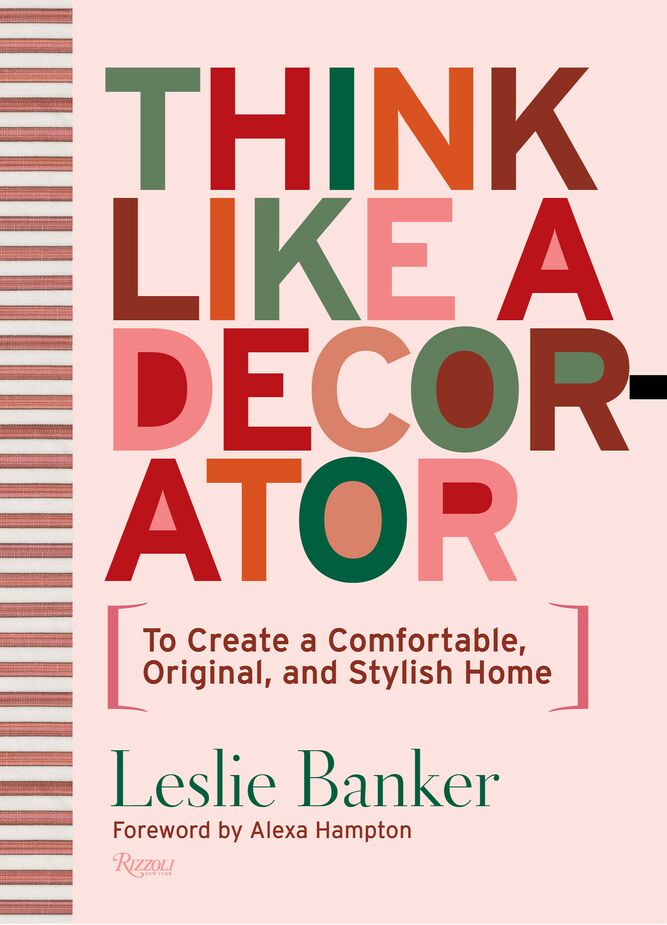 "Pinch me about them!" Leslie enthuses. "I couldn't believe it. From the beginning my editor and I wanted to bring in other people and viewpoints. There are some small contradictions, but I think that adds to the conversation. There's not only one way to think like a designer."
Leslie's way entails determining what best tells your story and what you like, not what you think you should like. "We all look at so many images, I think it's really hard to know and analyze what you really like," she says. "People judge their house based on what other people will think about it. People have to think about what they want."
And you also need to think about how you use your rooms now—and how you'd like to use them: "It's important to dream a little." If you'd like to host more dinner parties, say, decorate your home so that it's amenable to entertaining. This is akin to the philosophy of dressing for the job you want, not the job you have.
"Start with these things that are almost mental exercises before getting swatches and paint chips. Then, when you get into the nitty-gritty, a furniture plan or layout is essential," Leslie says.
And don't stop once you've achieved the rooms of your dreams: "The last chapter of the book is about the continual effort—maybe bringing flowers in, lighting the candles at dinner—to celebrate the everyday."
Image at top of page: "Teak and ocean blue make sense for a house by the beach," Leslie writes. "The walnut created contrast. The combination of all these things together made us happy."
Words of Wisdom from Think Like a Decorator
• "Try to have at least one thing that makes you happy in every room, no matter how small or simple: a framed map of a place you love, a family photo, a throw in your favorite color, for example."
• "To create a similar feeling in your space as the one seen in an inspiration photo, you don't need to buy the exact chair in the photo; instead you need to understand the vibe of the room and choose pieces and colors and textures that work together to be in sync with that feeling you want to create and the lifestyle you want to live."
• "Pale blue ceilings are one of my favorite decorating tricks. They bring the sky into your home, making the ceiling feel higher and the space bigger."
• "Spend time in your space and think about where furniture will be placed. This will allow you to think about things like what you'll see from your bed when you wake up in the morning and where the best natural light is for a reading chair."
• "Is there something in your plans that isn't quite gelling? If so, it might be time to step back and change course. It's easy to get attached to a plan or an idea, but it can also be a relief to let it go."