Sometimes finding the right interior designer takes a lot of phone calls, Instagram stalking, and meetings. And sometimes the universe puts the right person in the right place at just the right moment. That's exactly how actress Abigail Spencer found L.A.-based interior designer Tammy Price of Fragments Identity. 
"It all started with a bench and a blanket," says Abigail, who has had roles on Suits, Grey's Anatomy, and Mad Men, to name just a few series. At a photo shoot with Jenna Peffley (who also took the photos in this story), Abigail was struck by the detailing on the black lines of the blanket and had to know who made it. Jenna told her it was her friend Tammy of Fragments Identity.
"We've been working together ever since," Abigail says. For her part, Tammy declares the relationship "a natural fit, just a natural collaboration."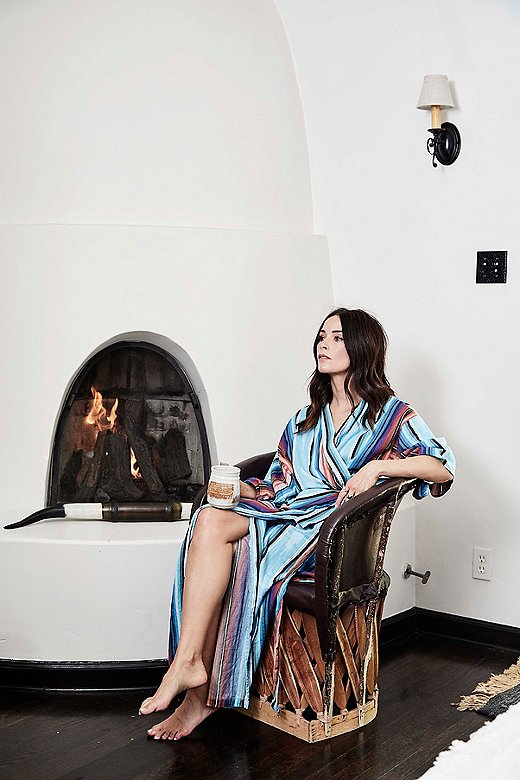 Tammy has a very distinct aesthetic: a California take on luxury informed by the look and feel of the deserts. "It's a little casual elegance," Tammy says. 
Abigail's home in Los Angeles is quintessential Spanish Colonial. Built in 1928, it features arched windows and doors, terracotta tiles, and stucco walls. Outside, the cacti stand as tall as the roof. Bougainvilleas cover the backyard, wrapping the house in bright fuchsia.
In short, the house is heaven. When Abigail returns home from shooting away on location for months at a time, "it's like a big hug when I walk in," she says.
Abigail has been living in this house for four years but never felt it was fully put together, which is why she brought Tammy in. Tammy's first order of business was incorporating pieces that Abigail loved into the redesign. Topping the list was a photograph by Adam Secore. When Abigail spotted it at a gallery show curated by a friend, it stopped her in her tracks. "It was vast and looked like seagulls sitting on the ocean. But as I drew closer I knew it wasn't birds. They were surfers. And I knew this spot, this view. I started to cry and got closer and saw the plate with the info: 'County Line,' Adam Secore. You see, my father died at that spot, and it was the same view where he was sitting when he died of a sudden heart attack eight years ago after a surf."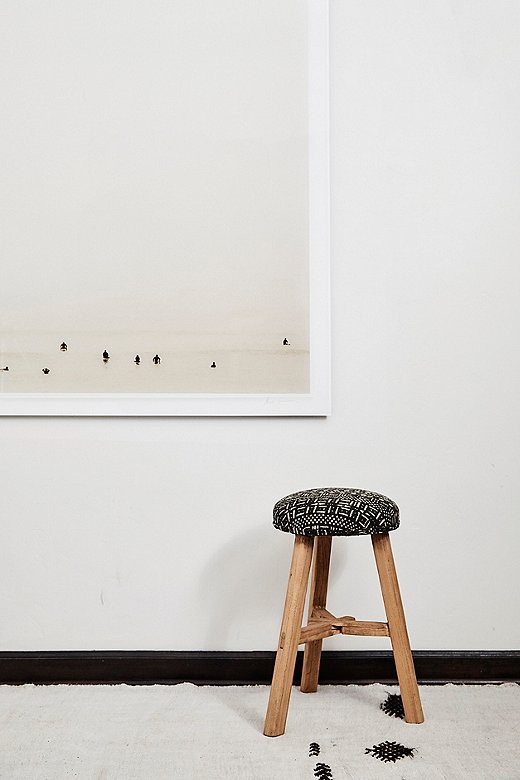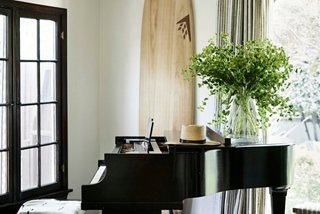 Abigail's father was legendary surfer Yancy Spencer III. After hearing the story, Adam gifted her the painting. "It's what I see every morning when I wake up," she says, and one of her greatest treasures.
Second and third on Abigail's list: a baby grand piano and a surfboard that came from her father's surf shop. These reflect her love of singing and surfing. Tammy placed them in front of a large arched window.
Though she's from the Florida Panhandle, Abigail describes her style as "clean, eclectic Santa Fe-Moroccan surf vibes." She keeps the house neutral and uncluttered. "I have a theory: Be chaotic and messy and colorful and dangerous in work, but in my home and bedroom I need to a more neutral, clean palette for the dreams to explode." Throughout the rest of the house, Tammy sprinkled in shandong benches, textured pillows, and artisanal rugs. The home perfectly blends Abigail's relaxed style and Fragments Identity's casual elegance.