Built in 1869 in New Orleans's historic Garden District, Jane Scott Hodges's grand Greek Revival is the kind of home that could easily be turned into a period-perfect show house, full of beautiful but untouchable rooms.
But for Jane Scott, founder of luxury home brand Leontine Linens, and her husband, it was time for something a bit different. "We'd had that big, proper, serious house on the hill," says Jane Scott of her family's former home on 30 acres in Kentucky, which they had beautifully restored. This time around, they bucked all expectations of what a historic home had to be. "My theme for this year has been confidence," Jane Scott says—in the case of her home, the confidence to embrace her passion for color and pattern, to welcome friends eagerly and often, and to create a space that perfectly suits her family's needs.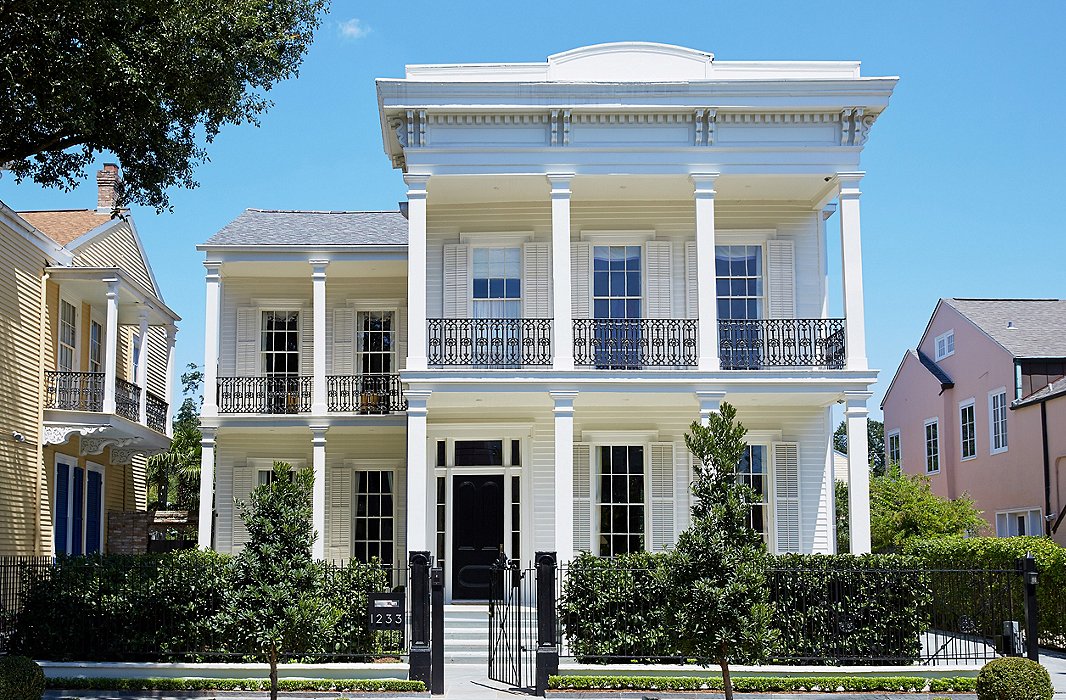 A Familiar Place, a Fresh Start
The move to New Orleans was both a homecoming and the beginning of a new phase for Jane Scott. After attending Tulane and starting her business (and family) in New Orleans, she returned for a period to her native Kentucky, where her parents still lived and where the Leontine Linens workroom is located.
But with their son and daughter soon headed off to college, Jane Scott and her husband, Philip, craved a new space that would suit their love of entertaining while feeling happy and welcoming for the kids returning from school. To find that home, they looked to their beloved New Orleans, stalking real estate in the coveted Garden District. "New Orleans has a very low inventory, so there's not a lot available," Jane Scott says, but "this house kept coming back to us." The historic two-story structure came with its quirks, however (read: dark, closed-off rooms and a cramped entryway). "We had to really think about what we could do with it to make it our own. We wanted to create spaces where everybody felt like they could live."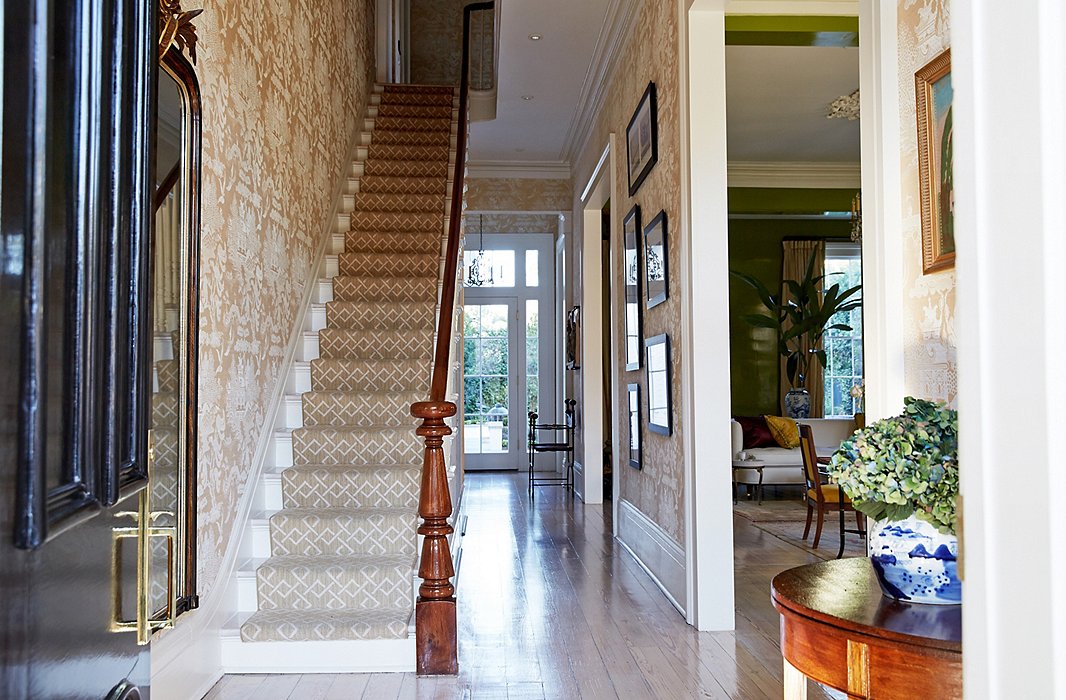 Letting the Light In
Enlisting the help of a longtime friend, decorator Gwen Driscoll ("She knows what I'll do and what I won't do!"), Jane Scott embarked on a major renovation that would transform the grand house into a fun family home. "We basically put a new house in an old house!" she says.
The goal? Lighten and brighten every room—including the entryway, with its narrow footprint and front-facing stairs ("so unforgiving!"). The doorway leading into the parlor was enlarged, with a second opening added down the hall. Now light pours in from the home's expansive windows, and the view through to the back door is even more spectacular.
Jane Scott opted for a neutral wallpaper in the foyer and added a stair runner in complementary hues. This almost monochromatic palette greets visitors with a moment of calm, while white-limed wood floors and an oversize mirror bounce around light for an even more airy feel.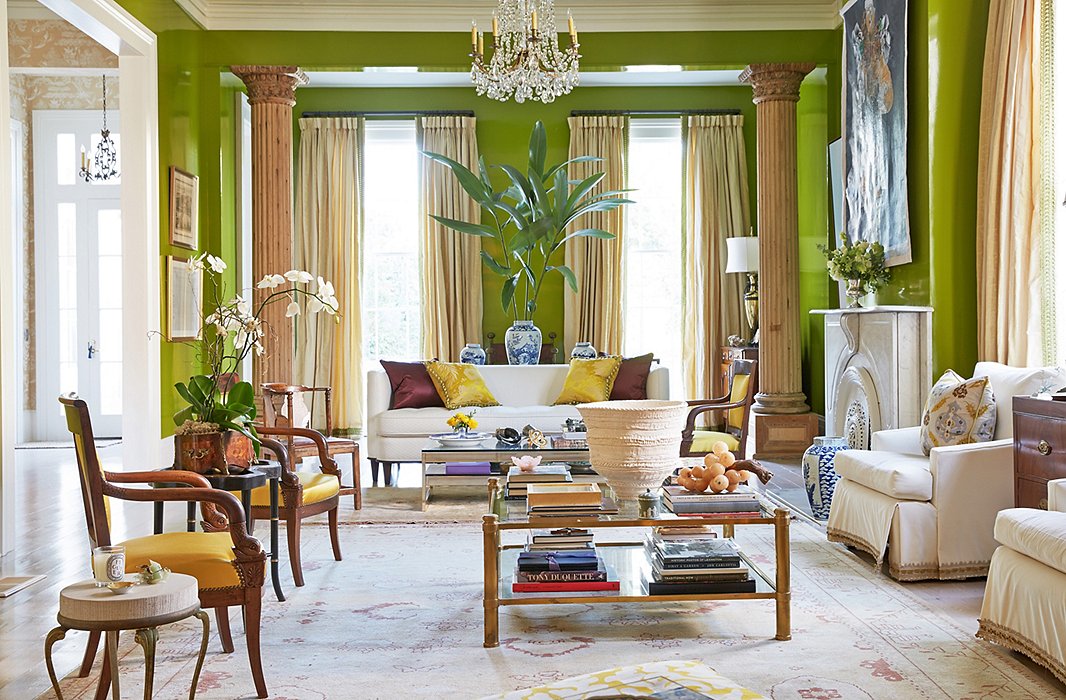 A Space to Entertain
Next on the agenda? Restoring the front parlor to its former splendor. A previous occupant had added a wall to divide the space, creating a small library in the front and a living room behind. Opening up the room was transformative—light suddenly streamed in from all sides—but Jane Scott went one step further and lacquered the walls chartreuse. It's a bold choice ("That took a moment of bravery!" she laughs), but with the crisp white moldings and otherwise-neutral decor, the color doesn't overwhelm—it glows.
The double parlor is now Jane Scott's ideal entertaining space, far removed from the "off-limits" formal living room that graces many an old home. "You have to go in because it's so opened up to that entry hall. What I love about our house is we live in every inch of it. There's not a room that's taboo."
Enjoying the Social Life
Jane Scott has embraced the role of hostess in this new house, taking pleasure in sharing the space with family and friends. The key, she says, is remembering that memories and experiences matter more than achieving any ideal of hostess perfection, and the dining room perfectly reflects this sense of perspective. Crowned with a stunning chandelier and wrapped in sumptuous purple grass-cloth wallpaper, the room has a grand feel that nods to the house's history. The formality ends there, however. To make diners feel cozy, Jane Scott pulled up a settee on one side of the table in lieu of dining chairs. "I always joke, 'Who doesn't want to snuggle with their dinner partner?'" And when it comes to the guest list, the more the merrier: Velvet-upholstered stools serve as extra seating in a pinch. "We're a little cozy," she says. "But for me, it's about taking it down a notch and remembering that it's about the experience for everybody else and not about appearances or perfection."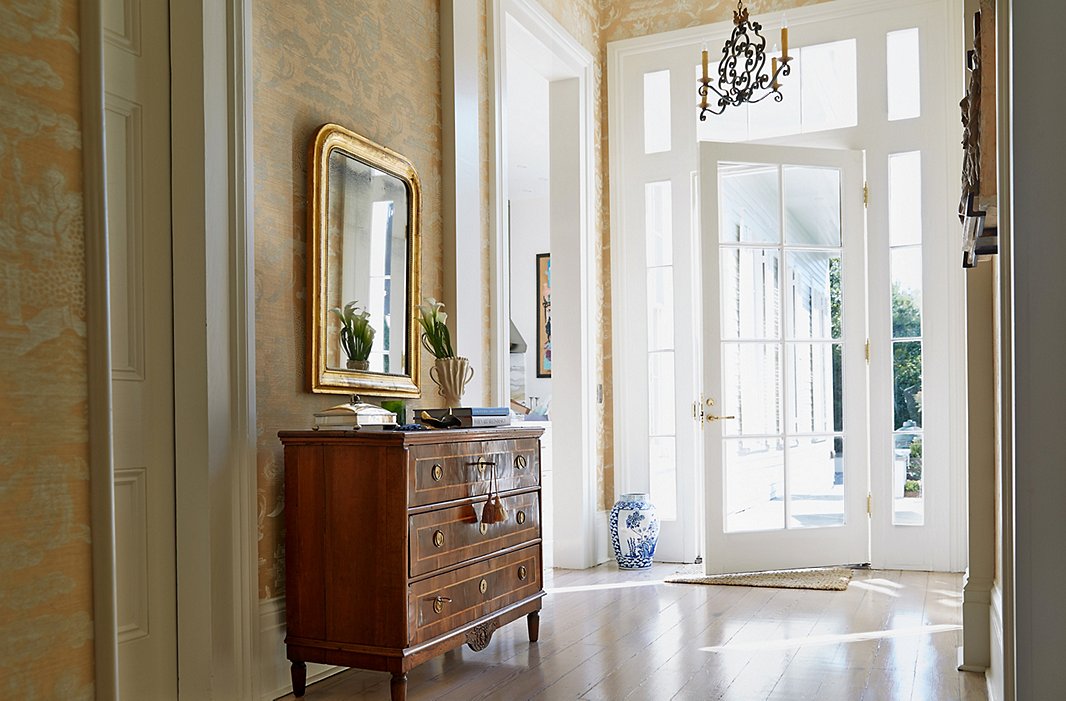 Not everybody has a model house, but you're not really expected to. It's just fun to share it.
A Cook's Clean Slate
A love of entertaining necessitated a truly functional kitchen, so Jane Scott set out to modernize and streamline the space. Consulting with Philip (the chef of the family), she installed deep drawers, plenty of under-counter storage for appliances, and extra-tall upper cabinets. This leaves the marble countertops gloriously clear for prep and serving, as well as for informal meals on the bistro-style stools.
Aesthetically the kitchen is an intentional departure from the rest of the home. All bright white and cool marble, it's a "neutral moment" after the richness of the aubergine-hued dining room. Palm-covered wallpaper adds subtle pattern that continues into the den.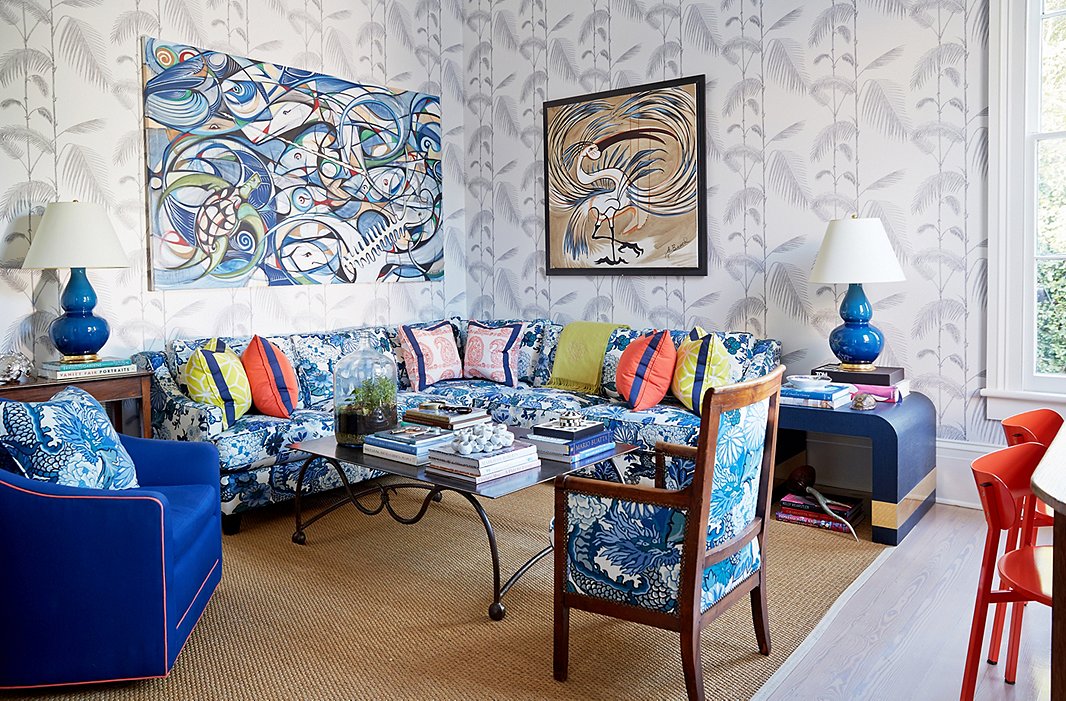 Embracing Fearless Pattern
"Everybody congregates back there," Jane Scott says of the sunlit den, where she once again summoned her confidence, upholstering a sectional in Schumacher's bold Chiang Mai Dragon fabric and topping it with punchy pillows in coral and citron hues. Abstract artwork adds another layer of interest, and modern red chairs enliven an antique wooden farm table. The effect is lively yet comfortable—a perfect space for the kids and their friends to lounge or watch a movie.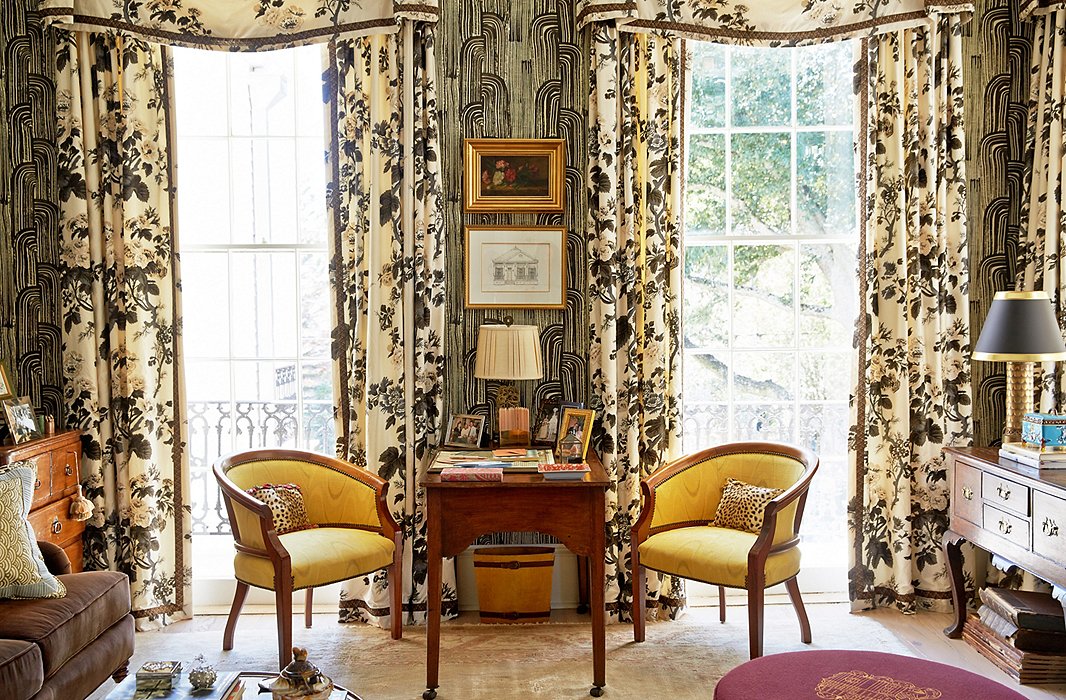 Creating a Family Retreat
While the kids are downstairs with their friends, Jane Scott and Philip can "scurry up and hide" in the upstairs study. Formerly a spare bedroom, the space has become a family hub. "It's our favorite room in the house, and not just because of the decor but because of the comfort level," she says. "It's just this little cocoon room where everybody seems to want to write their notes, or do their homework, or close the drapery and watch a Sunday football game. It's been really interesting to see how you adapt to a space as a family."
To create that cocoonlike effect, Jane Scott enveloped the room in black-and-white patterns: a large-scale floral for the drapery and a Deco geometric for the wallpaper. Traditional wood furnishings warm things up even further, and hints of yellow and gold ensure the cozy space still feels sunny.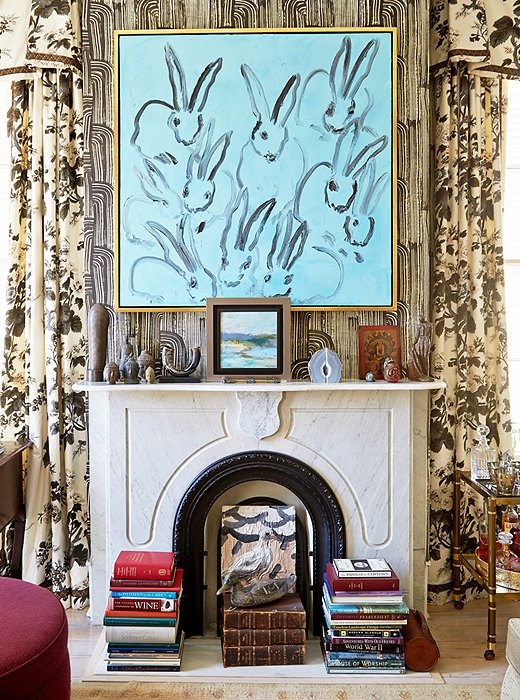 What I love about our house is we live in every inch of it. There's not a room that's taboo.
The Comforts of Home
In true Southern style, Jane Scott welcomes overnight guests. "There's something really special about opening your home to people," she says. When her son and daughter are at school, their rooms play host to friends and family and are outfitted accordingly with thoughtful touches for guests: flowers and a carafe of water on the nightstand, an extra blanket for chilly nights, and bedside lamps for comfy reading.
While she takes pride in these details, Jane Scott makes sure to keep perspective when it comes to impressing guests. "No one's looking at your baseboards," she says. "They just want to hang out with you!"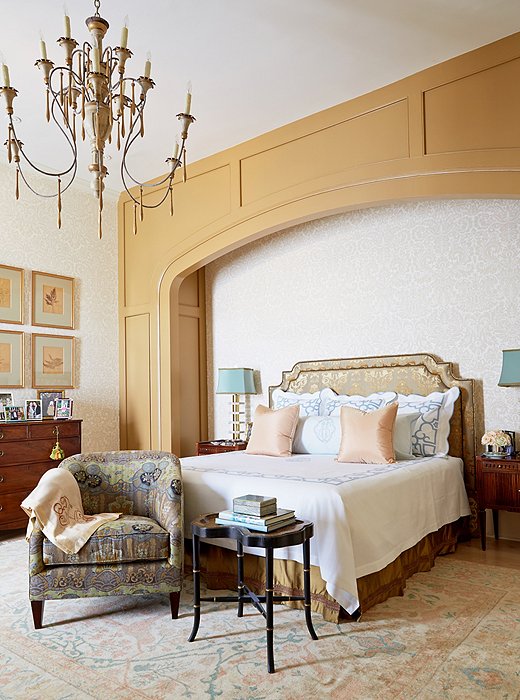 A Room of One's Own
Because Jane Scott is the creative force behind a line of exquisite linens, it's no surprise that she has an impeccable eye for color and detail—and she certainly knows how to craft a beautiful bed. When it came to her own bedroom, however, she stalled a bit. "For me, the bedroom is always the hardest room to decorate. It took me three years to do it!" After much tinkering, she and Gwen settled on a soothing color scheme based around a favorite silvery wallpaper. A set of quiet botanical prints harmonizes with the upholstered headboard, and a muted rug creates a soft foundation.
When she wants to switch things up, Jane Scott turns to her forte: bedding. She'll add embroidered sheets in a contrasting hue or a bright monogrammed pillow, even if the colors don't perfectly match the rest of the room. "I'm lucky because I have access to lots of bedding," she says. "But the most important thing to remember is that you're the one who spends time in your bedroom. There are no wrong answers—it's about what brings you pleasure and joy."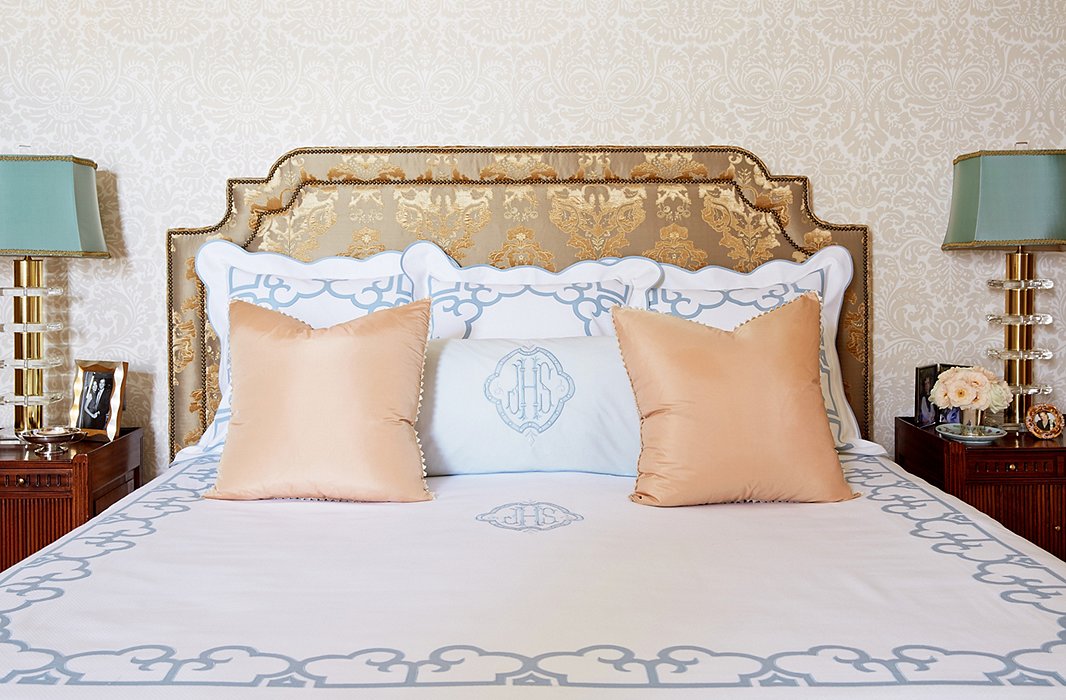 Making the Bed Your Way
This philosophy reflects one of the founding principles of Leontine Linens: taking the intimidation factor out of creating a beautifully appointed bed. "If you want white sheets trimmed in orange, you should have them, just like you might wear a red dress when you normally wear only navy and charcoal gray. No one's judging you by your linens—it's about the mix and making yourself comfortable."
When Jane Scott founded her company 20 years ago, the idea of making monogrammed linens that were modern, bold, and fun was pretty radical. "It's just wasn't what anybody was talking about," she says. "There were monogrammed linens, but they were kind of relegated to the back corner of a room." After she brought her signature flair to the medium, clients came calling. Her success is a testament to the deeply personal approach she brings to each custom project.
You're the one who spends time in your bedroom. There are no wrong answers—it's about what brings you pleasure and joy.
New Life for Treasured Pieces
In the bath, fresh white walls, a new chevron wood floor, and beautifully veined marble tile project an air of serenity, accentuated by the graceful arched opening over the tub. But it was an antique piece, a painted armoire that had followed Jane Scott from her first New Orleans office to her bedroom in Kentucky and now here to the new house, that really completed the space. The addition was an improvised one: "It evolved after living in the space. And it speaks a lot to not always moving into a perfectly done house—you have to get in there and live in it to see where you need things. There are so many things that you can't plan for. Sometimes it's better when it happens organically."