When clients approached San Francisco-based designer Heather Hilliard and asked her to design a home from the ground up, they said they wanted it move-in ready and wouldn't be bringing any of their current pieces with them, save a few family heirlooms they couldn't leave behind.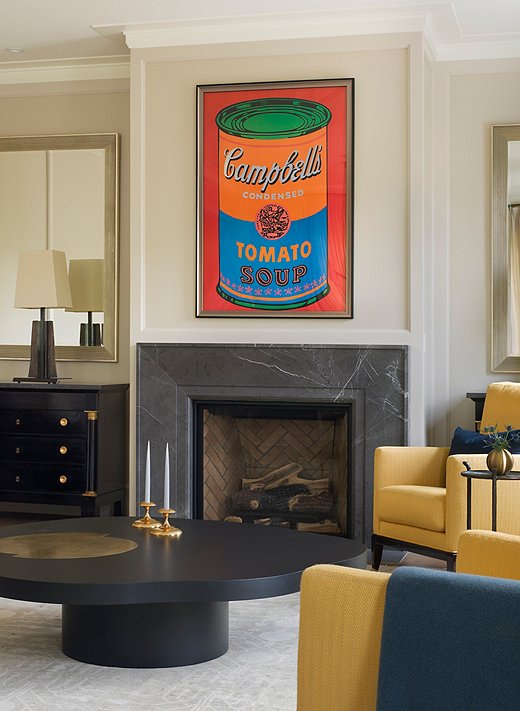 It just so happened that those heirlooms were original works of art from Andy Warhol and Damien Hirst.
Those pieces became the centerpiece of Heather's design. "We really wanted the art to pop," she says. No furnishings were chosen without considering how they would look with the art. But the bright colors of the Warhol and Hirst works presented a challenge: The clients didn't want the home to be an ode to neon. 
Throughout the main areas of the house, Heather used a neutral palette in warm tones to ground the space and balance the bold hues of the art, which are referenced with a few pops of jewel tones . In the living/dining room, Heather chose to keep the furniture neutral, save for bursts of yellow courtesy of the chairs. "That color was inspired by a Dries Van Noten dress [the client] had made for herself," says Heather. She chose to keep the silhouettes traditional so that the color made a statement. In the kitchen, she went with warm woods and brass elements. A jewel-tone sofa and plum chairs carry over the feel of the main sitting area.
Upstairs, the color palette is a bit more subdued. Instead of art, the homeowners wanted to focus on the view just outside the window. This home backs up to one of San Francisco's largest green spaces, the Presidio. On clear days, you can see the Golden Gate Bridge from the master suite. "They wanted the space to be really serene," Heather says. She chose to paint it in a light celadon and keep it neutral.
In a house filled with dynamic art, Heather needed to ensure that no one art piece outshone the others in a room. Similarly, no furniture could overpower the room's flow. Warhols sit comfortably next to Louis XVI chairs. Pop art calmly watches over a room of antiques.
In bringing this home to life, Heather proved she is a master of the mix. By juxtaposing styles, she created a space that felt youthful enough for a family with three kids but mature enough to house multiple works by iconic artists.