It's not all in your head: Your body does crave heartier meals in winter. Some of it has to do with a need for more calories and carbs following tasks such as shoveling snow. Foods richer in carbs, fat, and sugar also help compensate for a decline in serotonin resulting from fewer hours of sunlight (comfort foods really do provide comfort!). So we turned to our friends at Sur La Table for dishes that would stick to our ribs and tickle our taste buds, including the three recipes below.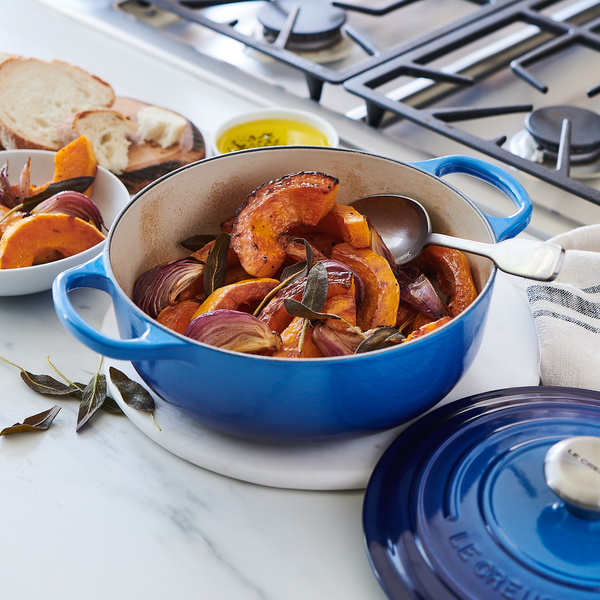 Cider-Glazed Butternut Squash
Serves 4
Ingredients
1/2 cup apple cider
1 tablespoon light brown sugar
2 ounces unsalted butter, cubed
1 tablespoon cider vinegar, plus more to taste
1/2 butternut squash, peeled, seeded, and cut into wedges
1 red onion, sliced
4 tablespoons olive oil, divided
Sea salt and freshly ground pepper
1 tablespoon red-wine vinegar
1 shallot, minced
1/2 tablespoon Dijon mustard
1/4 cup toasted pecans
Finishing salt
Instructions
Preheat oven to 400°F.
To prepare the cider glaze, in a small saucepan boil the cider and the sugar until the sugar has dissolved and the glaze has reduced by half. Remove from heat, and whisk in butter and cider vinegar.
In a large bowl, toss squash and onion with 1/2 of the cider glaze and 2 tablespoons of olive oil. Season with salt and pepper. Arrange in a single layer on a rimmed baking sheet and transfer to the oven. Roast until squash is tender and browned along the edges, 20-25 minutes. Stir squash halfway through roasting. Remove from the oven and cool to room temperature.
Whisk the remaining glaze with the red-wine vinegar, shallot, and Dijon mustard. Whisk in 2 tablespoons of olive oil and season with salt and pepper.
To a medium platter, toss the roasted squash and onion with the vinaigrette. Garnish with toasted pecans, drizzle with extra-virgin olive oil, and garnish with finishing salt and freshly ground pepper.
Wild Mushroom Soup with Sherry
Makes 8-10 servings
Ingredients
8 tablespoons (1 stick) butter, room temperature
2 cups sliced celery
1 cup sliced shallots
1 chopped leek or small onion
3 garlic cloves, minced
Salt and pepper
1 oz dried porcini mushrooms, reconstituted in 2 cups boiling water
3 cups sliced stemmed fresh shiitake mushrooms (about 6 ounces)
3 cups sliced cremini mushrooms (about 6 ounces)
3 cups sliced oyster mushrooms (about 4½ ounces)
½ cup dry white wine
1 cup dry sherry
1/4 cup all-purpose flour
8 cups chicken stock or canned low-salt chicken broth
½ cup whipping cream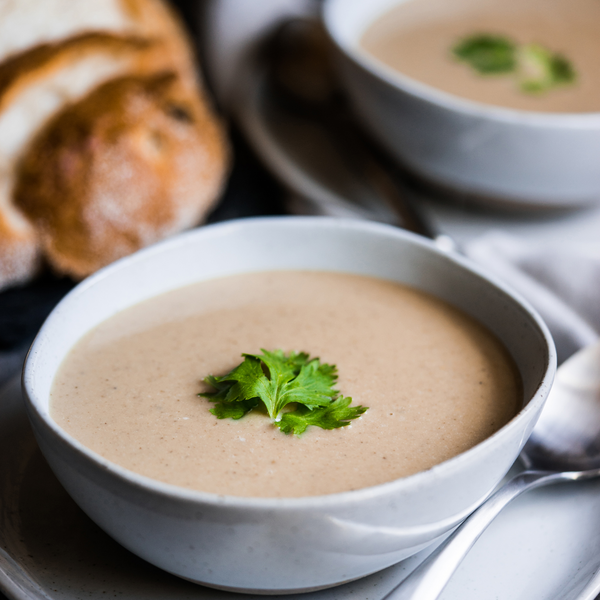 Instructions
Melt 6 tablespoons of butter in a large pot over medium-high heat. Add celery, shallots, onion or leek, and garlic, and sauté until the chopped onion or leek is translucent, about 8 minutes. Season with salt and pepper. Strain the porcini mushrooms using a fine sieve and reserve the liquid. Chop the porcini mushrooms. Add all the mushrooms into the pot and sauté until they start to soften, about 4 minutes. Add white wine and sherry. Boil until liquid is reduced to a glaze, about 6 minutes.
Sprinkle mushrooms with flour and stir until the mixture coats vegetables. Cook for 1-2 minutes to cook out the flour taste. Gradually mix in the stock and the porcini liquid. Bring to a boil, stirring frequently. Reduce heat to medium-low and simmer until mushrooms are tender, about 10 minutes, stirring often.
Working in batches, puree the soup in a blender or processor until smooth. Return the soup to pot. (Note: You can prepare the soup up to this point a day ahead of time, then cover and refrigerate.) Add cream and simmer; do not boil! Adjust seasoning, ladle soup into bowls, and serve.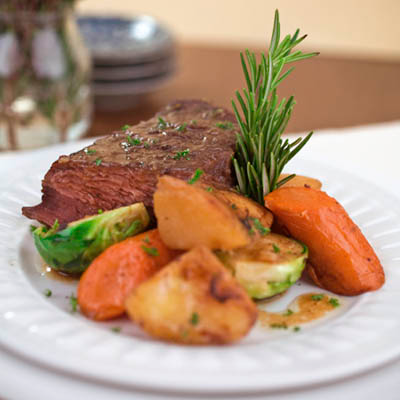 What makes a pot roast "Yankee"? The addition of root vegetables. Feel free to add to or omit the vegetables included in the recipe below—so long as the meat is braised properly, you really can't go wrong.
Yankee Pot Roast
Makes 6 servings
Ingredients
1 bone-in piece of chuck roast, 4-5 pounds, trimmed of excess fat
Vegetable oil, such as canola
Sea salt or kosher salt and freshly ground pepper
1 large carrot, chopped
1 celery stalk, chopped
1 onion, chopped
4-5 cloves garlic, sliced
3 tablespoons flour
3 ½ cups water or half chicken stock, half water (do not use beef stock!)
2 tablespoons tomato paste 
2 teaspoons dried thyme or 6 sprigs fresh
2 bay leaves
8-10 small onions
5 carrots cut into 1- to 2-inch pieces
1 pound red potatoes or larger white potatoes cut into chunks
1 pound large mushrooms, quartered
Instructions
Over high heat, pour sufficient oil to cover the bottom of a large Dutch oven or other large heavy pot, generously salt and pepper both sides of the chuck roast, and sear meat until well browned on both sides. Remove meat and pour off the oil. Return the pot to medium heat and add chopped carrot, celery, onion, and garlic. Stir and cook, adding a small amount of oil if necessary, until the vegetables are softened but not browned. Sprinkle flour over the vegetables and stir for 2-3 minutes. Return meat to pot, adding water/stock, tomato paste, and herbs.
Bring the pot to a simmer on top of the stove and cover. (Use aluminum foil under the pot's cover if it does not fit tightly.) In the meantime, heat the oven to 325°F. Once the oven is heated, put the pot in and cook for 2 hours. Check at 1 hour and turn meat if it is not covered by liquid; add additional water if the liquid is too thick—it should be the consistency of thin gravy.
At 2-2 ¼ hours, add the remaining vegetables. Cook the roast for a total of 3 hours. If the vegetables are not quite cooked, cover and let sit—cooking will continue using retained heat. Check for seasoning, adding salt or pepper to taste.