For more than 20 years, Belgium-based Ethnicraft has used time-honored materials—primarily oak, teak, and walnut—to create furniture that is anything but old-fashioned. Here are a few reasons we, as well as numerous tastemakers, love its products.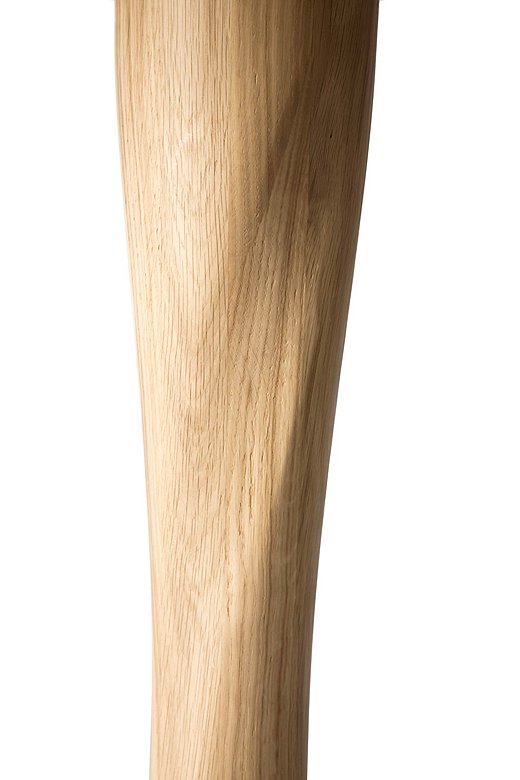 The designs exemplify the elegance of simplicity.
You won't find extraneous details in any of its designs. But that doesn't mean its pieces are plain or anonymous. The Torsion Dining Table, for instance, is a round table and a round base, attached by a slender pedestal. But the pedestal has been artfully carved to resemble a helix, making the piece sculptural as well as functional and differentiating it from other pedestal tables.
The pieces showcase the natural beauty of wood.
Because the designs are so simple and well edited, the grain and tones of the wood become a focal point. As well they should; after all, when it comes to beauty, it's difficult to improve upon Mother Nature.
The furniture complements just about every decor style.
The streamlined silhouettes fit right in with modern design, but the warmth of the wood enables the pieces to complement traditional furnishings as well. In fact, what better way to draw attention to, say, the lavishly tufting and ornately carved feet of a Queen Anne sofa by flanking it with minimalist Tripod side tables or complementing it with an Orb Coffee Table—little more than an impossibly smooth oak disk atop a minimalist stainless-steel frame?
The company is committed to sustainability.
Except for the wood reclaimed from old buildings, the timber used in Ethnicraft's furniture comes from FSC-certified or sustainably managed forests. Offcuts—the wood left over from planks being cut to size—are recycled. Even sawdust is saved and used to fuel the ovens that dry the timber or for pallets.