Some people prefer the thinner and more drape-y feel of a blanket to the loft of a down comforter. Blankets can be folded up and placed at the foot of the bed, ready for you to draw them over you as needed during the night. Throws are smaller and you can wrap them around you like a shawl and wear them even after you leave your bed. Both blankets and throws come in a fantastic range of colors, patterns, and materials—so they're easy ways to add decorative swagger as well.
Read on for more on the differences in size, material, and weave that set blankets and throws apart from each other—and why they're perfect for specific times of the year.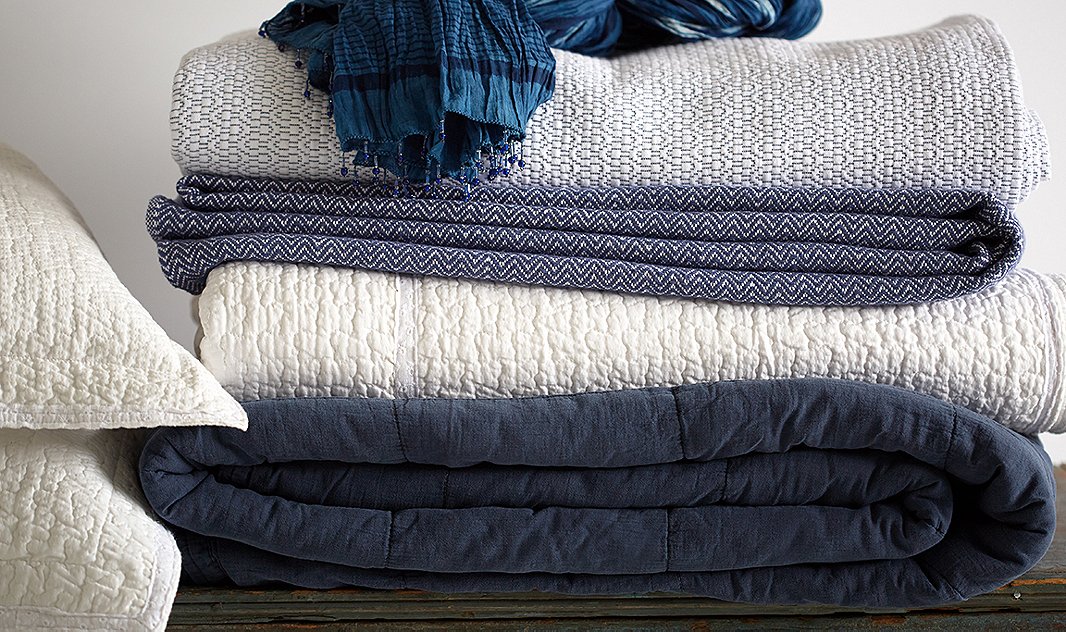 Blankets… come in sizes designed to pair with the dimensions of a typical mattress. Make sure, however, there will be enough drape on all sides to extend below and cover the mattress itself, and even a bit more if you intend to tuck it in.
Throws… come in a great many sizes, so you can tailor the size to the function. Most aren't designed to cover the whole bed—because then they'd be blankets! Instead, they're more for wrapping around your shoulders while reading or giving your cold feet an extra layer of warmth.
COTTON
A natural fiber that's soft, comfy, and breathable.
Why we love it: Plush and gentle to the touch, cotton gets softer with each wash. Plus it's very easy to care for—just toss in the washer and dryer.
Best for: Summertime and warmer climates. It's especially good for beach houses.
WOOL
The term for fibers from the fleece of lambs, sheep, goats, and the like.
Why we love it: Wool is both warm and breathable, making it highly versatile. Some wools are even machine washable.
Best for: Chilly nights and cooler temps, especially during fall. It's perfect for country cabins.
CASHMERE
Made from the fine and soft wool of a goat, it has a cushy and luxurious feel.
Why we love it: Though lightweight, it keeps you superbly warm. It also takes color beautifully  Just be sure to dry-clean.
Best for: Wintertime and cold nights by the fire. It's also perfect for a throw that you can pack and carry on the go.
LINEN
A fiber made from the flax plant.
Why we love it: It's excellent at wicking away moisture and not trapping heat.
Best for: The height of summer and warmer climates. Fair warning: It wrinkles easily but gets softer with every wash.
ALPACA
This gorgeous wool is (surprise) made from the fleece of long-haired alpacas.
Why we love it: It's heavenly soft and silky, relatively lightweight, and especially effective at keeping you toasty; requires dry-cleaning.
Best for: Chilly evenings and colder months; keep one (or several!) in a mountain cabin, or pack one for a handy wrap.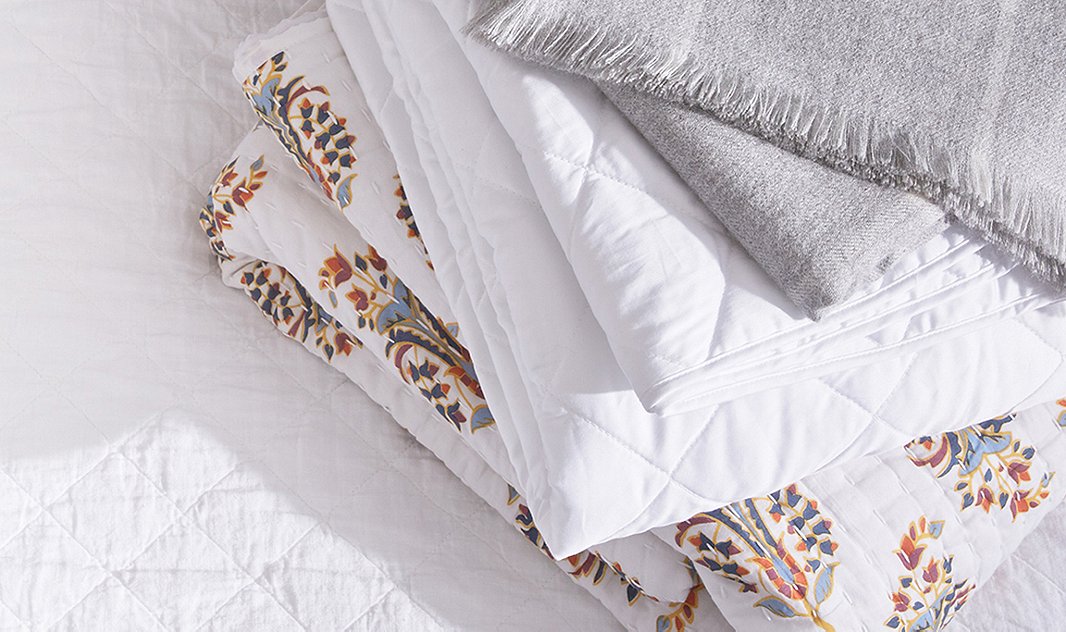 Good to Know: Special Weaves
JACQUARD…
is more of a technical term than a specific weave, named for a loom (and its inventor) that uses punch cards (like a player piano) as a pattern to control which threads are lifted in each row. An early version of a computerized loom, the jacquard revolutionized the industry by making a highly technical process that used skilled labor into one that could be executed much more easily.
The resulting product usually features an elaborate design, and it can take the form of brocade, damask, matelassé, or other patterns.
MATELASSÉ…
is woven on a jacquard loom and has a raised floral or geometric design, plus a characteristic puckering or a raised quilting element. It's basically a weave that was designed to more easily imitate the look of hand-quilting.
The effect is often made by using several types of threads, some of which shrink in the final processing, tugging on the other threads and creating the puffed areas.
BROCADES…
are highly luxurious fabrics most often woven from silk, with a raised pattern that often includes silver or gold thread. They have somewhat mysterious origins but probably originated in China, where the first silk fabrics were produced centuries ago.
DAMASK…
fabrics, another type of jacquard weave, are known for the contrasting levels of sheen on different parts of the design–usually alternating areas of matte and shiny. Popular patterns include elaborately scrolled motifs. Like brocades, they most likely originated in China.
CABLE KNITS…
use a special stitch that resembles twisted or braided ropes or cables. The pattern originated in the Aran Islands of Ireland and was used on sweaters worn by fisherman. They can be simple or quite elaborate and have a cozy, slightly preppy appeal.