Redesigning and renovating a bathroom can be challenging for the indecisive as well as for those who find it difficult to vocalize what they want it to look like. To help bring your vision of a perfect bathroom to life, One Kings Lane Interior Design has teamed with Block Renovation. "Block specializes in beautiful renovations done at a fair price very fast," says Block creative director Jeff Lai.
"Since we didn't offer assistance with bathroom renovations, Block was the perfect partner to help customers really complete the project of personalizing their entire home," adds Becca Roderick, director of interior design at One Kings Lane.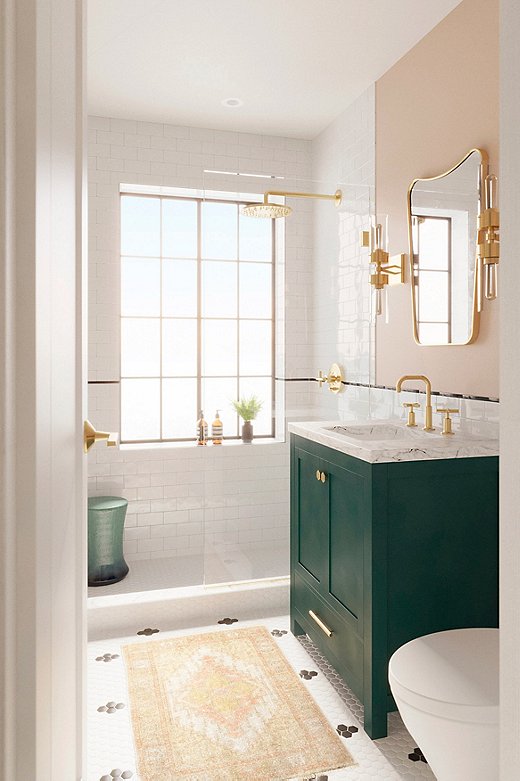 Block Renovation is powered by digital minds with a focus on logistics. Founded by T. Luke Sherwin, co-founder of Casper Mattresses, and Koda M. Wang, the chief customer officer at Rent the Runway, it offers a set of predesigned bathrooms to choose from, including one designed by One Kings Lane. Each Block package consists of everything from wall tiles to showerheads, with unlimited customization options; Block takes care of building approvals, deliveries, and installation.
Personal Flair
"Since One Kings Lane and Block Renovation are both based in New York City," says Becca, "we felt that the right move was to pull inspiration from vintage New York bathrooms. There's nothing more classic than the black-and-white bathrooms in this city."
To create a space that was a nod to the past but rooted in the present, "we developed a semicustom pattern for the floor using a small hex tile that would evoke that classic look but feel special for this collaboration," says Becca. 
"Our next question was, How do we layer on top of that?" says Jeff. 
"For many years, it's felt like everything should be white," Becca says. "There is so much sameness out there in the world of design right now, and we wanted to do something different."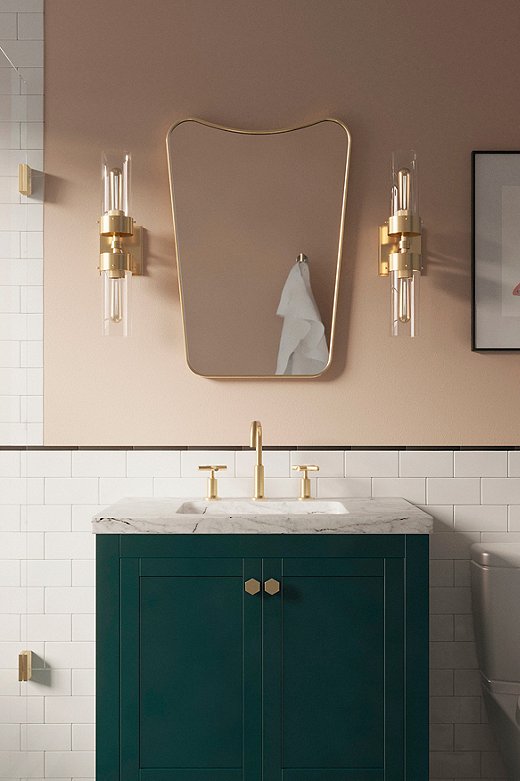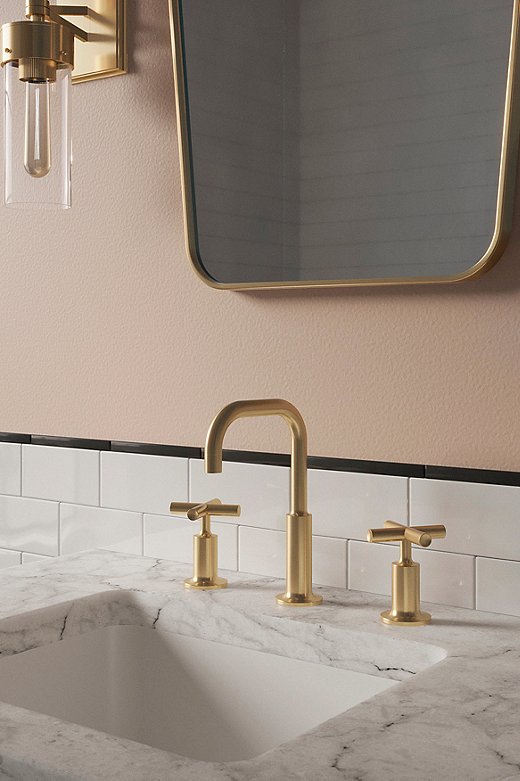 So she turned to color. "Traditionally, green evokes tranquility and health—the perfect match for a bathroom," Becca says. She paired the green cabinetry with soft pink walls. "Remember that old saying about rose-colored glasses? Standing in a room that has pink walls really does give that effect. It makes everything in that space glow in the most beautiful way."  
"One Kings Lane has a huge selection of accessories that we used to build this whole world," says Jeff. Gold accents throughout the room amp up the warmth factor. The subtle touch of gold along the edges of the curved mirror plays off the stunning sconces from Visual Comfort. Streamlined fixtures bring out a mod factor.
"My favorite pieces in any room are always those personal touches that make the space feel like a reflection of the client's personality," says Becca. To bring this bathroom to life, she chose to add in a vintage-inspired rug for texture and a pop of abstract art.
"If you're going classic with tiles and fixtures, there's a great opportunity to really express yourself with these finishing touches. It's easy to be a bit bolder," she explains. "And if you decide in the future you want to swap them out, you can. It's easy to change things up pretty dramatically even with a limited budget."