It's one of the first things you see in the morning and one of the last things you see at night. Yet the nightstand typically doesn't get a lot of design love. Maybe that's because the bedside table needs to accommodate so many functional items: eyeglasses, alarm clock, reading lamp, reading material…
Of course, functional can also be attractive. That's why we asked our Instagram followers to submit photos of their nightstands that could use a bit of sprucing up, then turned to Becca Roderick, director of interior design at One Kings Lane, for guidance. Below, three of the "before" photos, and Becca's suggestions for more-beautiful "afters."
Glam Slam
With a gleaming brass lamp atop a mirrored table, this bedside scores high on the glam-o-meter. Becca feels a bit of greenery, however, would complement the hard surfaces while adding a bit of color. (She recommends this orchid-and-succulent arrangement, which at only eight inches high is relatively compact—and being faux, it's maintenance-free to boot!) Becca also advises upgrading the digital clock to this petite marble beauty.
Finally, "it's always a good idea to add a chic pad of paper for jotting down the genius ideas that come to you in the middle of the night," Becca says. This vintage Hermès set of blank postcards in a leather case would feel right at home in this luxe setting.
Top takeaway: Even a small floral arrangement, real or faux, will bring a welcome softness and warmth to a preponderance of glossy surfaces, hard materials, and straight lines without taking away from their glamour.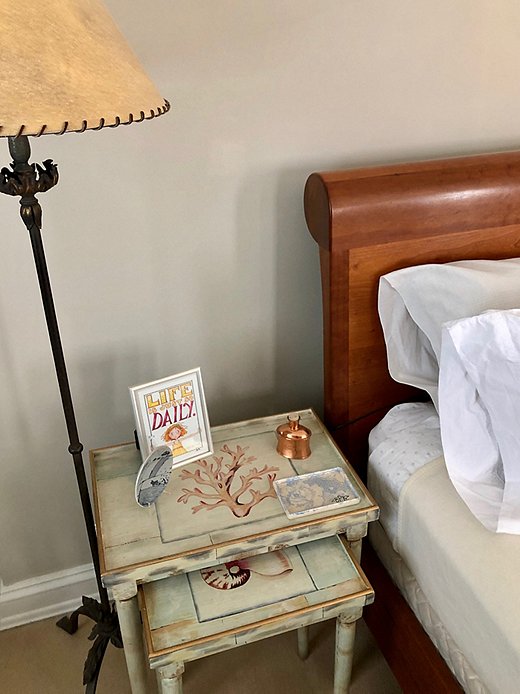 Twice As Nice
These nesting tables are decorative in and of themselves, and Becca feels that the floor lamp beside them is too distracting. She suggests replacing it with a sconce, which has the added benefit of freeing up floor space. With its adjustable rod, "this one is perfect for reading as well as showcasing the details on the table."
While Becca wouldn't want to obscure the seaside imagery that adorns the tabletops, "bedside is a great place to display photos of loved ones," she notes. The gold-plated double frame she suggests stands only eight inches high and "adds a bit of sparkle." The one other item she'd add is a scented candle in a minimalist vessel. "A great candle can be a calming addition, which is always welcome when you're winding down," Becca says. Her pick, which has notes of water lily and sea jasmine, ties in with the coral and seashell depictions on the tables. Lavender is another wonderful fragrance for the bedroom, as it's been proven to promote relaxation.
Top takeaway: Nesting tables can be a savvy alternative to a traditional nightstand, as they provide you with nearly twice as much surface space in the same compact footprint.
Textural Touches
"This lamp and artwork are a great starting point," Becca says of the vignette at right. "I'd suggest hanging the artwork on the wall to make a bit more space on the table. It's okay if the artwork is slightly obstructed by the lamp"—that helps create a layered, homey effect.
Continuing with the layering theme, Becca suggests placing atop the tray or the magazines "a storage box to help corral any stray functional items that might not be beautiful enough to display." This faux-shagreen one introduces a bit of organic texture. For a final touch of texture, she suggests adding a decorative item such as this petite dish hand-carved of sustainably sourced water-buffalo horn.
Top takeaway: Layering objects and artworks creates an inviting warmth—and when the objects are boxes and catchalls, they help keep the nightstand looking organized as well.