Home tours appeal to our inquisitiveness (or some might say, our nosiness). They also provide us with plenty of inspiration for refreshing our own abodes. Below are six of our favorite tours from 2017, encompassing everything from quiet, thoughtful palettes to vibrant mélanges of pattern and color, from nautical ease to urbane sophistication.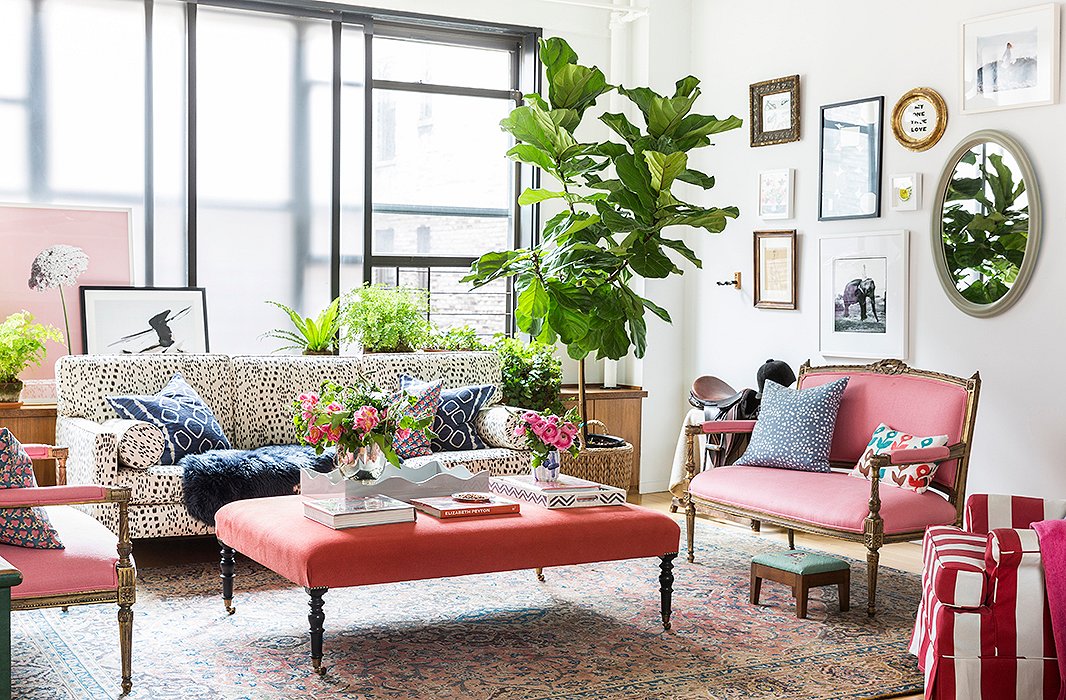 Creatively Classic in Manhattan
Kate Schelter's first book is titled Classic Style: Hand It Down, Dress It Up, Wear It Out, so it's not surprising that her prewar New York apartment includes linen-upholstered settees with elaborate gilded frames, Louis-style dining chairs, and an heirloom silver tea service atop a walnut sideboard. But because Kate is an artist and stylist whose business card reads "creative girl," these classic pieces live amid much whimsy. An armchair clad in red-and-white circus stripes sits beside one of the settees; a fanciful floral mural she painted herself graces a hallway. Homes don't get much gorgeously balanced than this.
Words of wisdom: "Liberate yourself from the constraint that things should look decorated and perfect. Make every decision based on what you truly love, and don't try to impress anyone except yourself."—Kate Schelter
An Uptown Palace of Prints
Fans of Roller Rabbit adore the fashion and textiles brand for its vibrant block-printed patterns. Roberta Freymann, founder of the company, loves them too, as is evident from the bounty of prints throughout her Manhattan apartment. Her fondness for pattern is rivaled only by her enthusiasm for color. Bold orange curtains hang in the living room, the home office's walls are lacquered poppy red, and the guest bedroom incorporates red, white, and blue in a way you've never seen before—though once you have, you might want to bring the look to your own home.
Words of wisdom: "I always paint my dining rooms a very fun color. When you're entertaining, your surroundings should be entertaining."—Roberta Freymann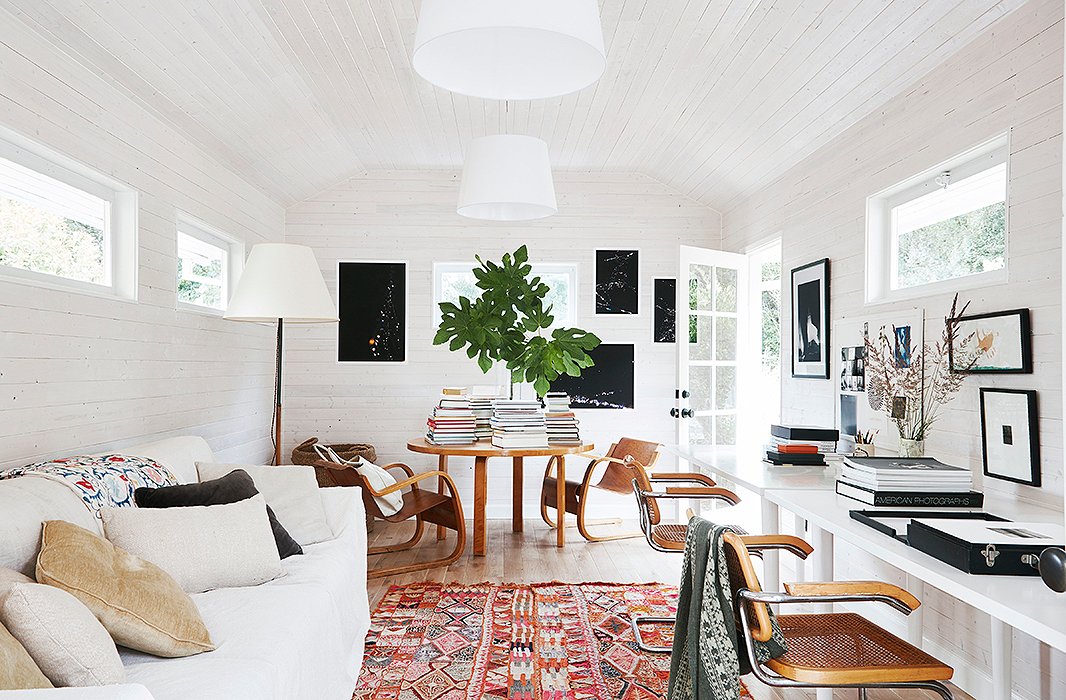 Serenity in Sonoma County
When photographers Laura Resen and Cloud Devine bought their Northern California home, it epitomized midcentury design—both the good and the bad of the style. They got rid of the walnut-veneer paneling, the sunken kitchen ceiling, and other clichés so that what remained was a light-filled, airy ranch-style space. Then they filled it with classic Mid-Century Modern furniture (Alvar Aalto chairs, a Robsjohn-Gibbings desk), complemented by an eclectic collection of accents and textiles (a Navajo blanket, a rug from Nepal, Tibetan jars). Because all items share a low-key neutral palette, the result is that of a restful retreat.
Words of wisdom: "There are things that I love and they've followed everywhere I've lived. There's no reason to replace them, because they're beautiful—they remind me of the people I love and places I've been."—Laura Resen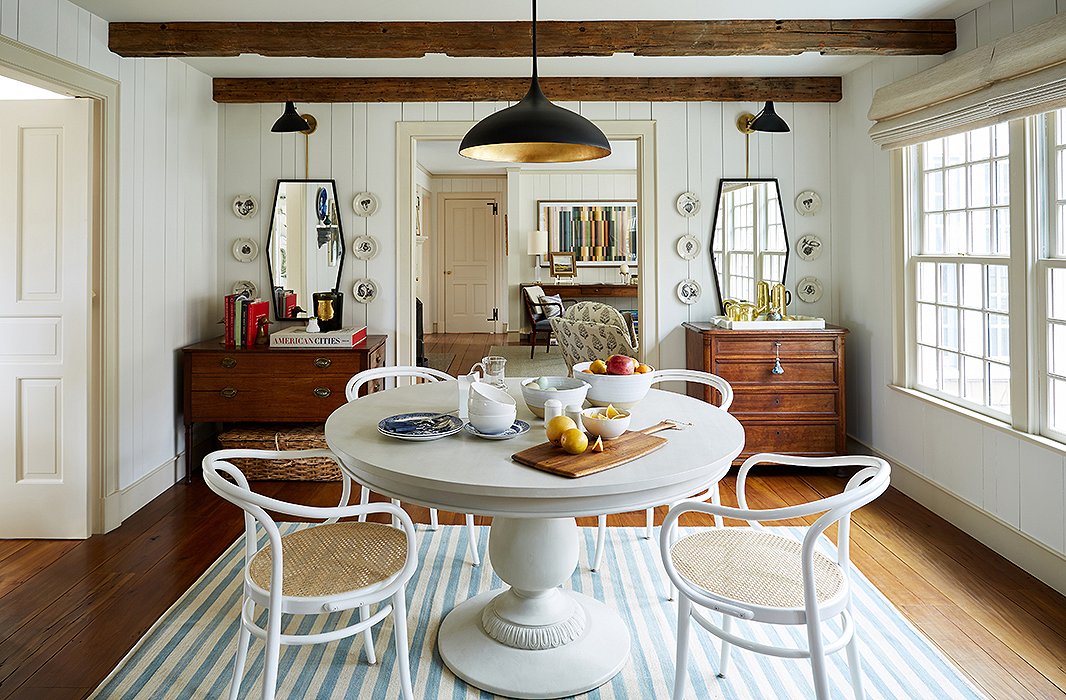 Farmhouse Ease in Fairfield County
We'd be remiss if we excluded the Connecticut home of Debbie Propst from our roundup—and not just because she's the president of One Kings Lane. Debbie enlisted the help of The Studio at One Kings Lane to ensure that the farmhouse-style house was family-friendly (she and her husband have two young children and a dog) while still reflecting her worldly, witty sensibility. Cue comfortable upholstery, plenty of antiques, a medley of laid-back but elegant patterns… and a pair of concrete alligators.
Words of wisdom: "It's important to remember not to take yourself too seriously. You want people to smile when they walk into your home."—Debbie Propst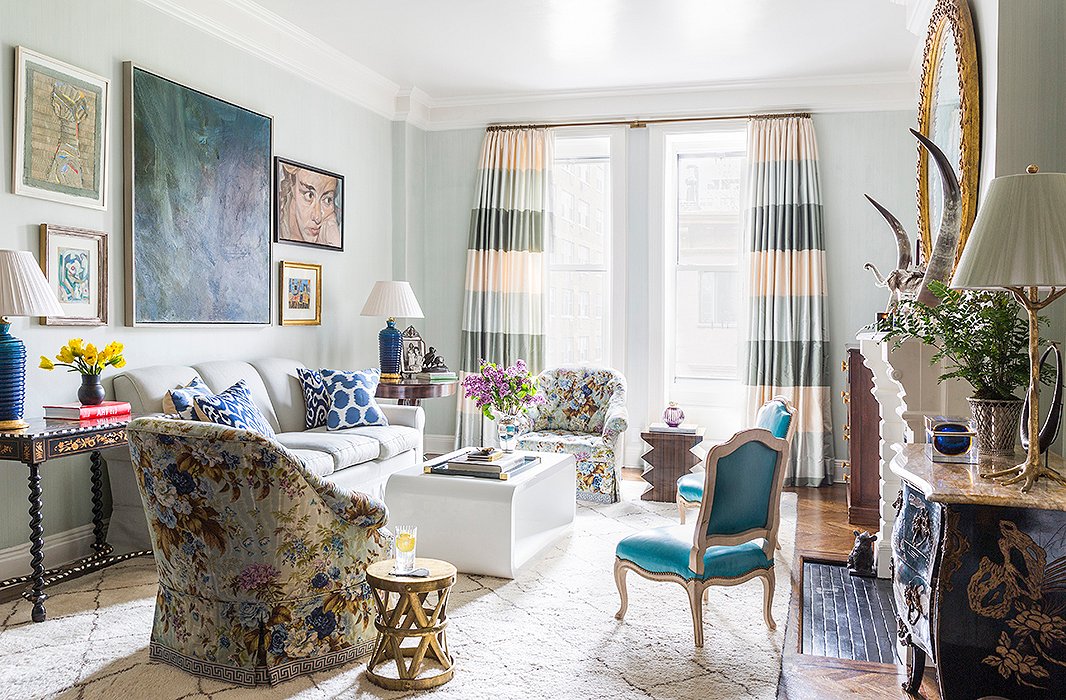 Gramercy Park Grace
A Gramercy Park address is one of Manhattan's most coveted: Homes on the 19th-century square have exclusive rights to the lush private park they surround. Designer CeCe Barfield Thompson's apartment reflects the timeless elegance of the historic Gramercy district. A skirted table serves as a dining table and a desk; a Biedermeier chest is enlisted as a vanity. But there are plenty of modern touches as well. The living room curtains, for instance, boast bold horizontal stripes (to visually expand the narrow windows), Louis-style chairs are upholstered a vibrant teal, and a glider in her daughters' room is covered in a low-maintenance outdoor fabric. Something old, something new…
Words of wisdom: "Form and function are equally important, and to create a successful space you really have to marry the two seamlessly."—CeCe Barfield Thompson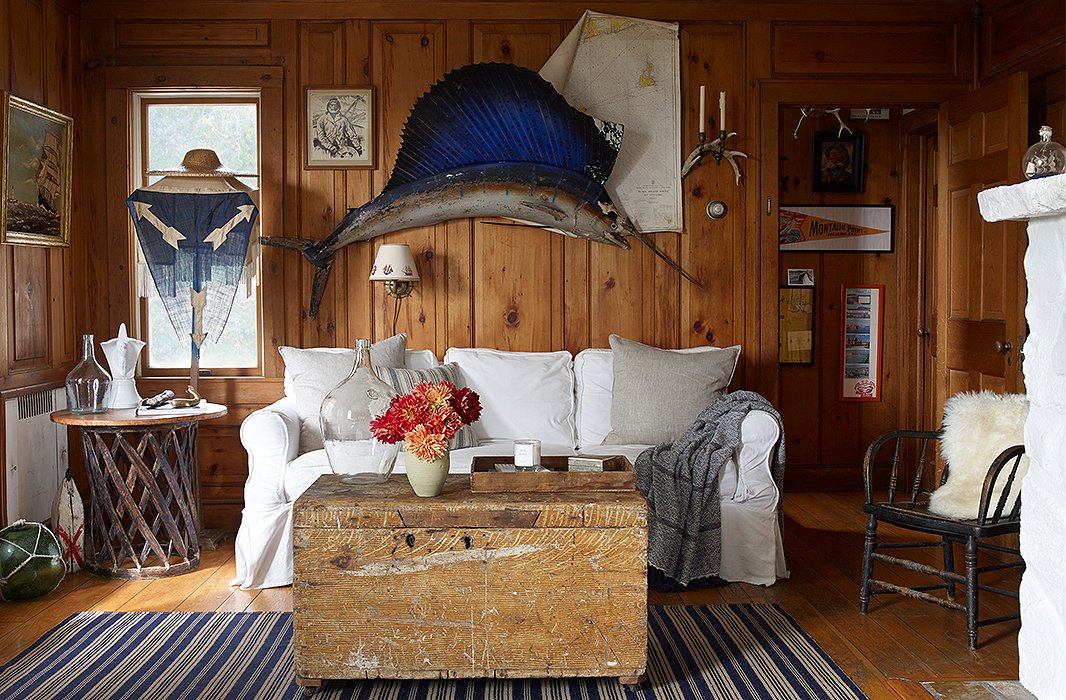 Laid-Back in Long Island
You could describe the Montauk, NY, hideaway of photographer Matt Albiani and real estate broker Ron Brand in many ways: nonchalantly preppy, ruggedly handsome, nautically inclined. We call it perfectly imperfect. A secondhand sailfish hangs above a snow-white slipcovered sofa and a battered wooden chest. Mismatched chairs painted eye-popping shades of green sit atop the home's original blue-and-white linoleum floor. Photos by Matt share wall space with old maps, postcards, and memorabilia, hung in a charming haphazard manner. This home is proof that so long as you surround yourself with things you love, they'll complement each other beautifully.
Words of wisdom: "The craft and care that old things were made with is an important thing to have in a home, I think. They just make it feel special."—Matt Albiani