As the world goes ever more casual, it's refreshing to encounter Carolyne Roehm, who celebrates the beauty of classical design, formal gardens, and sparkling dinner parties. It's one thing to admire these things in the abstract; it's another to live amongst them, day in and day out. But she does. And that's precisely what she writes about in her lush, inspiring books: ways of elevating the everyday. Her latest publication, At Home in the Garden, sums up her vision of what the garden can be in one's life.
Carolyne's ultimate canvas is her beloved Connecticut retreat called Weatherstone, tucked in a pastoral corner of Connecticut. There she's created a beacon of neoclassical architectural; true to the era that inspired it, not one of the antiques inside is later than 19th century. And it's wrapped with parterre gardens—those geometric gardens you might have seen in Versailles. 
But before we get carried into another century, let us say this: Carolyne's no anachronism. She's as busy and Scandal-addicted as any of us. Her restoration projects and her output of books and blogs makes the head spin. Yes, she's listed in the International Best-Dressed Hall of Fame, but most days are so busy that she's been known to wear yoga pants, "and then I never get around to doing any yoga!" She's like her home in that way—full of graceful refinement but grounded in lots of natural beauty. Step inside Carolyne's world.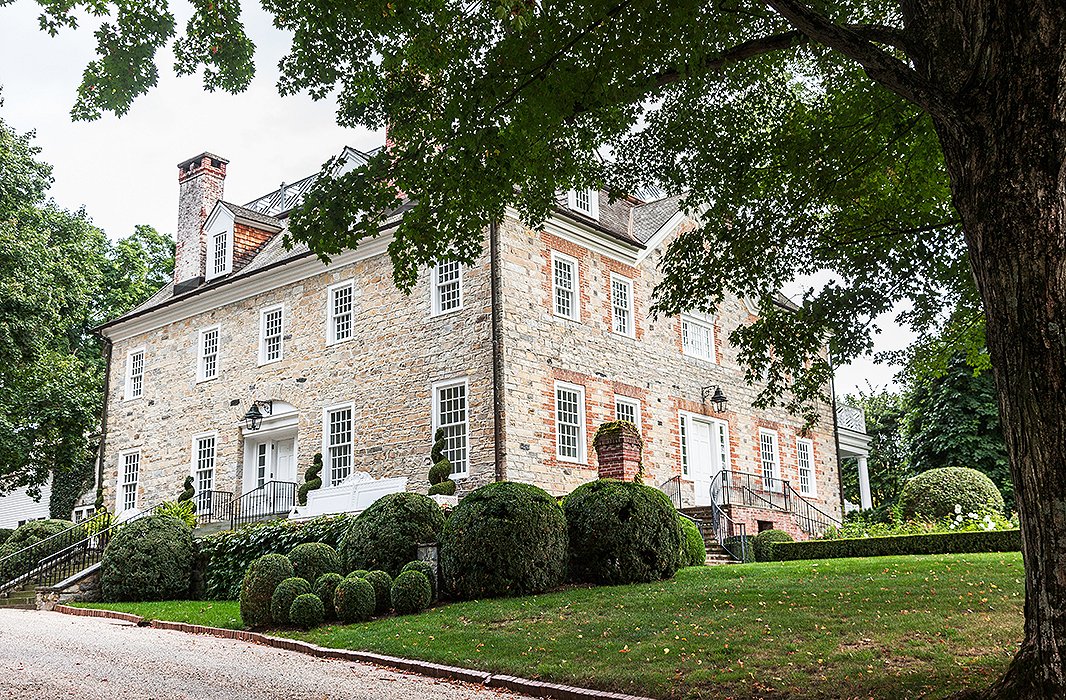 Creating Something That's Truly Hers
More than 30 years ago, Carolyne and her former husband bought Weatherstone, a 1765 Georgian mansion with a blend of neoclassical detailing and some Colonial notes (low ceilings, for example). She loved every inch, and over the years Weatherstone carried her through a divorce and all the rerooting that comes with it.
Then, in 1999, an electrical fire burned the original home to the ground. Carolyne's devastation was intense: "The shock was so sad, I thought about leaving it. Then I thought, This could be a window to creating something that's truly mine. By then, I was divorced with no children, so I didn't need lots of extra rooms." She decided to rebuild it in a pure Georgian form, with neoclassical architectural notes—pilasters, graceful arches—throughout, with no more low ceilings. And she decided to devote square footage to one dramatic, two-story great room, which you walk into when you first come inside. "I'd always admired a two-story room in a New York apartment and thought that would be magical," she says. Carolyne sold her Paris apartment to remain in Connecticut and stay hands-on during the entire construction process.
The shock was so sad, I thought about leaving it. Then I thought, This could be a window to creating something that's truly mine.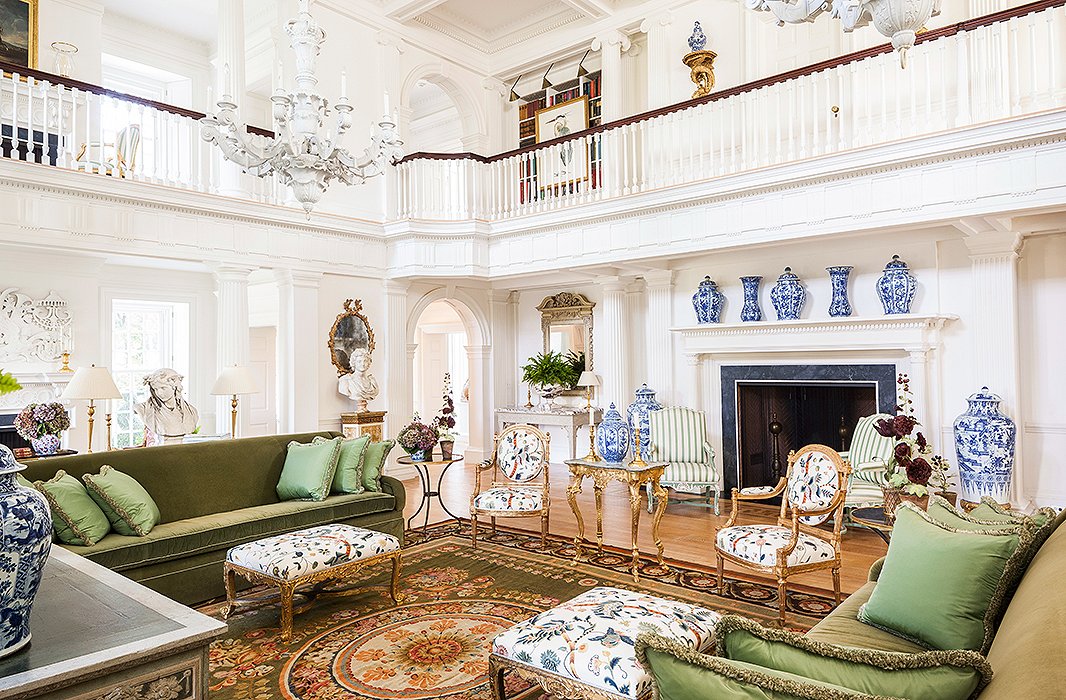 Returning to the Classics
"Classicism is my great love," Carolyne says. "I wanted the whole classical order, down to the Corinthian columns." Basing a blueprint on ancient Greece—or rather, the neoclassical period of the mid-18th to mid-19th centuries—might seem lofty, but in Carolyne's hands, it became a design scheme that beautifully suits her independent lifestyle. "Classicism was born out of the humanities, and everything is done so that the human form is never diminished," she explains. "In very modern homes, I feel cold and alone. But I never feel alone in these rooms." And with 16 windows in the great room, she managed to banish any darkness. "The light gets extraordinary," she says.
While the original house had lots of darker English mahogany furniture, Carolyne wanted these furnishings to be light. Starting with Gustavian furniture—with all of its airy painted tones—she expanded to painted furniture from Italy, France, and England. All of it suits the delicate lines of the neoclassical architectural backdrop. "The latest my furniture goes is about 1825," she says.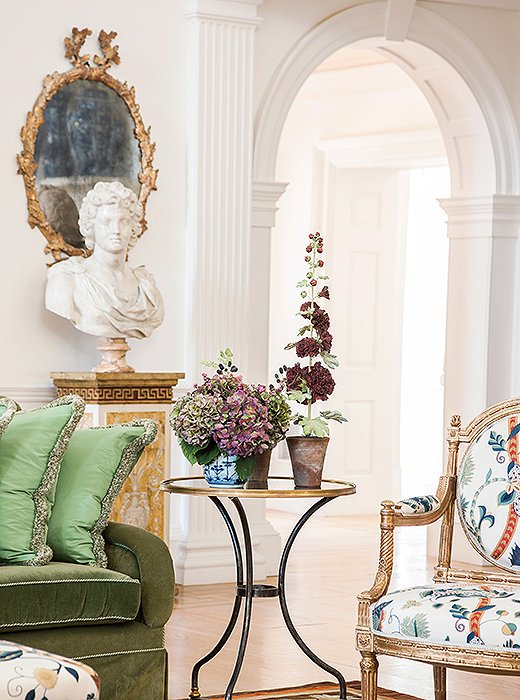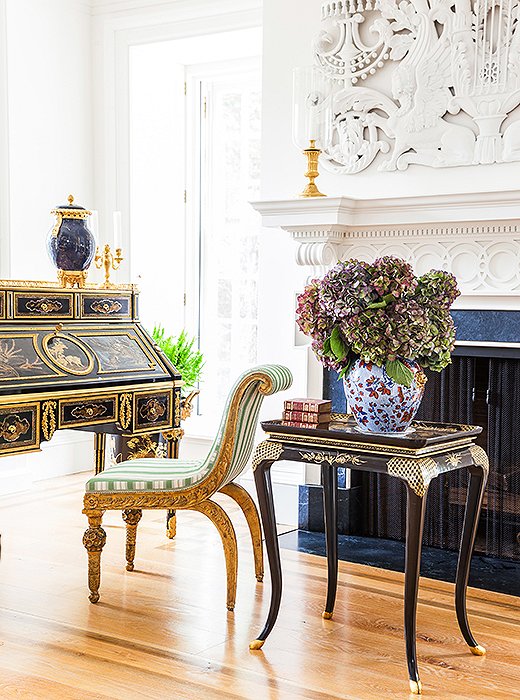 In very modern homes, I feel cold and alone. I never feel alone in these rooms.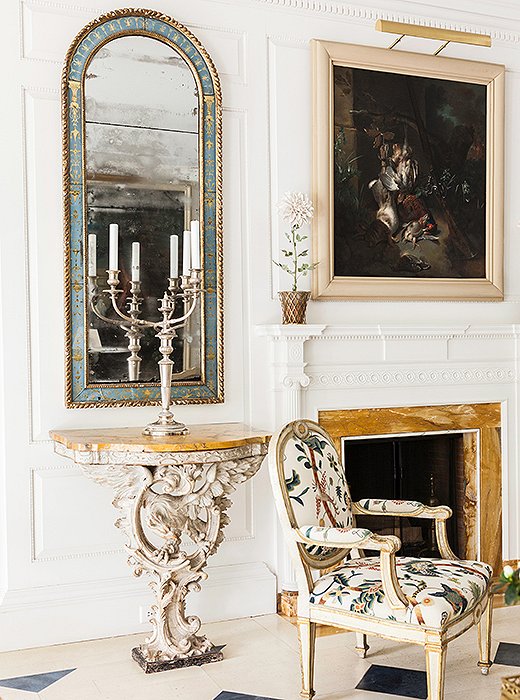 Getting the Morning Light
"I realized that a formal dining room is a waste of space. I'd walk past this big unused dining table and feel a bit depressed," Carolyne says, so out went the table and in came an airy morning room, to take advantage of the eastern light and parterre-facing views. In the same vein, she had the floors, which had been a dark mahogany, painted a navy-and-white pattern. "Painted floors bring so much light and reflectivity. I just love them. "
As for her dinner parties, now they take advantage of the full home. She'll move tables into rooms depending on the season and the gathering, and voilà: instant dining room. As she explains it, "Someone once told me, 'You live very informally in a very formal house,' and I think that's quite true."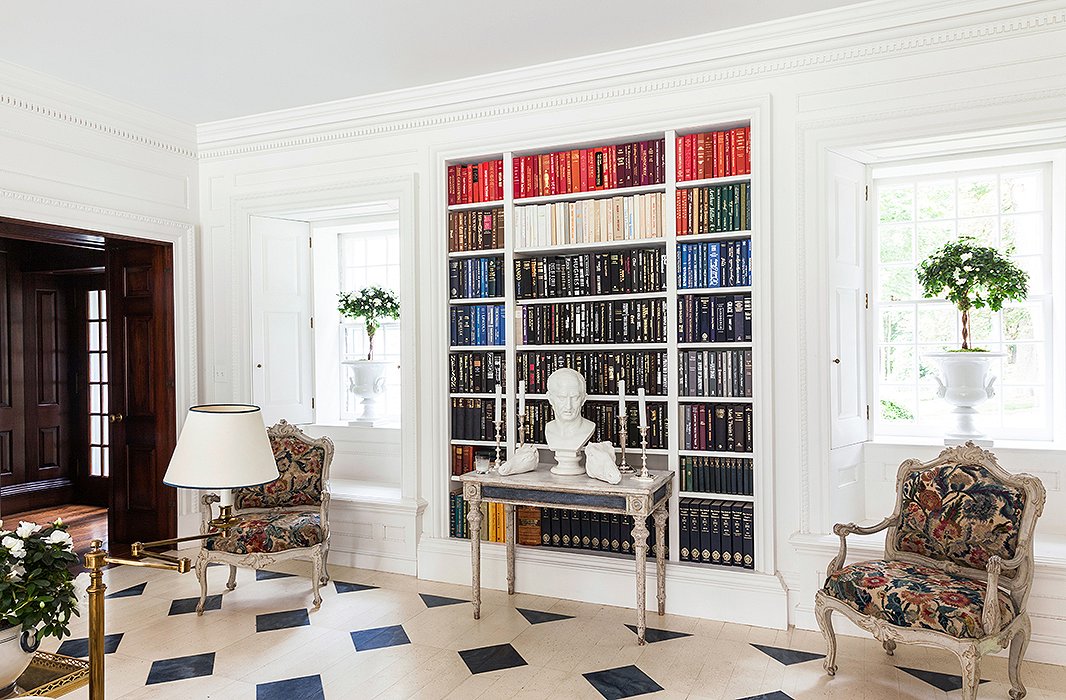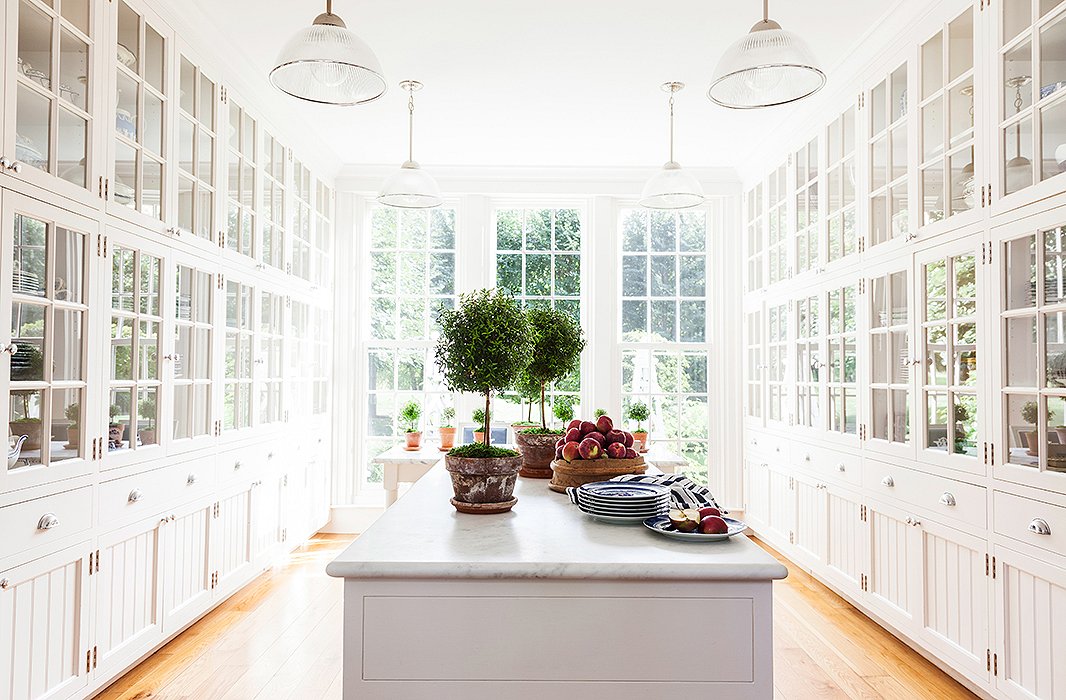 Up and Out the Door
Carolyne's only in her breakfast room briefly—"I'm up at 6 a.m., put on a pot of coffee, and take the dogs outside to walk the gardens," she says. While she's had as many as 13 dogs, she has 8 at the moment. "It ebbs and flows because people might get a divorce and their dog needs a home, or I might find a rescue." Recently she bought an entire litter of Havanese.
The breakfast room does play a key role, however, since Carolyne's vast stores of china are kept there. "I do use good dishes all the time. What's the point otherwise? Although there's one beautiful, dreadfully expensive 18th-century French set that I use very judiciously. I hate to think something's lasted all those centuries and then gets chipped at my house," she says.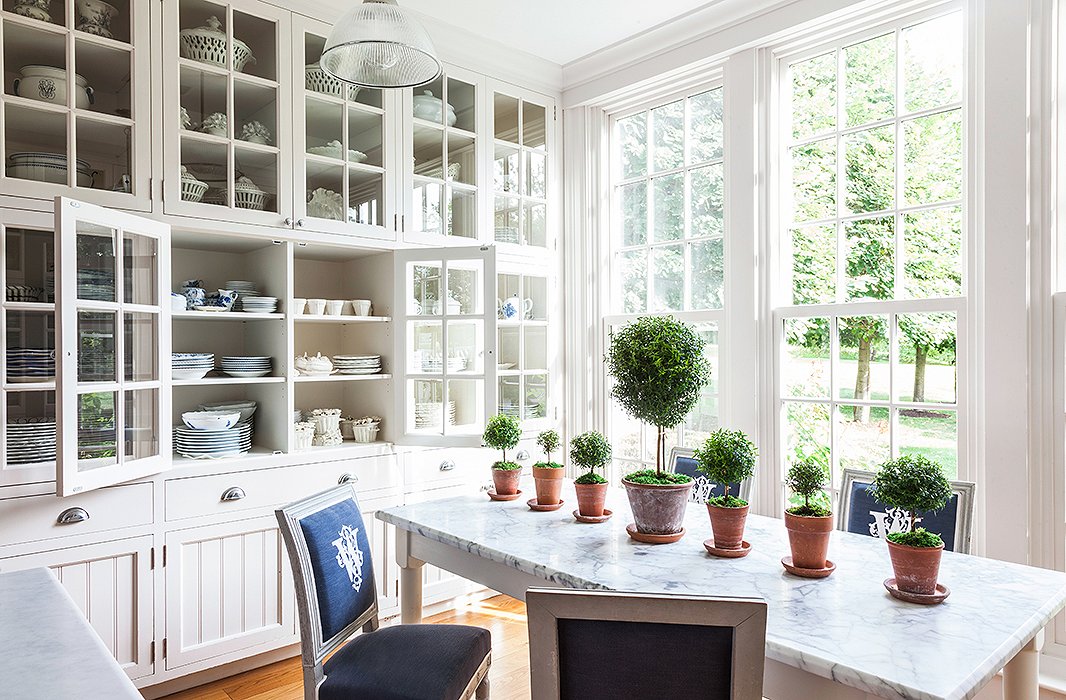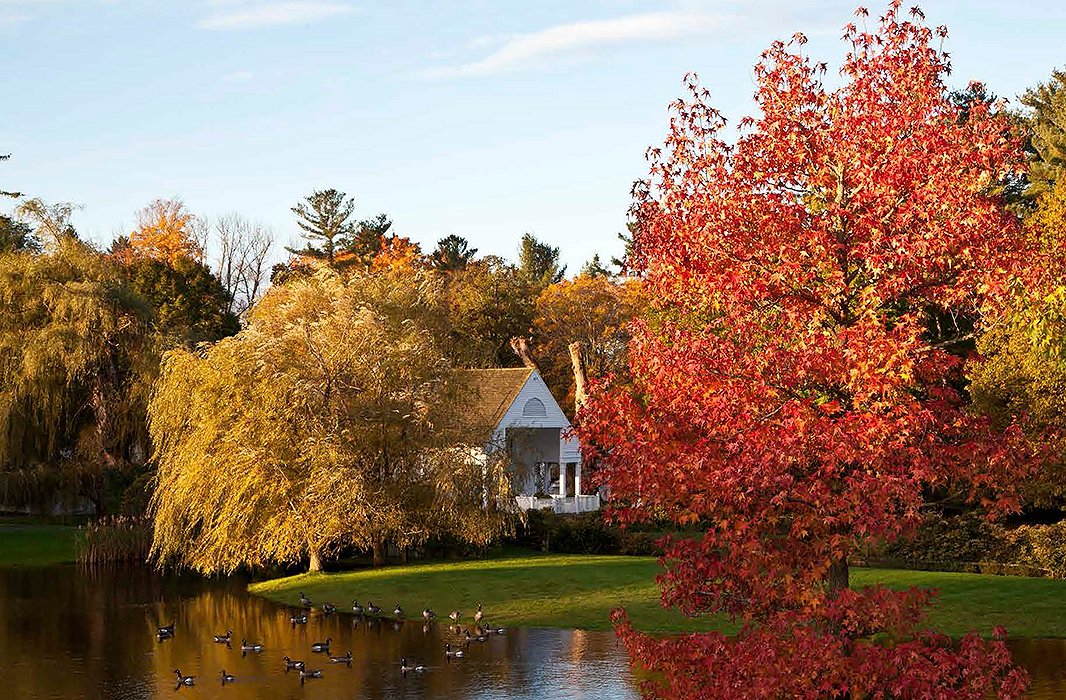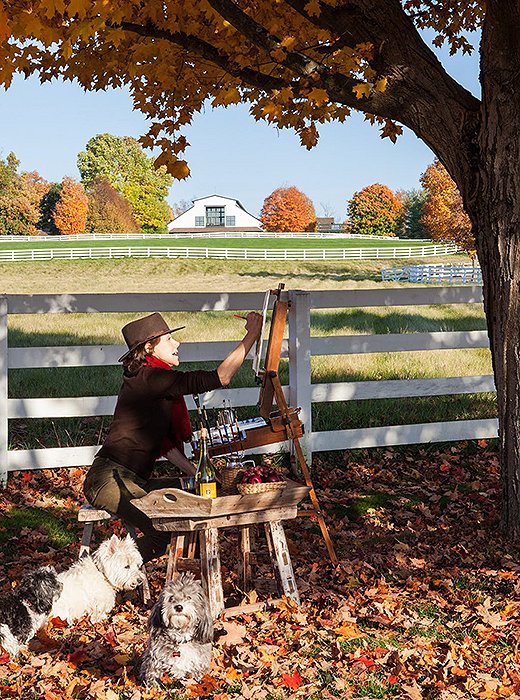 At Home Outdoors
Carolyne's newest book, At Home in the Garden, puts forth a new personal philosophy about the garden. "It's not from the perspective from a landscape architect or garden designer," she explains. "It's the fact that my life is lived out there, taking care of it all. I wanted to show the wholeness of the garden, that this is a whole canvas to live, to entertain, to be creative, to design." She also wanted to strip away the emphasis on perfection, which is out of place somewhere as alive as a garden. "Sometimes, myself included, you're looking at these beautiful gardens and think, How do you ever achieve that? You have to be honest and say there are many failures too."
In spite of the many formalities of her home and garden design, she says the flowers remain at the heart of things, always. "When I was a little girl, I'd make corsages from my grandmother's flowers. For me, in spite of all the other elements, it's always really about my love for flowers."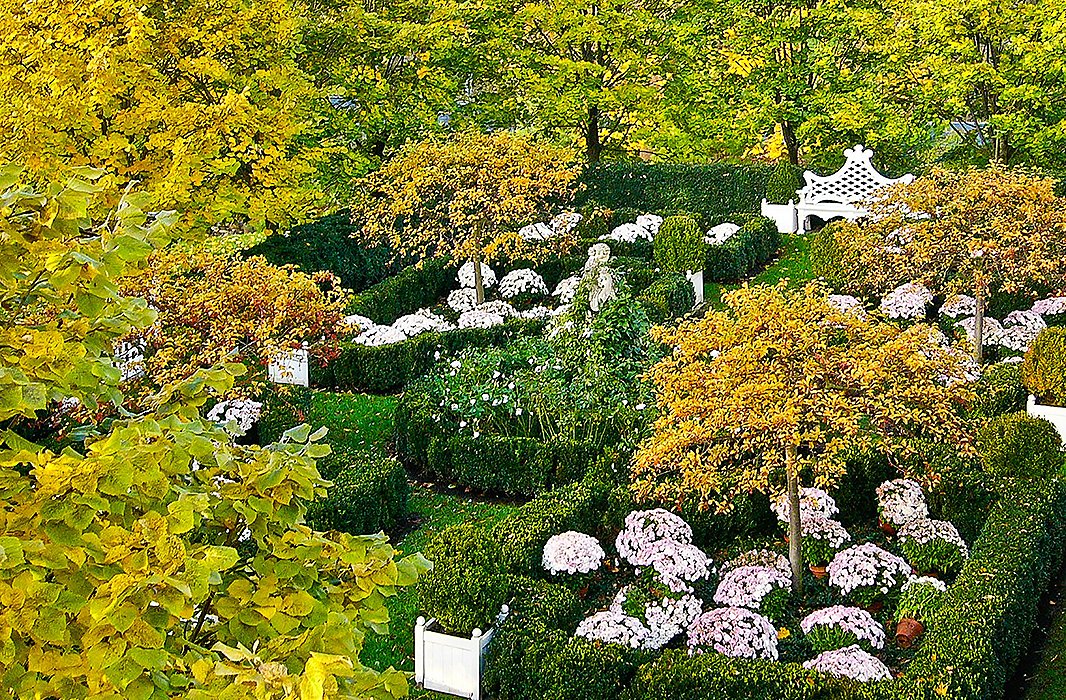 Until I made my first trip to Europe, the term 'formal garden' was to me an oxymoron. Gardens were places where you ate tomatoes off the vine with one hand and pulled up carrots with the other.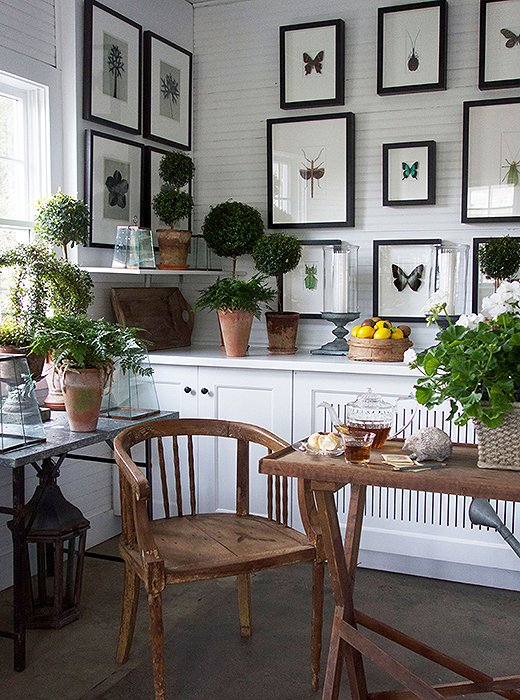 A Romantic Outdoor Escape
As her original greenhouse became more antique than functional, Carolyne decided not to do a labor-intensive restoration: "With old things, once you start chipping away, you often discover it will all fall away." Instead she decorated it romantically and whimsically, creating an entire wall of preserved butterflies.
Meanwhile, a hoop house became the place where all the gardening action happens and many of the plants spend their winters.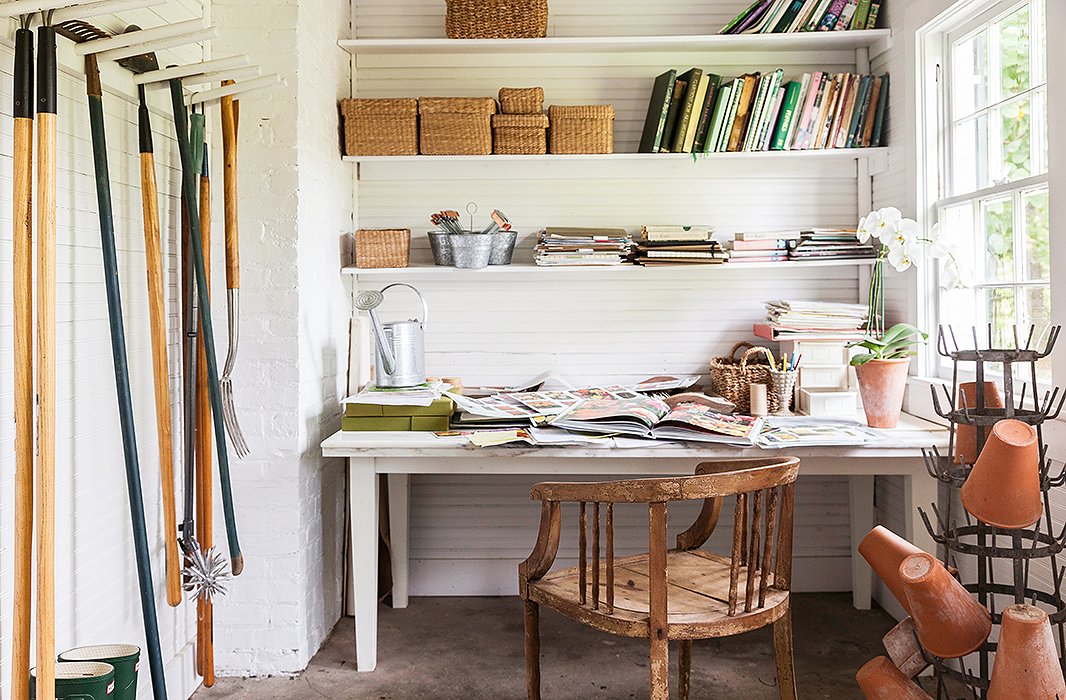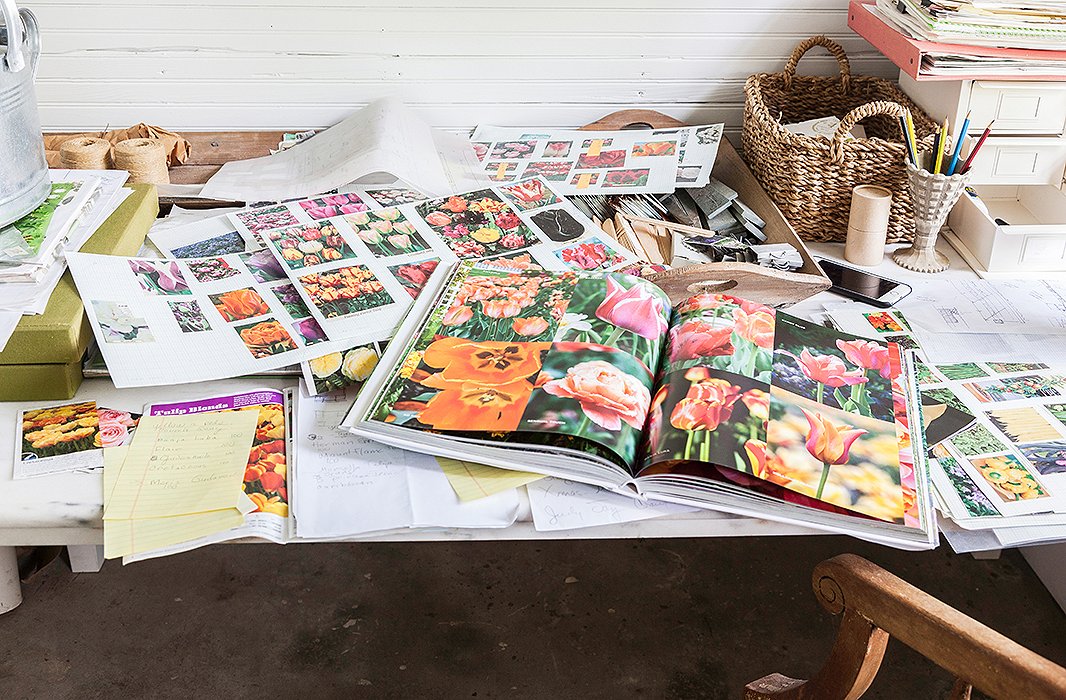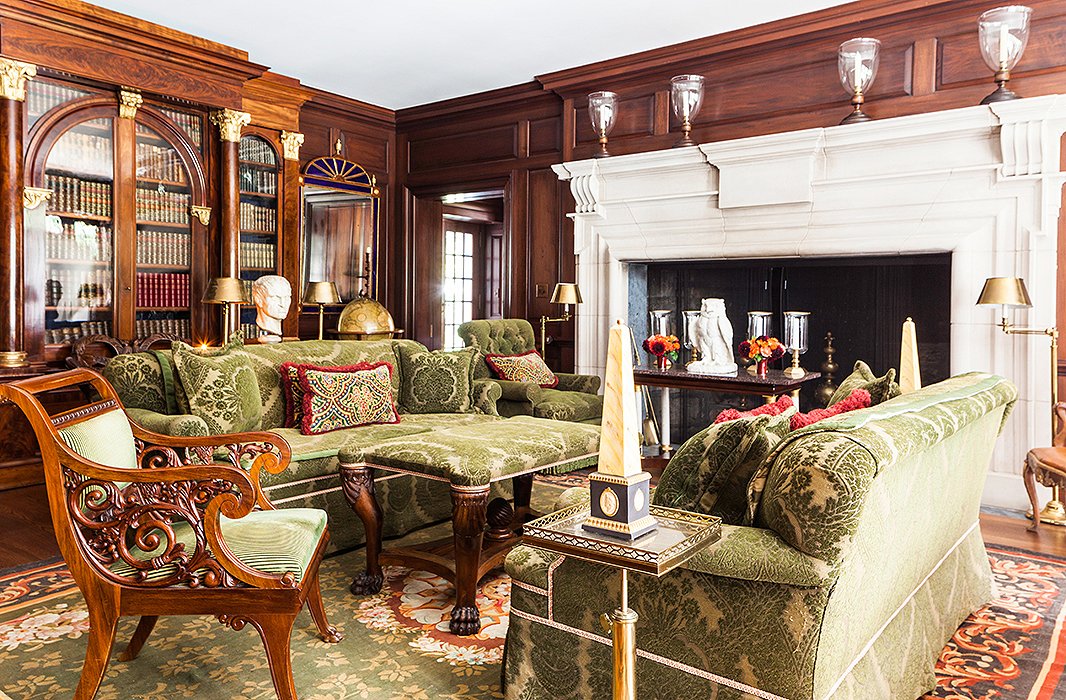 An Evening Retreat
At the end of a day, there's nothing like a proper retreat. "I wanted one cozy room," Carolyne says of her wood-paneled library. "When you're down or tired, you need a retreat." After a big snowstorm knocked the power out, Carolyne realized how lovely it was to light rooms by candle—"That became one of my favorite nights." Since then, she filled this room and others with hurricane lamps, which she loves for their weighty elegance.
While she often pulls in a table here for a cozy dinner party, this room is a favorite of hers for an off-duty night of television. "I've never seen a Kardashian anything, but I love espionage and thrillers. I'm totally in love with Scandal."
I wanted one cozy room. When you're down or tired, you need a retreat.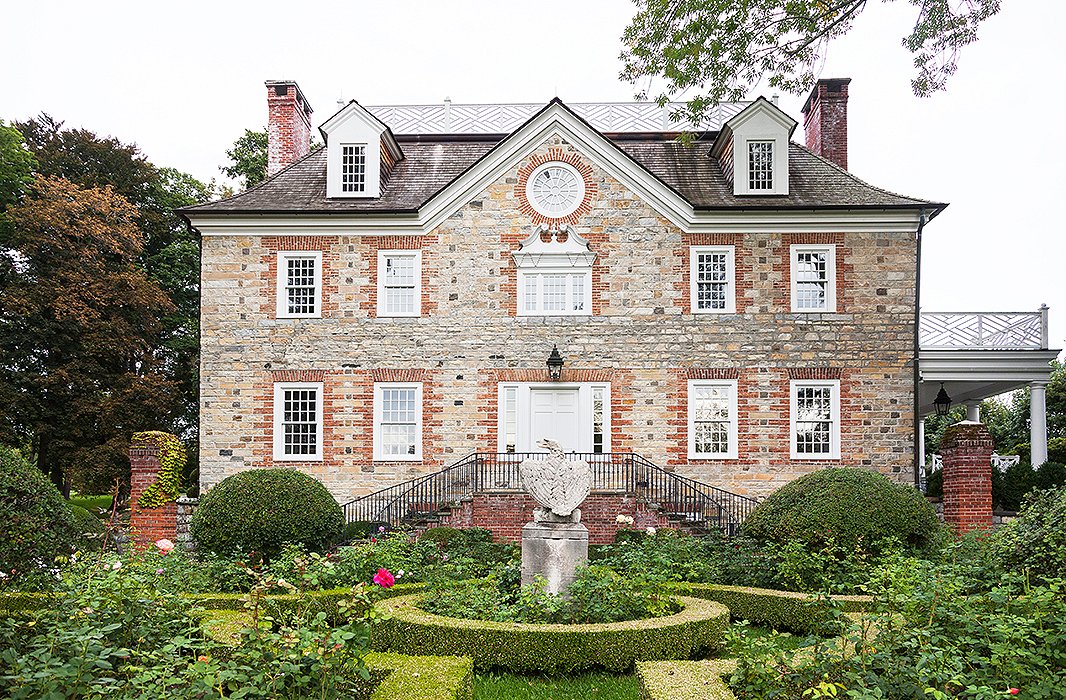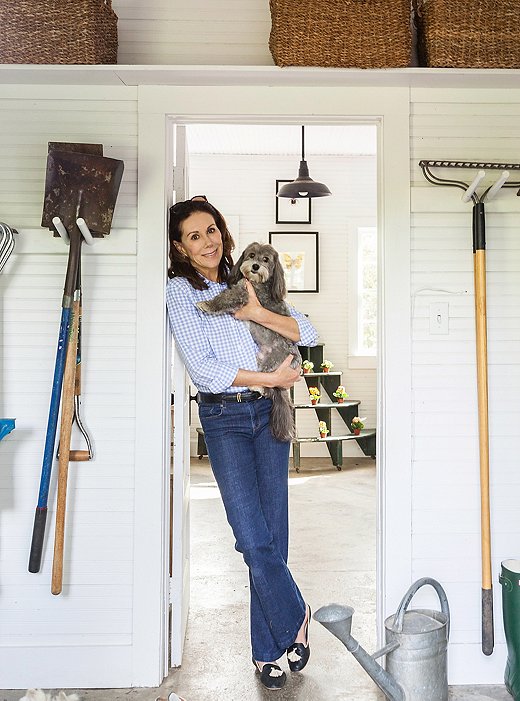 Work, but Happy Work
Though Carolyne grew up in Missouri, unaware of formal gardens and dreaming "of being a fairy princess with a tiara," she has long since fashioned her life around her passions for interiors, for flowers, for beautiful things. It has all taken her hard work, steady focus, and a driving passion. "It's a luxury and a blessing to have these homes, but it comes with a lot of responsibility and work. Nothing happens by itself. I have a lot of help, but I don't want to turn everything over to a staff. I want to be totally involved, since I love it all." That means, while she sets about restoring a Charleston mansion, she's "the Queen of Trader Joe's and Lowe's," going there twice a day to keep the project going.
As for how and where she finds peace—besides a morning walk through the garden—she says, "I can't stop hopping along. I'm working on six projects, and my brain is everywhere at once. I flunked meditation, but watercoloring for me is the only time I'm quiet and focused. I do need to fight for more time for watercoloring."