Interior design was always part of the plan for Michelle Smith—the native Southerner jokes that she grew up in a Home Depot because her mom was always renovating houses—but she kicked off her career as a lawyer. "I thought design was going to be something I did later in life," she says. In 2009, when she was practicing law in New York City, she found the perfect challenge: a two-bedroom apartment in a 1930s building whose previous tenant hadn't fixed anything in 60 years. She bought it and quickly realized she enjoyed renovating more than reviewing court documents.
Smith opened her own boutique design firm, Studio MRS, in 2012 and has worked on numerous projects since then, including the home and showroom of fashion world luminary Prabal Gurung, and her Sag Harbor weekend home, but this airy 1,500-square-foot Union Square apartment can be seen as her thesis. It's like the decor version of Smith's clean, chic personal style, down to her commitment to neutrals and perfectly imperfect vintage accents.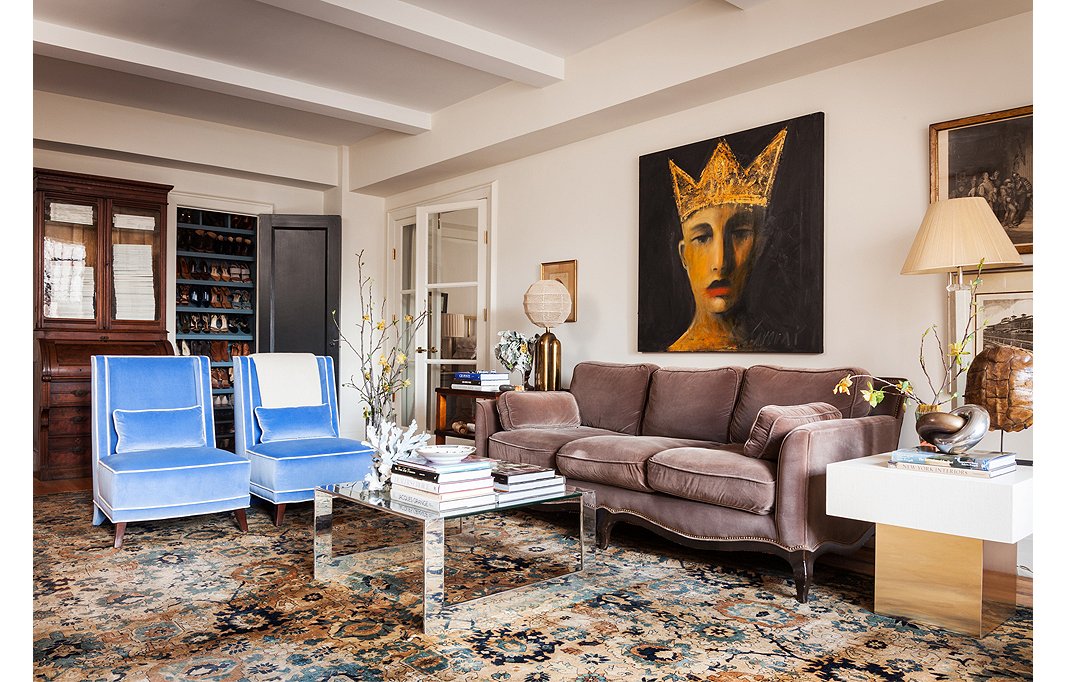 Personalizing Your Pad
"If you buy something you love, there's always a place for it," says Smith, who reupholstered two Baker slipper chairs from her previous apartment in plush periwinkle velvet to give them new life. She pulled her color inspiration from the blue in her rug, a purchase that proves her passion for good design: "I found it at a trade-only place and had to beg them to sell it to me." The pieces add a rare pop of color in the otherwise neutral living room painted one of Smith's favorite colors, Benjamin Moore Gray Mist. In a nod to her love of fashion, a shallow linen closet was converted into a dreamy living room shoe closet, complete with blue interior.
One of my favorite things is curling up with design magazines and a cup of coffee.
Creative Sparks
Smith updated the original limestone fireplace with a more convenient gas insert, making it a great place to daydream. She uses the mantel to display pretty objects such as silver Georg Jensen candlesticks and "dry and creepy" natural elements like Spanish moss. The art arrangement—hung low and close together—is a Smith signature. "I like to layer art one on top of the other, especially if it's all flea market junk," says Smith. "I didn't have any grand piece to fill the whole space over the fireplace, but two pictures together look prettier."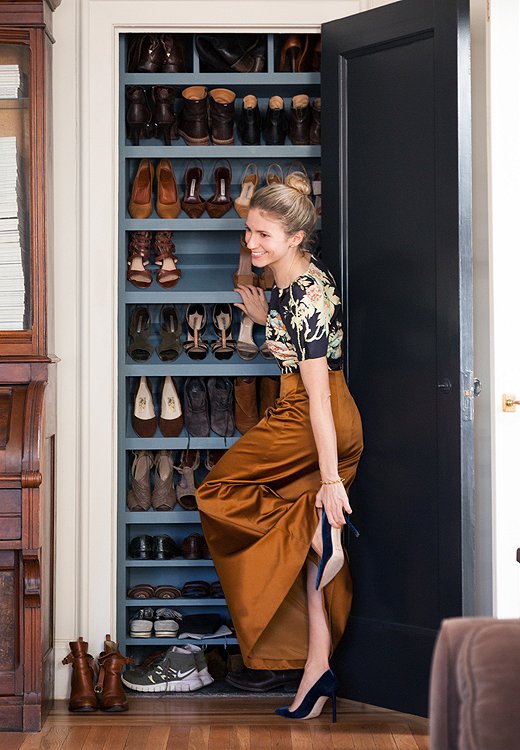 I don't really think about a style; it just kind of happens. When it's my own place, I just have to love each thing.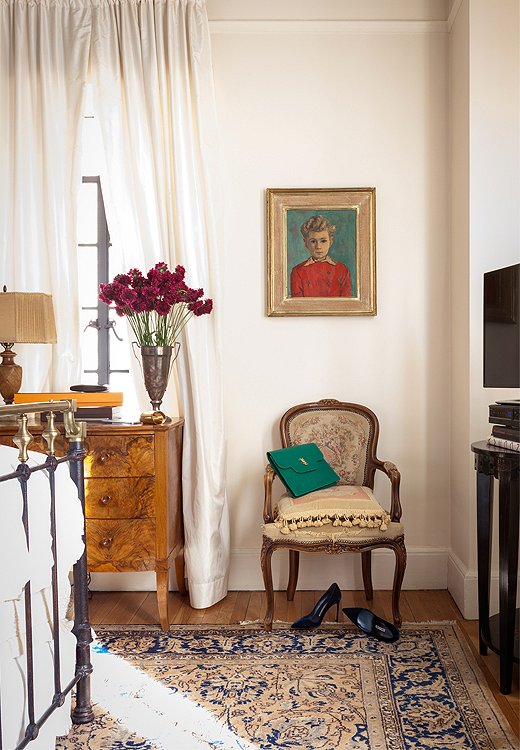 Masterful Mornings
Mixed metals including a bronze spray-painted table that Smith borrowed from her grandfather and an antique queen-size bed create a feminine look in the master bedroom, which she uses her for more than just sleeping. "I'm never home except in the mornings, so I wake up at like 5:30 or 6 a.m. just to have two hours of morning to myself," she says. "I have coffee and my computer, iPad, and phone in bed with the TV on. It's my favorite time."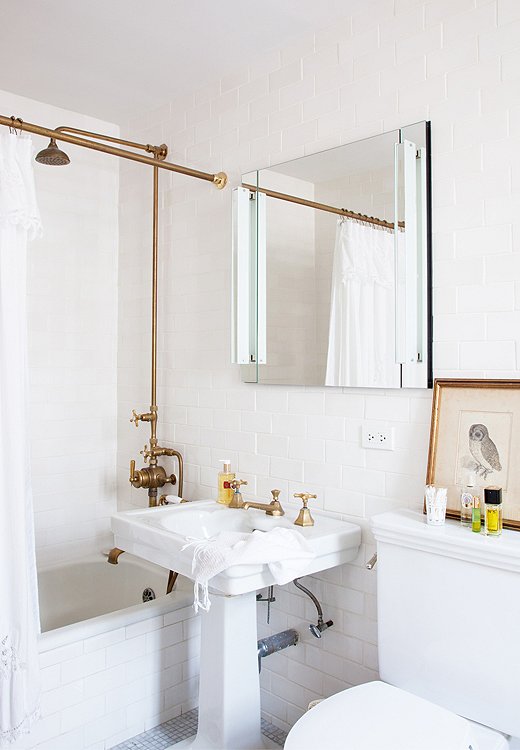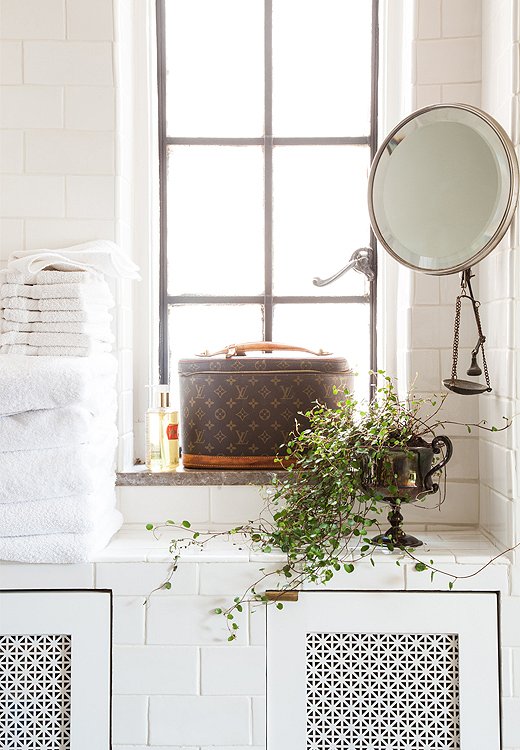 Guest Central
Anyone who has lived in New York City knows that having a second bedroom can be both a blessing and a curse. "I always have houseguests who stay forever. Because I have a second bedroom, they never go home," say Smith. Of course, many of her guests, including her mother, are very welcome, and Smith makes sure the bed is made just so for their arrival. "I think down comforters can look messy, so I do a tight coverlet and just fold the comforter on the bottom so that it's intentionally messy but you have some neatness to balance it."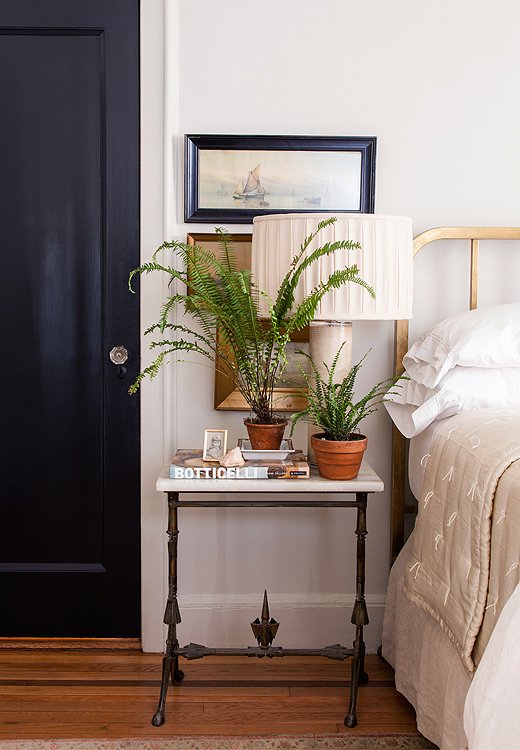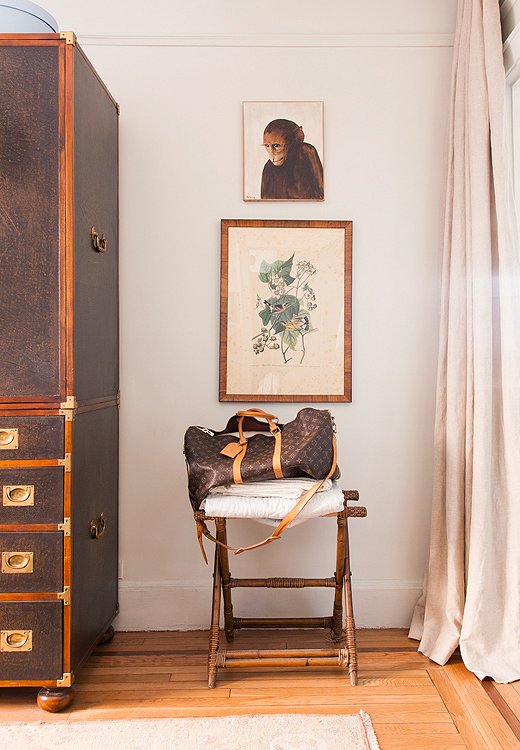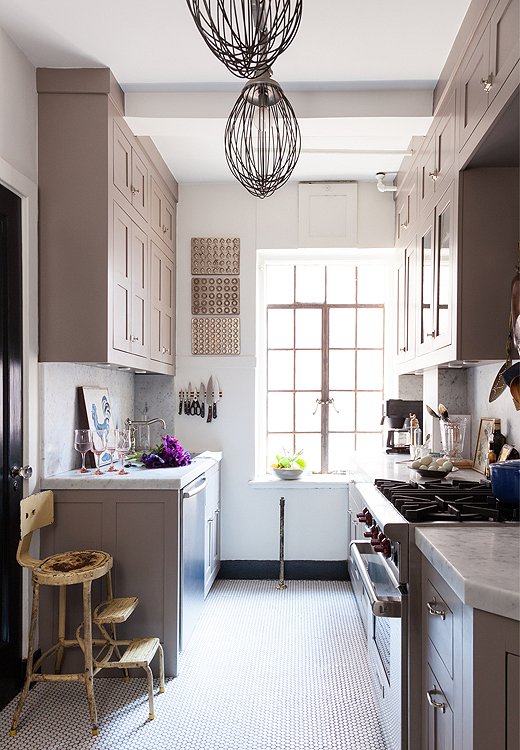 Kitchen Confidential
Don't let the Wolf stove fool you: Coffee is usually the only thing Smith makes in the kitchen, unless she's plating takeout. "I'm not a big cook by myself," she says. "Any time I can make it an event or a party, like for the Oscars or the Super Bowl, I'll cook." But the kitchen's light-flooded original casement windows and witty repurposed industrial whisk "lampshades" make it a nice hangout spot. With the help of a contractor, Smith put up inset-frame Shaker-style cabinets painted Farrow & Ball Charleston Gray (the color she chose for her office). "If you want a color that goes with everything, that's it," she says.
I love how much sun I get in my apartment. You can open the windows and feel like you're outside on a pretty day.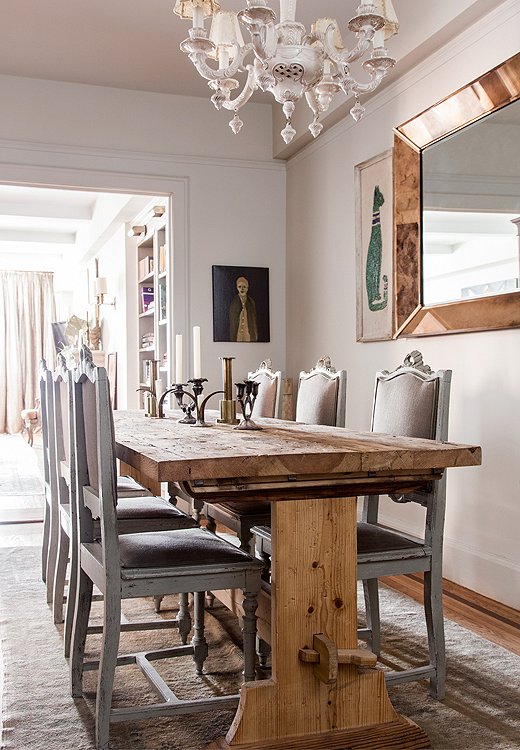 A Place to Gather 
Friends often gather around the rustic Maine-made trestle table to eat. "We eat in the dining room, but we always end up in the living room," says Smith. "I've had proper parties for 35 people and it still feels okay to just use the whole space." The wood of the table is nicely balanced by fancy chairs bought at an estate sale in New Orleans, a decorative chandelier, and a copper mirror from Marburger Farm Antique Show in Texas.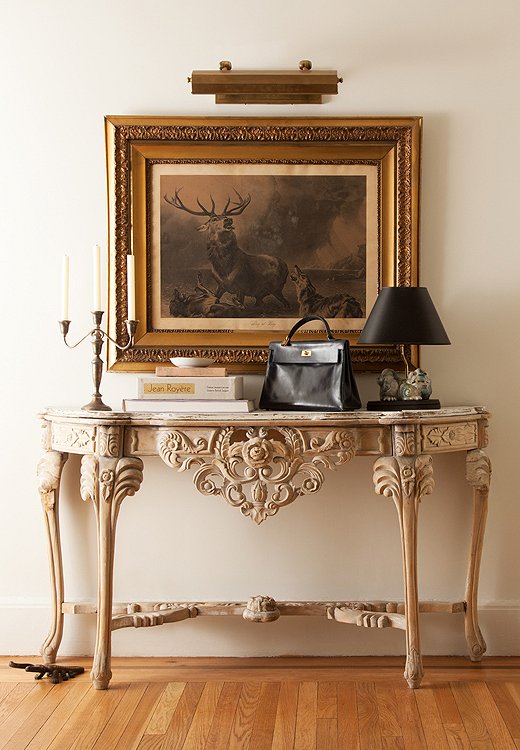 If you buy something you love, there's always a place for it.