When your dining table isn't in use, a centerpiece can transform it from an empty plane to a beautiful focal point. And when your dining table is in use, a centerpiece can make the set table feel complete. But the centerpiece that works when the table is not being used might not be optimal for a dinner party or holiday get-together. 
The number-one reason a decorative centerpiece wouldn't work during a meal is height. A voluptuous two-foot-high floral arrangement definitely brings the drama, but it also makes conversation with guests sitting opposite almost impossible. Generally speaking, centerpieces more than a foot tall will block guests' view of their companions and inhibit chat—not what you want at a dinner table (unless you've seated the Hatfields on one side and the McCoys on the other).
Below, a few other tips for dining centerpieces:
• Factor in width as well as height. Especially on a long rectangular table, a single vase or bowl might feel skimpy. To avoid that, opt for several vignettes spaced an equal distance apart—for an 80-inch table, that might mean an arrangement in the center and additional ones 20 inches to the left and 20 inches to the right. Or you could set up a row of smaller items such as bud vases or votive candles winding from one end of the table to the other.
• If using flowers, go for unscented ones. Sunflowers, calla lilies, ranunculus, and tulips are among the flowers that make a vivid visual impact without imparting a fragrance that might compete with the aroma of your meal or give sensitive guests a headache. Faux florals are another option. 
• Consider the view from all sides. If your centerpiece is lavishly adorned on the front but bare on the back, half of your guests will be treated to a less-than-lovely view.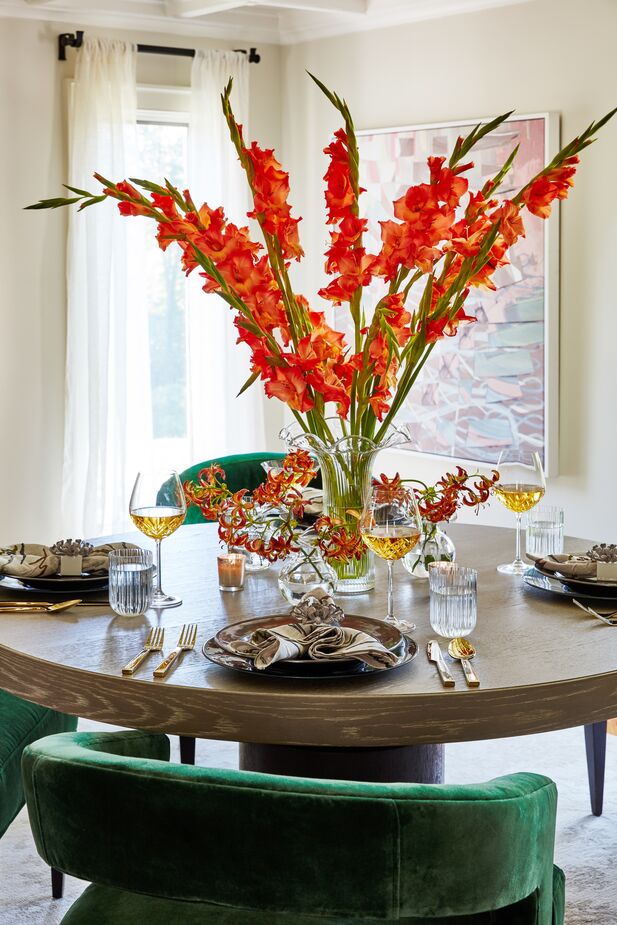 • Think beyond blooms when bringing the outdoors in. Flower arrangements have long been a go-to, but there are other ways to bring nature to the table. Pretty pots of live herbs that complement the meal will enhance the food's aroma, and you could even encourage guests to help themselves and add fresh basil or rosemary to their dish. Also consider greenery in the form of a garland used as a runner or a wreath encircling a bowl of fruit. And speaking of bowls…
• Bowl them over. An abundant bowl of fruit is second only to a floral arrangement as a centerpiece of choice—but why stop at fruit? Fill a glass bowl or two with objects related to the evening's theme, if there is one. For Christmas a bowl of colorful ornaments is a no-brainer; one brimming with pinecones or miniature gourds is lovely for autumnal feasts. Marbles in favorite colors, seashells, pebbles, corks, or even vintage buttons can turn a bowl into a conversation piece as well as a centerpiece. Alternatively, place those items beneath a cloche or in a hurricane candleholder for a similar effect.
• Think way outside the box. Whether it's picture frames with photos of past gatherings, a collection of vintage wind-up toys, or origami swans on a cake stand, just about any assortment of objects can be arranged to make a centerpiece, especially for a gathering of like-minded friends.