Nurseries are inherently dreamy spaces—imaginative and full of anticipation—but it can be tricky to balance the playful pieces with all the practical stuff. Never ones to shy away from a design challenge, we leapt at the chance to create a stylish, clever, and übercomfortable nursery for supermodel Coco Rocha's first child, daughter Ioni, who arrived on March 28. Getting down to business (there's nothing like having a due date for a deadline!), our design wiz Alex Reid set about designing a nursery that felt right at home among the Pop art, modern collector's pieces, and striking black-and-white contrasts that fill the rest of the cottage Coco shares with her husband, artist James Conran, just outside New York City. Along the way, he solved the design dilemma of creating a nursery that's both functional and chic, and the finished space is perfectly suited to its sweet occupant, who has no doubt been bequeathed her mom's style gene.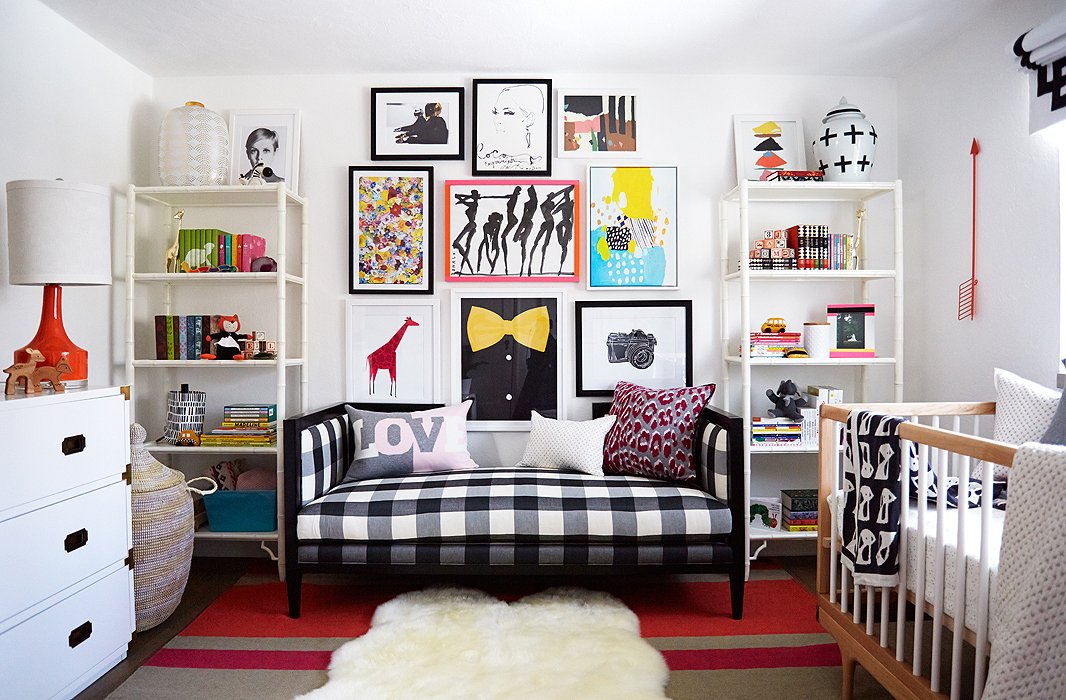 The Vision
Coco was thrilled to be having a girl, but her vision for her daughter's room was far from canopy beds and bubblegum-colored walls. "I'd grown up with a very girly, pink room and I knew I didn't want princessy pink for my daughter," she says. "I also didn't want a theme, like 'zoo' or 'space'—themes feel so '90s to me! I really think children can be stimulated by all sorts of colors and patterns, whether it's themed or not." Most of all, she wanted a "superrelaxing, comfortable room, where we could all have fun."
Coco had ordered a crib, in a modern maple-on-white design, and the rest of the room was empty. Inspired by the couple's beautiful inspiration boards, which were full of contemporary design and Mad Men midcentury chic, Alex channeled their love for graphic contrast and modernism into the space. As Coco says, "We live in nature, in an older house, so we want the inside to reflect our modern take. It's sleek lines, a lot of creams, taupes, grays, and pops of color."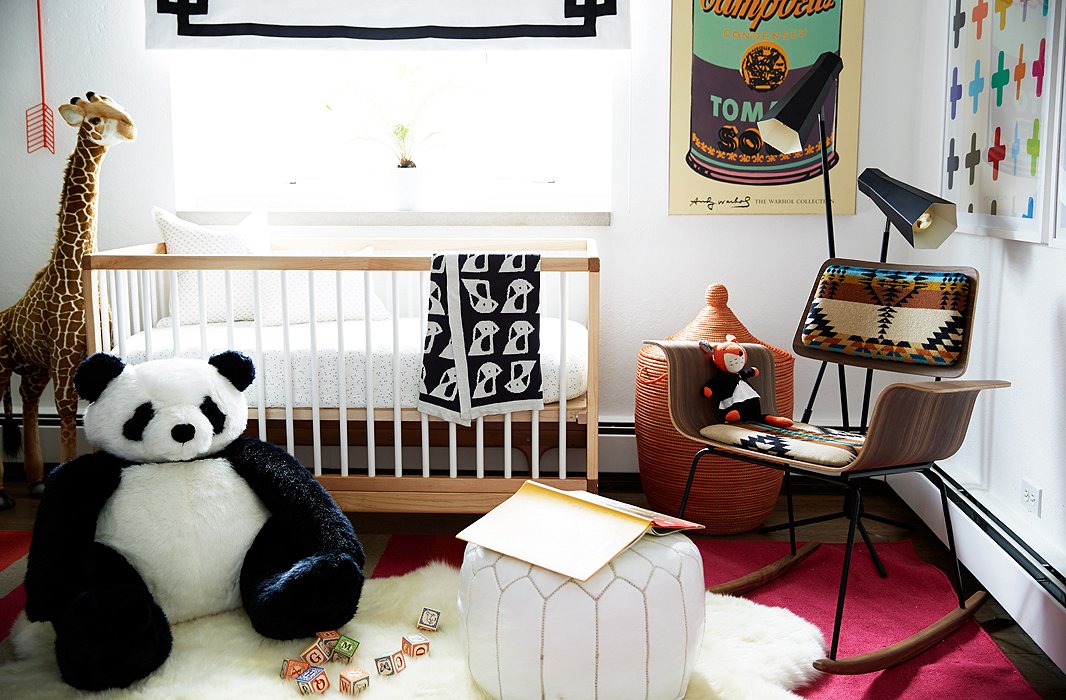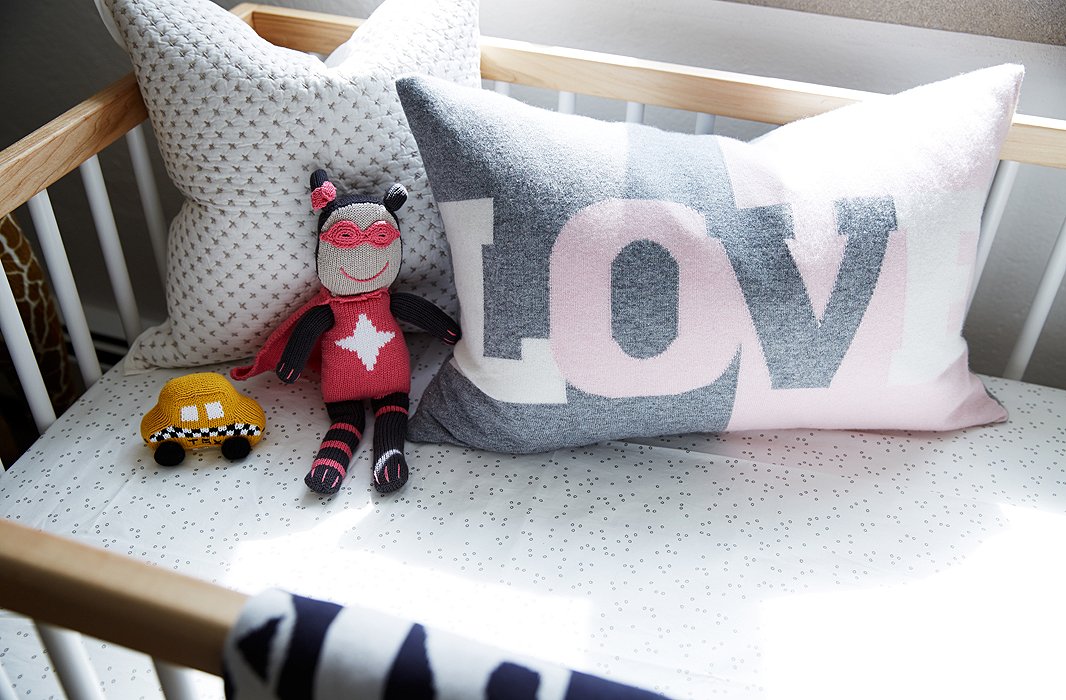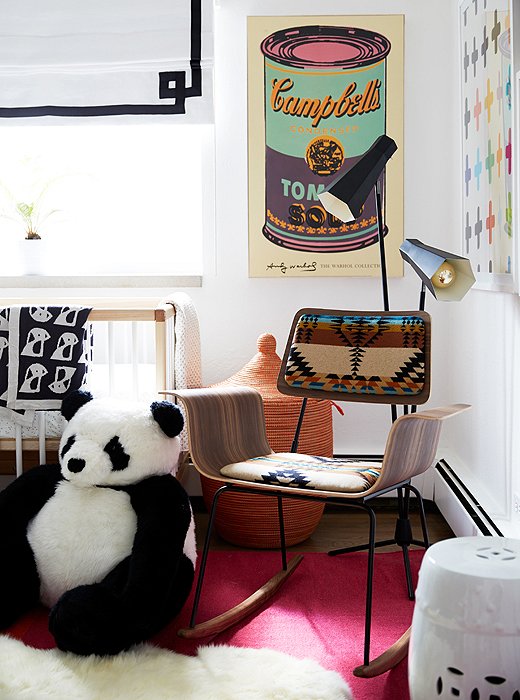 Thinking Long Term
When choosing pieces, the goal was to avoid things that would outlive their purpose once the baby was a toddler (read: no gliders). "Other than the crib, everything should be completely usable and not nursery-specific," Alex says. "And once you're done with the crib, give it to a friend!" Coco couldn't agree more: "If you take out the crib, you'd barely know this is a nursery. Our daughter may stay in it forever, or maybe one day I'll make it an office!" The room's daybed would dazzle in a guest bedroom, the mod rocking chair would look chic in the living room, and the dresser being used as the changing table could easily be used for chic storage elsewhere in the house.
I didn't want princessy pink for my daughter. I also didn't want a theme, like 'zoo' or 'space'—themes feel so '90s to me. I really think children can be stimulated by all sorts of colors and patterns.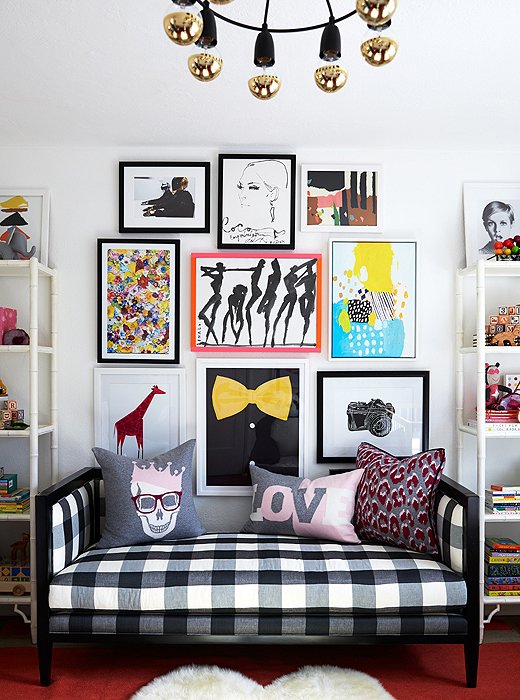 Learning to Love Color
The colors of the art, the rug, and the small accessories were decidedly amped up compared with those of the rest of the house. Coco loved the energizing colors: "Sometimes you need someone to help you step away from your specific point of view. Once the nursery was finished, we loved it so much and got inspired to bring more color to the rest of the house. We even spray-painted some busts in a neon yellow!"
A World of Pure Imagination
Étagères, or any open shelving, provide a perfect place to accessorize a kid's room, and Alex believes in "using every inch." Books are, of course, so special to collect for a child, and Coco had kept many of her own childhood books, including favorite copies of The Hungry Caterpillar and The Wheels on the Bus. Ioni's personal library was rounded out with fairy-tale anthologies and classics, stored on the shelves alongside eye-catching toys.
I love that this room is a party full of color. And it's also superrelaxing. I'm so excited to curl up on the sheepskin rug and read with our daughter.
Mini-Me Style
Most mothers-to-be will agree: Clothes shopping is one of the most fun parts. As soon as she found out she was having a girl, Coco's first thought was the clothes. And she realized, again, that she couldn't bring herself to purchase pink. She said, "My poor mother-in-law and mom, I told them that pink wasn't going to work. There can be some, but for me personally, I wear lots of black. I'm a model; black is my staple."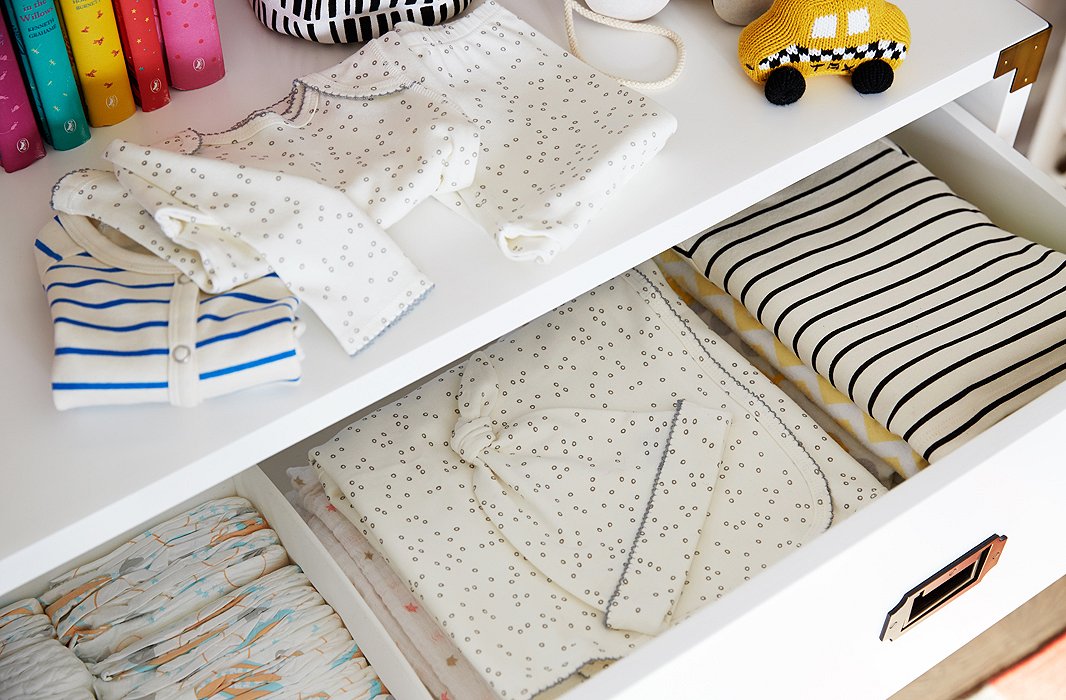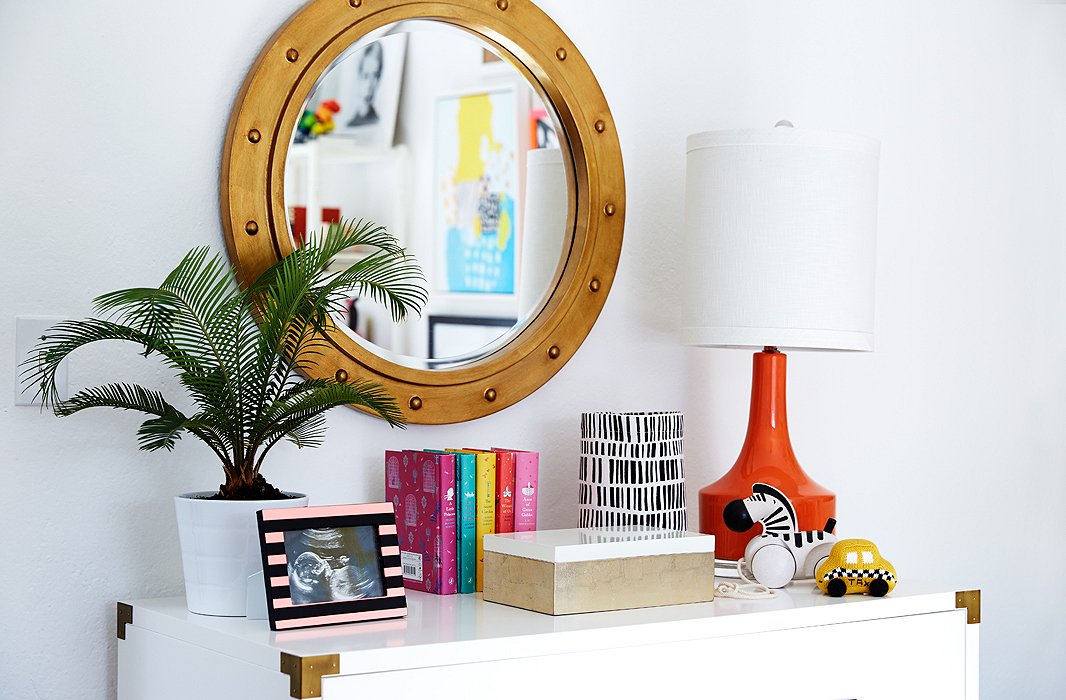 Coco's Secrets for a Happy Pregnancy
Be yourself. There's so much advice, but there's no perfect way to be pregnant, give birth, or care for your baby. It's up to what you're comfortable with—if you want to go all-organic and ban makeup during your pregnancy, go for it! I actually felt most comfortable and most like myself in heels, so that's what I wore.
Take good care. I think it's a big accomplishment to get through these nine months and stay fairly healthy. Normally we work out for a while and then get sick of it after a few weeks. I realized that I was doing it for someone else, and so I stuck with it—I stayed off coffee, ate my veggies, drank a ton of water.
You don't have to 180 your whole life. You can still be your fabulous self when pregnant. I traveled and worked—I don't think you have to just stay home and put your feet up. You do get much more tired, of course, but I think staying active gives you more energy.
Have super-supportive people around you. It's been wonderful to be taken care of before the baby. My mom and my mother-in-law have been here, making home-cooked food, keeping the house clean, and just giving so much great support so that we can focus on the baby.