There's no question that color comes with a serious intimidation factor—even if those colors are mostly neutral, and especially if painting walls are involved. We're here to show you that bringing color into your home doesn't have to be a daunting process; instead, it can bring out a new beauty in the rooms you use every day.
Read on for a breakdown of our current color palette obsessions, and learn exactly how to translate each one at home.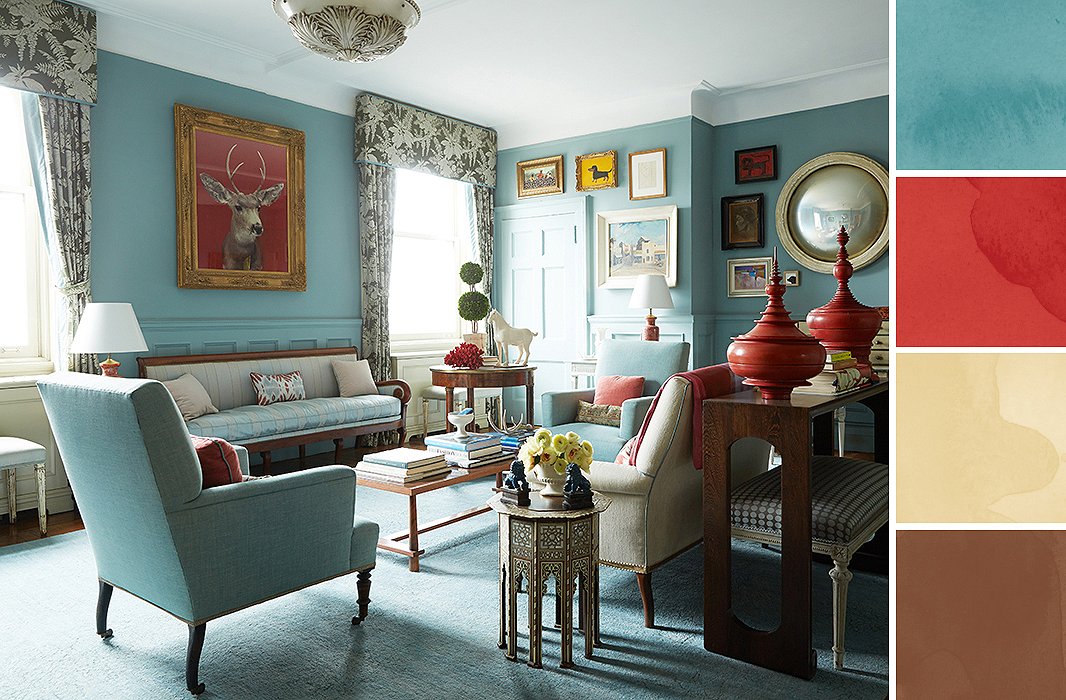 All in the Details
For a low-commitment approach to decorating with color, try sprinkling in just a few boldly hued details. You can easily move things around to achieve just the right balance, or swap pieces out should you ever wish to change the shade.
In this sophisticated living room, a pretty sky blue creates a refined foundation, set off by elegant furnishings and classic draperies. If you stopped there, you'd still have a beautiful room. Yet the addition of cherry red—through artwork, pillows, lamps, and decorative accents—takes the space to new heights of chic. The bold color lends the space a sense of energy and vitality while making the blue feel all the more lush by contrast.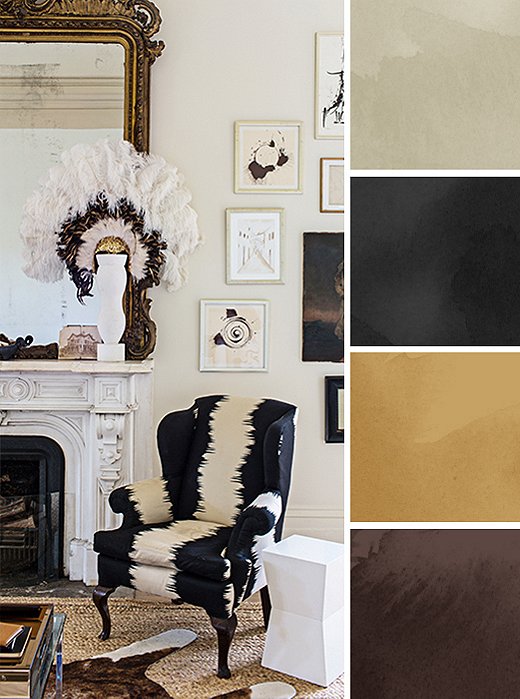 Warmth in Black and White
When you picture a black-and-white room, you might think stark and cold—but that doesn't have to be the case. We're loving a richly dimensional take on the palette, with plenty of texture and warm neutrals thrown into the mix.
How to pull off the look yourself? Start with a few key furniture pieces in black and white, such as this boldly patterned wingback chair and geometric accent table, then layer in pieces with texture and patina: a faded gilt mirror, a natural-fiber rug, and an earthy hide in a deep chocolate brown.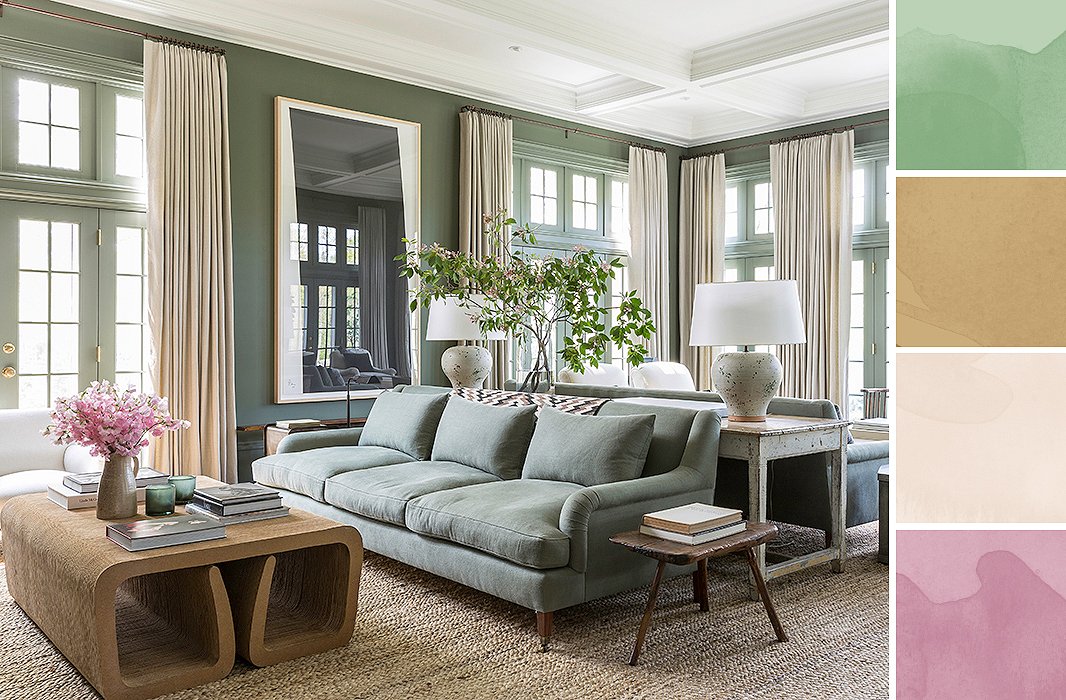 Seamless and Serene
Crave a more subtle, tonal look? Find a muted color that speaks to you, then carry it through from the walls to the upholstery to the accents. There's no tricky mixing-and-matching required, and the end result will feel cohesive and wonderfully enveloping.
We're fans of the soft sage green that colors this room's walls, trim, doors, and sofa upholstery as well as smaller pieces such as the glass candleholders. Awash in light and set off with creamy neutrals, the shade is utterly luminous. All that's needed are pink flowers for the perfect pop of contrast.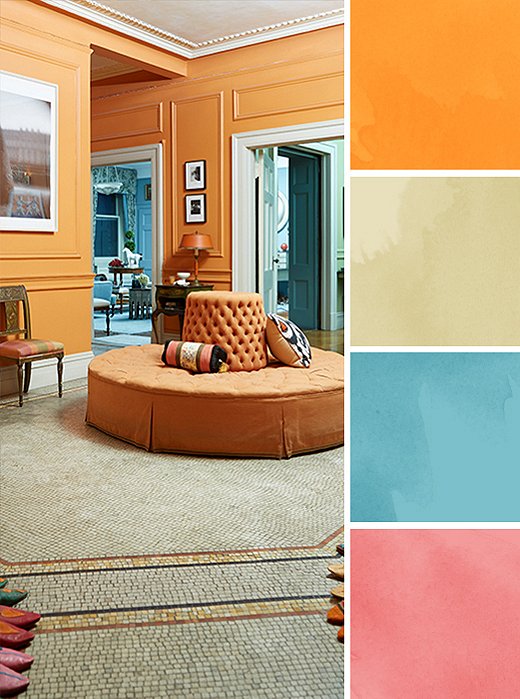 A Bold Entrance
While not for the color-shy, this look is more approachable than you might think. Small spaces such as the foyer or the powder room are ideal for experimenting with stronger hues, like this Hermès orange. Since you don't spend a ton of time in these rooms, you're less likely to tire of the shade. Plus, you'll get a happy kick of color each time you open the door.
This is an especially chic solve for windowless rooms, where a coat of paint can be truly transformative—turning a gloomy space into a radiant jewel box.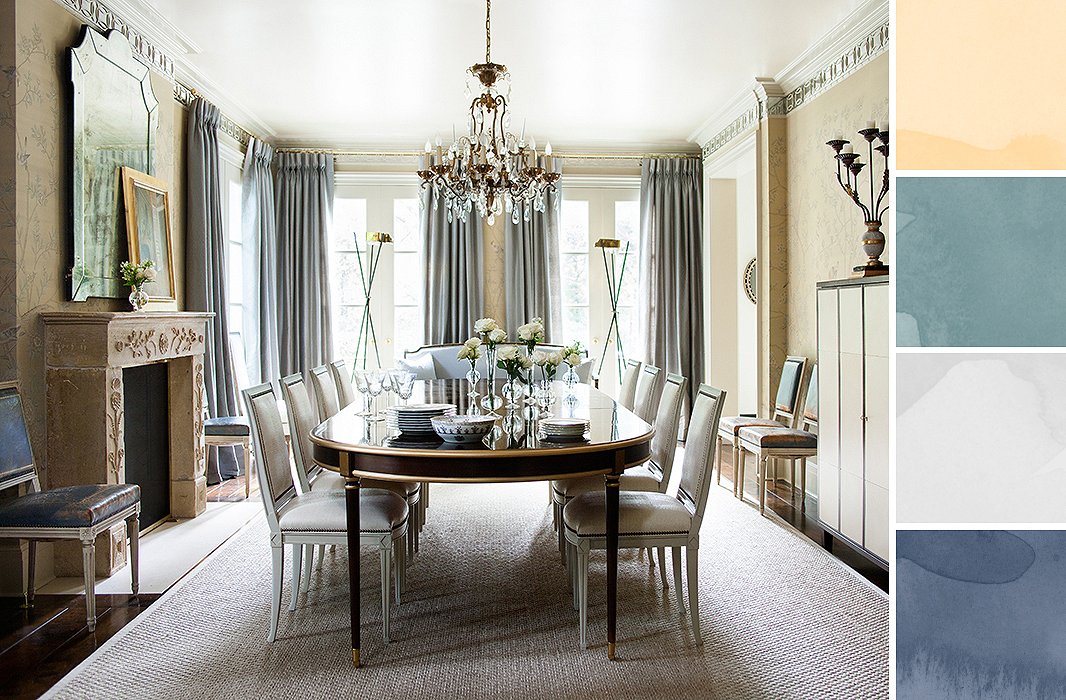 The Allure of Noncolors
Tones that are hard to pinpoint—a blue that shines silvery gray, a mutable off-white—can make for a wonderfully sophisticated scheme. Layered together in this formal dining space, for instance, a gradient of neutrals and muted tones has a composed, elegant effect.
The key to making this palette feel luxe, not lackluster? Bringing in plenty of sparkle through metallic finishes and glass and crystal elements, plus a touch of high-contrast black as a chic punctuation.
Vibrant Evenings
At the opposite end of the spectrum, this dining room uses highly saturated colors to create an elegant entertaining space. A rich plum grass-cloth paper covers the walls, set off by peach and gold tones in the chair cushions, pillows, and rug.
It may seem like a heady mix, but more-formal spaces can handle stronger hues. Again, since it isn't a main living area, you'll mainly see the color in passing. You're also most likely to spend time here in the evenings—and these rich hues will positively glow under candlelight.
Red, White, and Indigo
Try out a worldly twist on an Americana palette. Pairing lush indigo blues—vintage dyed textiles, chinoiserie ceramics, and fluid abstract paintings—with deep red walls, this space has a cool, high-contrast look. Dark polished wood and caramel leather help ground the bold mix, while ivory-tone upholstery lends a little breathing room.
A Dreamy Atmosphere
We'll always have a soft spot for blue bedrooms—if you're after a restful sleep space, this hue is sure to do the trick. Here, the same shade covers the walls as well as the upholstered headboard and the coverlet, a decorator-approved approach that makes the whole room feel pulled together. A range of subtle accent colors (soft cream, antique gold, and muted celery) give the blue dimension and warmth.